"Unlock the Power of AI in Digital Marketing and Boost Your Career Today!
Only Few Seats Left!"
Revolutionize Your Career
In Digital Marketing with AI :
Enroll in Our Training Program For Guaranteed Job Placements!
Learn the latest analytical techniques to make data-driven decisions and deliver better results for your organization.
160 Hours of Intensive Classroom & Online Sessions
25+ Digital Marketing Must Know Tools Explained
40+ Hours of Practical Assignments
Job Placement Assistance
Artificial Intelligence in Social Media and SEO included
Be Free From Limitations!!
Academic Partners & International Accreditations
So What is AI-Driven Digital Marketing?
As the digital marketing landscape continues to evolve, it's essential for professionals to stay ahead of the curve by leveraging the latest technology. Our seven-month AI-Driven Digital Marketing online short course offers a unique opportunity to do just that.
With a focus on AI applications in digital marketing, our program empowers you to generate deeper customer insights, develop personalized journeys, and engage with your audience in more meaningful ways. You'll learn from top faculty and gain practical experience implementing these strategies in real-world scenarios.
By joining our program, you'll be equipped with the knowledge and tools necessary to innovate effectively and drive real results for your organization. Don't miss out on this chance to stay ahead of the competition and take your digital marketing skills to the next level.
In today's rapidly evolving digital landscape, it's critical for professionals to stay up-to-date with the latest trends and tools. Our AI-Driven Digital Marketing program offers a unique opportunity to do just that, providing a comprehensive and practical approach to integrating AI into your organization's marketing strategy.
Whether you're a technical or functional leader, project manager, or marketer, our program will equip you with the skills and knowledge you need to drive better results for your organization. You'll gain a balanced understanding of AI's potential to enhance the customer experience, develop your ability to align customer needs with business objectives, and stay informed with the latest research and techniques.
With a certificate of completion to validate your skills, our program is the perfect way to take your career to the next level and stay ahead of the competition. Join us today and discover how AI can transform your organization's digital marketing strategy.
Key Benefits of the Program
Learn how to develop a future-ready digital marketing strategy that aligns your customers' needs with business objectives.
Gain insights into the opportunities and challenges posed by AI, and unlock ways to plan for the future of AI innovation.
Enhance your ability to reach and enrich your audience, and make accurate decisions based on data insights.
Develop the skills to leverage recommendation engines and create digital content that reflects your broader business goals.
Earn an official certificate of completion as validation of your newfound knowledge of AI-driven digital marketing.
Marketing managers and Marketing directors
Brand managers
Sales managers and sales directors
Public relations professionals
Business development managers and directors
Senior operations managers and directors
Senior executives
Business owners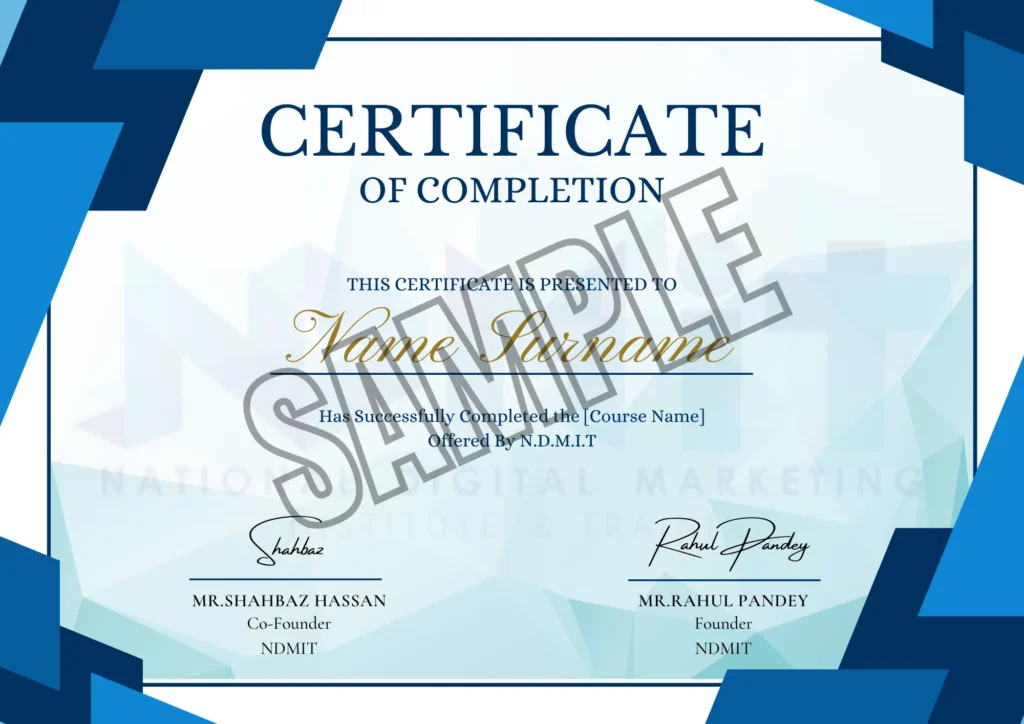 Show off your expertise as a full-scale digital marketer with our Advanced Program in AI-Driven Digital Marketing Certificate. Join us today and earn industry recognition for your skills.
NDMIT is the top digital marketing institute in Allahabad offering the greatest digital marketing course, making it the No. 1
It is the Best Digital Marketing Institute in Prayagraj. I would highly recommend to join as it has the best faculty and provides great opportunity to upgrade your skill set.
Vaibhavndmitteamg
2022-10-31
NDMIT course modules cover all aspects of the modern-day digital marketing industry. Furthermore, trainers are very friendly and always ready to help."
It has been one of the most rewarding learning experiences at Ndmit Allahabad and has now taken my career to a next level with their placement assistance. The modules are well-designed and the coaches are well-versed in their subjects. The SEO module and website module by the Respected Shahbaz sir and Copywriting session were my personal favorites. I received prompt placement assistance and am now placed at a Digital marketing agency of my choice I'm very excited about this upgrade in my career and a major chunk of the praise goes to Ndmit Allahabad. This is one investment everyone must make toward their career in Digital marketing that will pay rich dividends. All the Team!
NDMIT is the No.1 digital marketing course in Allahabad, from here I have learned amazing digital marketing skills with ease. After just completing the 6 month course I have got an amazing job opportunity with a decent package. Thank you Farheen ma'am, Jai sir and NDMIT for your guidance.
Somu Prajapati
2022-10-31
NDMIT is the best digital marketing institute with 100% placement support in Allahabad . The faculty at NDMIT are extremely keen about their work. They not only clear all the concepts but also ensure that no student leaves the classroom carrying doubts in their minds. They care and support us whenever we need even after the completion of course
A stimulating course that emphasises the advantages of contemporary digital tools and connects them to marketing theory and how digital tools are altering the marketing landscape. highly suggest. I want to thank Rahul sir and everyone else at Ndmit for this wonderful education. Additionally, the precise session held specifically for the interview portion was gorgeous and extremely beneficial for our careers. We are very grateful to Ndmit for organizing it.
Shivani Kesarwani
2022-10-31
NDMIT is that the best digital marketing institute in Allahabad it's been life changing. Had nice expertise and had gain best digital marketing skills and got best institute here. If you really want to become a master in Digital Marketing you must have to join NDMIT they will teach you everything from start to end or you can say from basic to advance and covers all the topic in depth.
Without a doubt, NDMIT is the best Digital Marketing Training Institute and it is so for a reason! The quality and level of knowledge they provide are top-notch. Along with training and education, they provide value! They have a high placement rate and are one of the most affordable institutions.
The placements given by NDMIT are also great .if you are looking to get into digital marketing , NDMIT trainer who taught us were friendly and made us feel compfortable . the way they were interactive showed that every experienced and knew what they were doing it really helped me a lo
Browse Trending Courses:-