Become Our Partner
Asia's No.1
DIGITAL MARKETING INSTITUTE
NDMIT offers exceptional franchise opportunities to the entrepreneurs who wants to start a business with best ROI at lower investment. We are looking for the franchise partner to expand our operations in Pan India.
4 Branches | Internationally Recognized Certifications | 100% Placement Record | Google Certified
NDMIT Offers You India's Most Leveraging Digital Marketing Institute Franchise
Taking a Digital marketing course franchise from a Reputated institute helps you to achieve success. Nowadays, everyone wants to learn online marketing to pursue a career with good earnings. The students from your city are going here and there to learn the course. This is a big opportunity for Entrepreneurs,
For this NDMIT: National Digital Marketing Institute And Training is offering its own Franchise, so that you can get those students and earn at your home town itself. Call 9811335081 to discuss further.
What are the benefits of taking NDMIT's
Online Marketing Course Franchise?
NDMIT is already a known brand and also famous for its best quality training with 100% Satisfaction record among its Students.
No need for prior training !
If you take our digital marketing course franchise, then it is not necessary that from what background you come, even if you don't have history with digital marketing, to be successful in this business. You just need to have a desire to be financially independent, ability to learn and the drive to succeed. We have designed our program which is very easy to learn and implement once you starts.
Guarantee to get business !
We provide you with leads that consist of businesses needing financing. We will give you students and some tricks that will help you to enhance the earning of your institute. Since our founders have been in the industry for many years, we know what techniques to start generating income within a short time.
Continue Support & Training !
We are with you till the end of life. We give support and stand by you at every point. The main thing is we provide is a solution to increase or run a franchise efficiently and effectively. We are always there to guide you, train you. So don't worry about anything. If you are taking our course franchise then automatically you become part of our family. Your success is our priority.
Provide all updated material !
Time to time we provide the advance updated material to enhance the knowledge of our students which will be passed to you as well. With the classes, we also arrange online seminars by Experts which is icing on the cake for young minds. The training of every teacher is arranged with our professional team in every 7 Days.
What are the requirements to become part of NDMIT EduSoft?
Some requirements are necessary to complete before taking the franchise of NDMIT.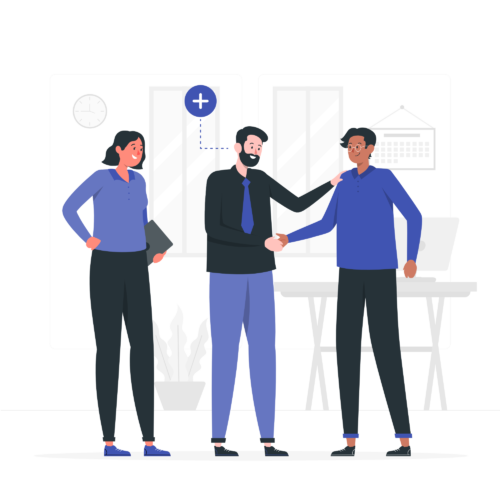 Well qualify staff: Your staff should be educated. Training is left on us but the educational staff is a must. A teacher has to know about the teaching method as well as communication skills. If you take our name/franchise then it is a responsibility how to maintain our name. For this, the well-educated staff is compulsory.
Infrastructure: Another main point to open the Academy is infrastructure. Your building should look like an educational center and apart from noisy places. Your classrooms should be well furnished and have all the facilities like light, Ac, washrooms, furniture, computers, etc.
Valid registration number: This is a must. Place at which you want to open partnership with NDMIT, that place should be legally registered and also have the valid registration code. That infrastructure must be registered with Legal GST number.
Become NDMIT License Partner
Offer Digital Marketing Training by becoming Our license Partner in your geography