AI-driven Chrome extensions can help optimize websites for better SEO performance. They can help to identify and fix broken links, identify keyword opportunities, and check for plagiarism. Additionally, they can be used to track website performance and identify potential areas of improvement.
These techniques can help you uncover opportunities quickly and easily, giving you the edge over competitors. AI-powered tools can help you find new backlinks, identify technical issues, and implement keyword optimization strategies faster. Try them out and see how they can help you drive growth and improve rankings.
Improve the titles and descriptions of web pages to increase click-through rates-
One of the simplest strategies to raise your Google results is to optimize your title tags for your target keywords.

The first part of the struggle is just getting to the top of the SERP. Additionally, you need to attract audiences to go on to your site with your title and meta description.

Although access and effectiveness are equally important, SEOs typically just pay attention to the former. Although the two goals may overlap, they have separate approaches.

When it comes to creating meta tags for conversion, ChatGPT Excels.
The title and meta description should include the primary keyword, as well as other related terms. In addition, the title should be catchy and succinct, and the meta description should provide a concise summary of the page content. Finally, the title and meta description should be written to attract the target audience.
TITLE:
DESCRIPTION:
KEYWORD:
Interested in Learning Digital Marketing, Get Modules list.
Summarize ranking competitor pages for straight-away content Prompts-
Artificial intelligence-based search engine optimization (SEO) platforms such as Surfer elevate competitor page analysis to a higher level. However, there is a less complex workflow available to efficiently generate valuable insights and content. By leveraging the Summarize Chrome extension in conjunction with ChatGPT, one can create novel, distinctive, and optimized content grounded in the existing ranking pages. 
After generation, the content can be meticulously edited and refined to ensure precision and comprehensibility. This streamlined process is expeditious and effortless, enabling swift updates of your website with fresh and engaging content.
In the SERP, type what you want keyword phrase. Visit the competitor pages that are ranking top.

Pick a page with content that is most comparable to what you want to build.

Set the Summarize Chrome extension to active. By doing so, a ChatGPT-generated summary of the entire web page's content will be available.

Return to ChatGPT and use the following prompt to create original, optimized content:
Pick long-tail keywords to optimize the present material-
Perform keyword research and consider variations of long-tail keywords that your competitors may not be targeting. You can also use long-tail keywords to target local areas, for example, adding the name of a city or state to a keyword phrase. This can help you to attract more local customers.
Go to the web page on your site that you want to optimize. Choose "Organic Ranking Keywords (URL)" from the Keyword Everywhere Chrome extension by clicking on it.
Enter Google with your top term (either the most popular or relevant).

Every time you use Google to find long-tail keywords, related keywords, and keyword trends, Keywords Everywhere is running.

The list of long-tail keywords can be exported or copied. If you want to check more than one seed term, repeat these procedures.

 

Analyze your current content to find areas where long-tail keywords will naturally be added. Additionally, by entering your content and the list of keywords that need to be injected, you can use ChatGPT to help with optimization.
Find new content opportunities with high volume and little resistance-
The Keywords Everywhere tool can also serve as a valuable resource in terms of identifying keywords for new content opportunities.
More specifically, high-volume keywords with low competition represent an ideal target for new content creation.
These keywords are generally easier to rank for, yet still possess the potential to generate substantial organic traffic to your website. While identifying these keywords may not be a straightforward process, the potential rewards are substantial.
Commence your search on Google using initial keywords that are pertinent to your website/brand or the specific page you intend to publish.

Thoroughly analyze and interpret the data associated with the keywords. On the right side of the Search Engine Results Page (SERP), you will come across Trend Data, Related Keywords, and Long Tail Keywords displayed in boxes provided by Keywords Everywhere. Pay attention to keywords with a higher search volume (exceeding 1,000 searches per month) and lower competition (below 0.5).

Develop and enhance your list of keywords for the new content. Transfer the identified keywords to a spreadsheet where you can monitor and categorize them. By clicking on any keyword within the Keywords Everywhere output, you will be directed to the corresponding Google search. Continue exploring and expanding your collection of keywords.
Structured data can be validated and generated using Schema Builder and Google Bard-
Structure of the organization: Increases the understanding of a business by search engines. 
Local Business : For businesses operating in a local area, a more specific organization schema is required. 
Schema of products: It is possible for e-commerce sites and online retailers to use product schema to make product information available for rich results, such as product snippets, in search results. 
Schema for blogging: Increases the visibility of blog posts. 
WebPage schema: WebPage schema can also include information about the page such as the title, description, and other details. This helps to improve the visibility of the page in search engines, as well as provide users with better navigation and context. Additionally, WebPage schema can be used to create a more user-friendly experience by providing additional information about the page, such as what topics are related to it, what other pages on the website might be related, or what other pages a user might want to visit next. This helps to create a more intuitive navigation which can lead to greater user engagement and satisfaction.
FAQ – Frequently Asked Questions
How does a digital marketing course benefit me in my career?
A digital marketing course can bring a number of benefits to your career. Some of these benefits include:
Increased knowledge: By taking a digital marketing course, you will gain a comprehensive understanding of the various aspects of digital marketing, including search engine optimization (SEO), social media marketing, email marketing, and pay-per-click advertising.
Career advancement: A digital marketing course can help you advance in your current role or transition into a new role within the marketing field. With the increasing demand for digital marketing skills, a certification in this area can help set you apart from other candidates.
Stay up-to-date with industry trends: The world of digital marketing is constantly evolving, and a digital marketing course will help you stay up-to-date with the latest trends and best practices.
Improved skills and performance: With the knowledge and skills you gain from a digital marketing course, you will be able to implement more effective marketing strategies, resulting in improved performance and outcomes.
Increased earning potential: A certification in digital marketing can increase your earning potential, as the demand for skilled digital marketers continues to grow.

In conclusion, a digital marketing course can greatly benefit your career by providing you with the knowledge, skills, and credentials you need to succeed in the digital marketing field.
What is the fees for a digital marketing course ?
Ans: The fees for a digital marketing course in Sonipat range from INR 10,000 to INR 1,00,000 depending on the level of the course you opt for. NDMIT Online Digital Marketing Course fee is INR 40,000 + taxes which is inclusive of placement assurance.
Can I learn digital marketing on my own ?
Ans: Yes, you can learn digital marketing on your own with the help of free videos and courses on YouTube – although the credibility of these courses is often unknown. But it doesn't have to be this way. Instead, you can learn digital marketing with NDMIT Online Digital Marketing Course where you will learn from industry experts and also receive a certification straight from Sonipat instead of anywhere else in India! NDMIT gives you 100% Placement assurance.
Is Digital Marketing a good career ?
Ans: Digital marketing is a great job path. Being a relatively new industry, there are many challenges and opportunities – each highly dynamic. Competitive salary + incentives as well as flexibility with your schedule make this ideal for nearly anyone from entrepreneur, technology focused to analytical individual.

NDMIT is Asia's leading digital marketing institute. Since its start in 2016, NDMIT has set new standards for education around the globe. We have trained more than thousand Students globally in various aspects of digital marketing.
Taking a future-oriented approach to learning, NDMIT ensures its students receive a customized, relevant curriculum that will help them upskill for their careers.
What their Students says about them ?
Get the Detailed Curriculum and faculty member list.
Why choose NDMIT for a digital marketing course?
Free Internship
Centralized level training
Career counseling
Book free demo
100% placement assistance
24*7 Mentor support
Online classes support
Work on live project
Mock interview session
Personality development – with no cost
Learn from industry expert trainer with our founder and co-founder
Attend 3 free live classes online/offline
Hand-to-hand support
Learn corporate sector Etiquette
One on One mentorship support
Career Guidance
Recently Placed NDMITians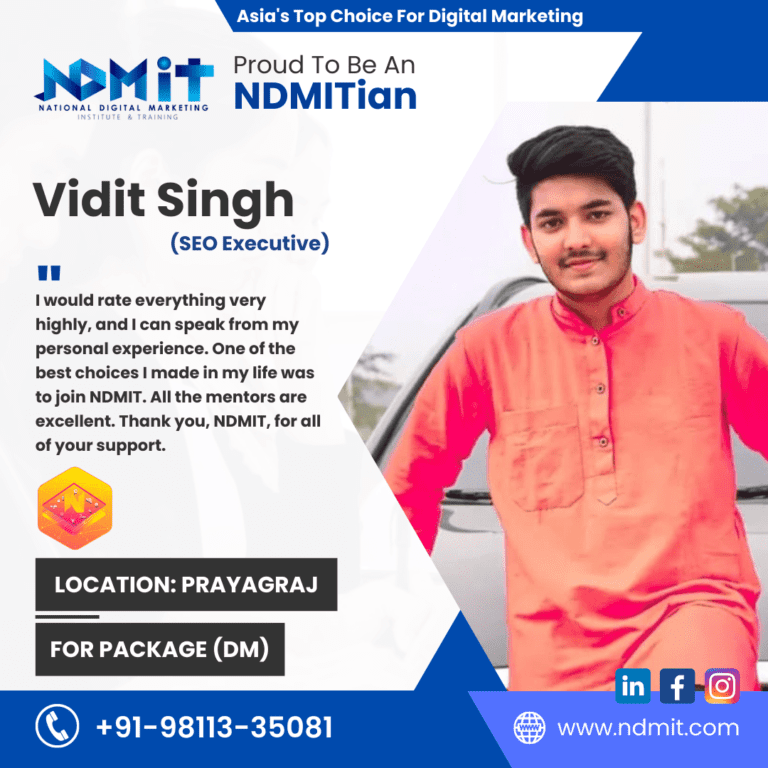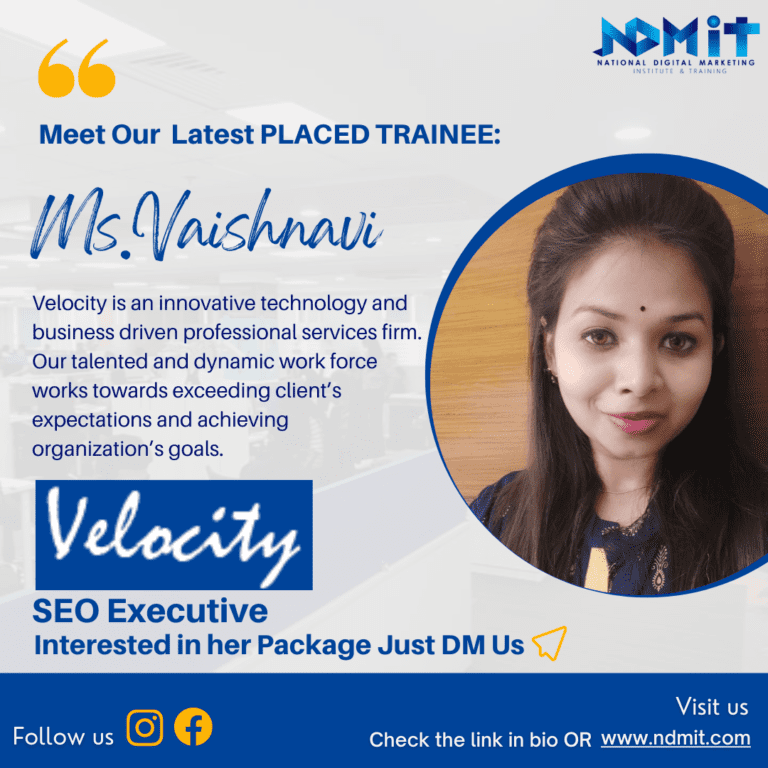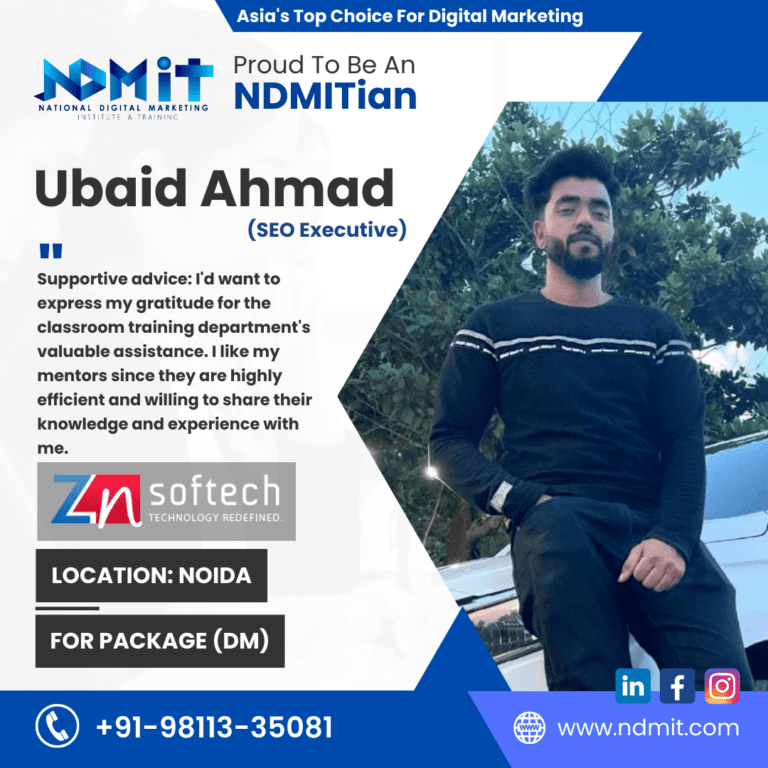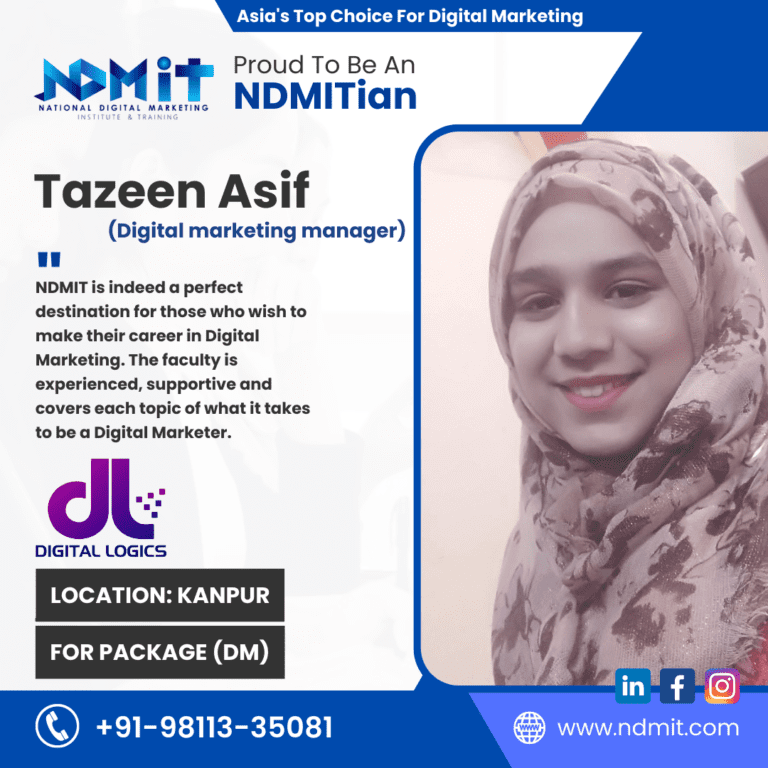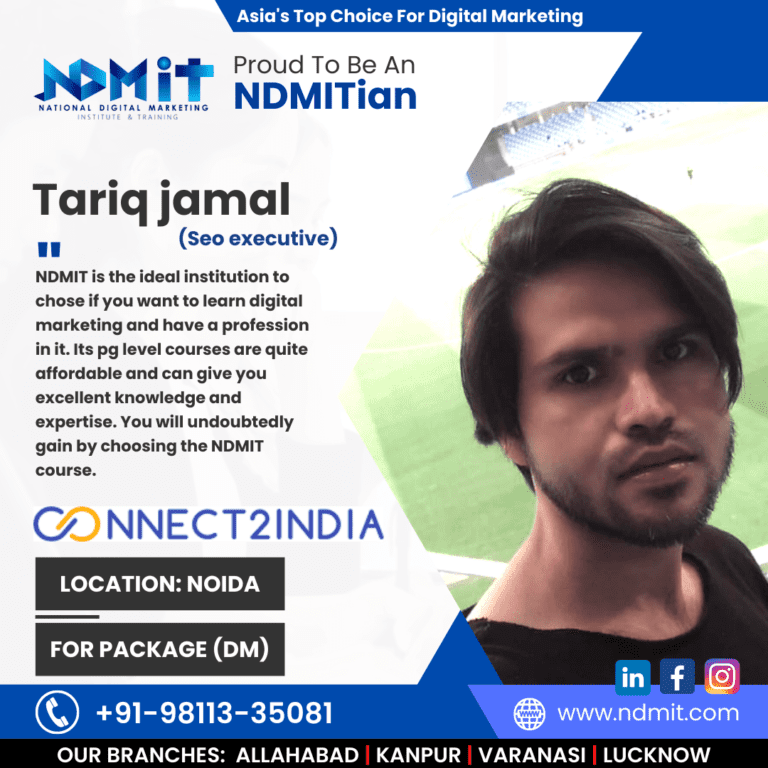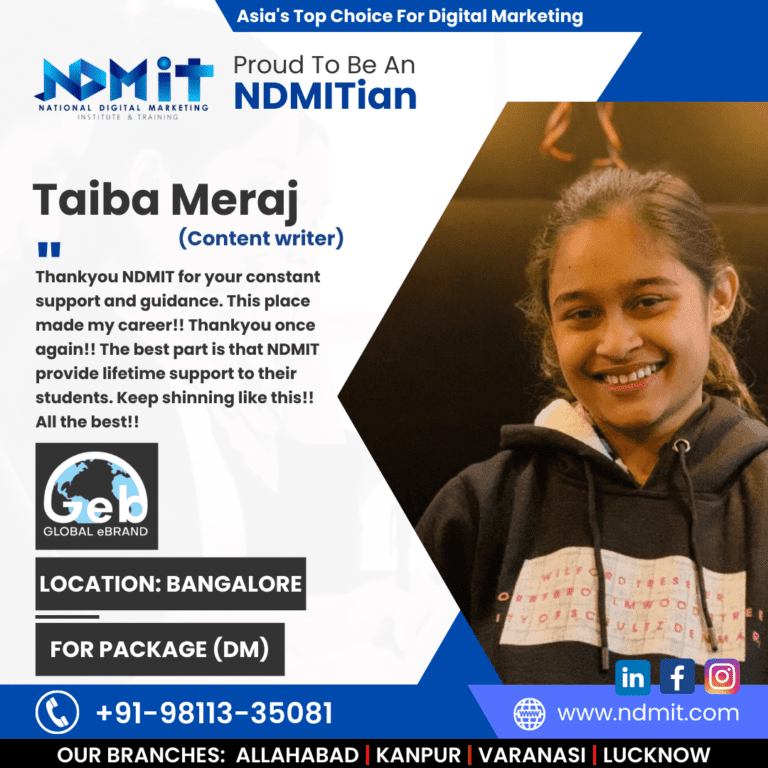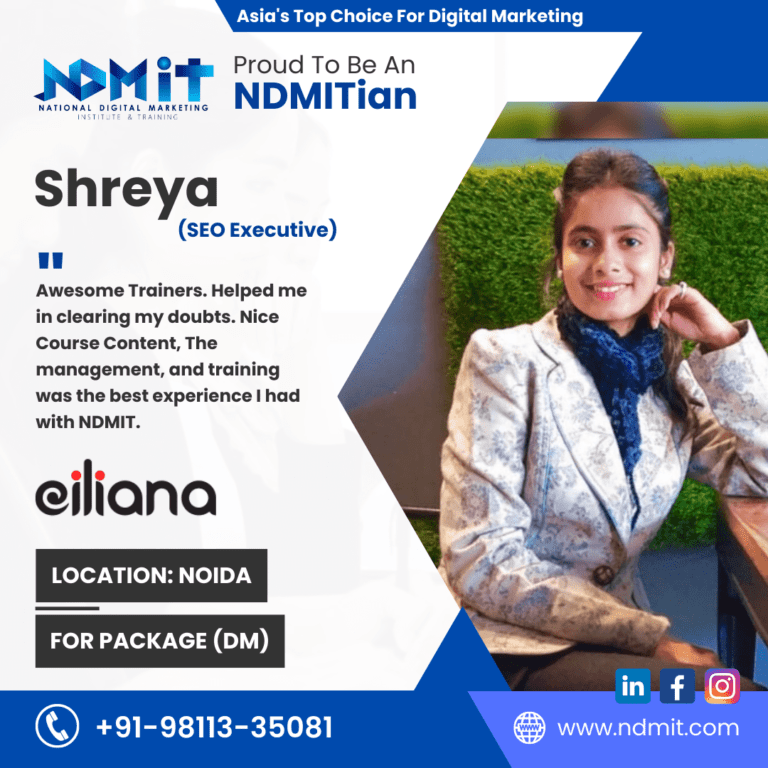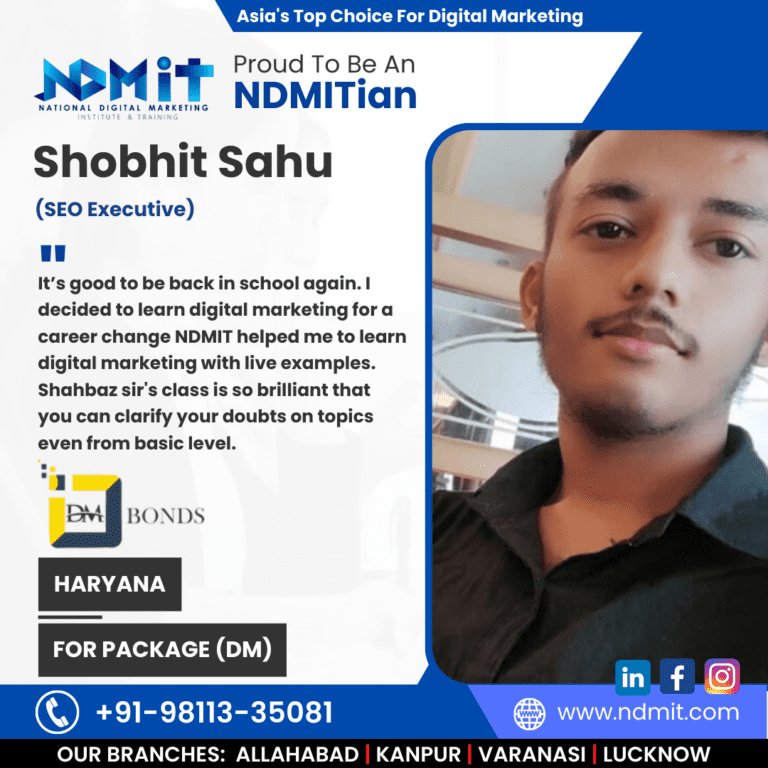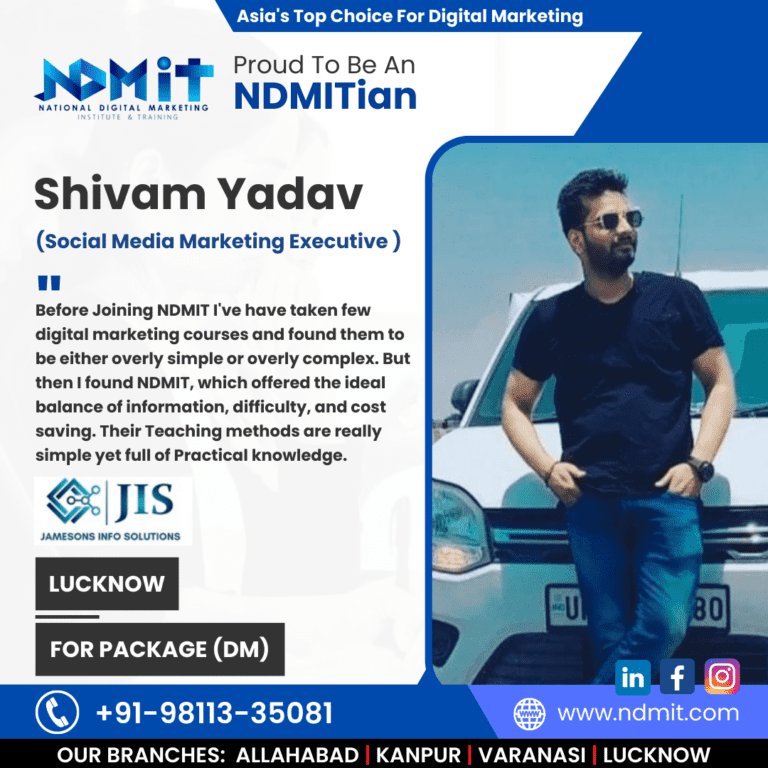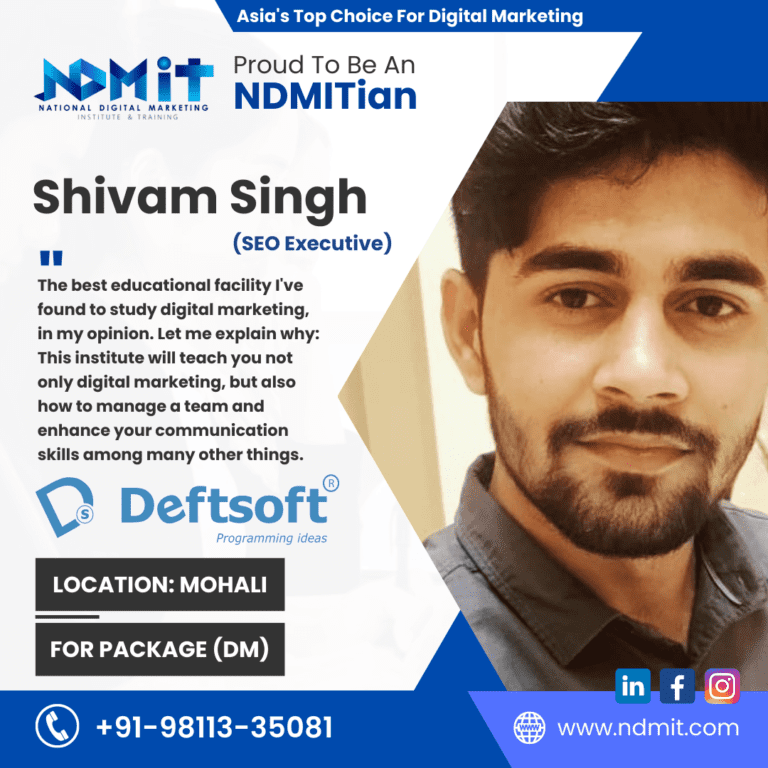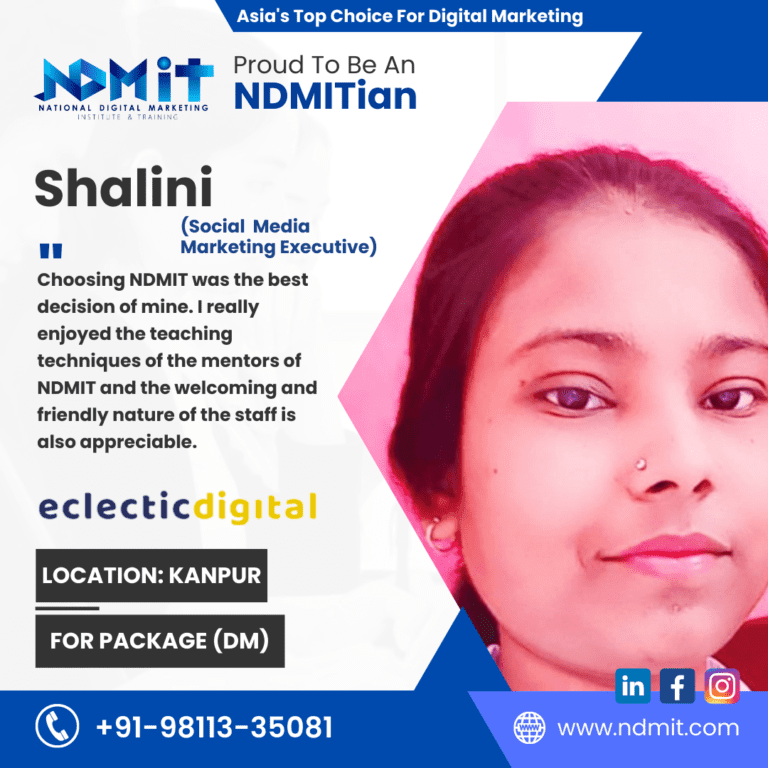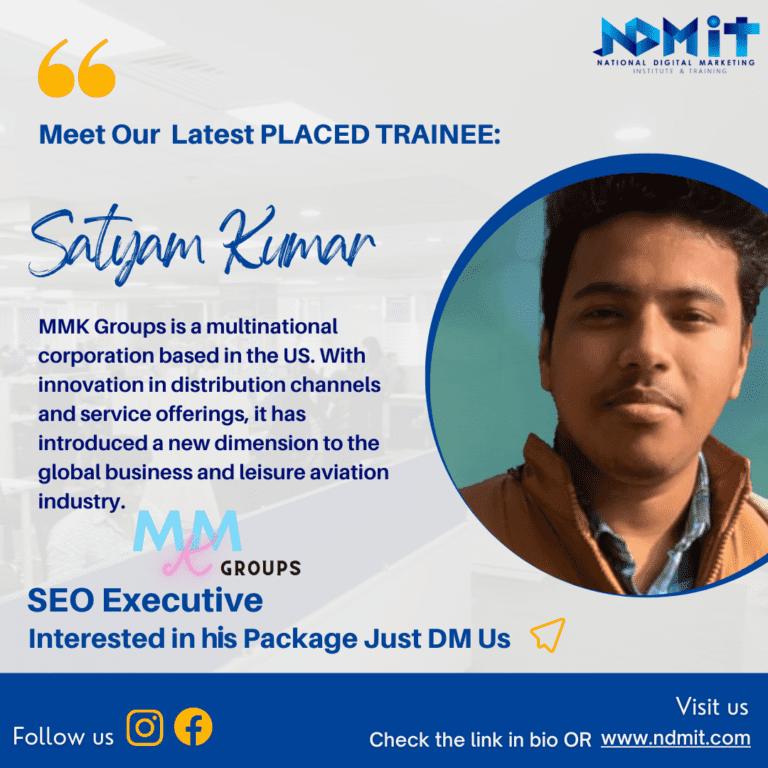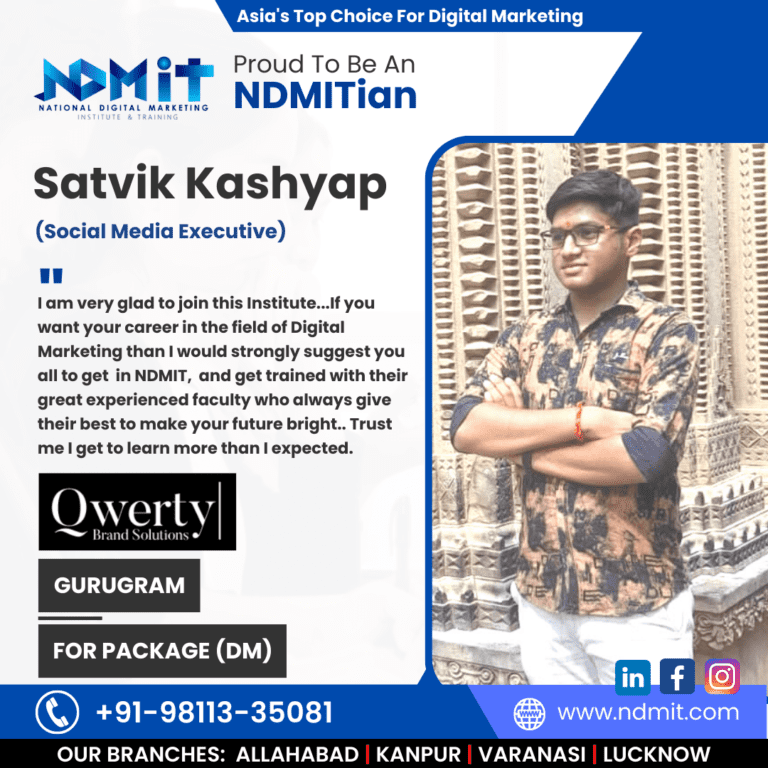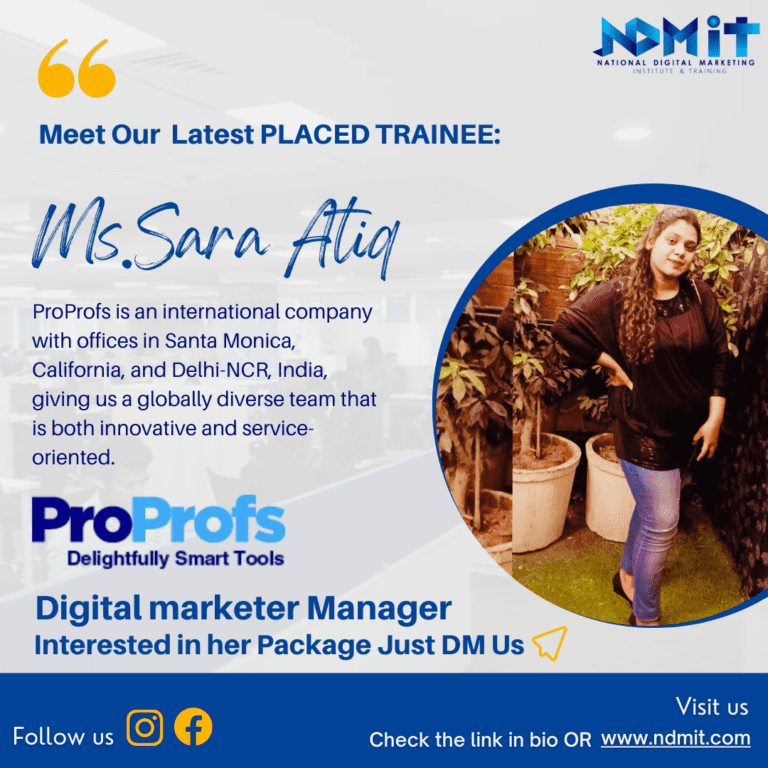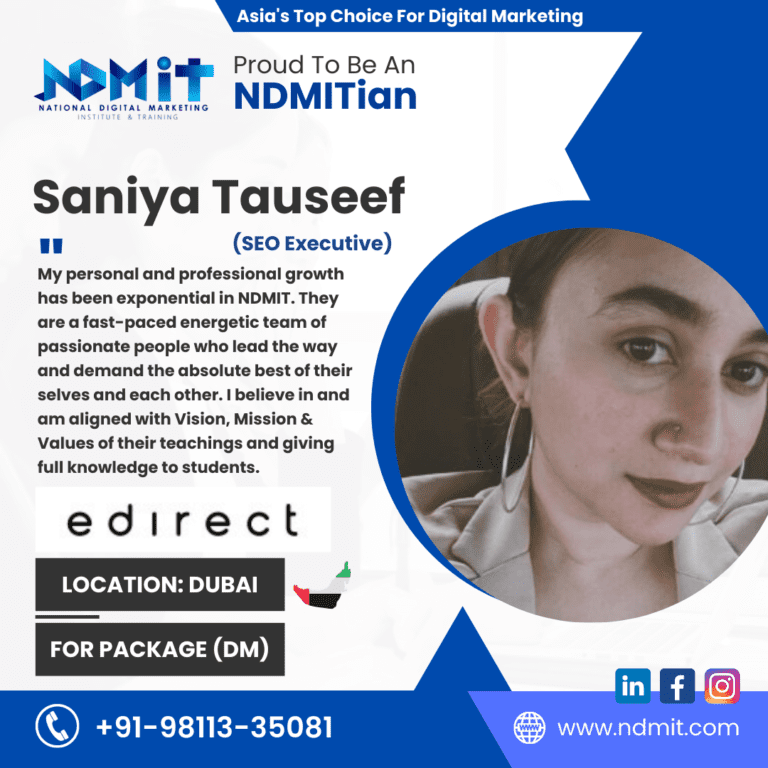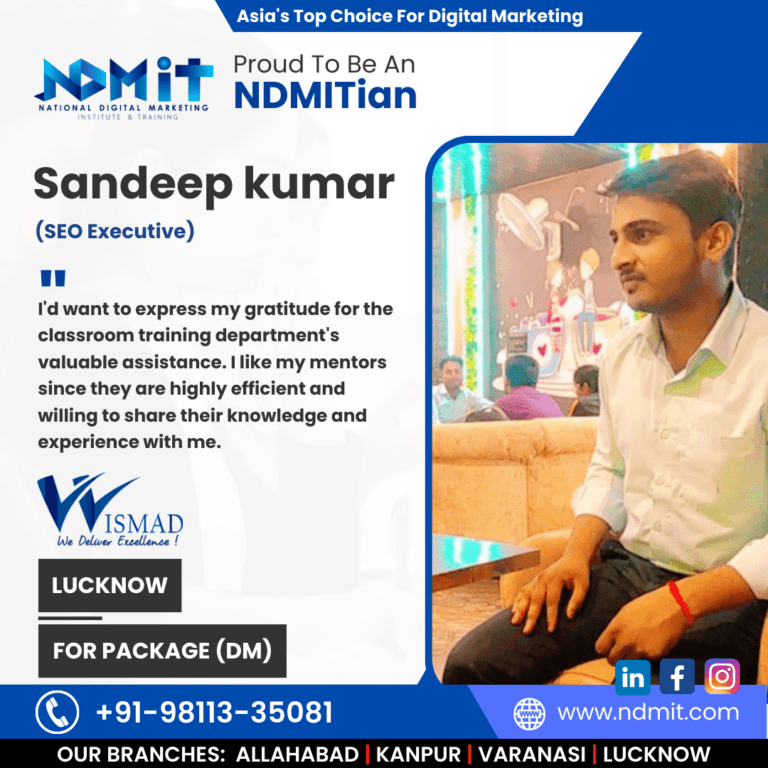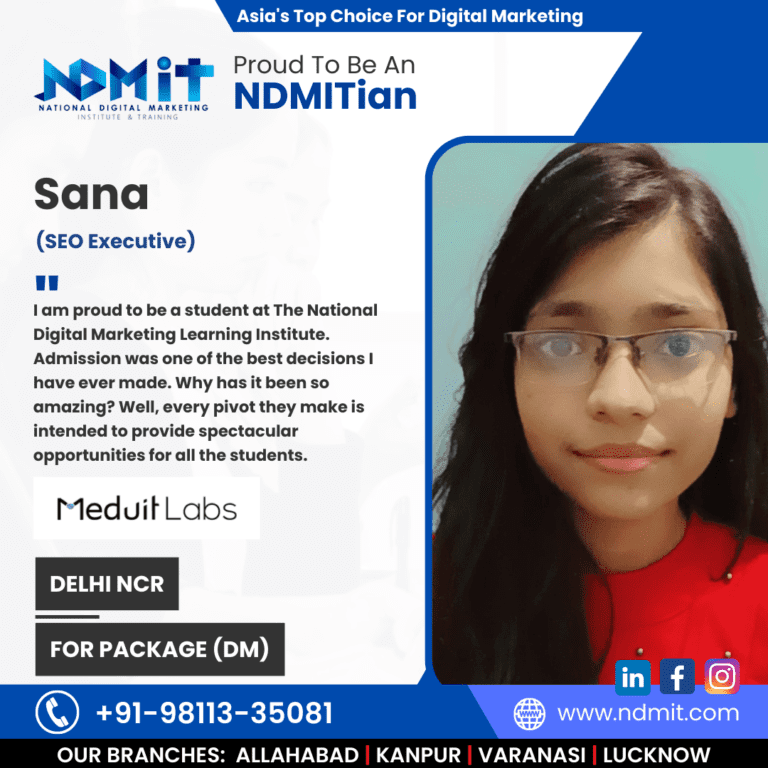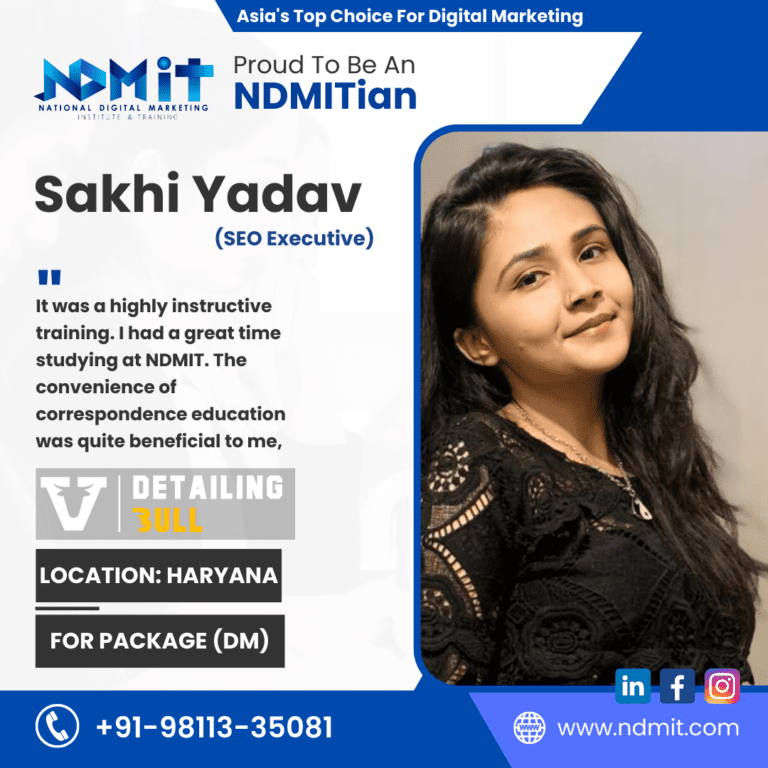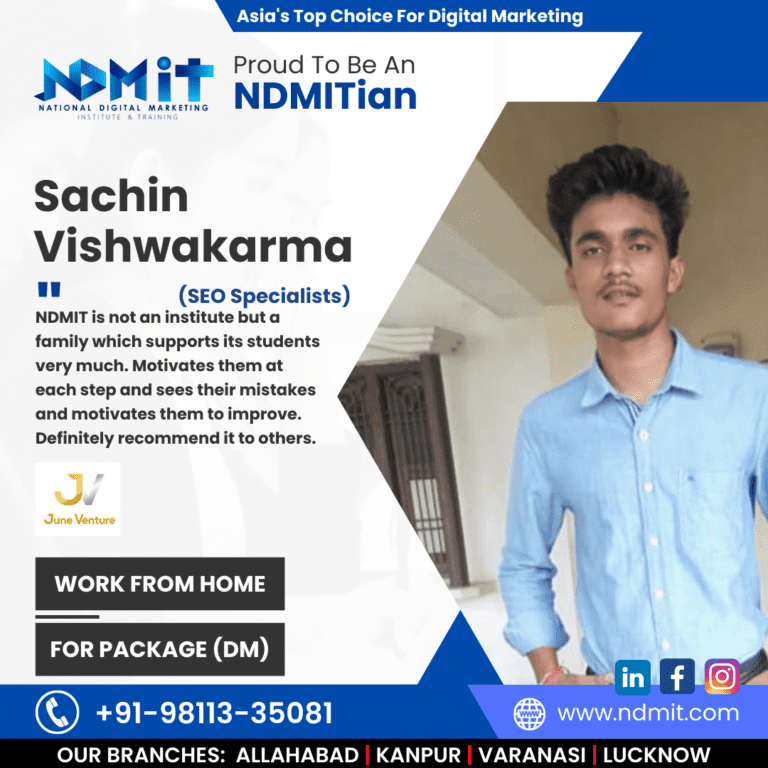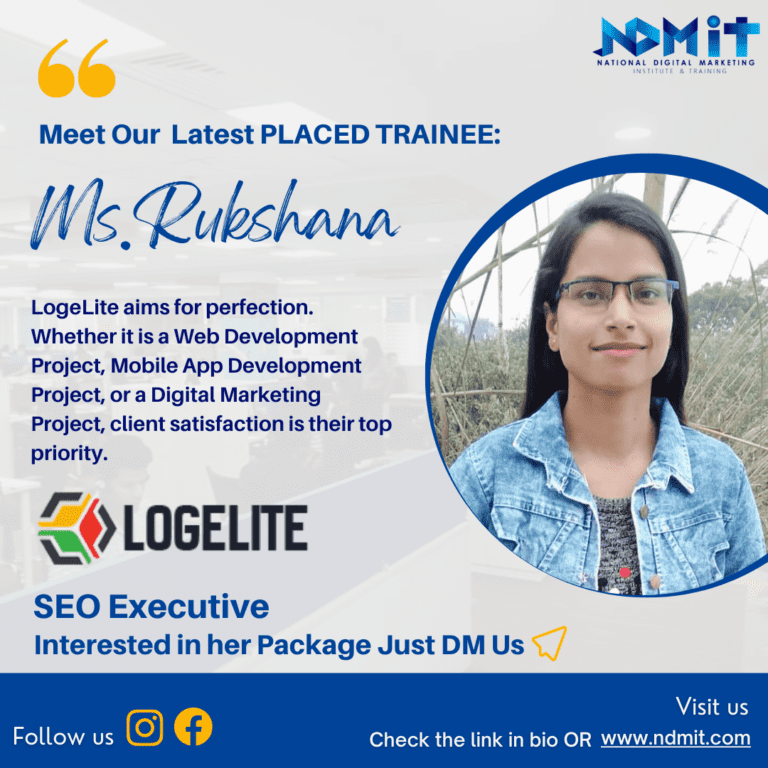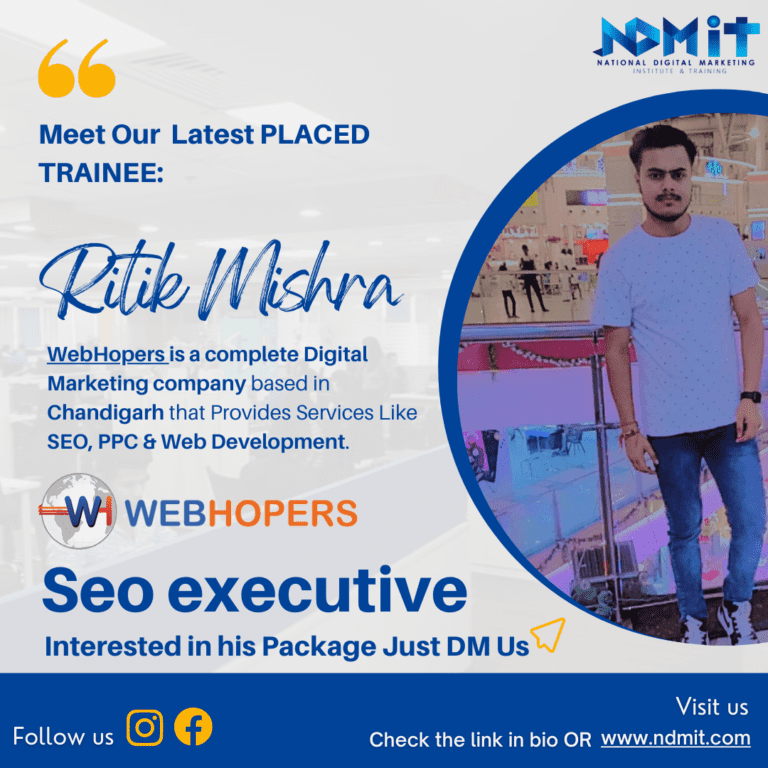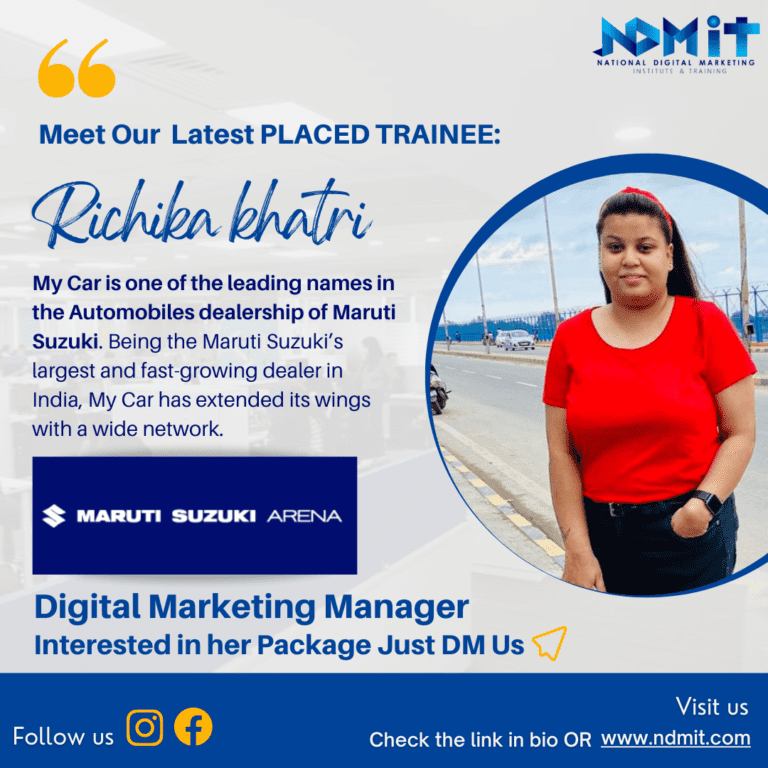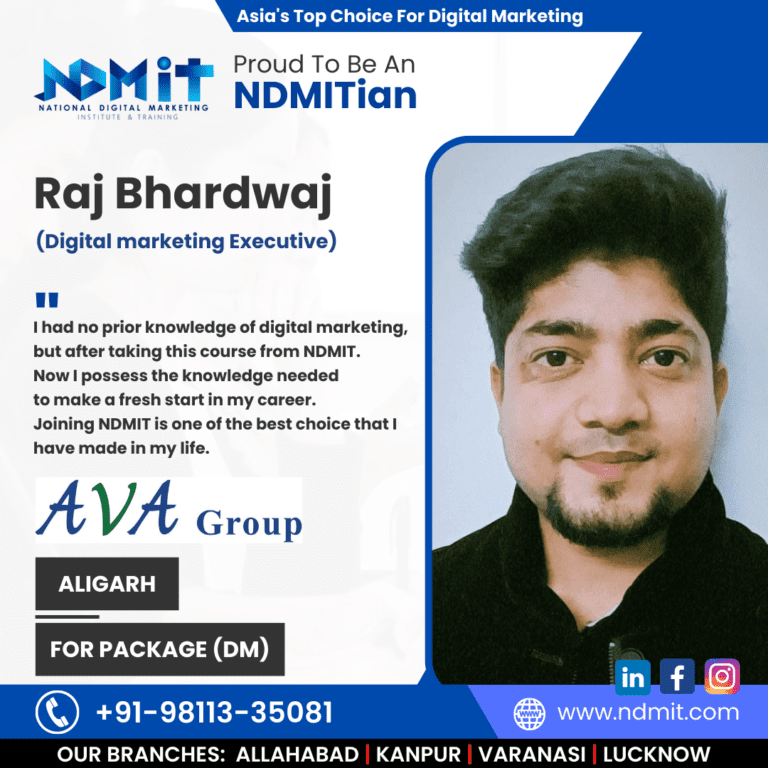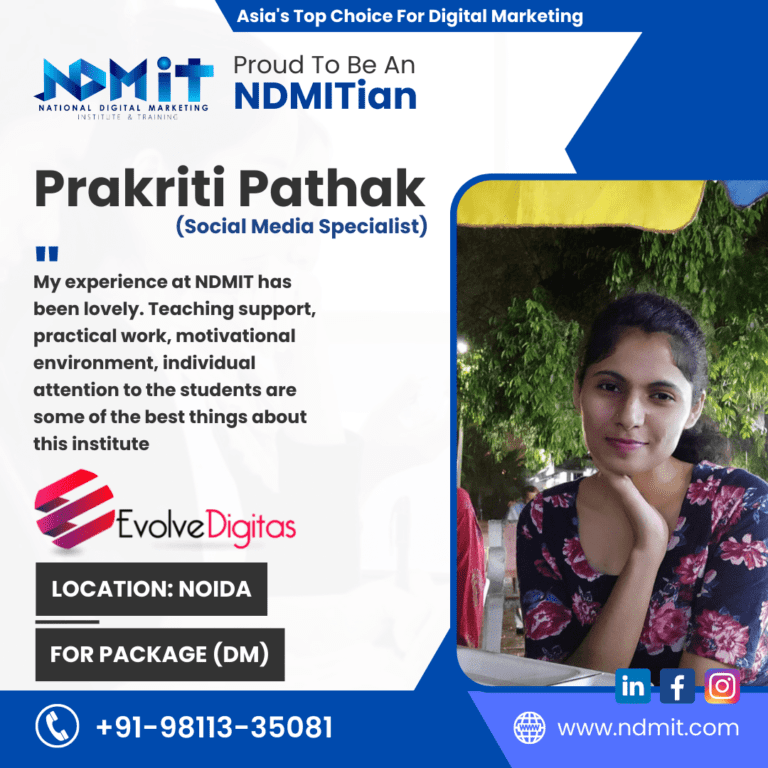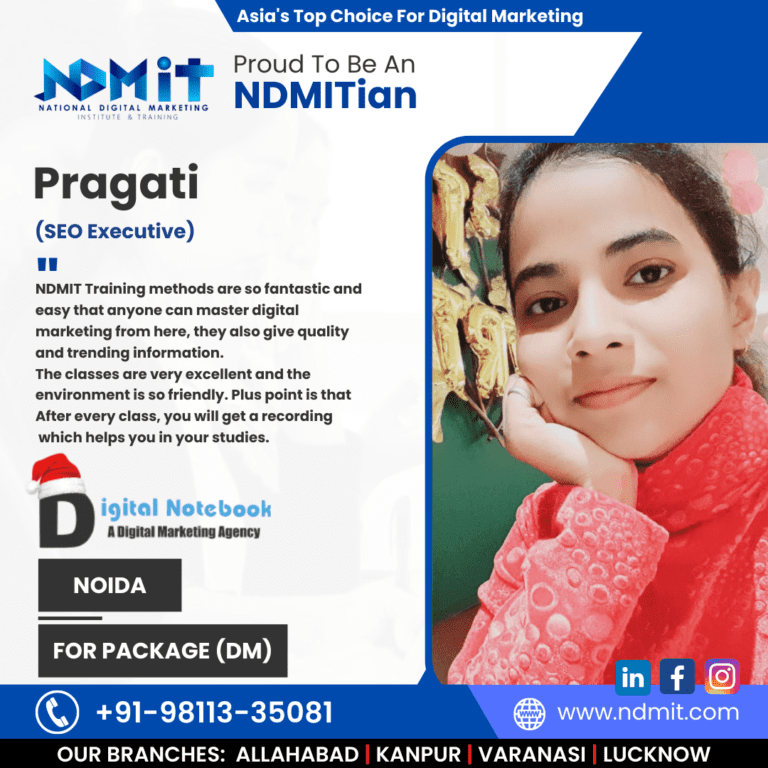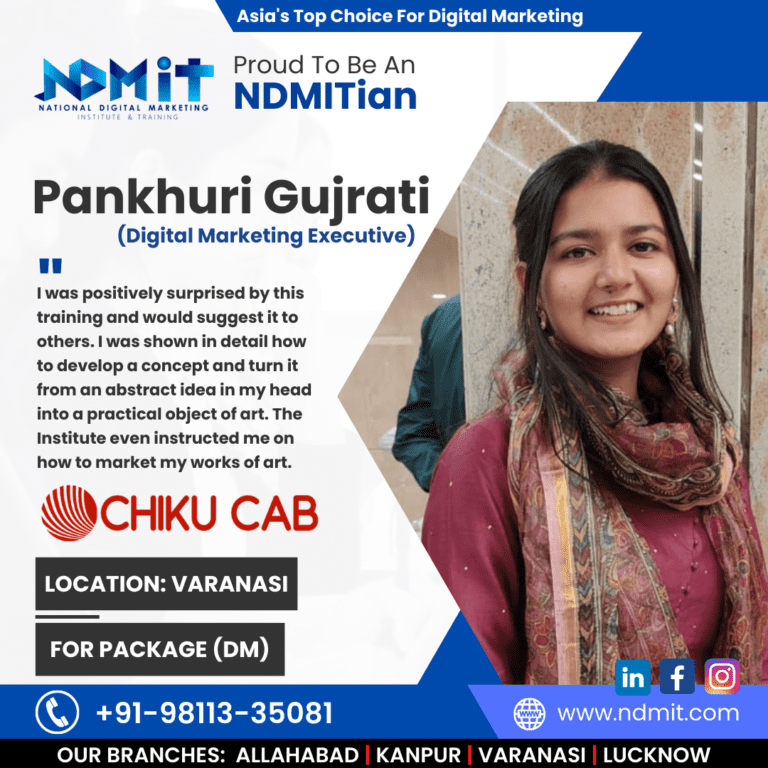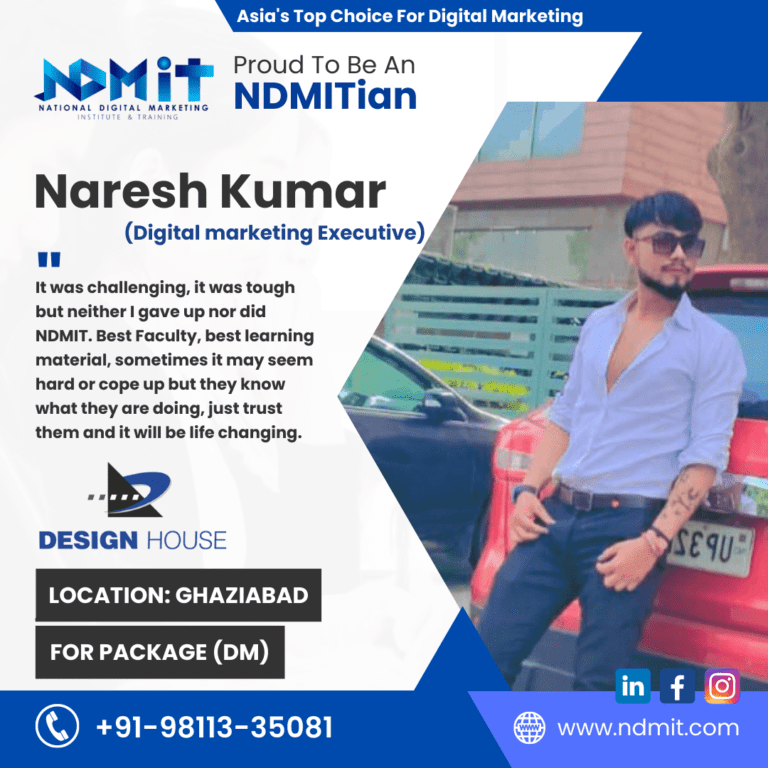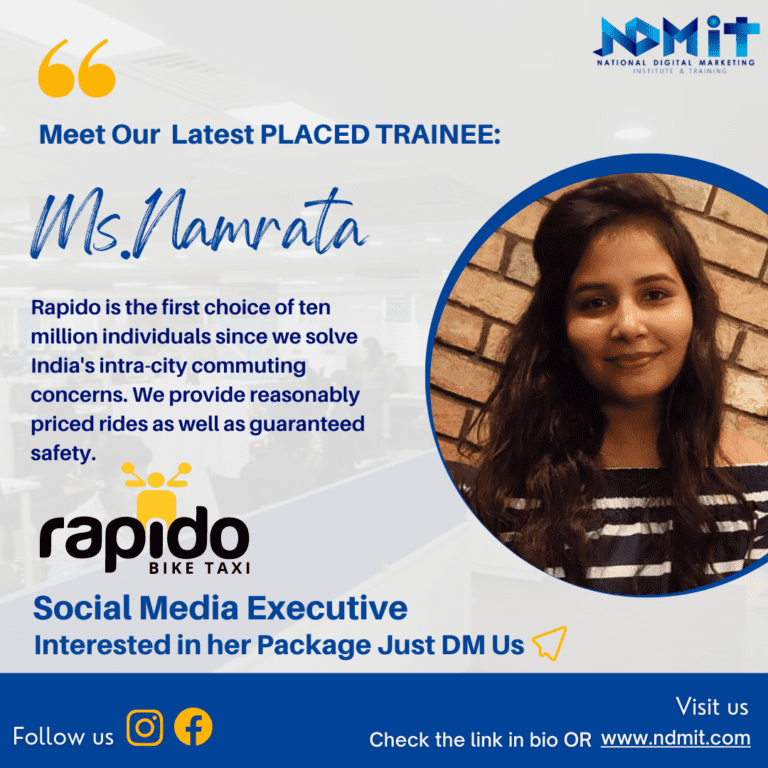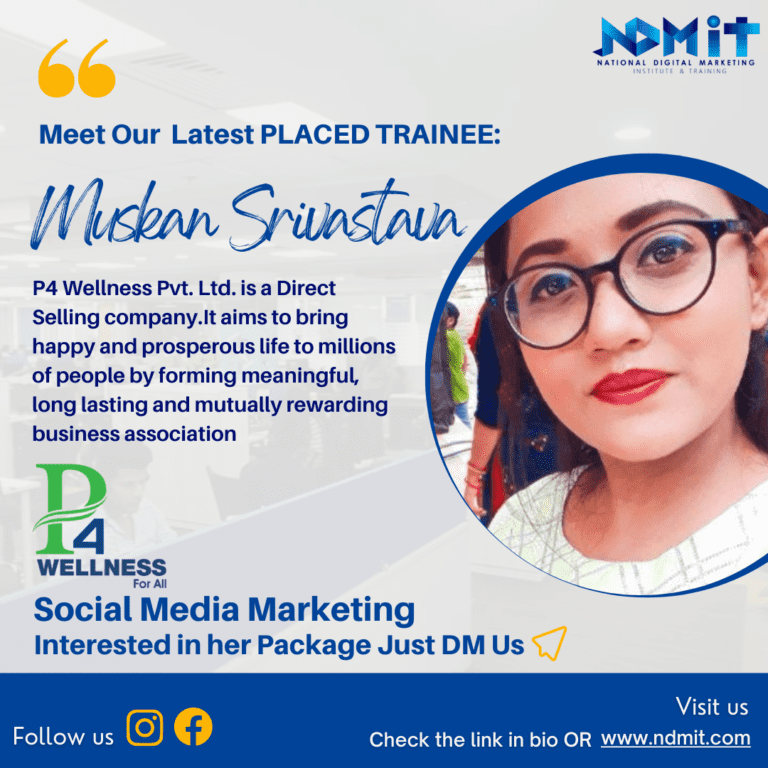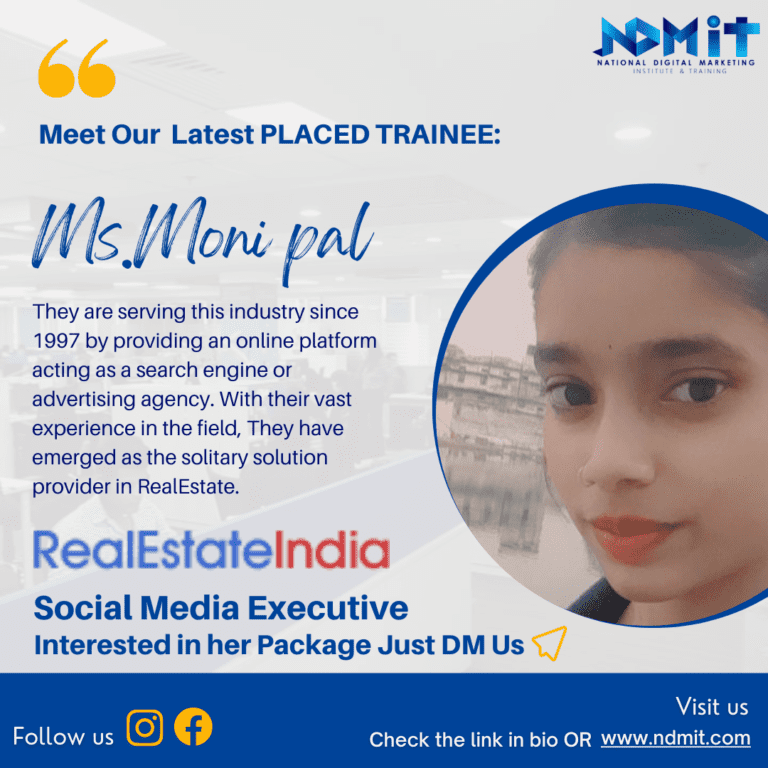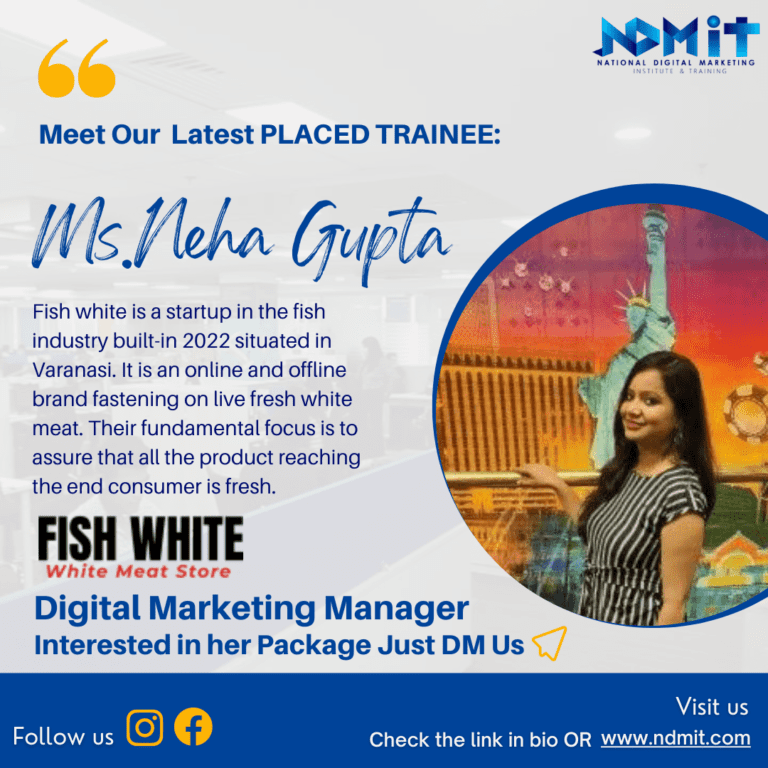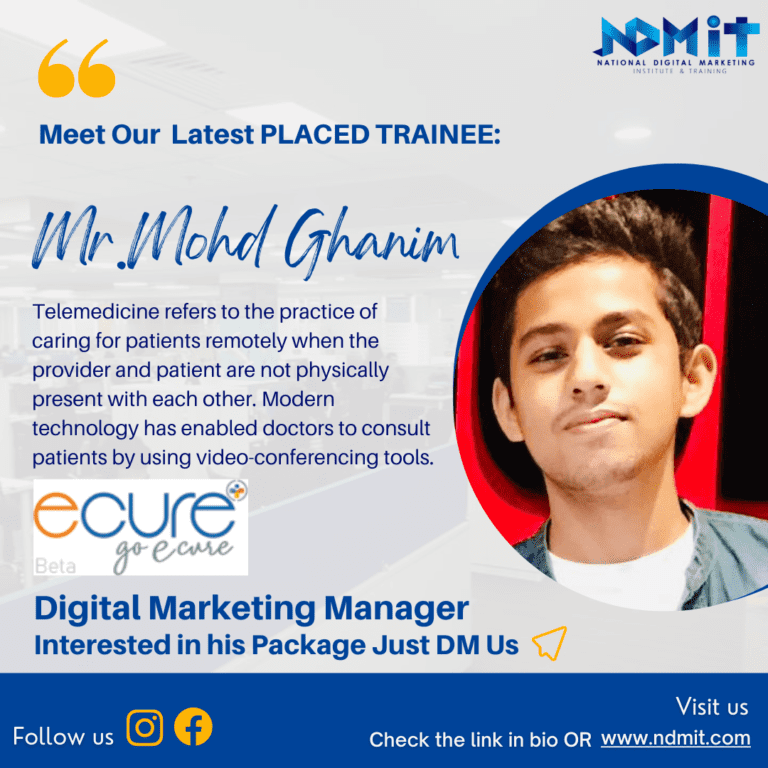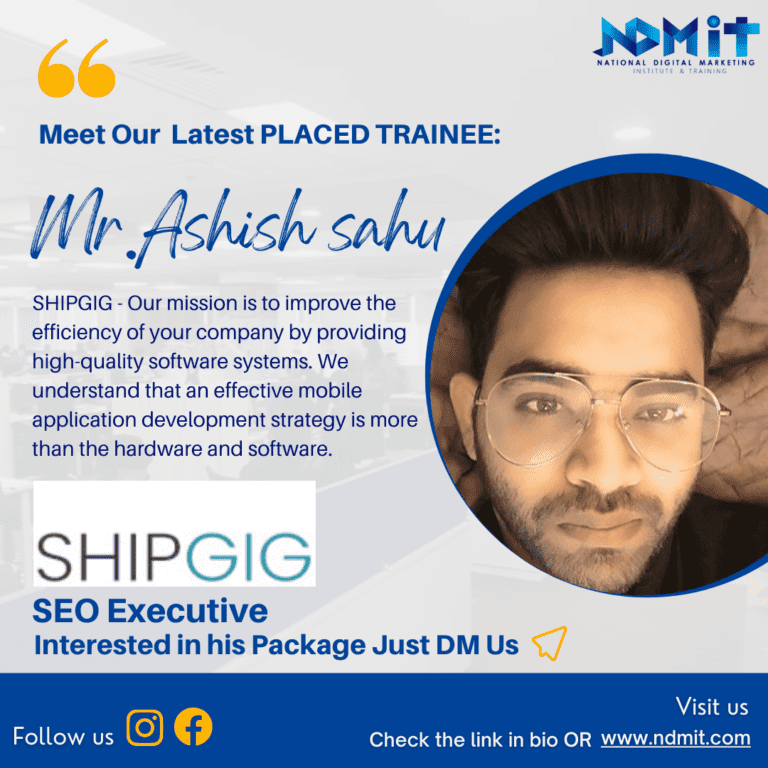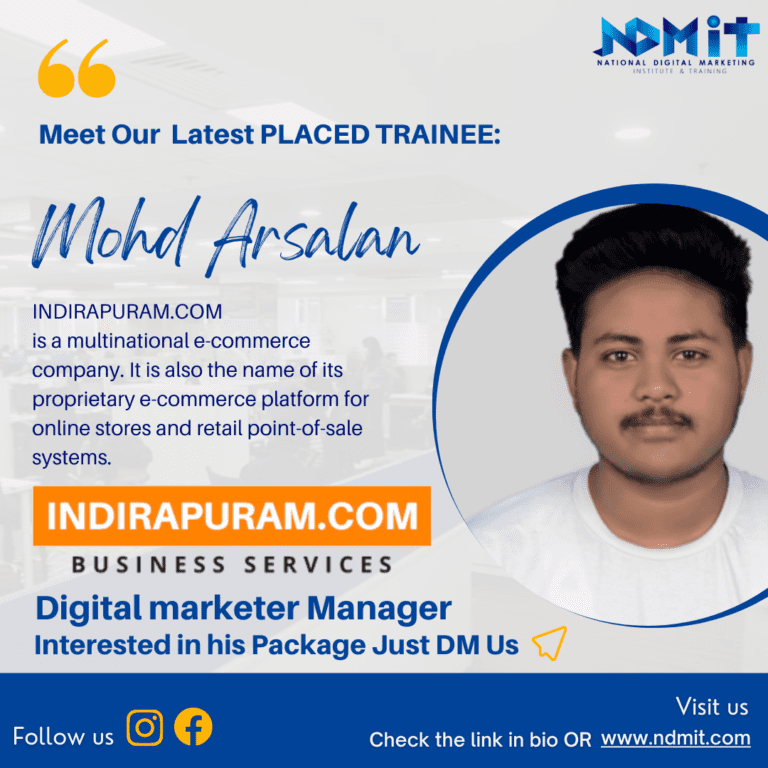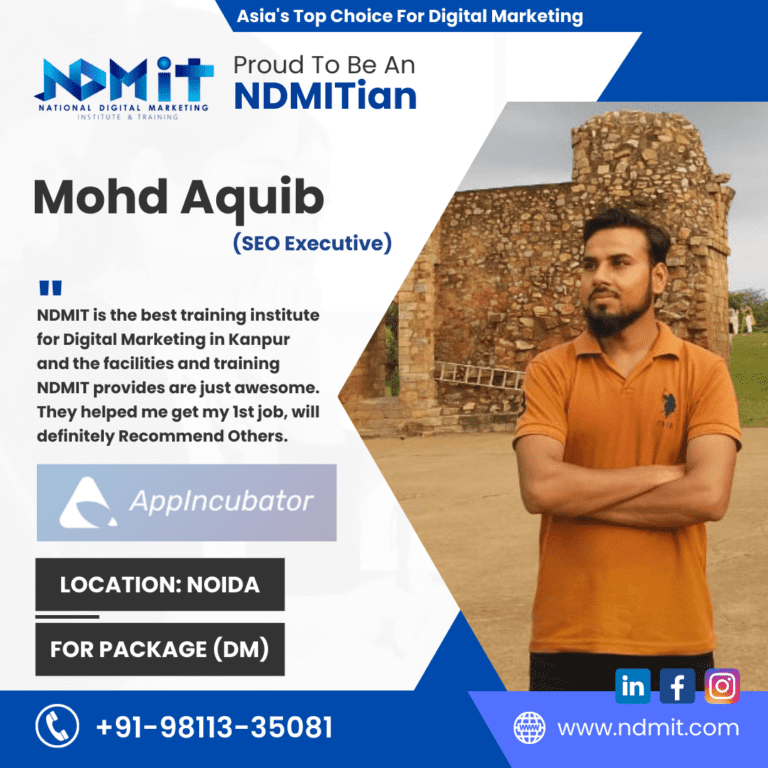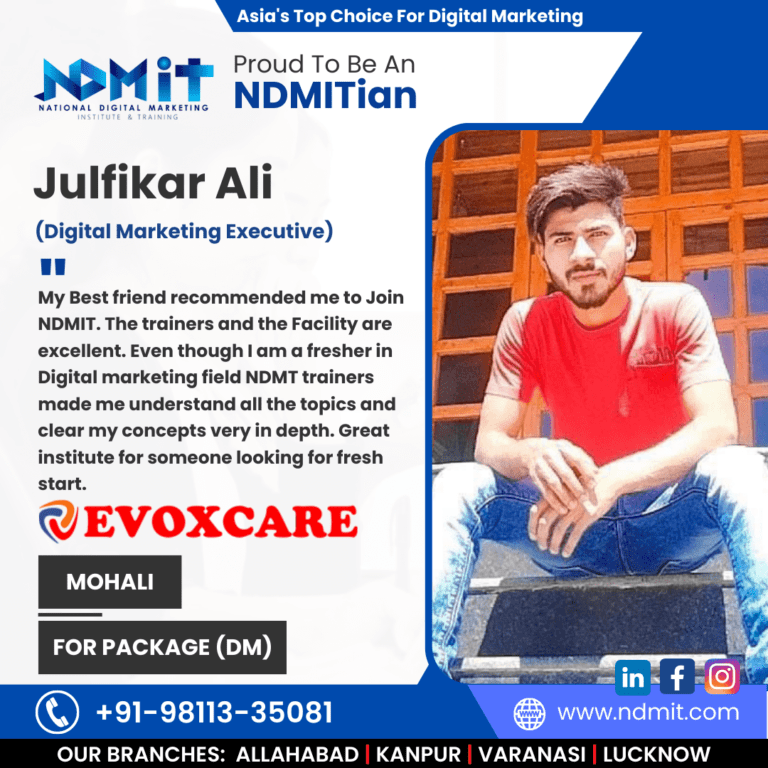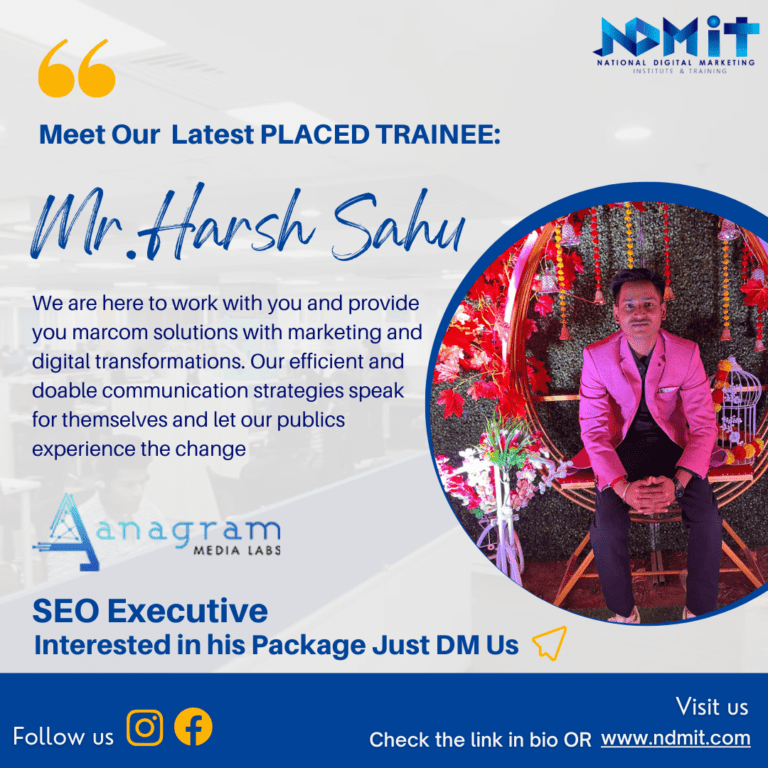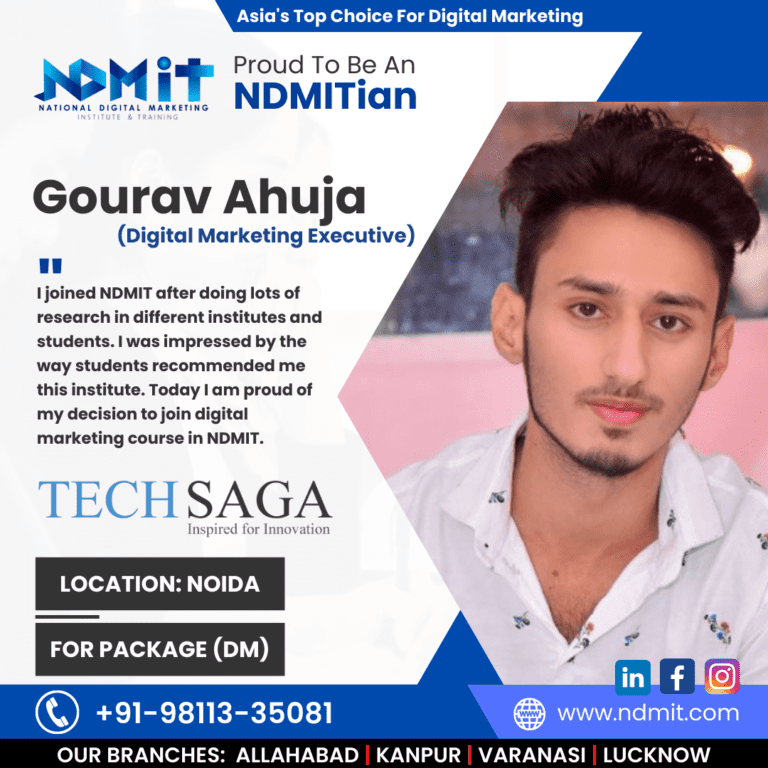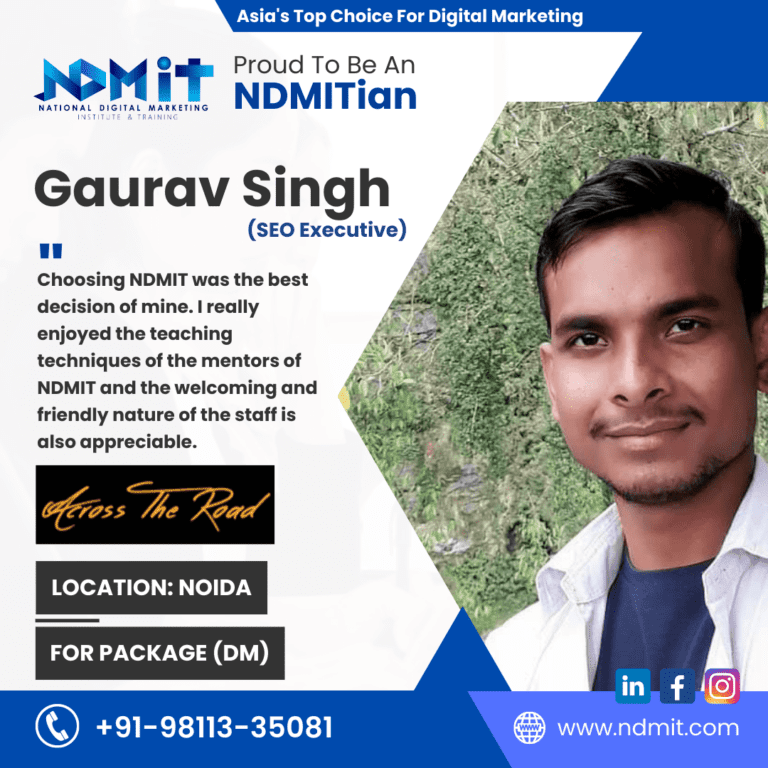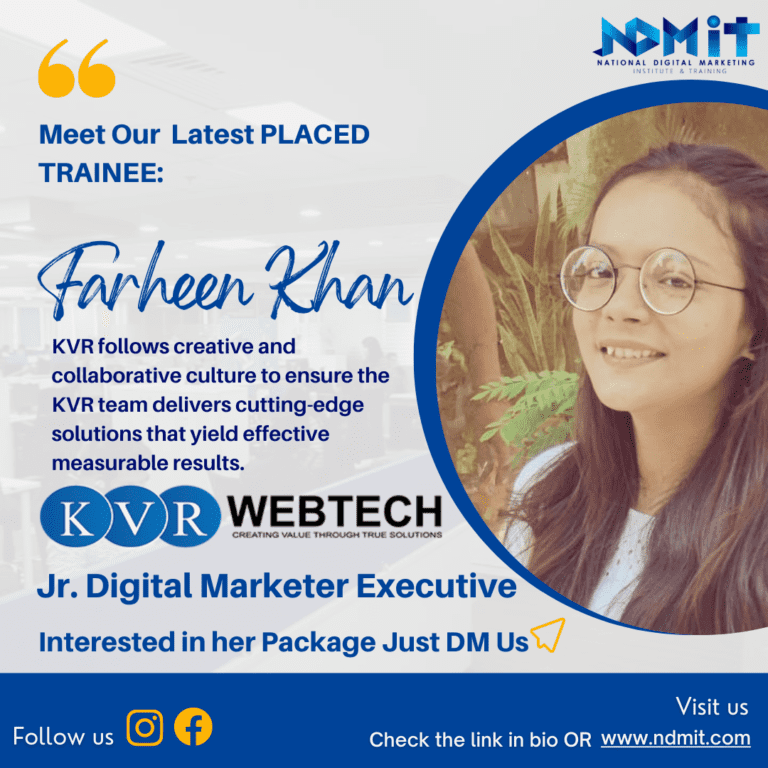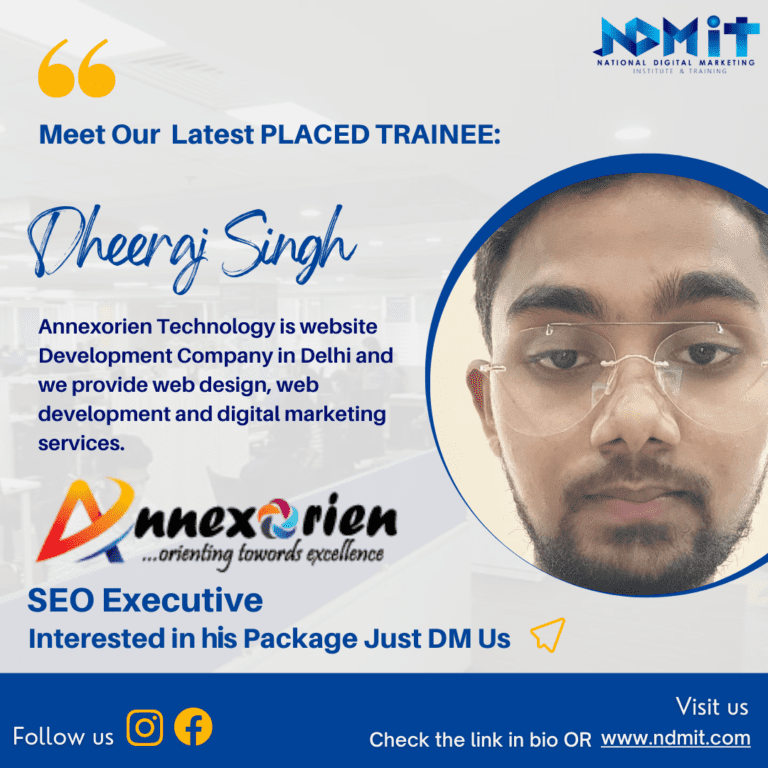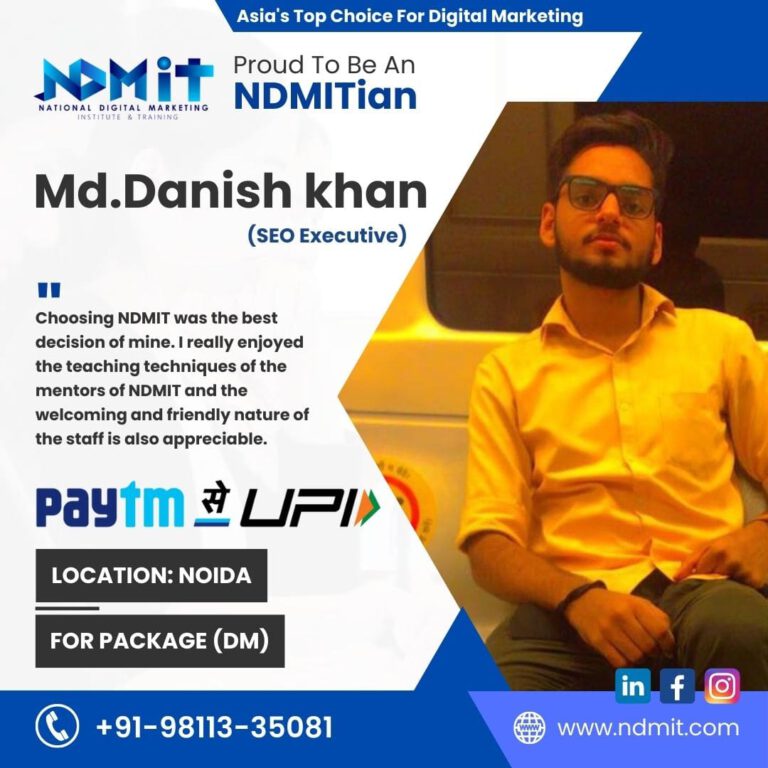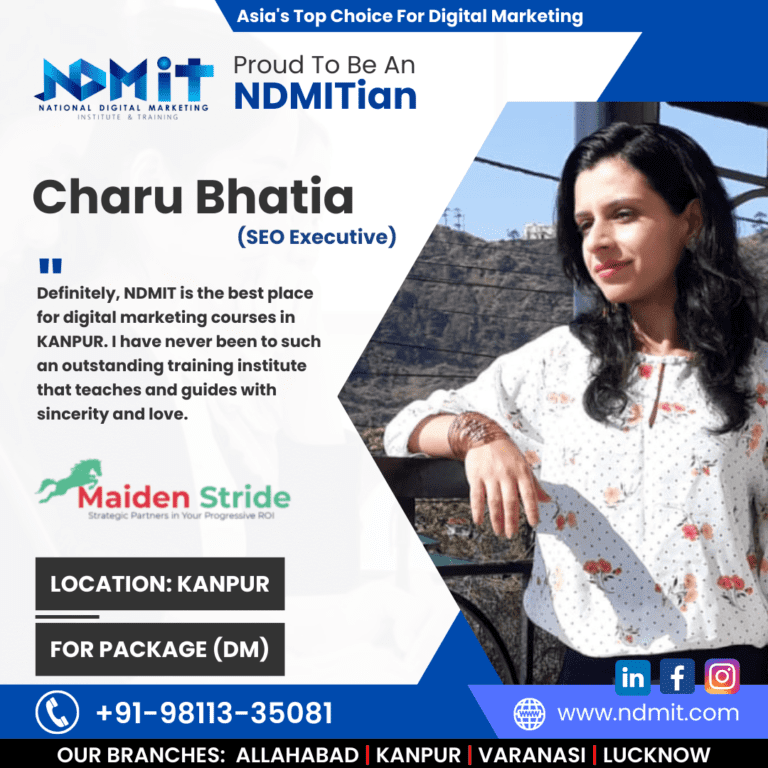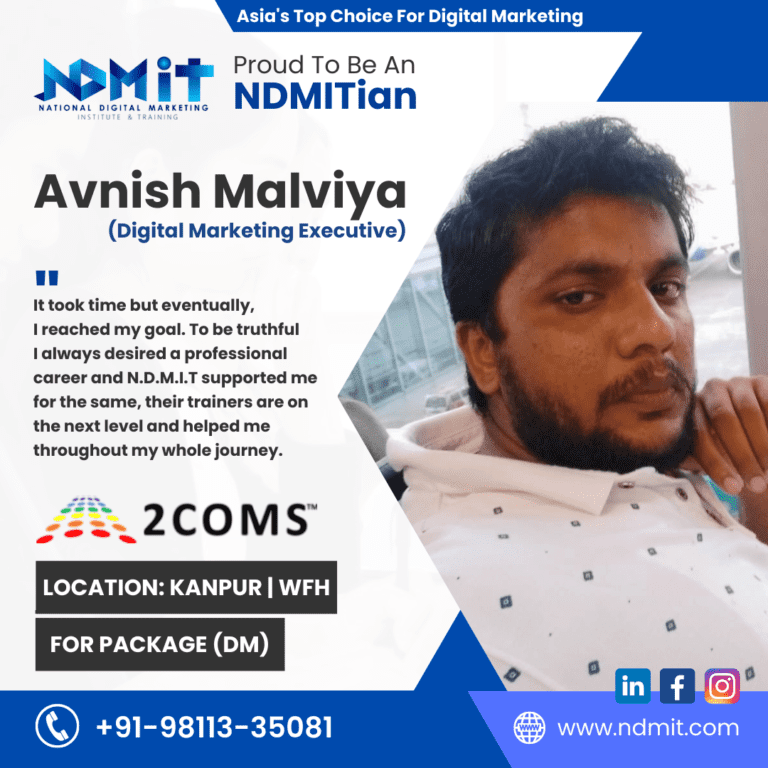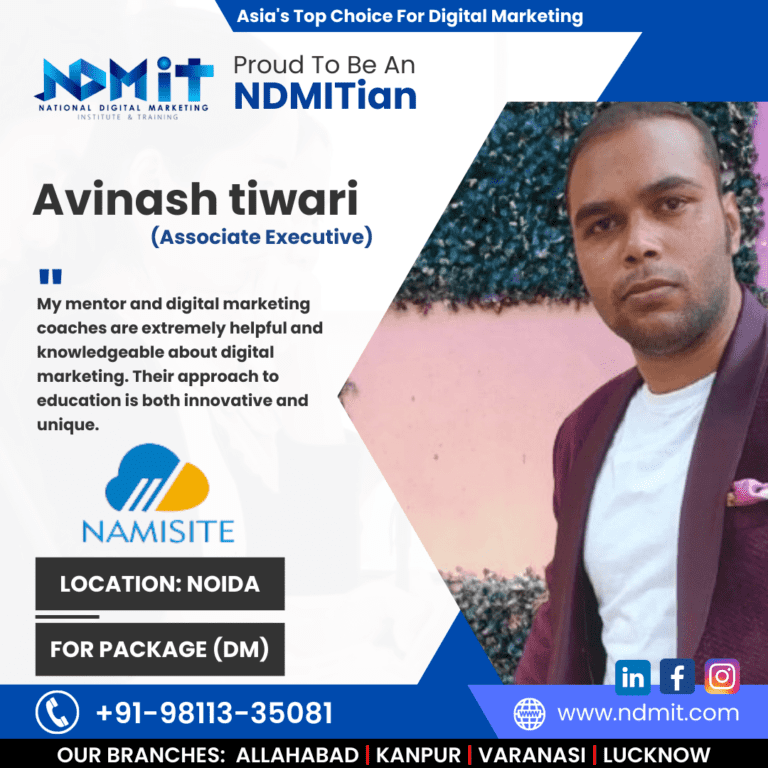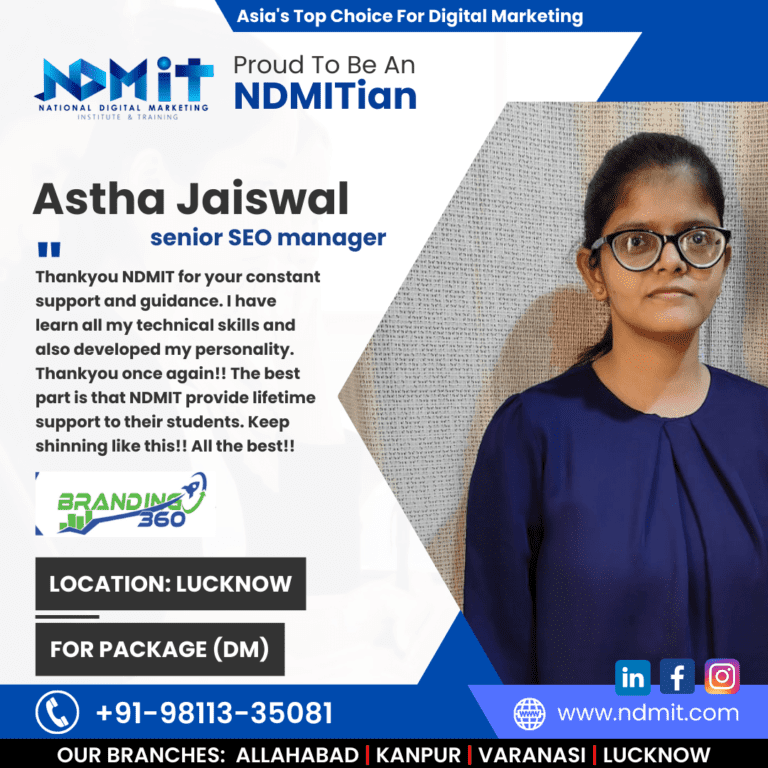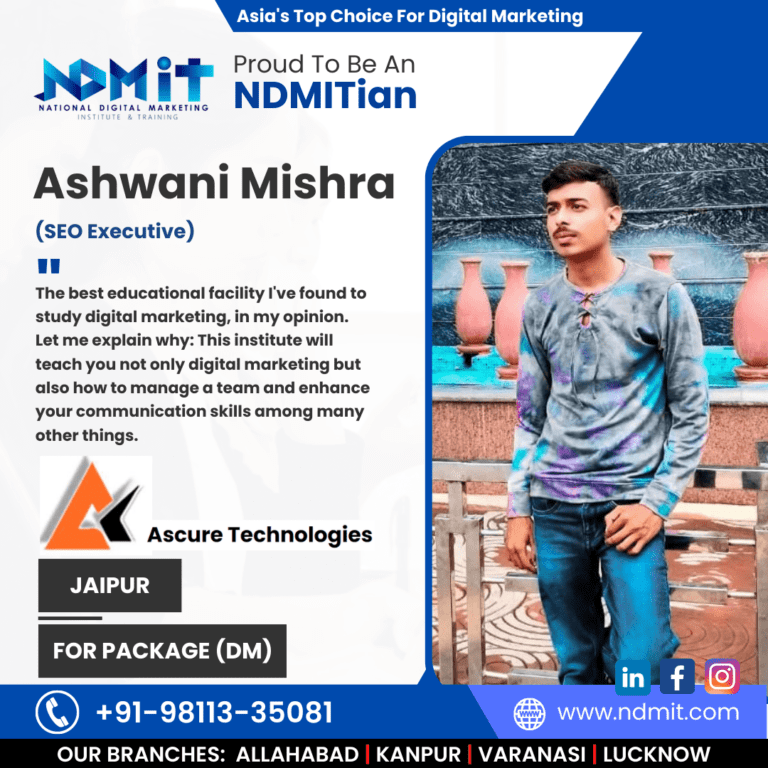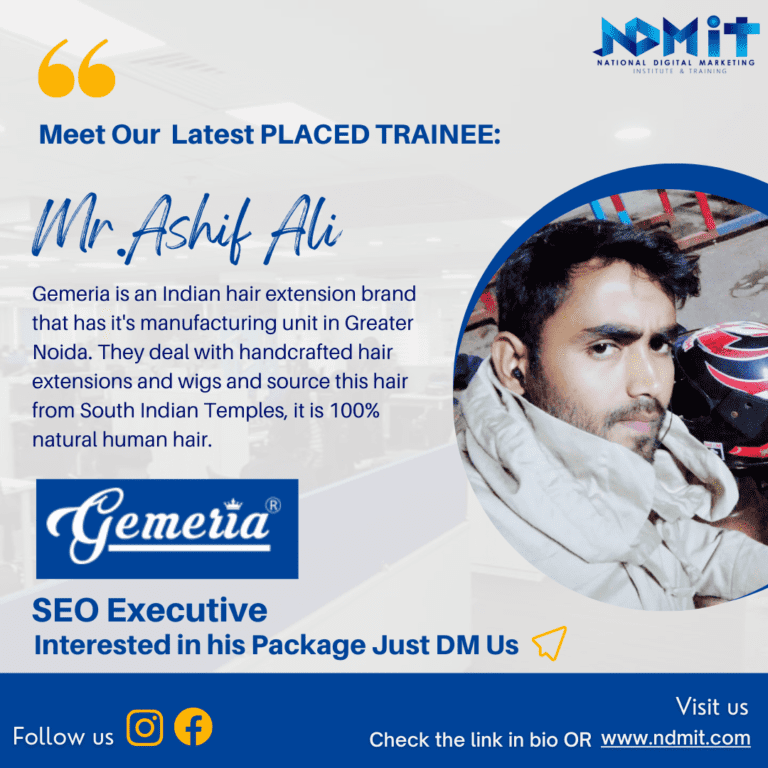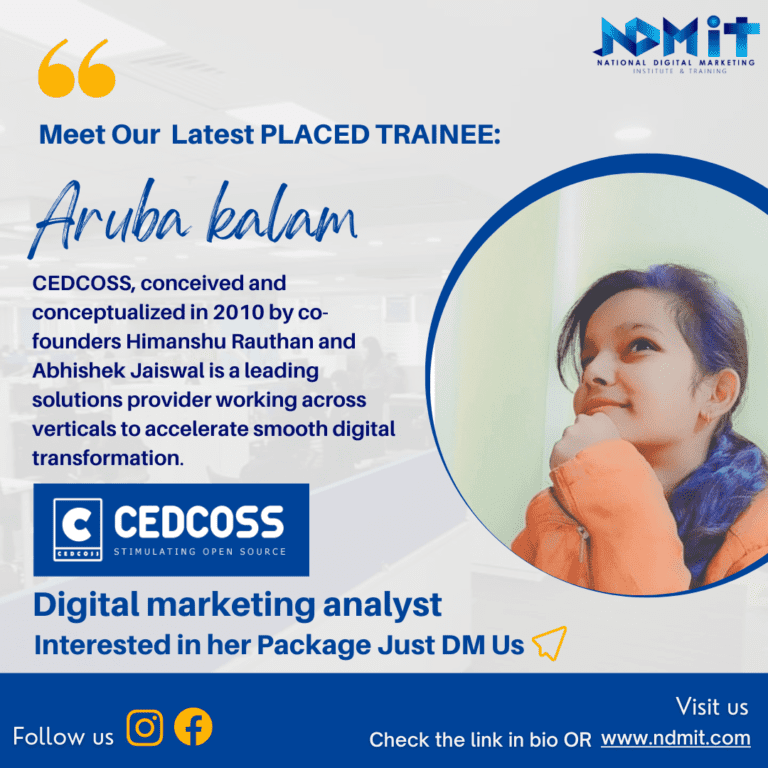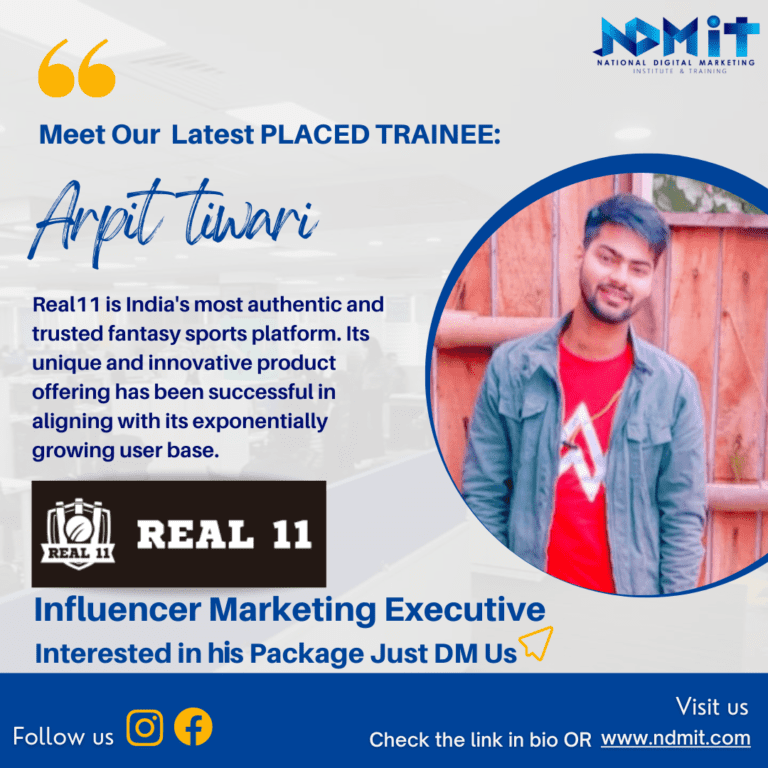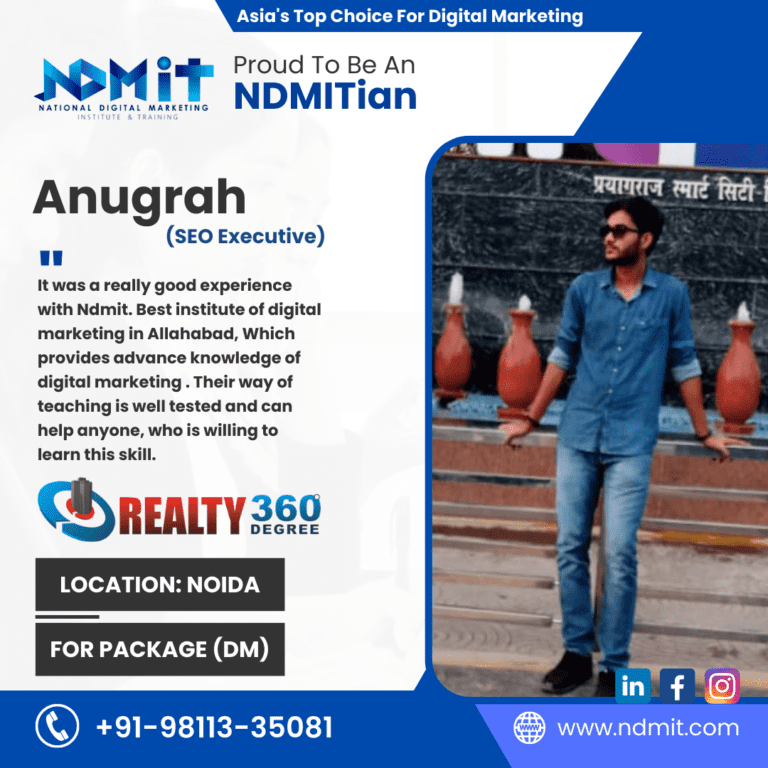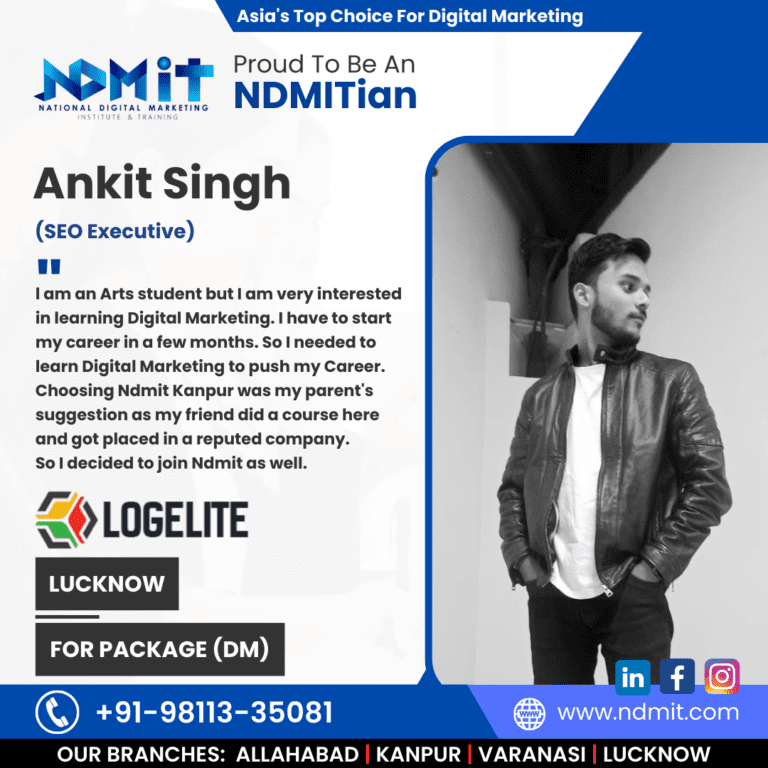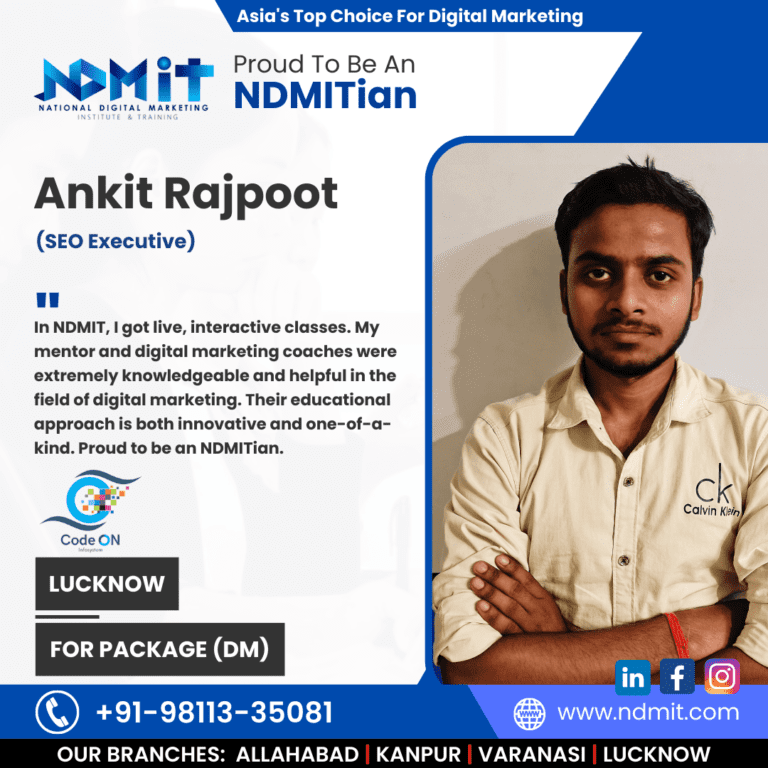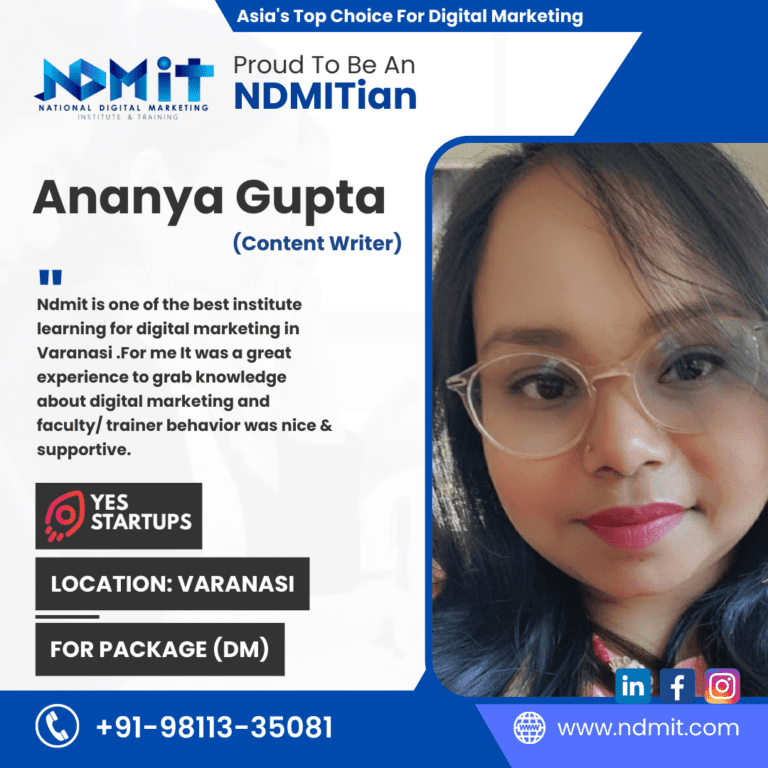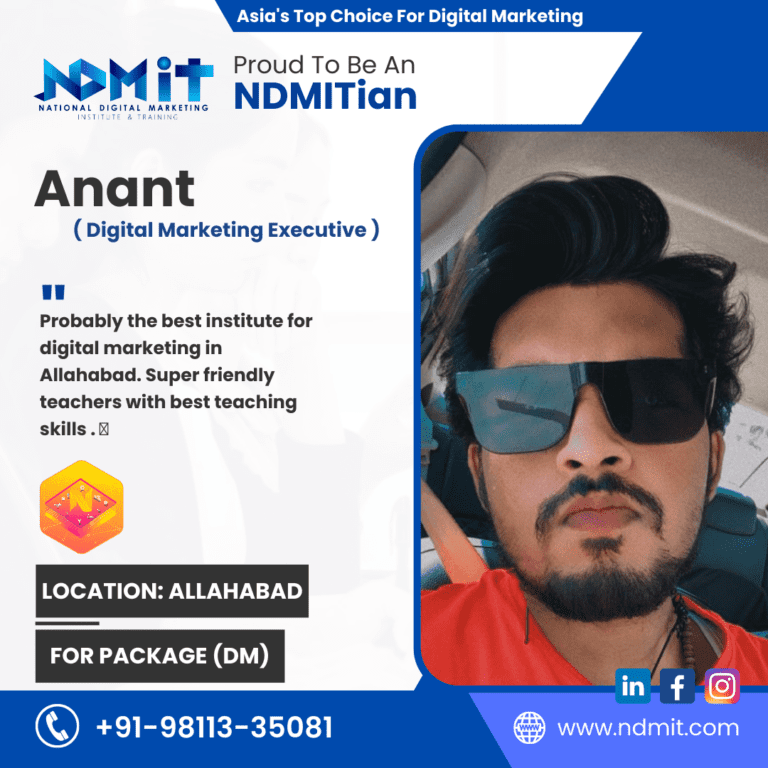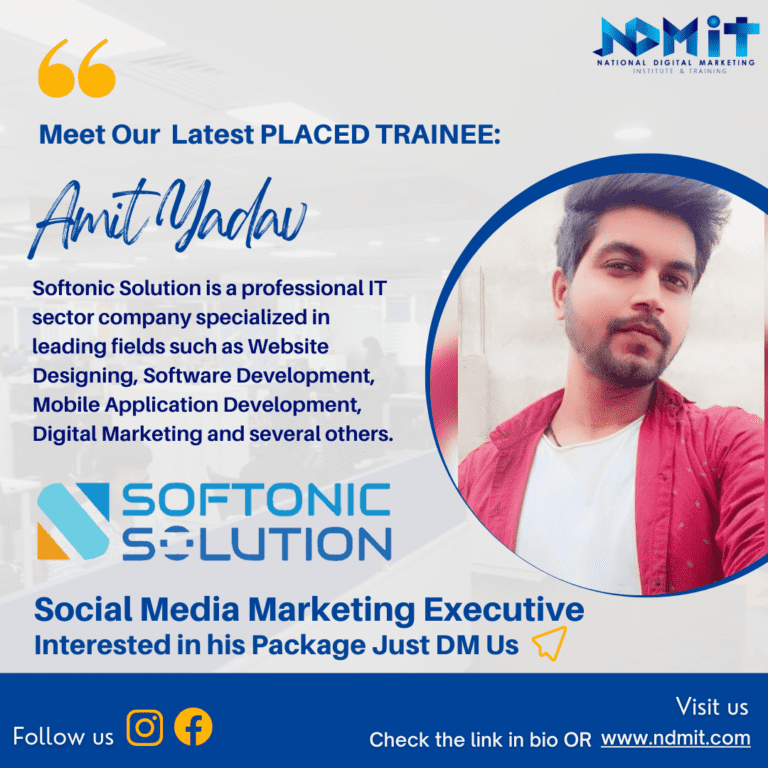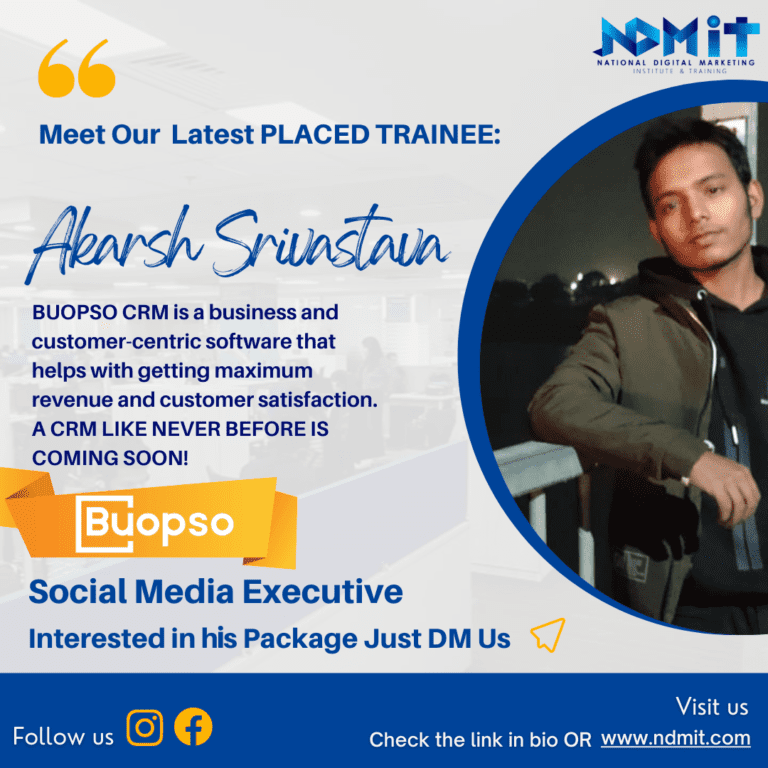 Get the Detailed Curriculum and faculty member list.
Their unique method or their hybrid learning model (as they call it) starts with a series of high-quality online video courses, followed by weekly live training sessions, custom-tailored 1-on-1 mentoring sessions, and in-class presentations.
The course syllabus is divided into terms and modules that are taught in-depth to ensure a holistic understanding and training for each student.
Introduction to Digital Marketing
Content Marketing
Graphic designing with canva from scratch
Lead generation
Landing page practical
You tube & youtube SEO
ORM
Affiliate marketing
Google Adsense
E-commerce website creation
Email marketing
Mobile Marketing
15+ Modules
Organic Social media marketing
Copywriting
Google analytics
Google search console
Introduction of SEO
Local SEO
Buyer Persona
Keyword research
Introduction of Google ads
30+ Modules
Live Session with Renowned Marketers
ON-Page SEO
OFF-Page SEO
In-depth Google Ads
Facebook Ads
Instagram Ads
Twitter Ads
LinkedIn Ads
Competitors Analysis
Paid Tools walkthrough
Client Interaction
Mock interview
Presentation Session
Interview Preparation
Live projects
Know What You Will Learn!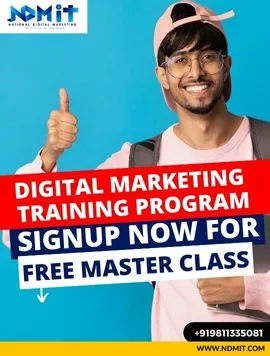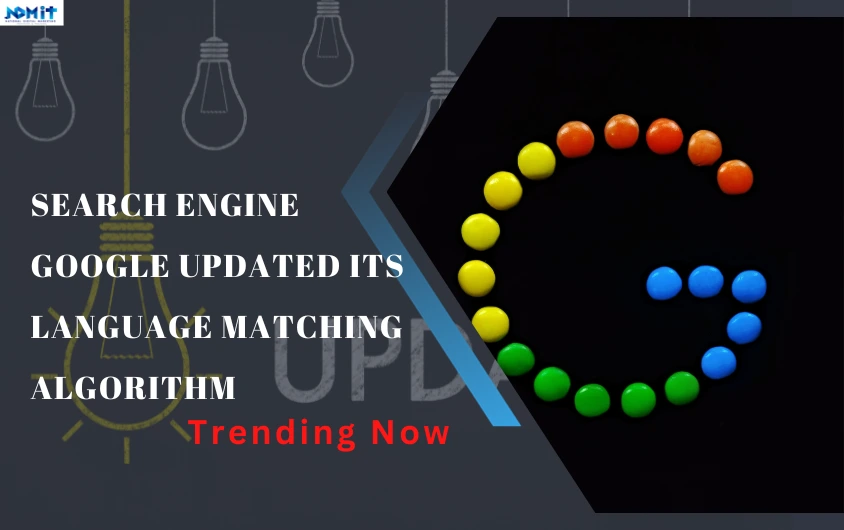 Search Engine Google Updated its Language Matching Algorithm
26 September 2023
Search Engine Google Updated its Language Matching Algorithm : Well, it's all thanks to their language...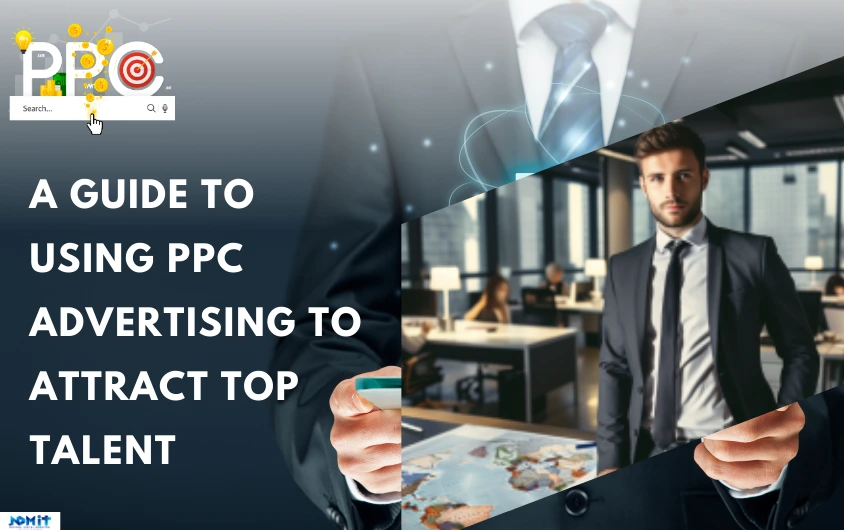 A guide to using PPC advertising to attract top talent
26 September 2023
A guide to using PPC advertising to attract top talent : We know how tough it can be to find the best...