A guide to SEO reporting and tracking in 2024 :
If you're in the industry, you know how important SEO reporting and tracking can be. But sometimes the data you think is important may not be as valuable to the big bosses. Or maybe you don't have enough info to show how your business is growing, changing, or what's going on. Reports need to tell a story, and if you don't have the right info, you'll have a bunch of confusing stuff that won't make you feel good. Before you can start reporting and tracking, you'll need to collect the data, which means using the right tools.
Tools for tracking and reporting on SEO
Most SEO companies use a bunch of different tools to make sure they're collecting, tracking, and reporting all the info they need.
A few of the main ones include:
Google Search Console

Google Analytics

Adobe Analytics

Bing Webmaster Tools

Internal site search
There are lots of paid third-party tools out there that can help you with reporting and tracking, but it's important to know the limitations of each one. Google Search Console, for example, only keeps data for a 16-month period, so if you want to be able to provide long-form reports that show data beyond that, you'll need to take that into account. I'm assuming you already have these tools, but if you don't, check them out and add whatever coding you need to your website to get started. Otherwise, you'll just blindly go through your SEO journey without the data you need.
Impact of AI on data analysis :
The constant evolution of the SEO ecosystem necessitates the industry's adaptation and adjustment with the introduction of AI. Embracing artificial intelligence allows for efficient data analysis and extraction of crucial data points that are often overlooked due to the time-intensive nature of manual processes.
A regex is needed to create the query filter
If you want to get a better understanding of how your GSC is performing, you can add a custom regex to the Query filter in the GSC. For instance, you can use the following command in ChatGPT to create a regular expression that lists the keywords that will be used in the Google Search Console:
Add any keywords that match your informational intent Now you can add the regex to the GSC and use it to filter through your info to get a better idea of how it's doing.
You can then add these graphs to the reports to give your audience a better understanding.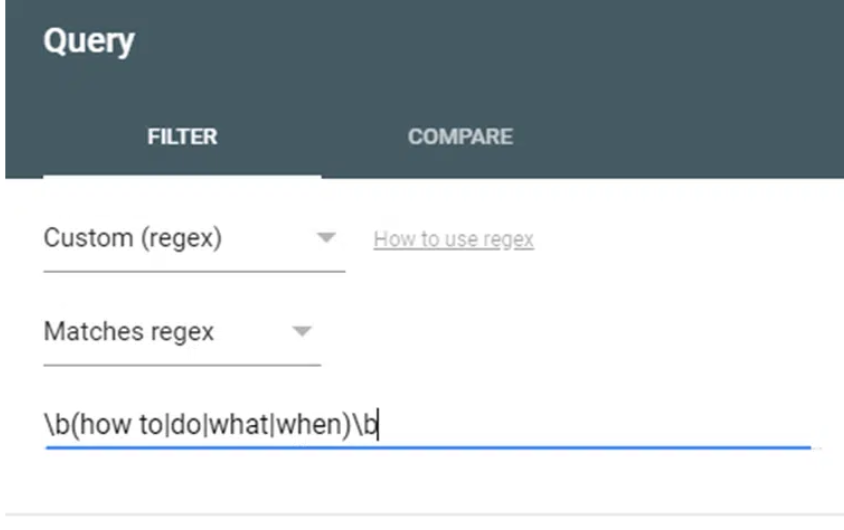 Google Analytics integration with ChatGPT
the paid version of Google Analytics, you can link it up with ChatGPT through plugins. Once you're connected, you can get all your important info in no time, like: 
Show me how many people have visited your website from each country in the last month.

Show me how many people from each country have visited your website in the last half year.

Create a table to show how much your website's page views have grown over the past half year.
If you're having trouble with GA4 – as most of us are – connecting to third-party services can help you crunch data in new and interesting ways. You can even mix and match data from your ads on Google, Instagram, Facebook, and more.
Events tracking (including non-SEO events)
Search Engine Optimization (SEO) is all about getting organic traffic to your website and making money from that traffic, but it also requires a tracking system.
Major search engine algorithm updates.
Keyword rankings.

Page-level traffic.

Changes and updates to the site.

Conversions.
Keyword separation by brand and non-brand :
Now that you've got your events tracked, it's time to get down to the nitty-gritty of keyword separation. Giving clients a ton of keywords won't do them any good – some of them might not even be worth anything.
What you should do is try and segment your keywords into:
Brand keywords

Non-branded keywords
Companies want to make sure their brand keywords include the company name and product name. Nike is a great example of a powerful brand where people can search for "Nike running shoes" and "running shoes" to find what they're looking for.
Informative keywords.

Transactional keywords.

Generic keywords.
The majority of your work in generating reports involves going through keyword lists, which can be quite time-consuming. However, it is a crucial step in providing valuable insights to your clients.
Clients are particularly interested in knowing which keywords they are ranking for and how the website traffic is being directed. This information helps them understand the effectiveness of their SEO efforts.
While tracking various metrics is important, there is one data point that stands out among the rest – revenue. Understanding the impact of keywords on revenue can provide valuable insights for optimizing marketing strategies.
Don't forget to keep your SEO data for future reference :
It is crucial to retain the reports you generate today as they will serve as a reference for the company's SEO growth in the coming years. These reports hold significant value and should be saved for future analysis.
It is advisable to store the data you collect as it contains valuable information that will be beneficial in the future. This data will contribute to telling the story of the company's SEO growth and should not be overlooked.
To ensure the availability of historical data beyond the 16-month limit, I have developed personalized tools to backup Google Search Console data. This way, you can refer to the data even after the specified time frame.
I highly recommend implementing a similar approach to preserve your reporting work, even if you switch companies. This will enable you to maintain a comprehensive record of the company's SEO progress and facilitate future analysis.
Additionally, consider utilizing tools like ChatGPT to delve deeper into your data and extract valuable insights that might otherwise go unnoticed. These tools can assist you in uncovering hidden patterns and trends within your data, enhancing your understanding of the company's SEO growth.
FAQ – Frequently Asked Questions
How does a digital marketing course benefit me in my career?
A digital marketing course can bring a number of benefits to your career. Some of these benefits include:
Increased knowledge: By taking a digital marketing course, you will gain a comprehensive understanding of the various aspects of digital marketing, including search engine optimization (SEO), social media marketing, email marketing, and pay-per-click advertising.
Career advancement: A digital marketing course can help you advance in your current role or transition into a new role within the marketing field. With the increasing demand for digital marketing skills, a certification in this area can help set you apart from other candidates.
Stay up-to-date with industry trends: The world of digital marketing is constantly evolving, and a digital marketing course will help you stay up-to-date with the latest trends and best practices.
Improved skills and performance: With the knowledge and skills you gain from a digital marketing course, you will be able to implement more effective marketing strategies, resulting in improved performance and outcomes.
Increased earning potential: A certification in digital marketing can increase your earning potential, as the demand for skilled digital marketers continues to grow.

In conclusion, a digital marketing course can greatly benefit your career by providing you with the knowledge, skills, and credentials you need to succeed in the digital marketing field.
What is the fees for a digital marketing course ?
Ans: The fees for a digital marketing course in Sonipat range from INR 10,000 to INR 1,00,000 depending on the level of the course you opt for. NDMIT Online Digital Marketing Course fee is INR 40,000 + taxes which is inclusive of placement assurance.
Can I learn digital marketing on my own ?
Ans: Yes, you can learn digital marketing on your own with the help of free videos and courses on YouTube – although the credibility of these courses is often unknown. But it doesn't have to be this way. Instead, you can learn digital marketing with NDMIT Online Digital Marketing Course where you will learn from industry experts and also receive a certification straight from Sonipat instead of anywhere else in India! NDMIT gives you 100% Placement assurance.
Is Digital Marketing a good career ?
Ans: Digital marketing is a great job path. Being a relatively new industry, there are many challenges and opportunities – each highly dynamic. Competitive salary + incentives as well as flexibility with your schedule make this ideal for nearly anyone from entrepreneur, technology focused to analytical individual.

NDMIT is Asia's leading digital marketing institute. Since its start in 2016, NDMIT has set new standards for education around the globe. We have trained more than thousand Students globally in various aspects of digital marketing.
Taking a future-oriented approach to learning, NDMIT ensures its students receive a customized, relevant curriculum that will help them upskill for their careers.
What their Students says about them ?
Get the Detailed Curriculum and faculty member list.
Why choose NDMIT for a digital marketing course?
Free Internship
Centralized level training
Career counseling
Book free demo
100% placement assistance
24*7 Mentor support
Online classes support
Work on live project
Mock interview session
Personality development – with no cost
Learn from industry expert trainer with our founder and co-founder
Attend 3 free live classes online/offline
Hand-to-hand support
Learn corporate sector Etiquette
One on One mentorship support
Career Guidance
Recently Placed NDMITians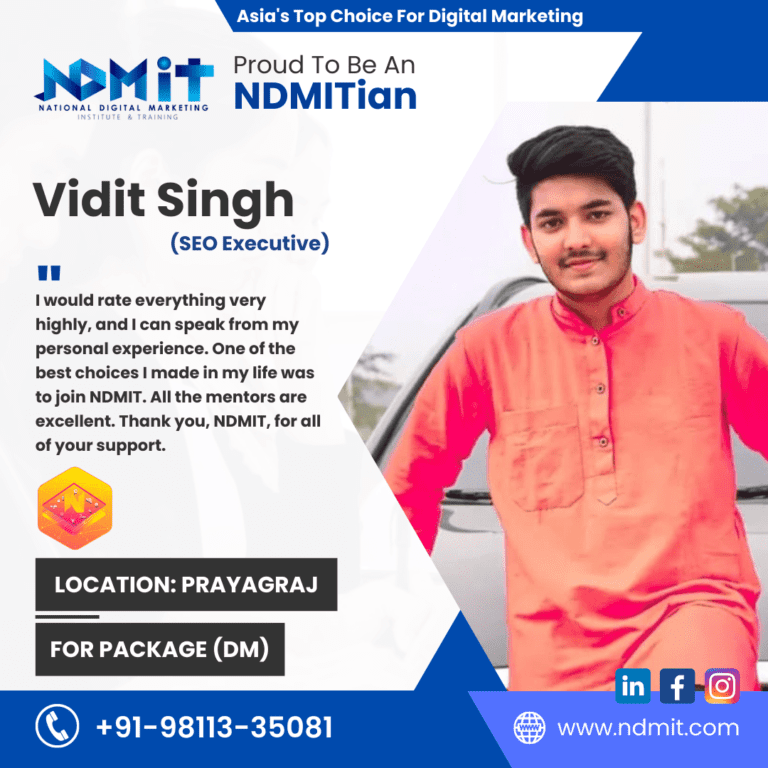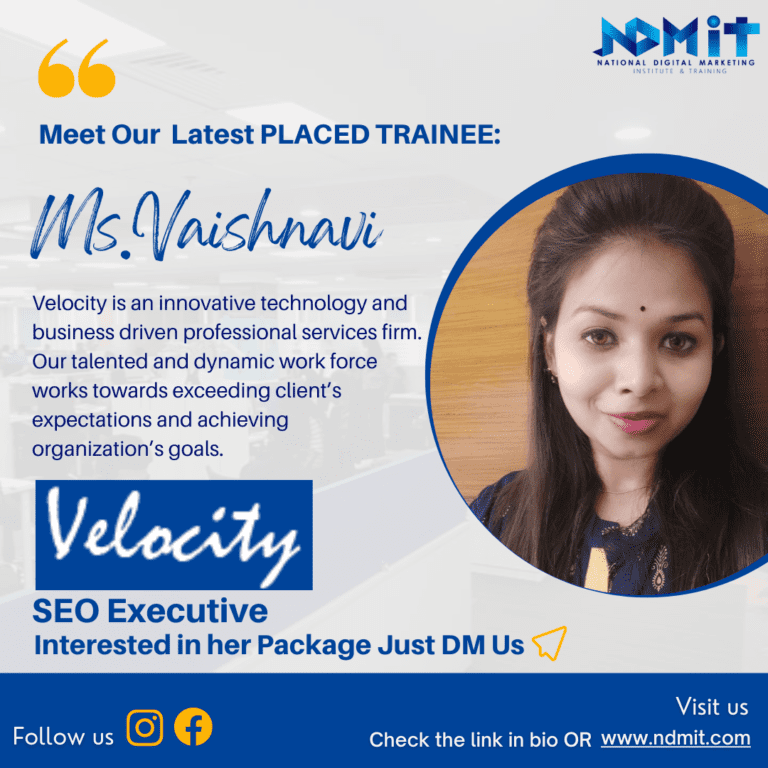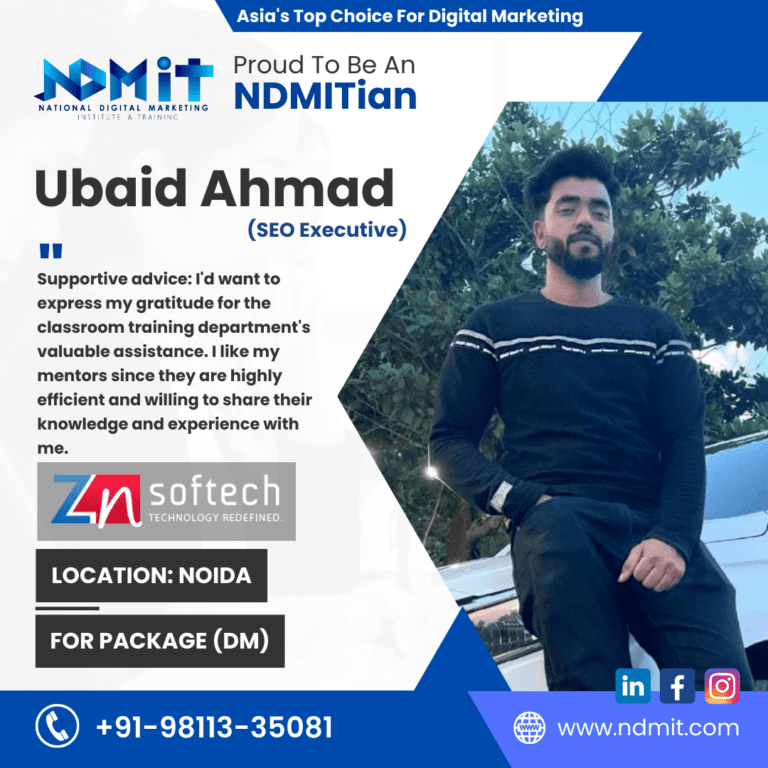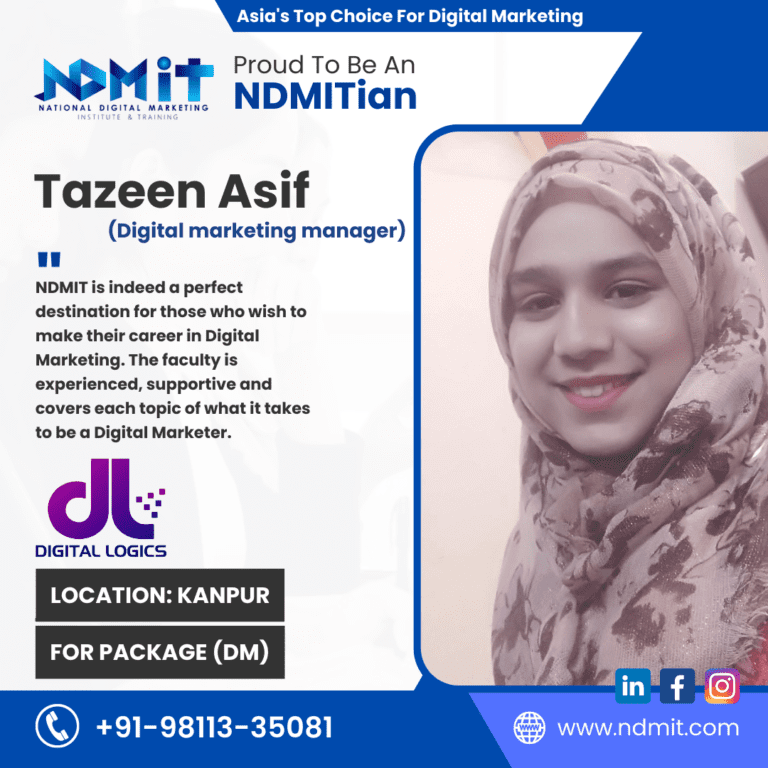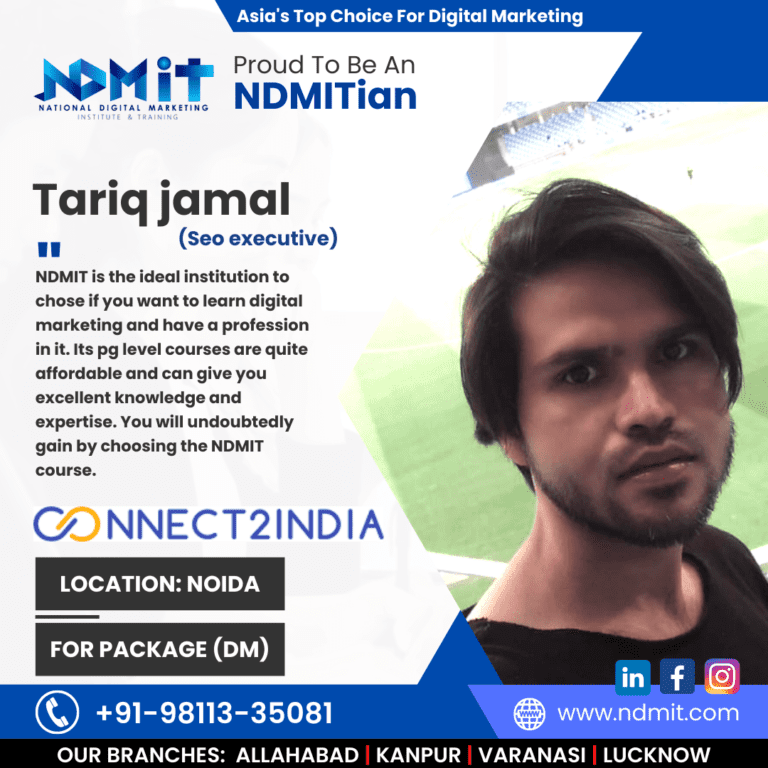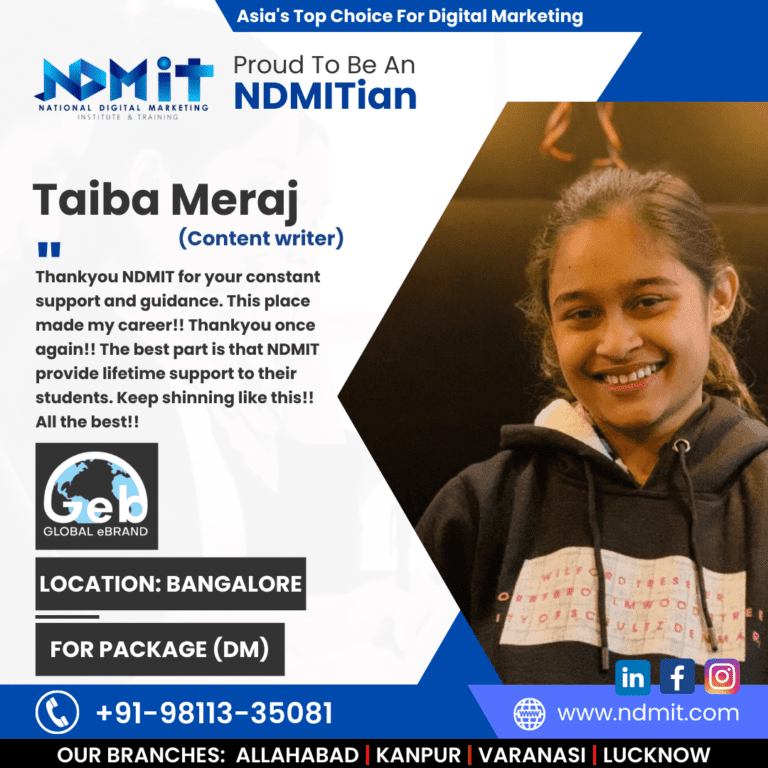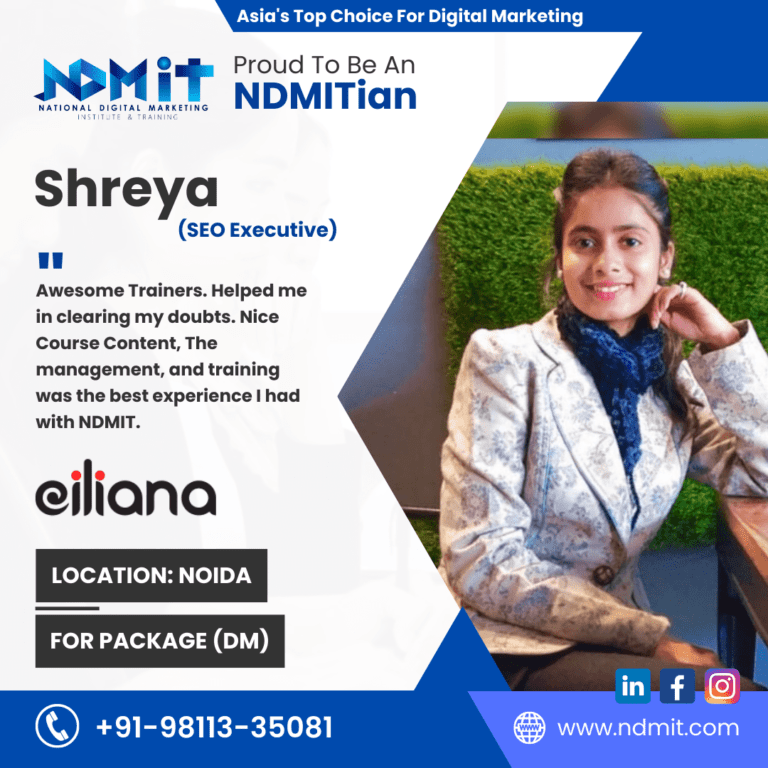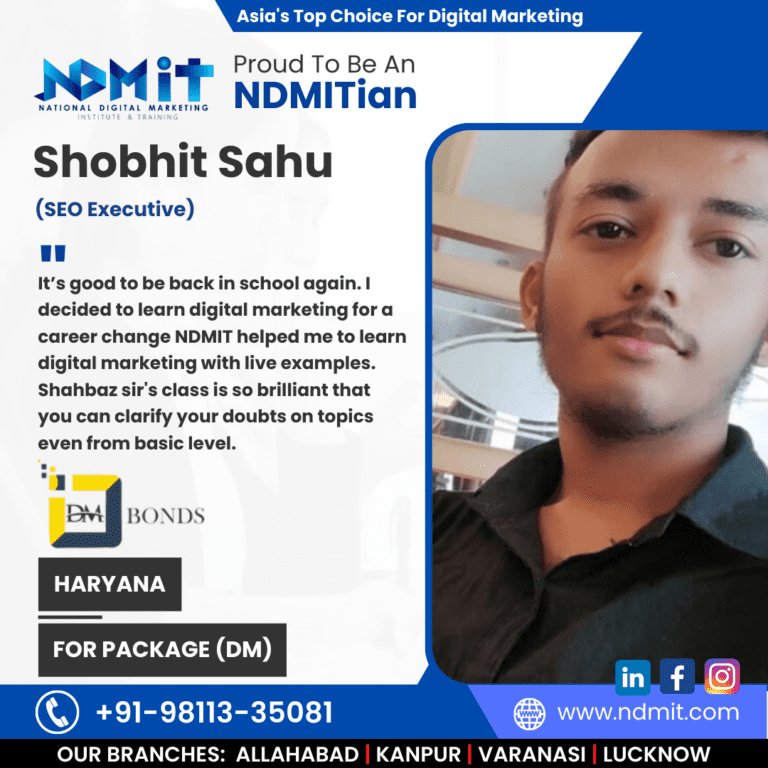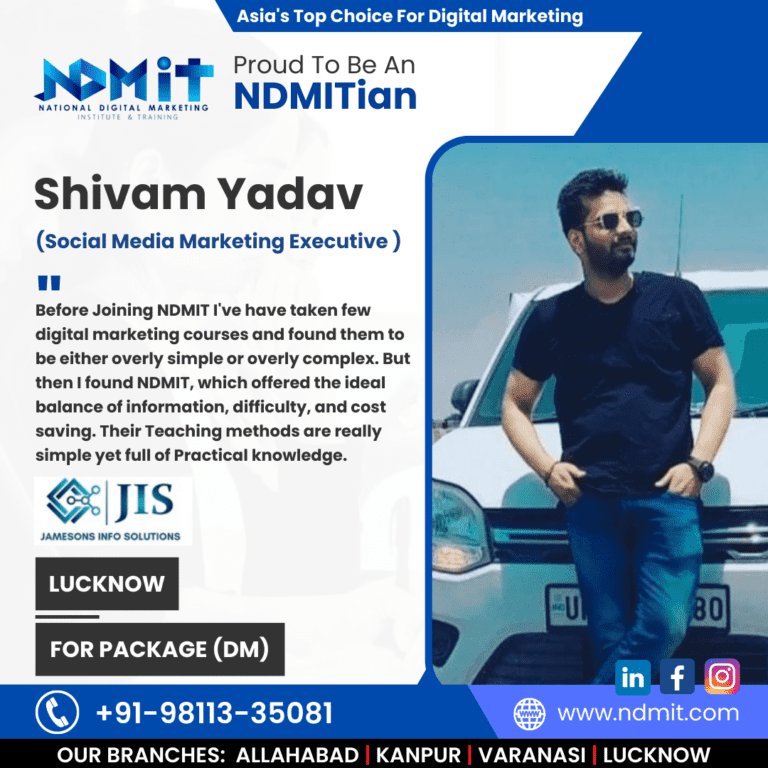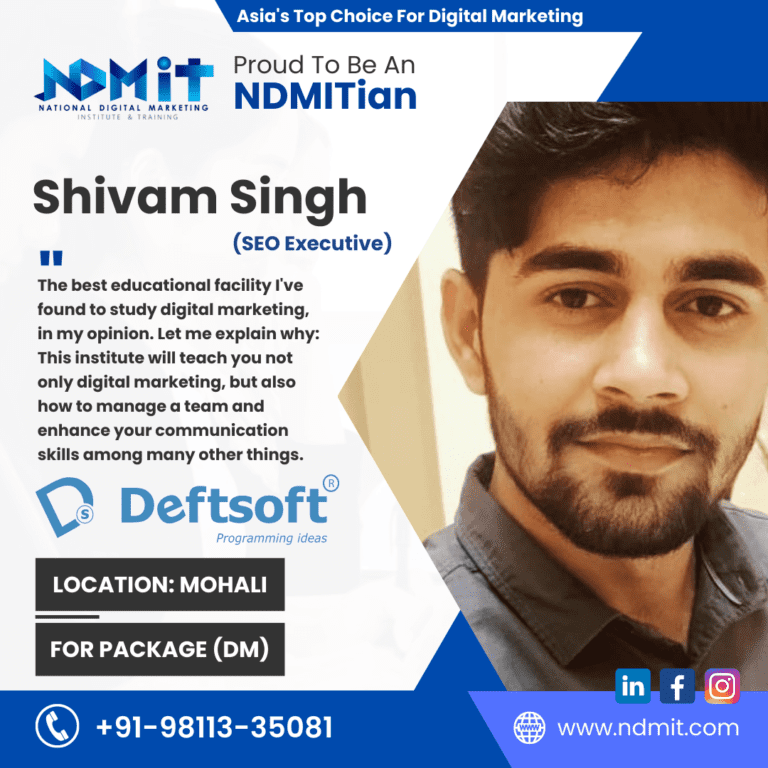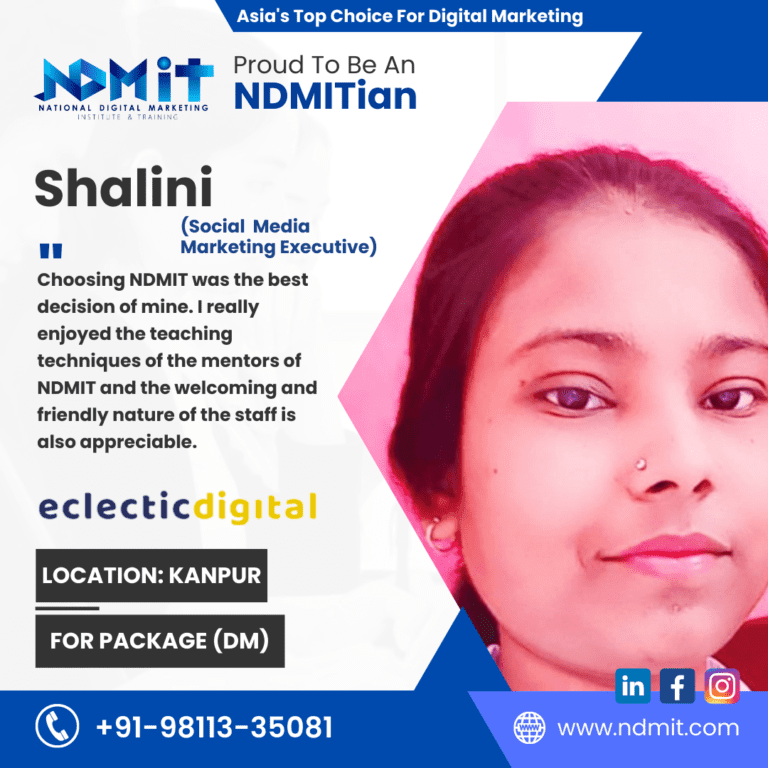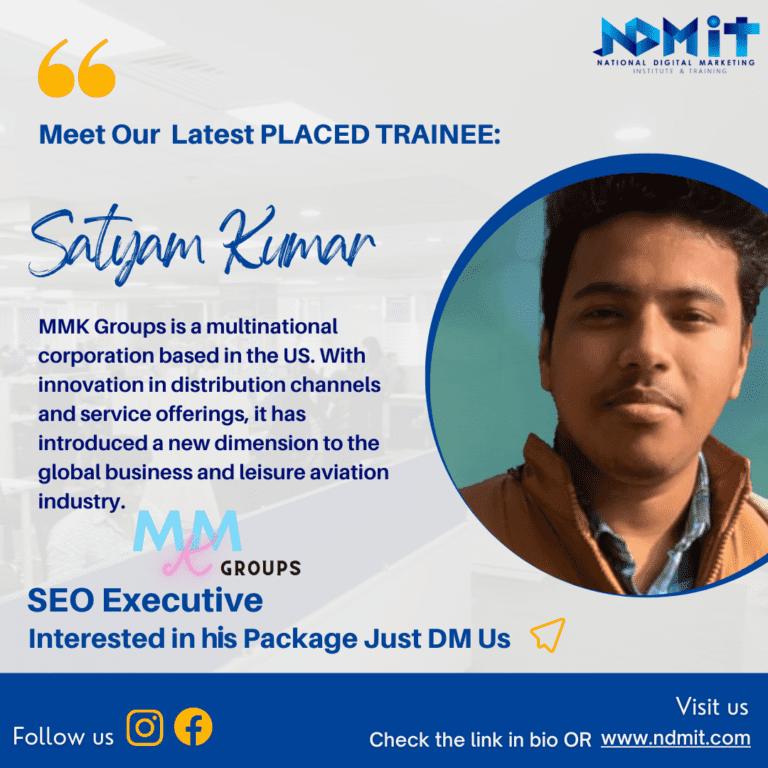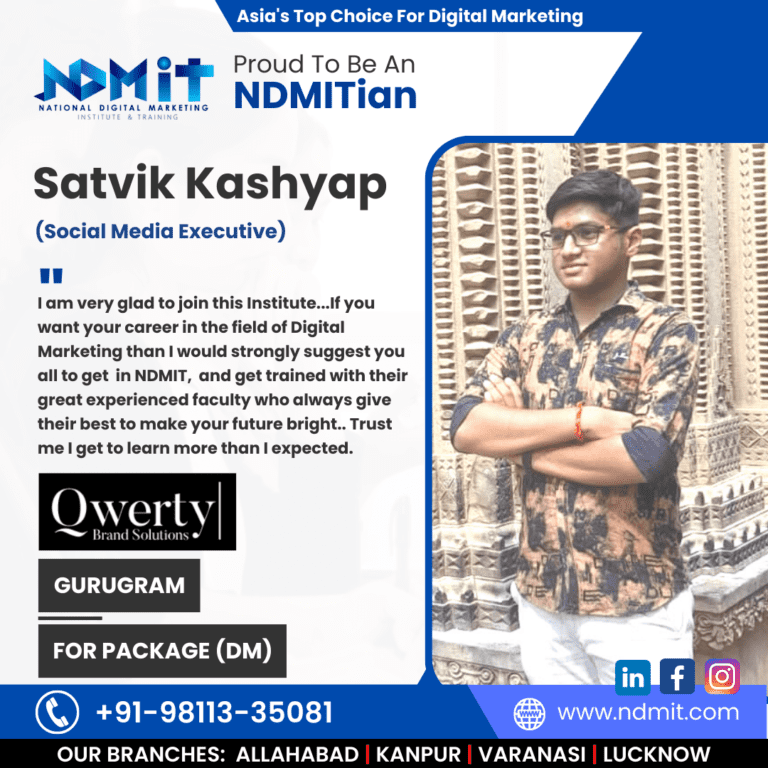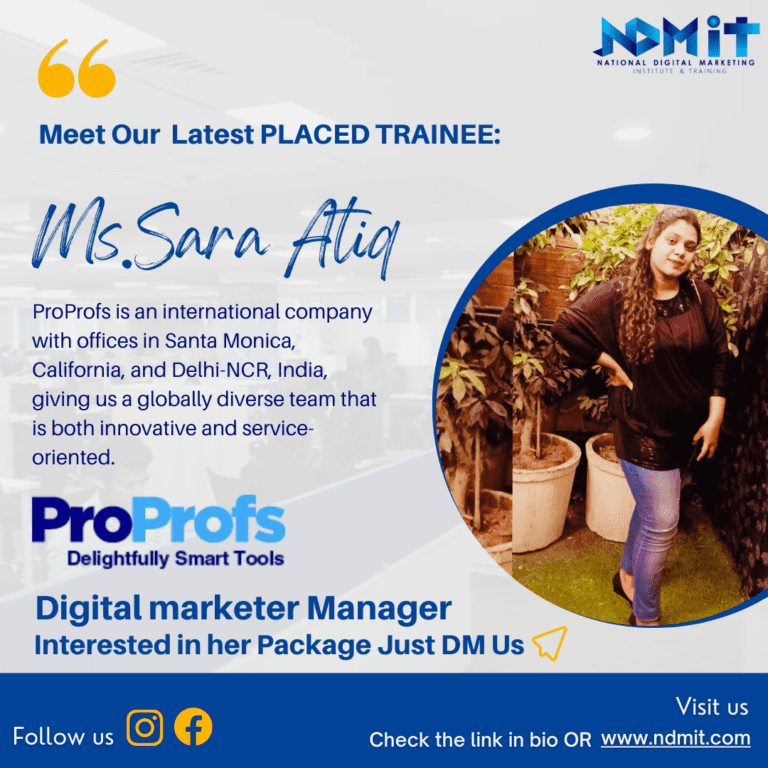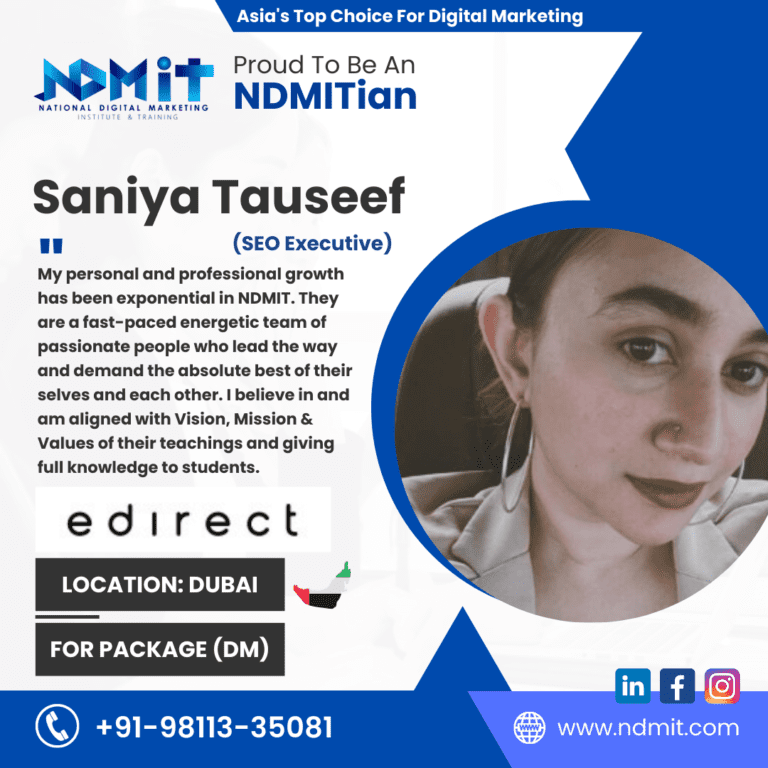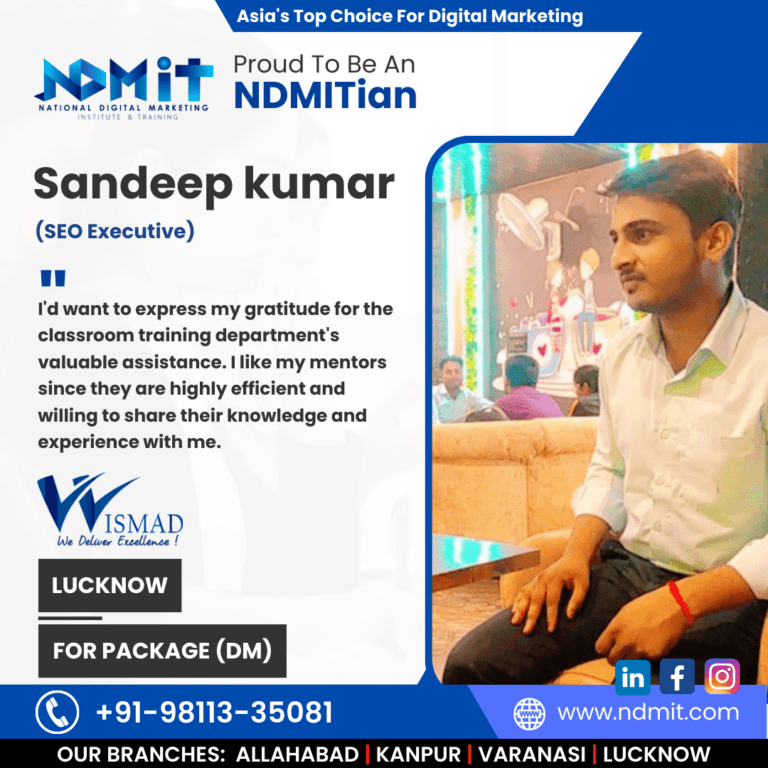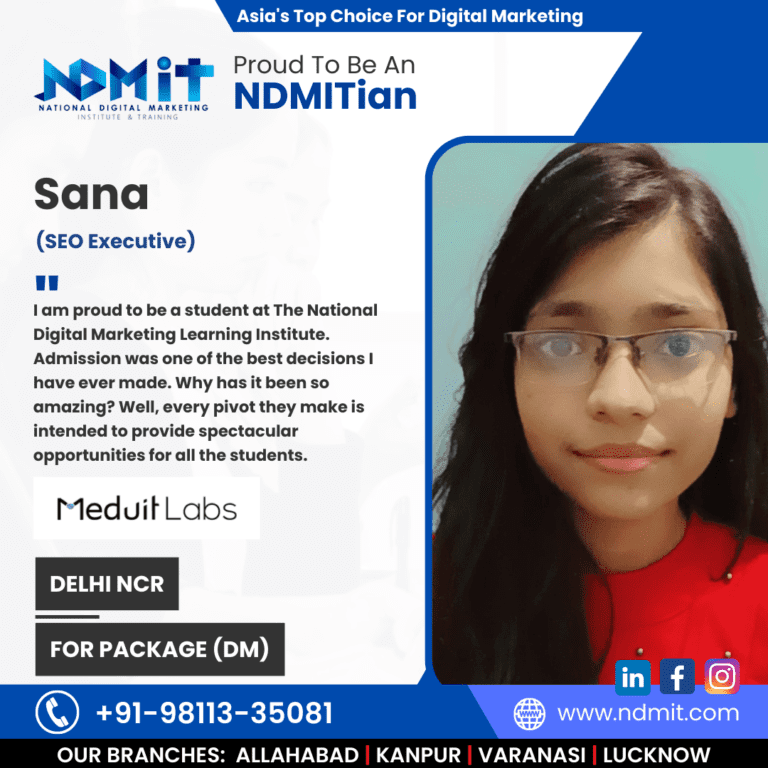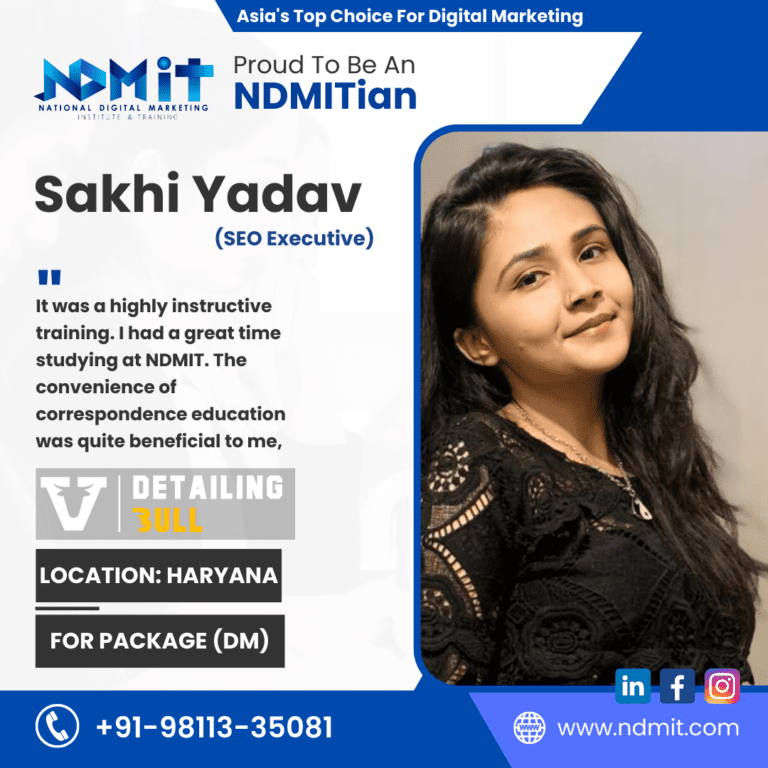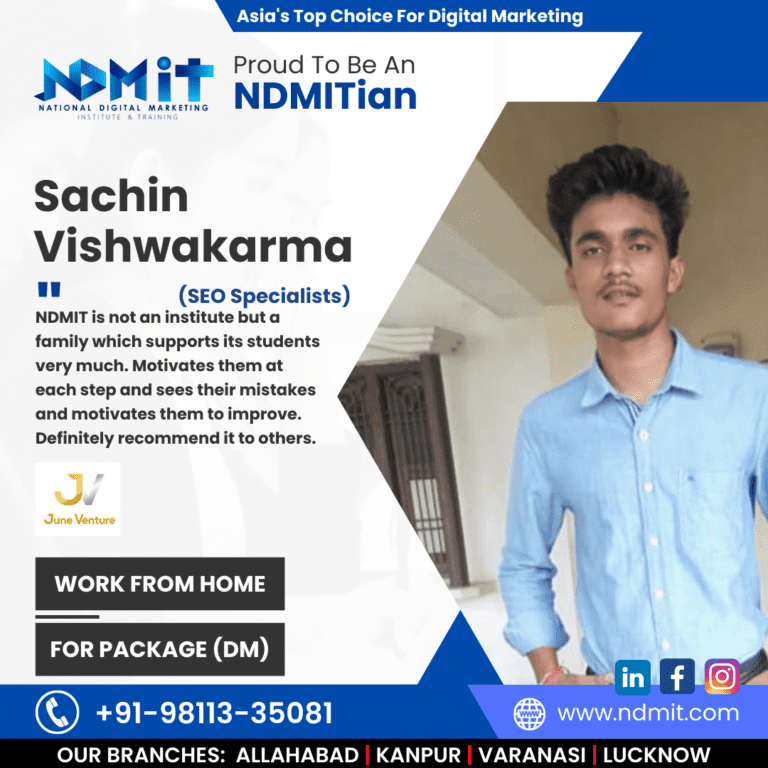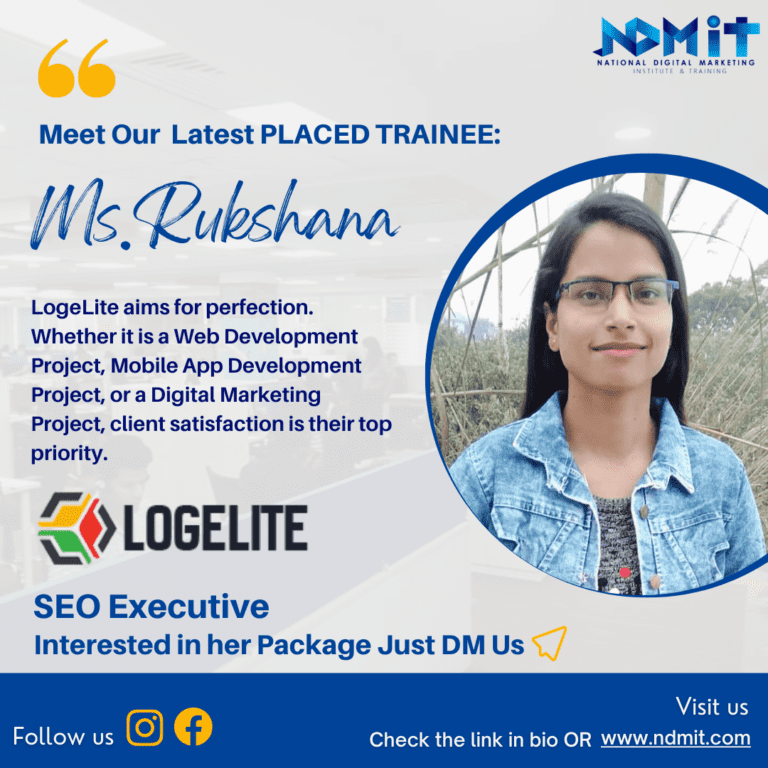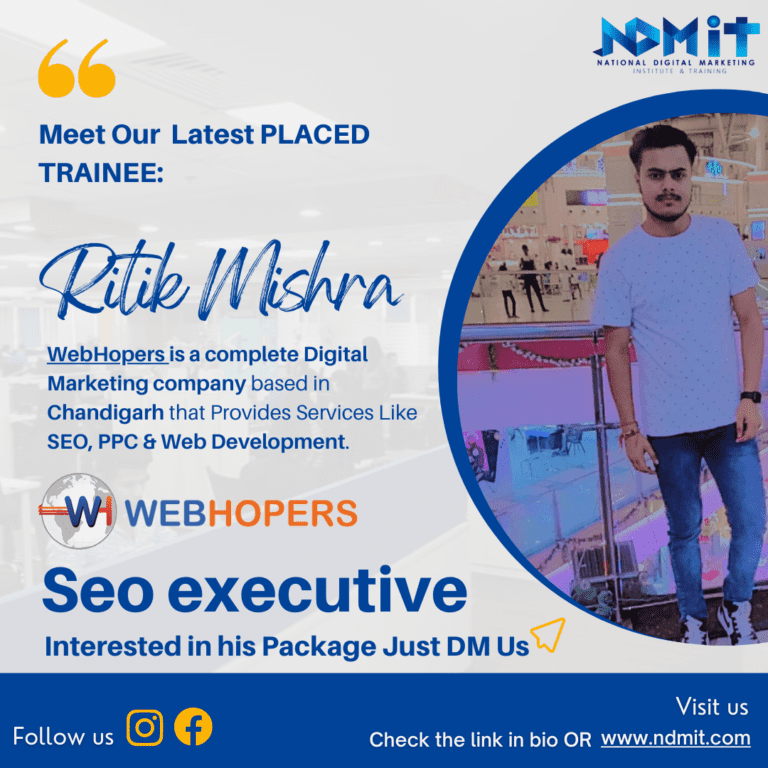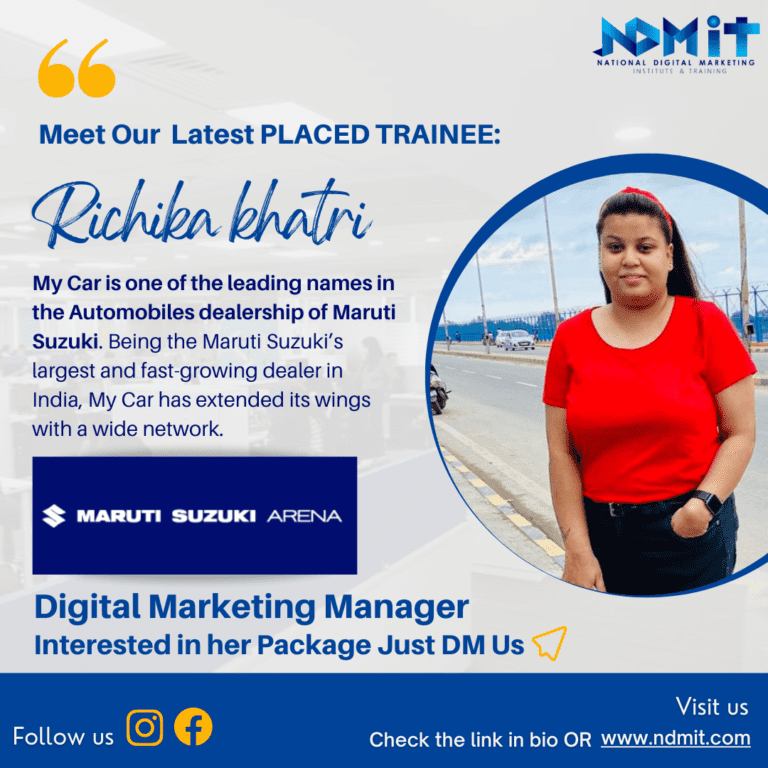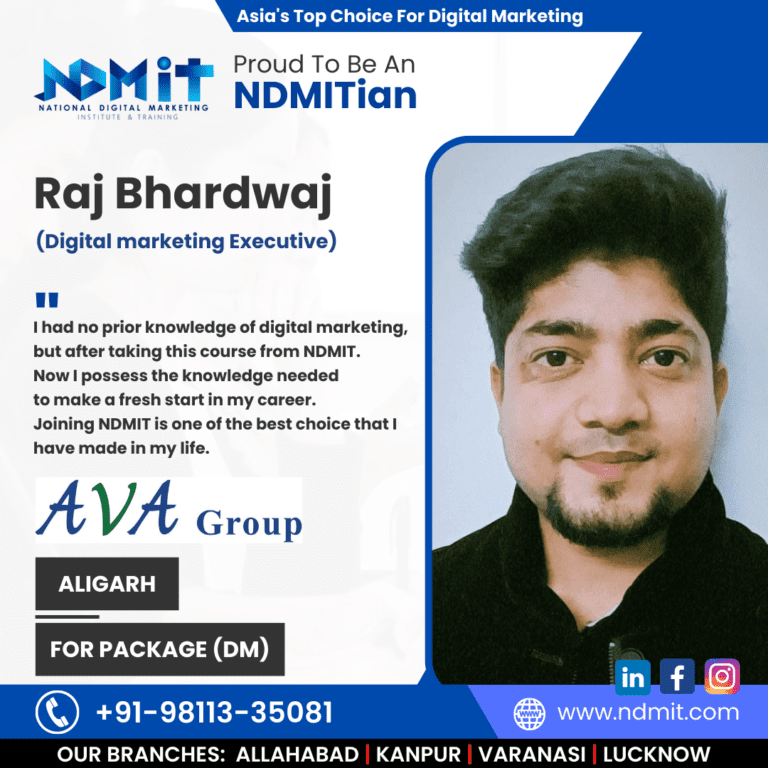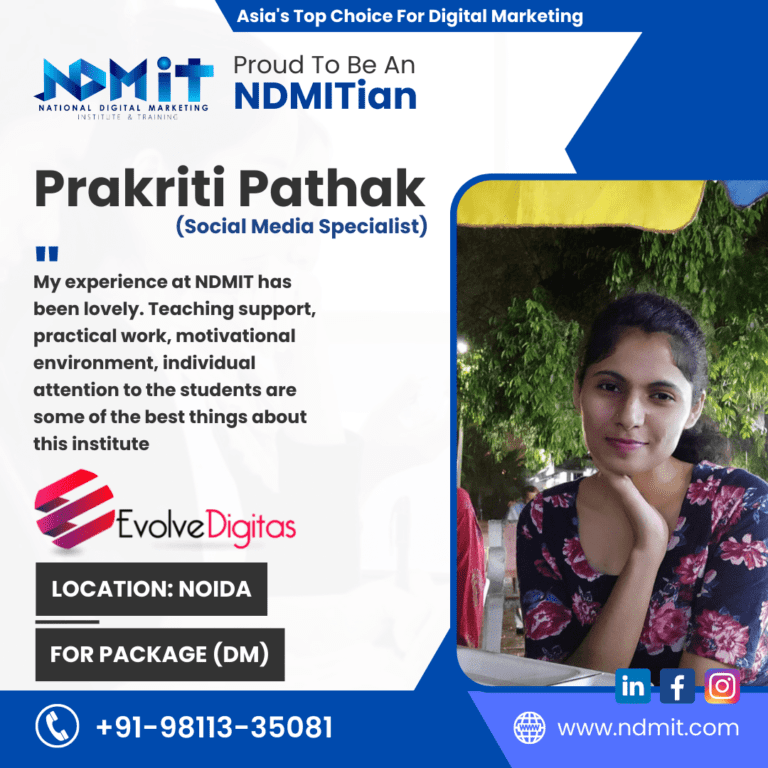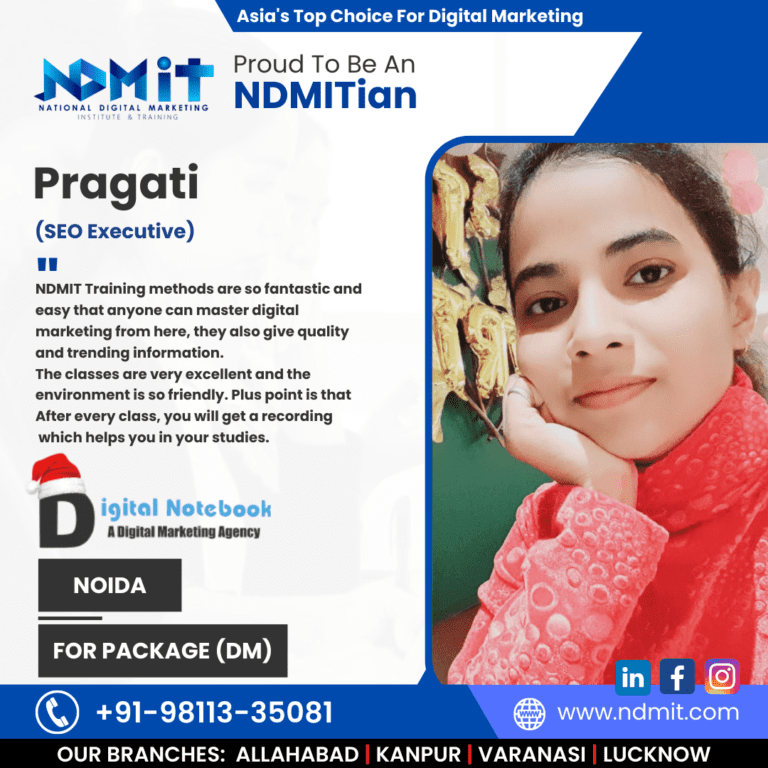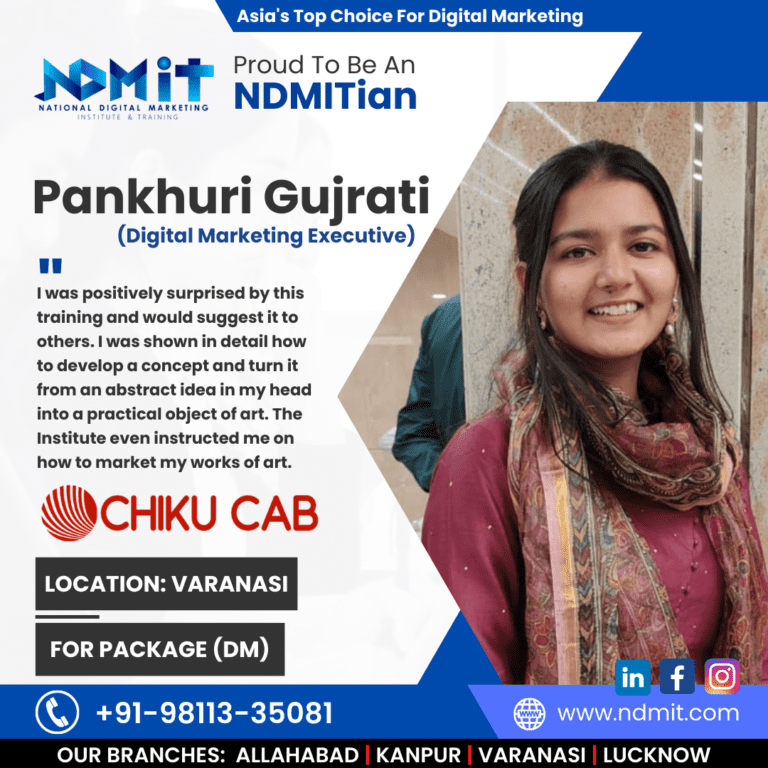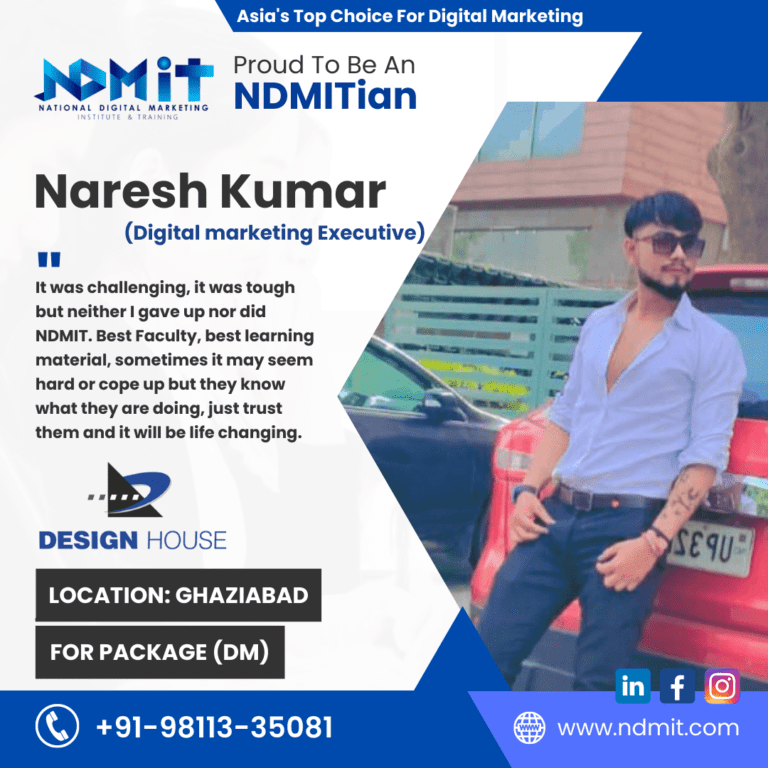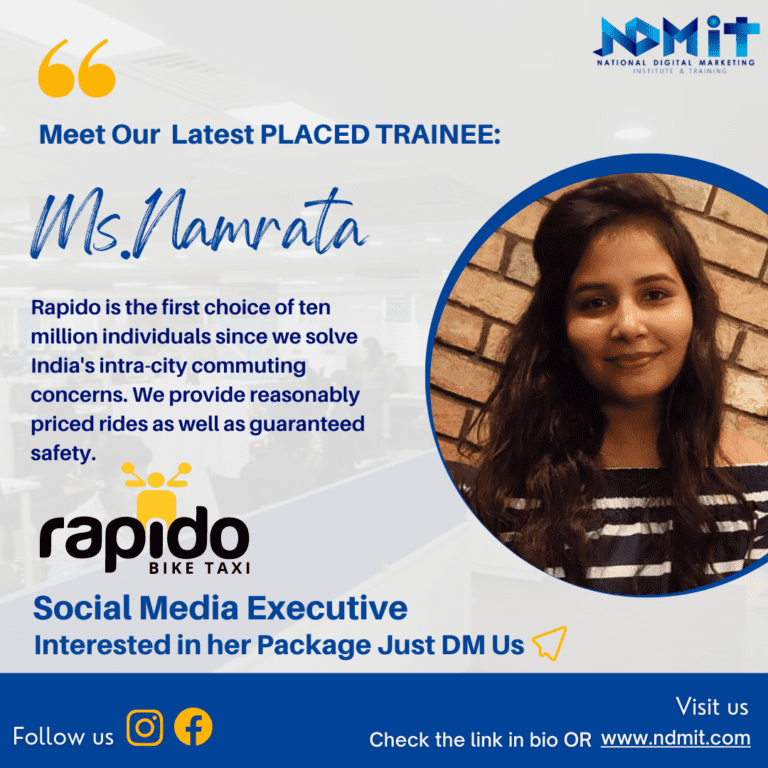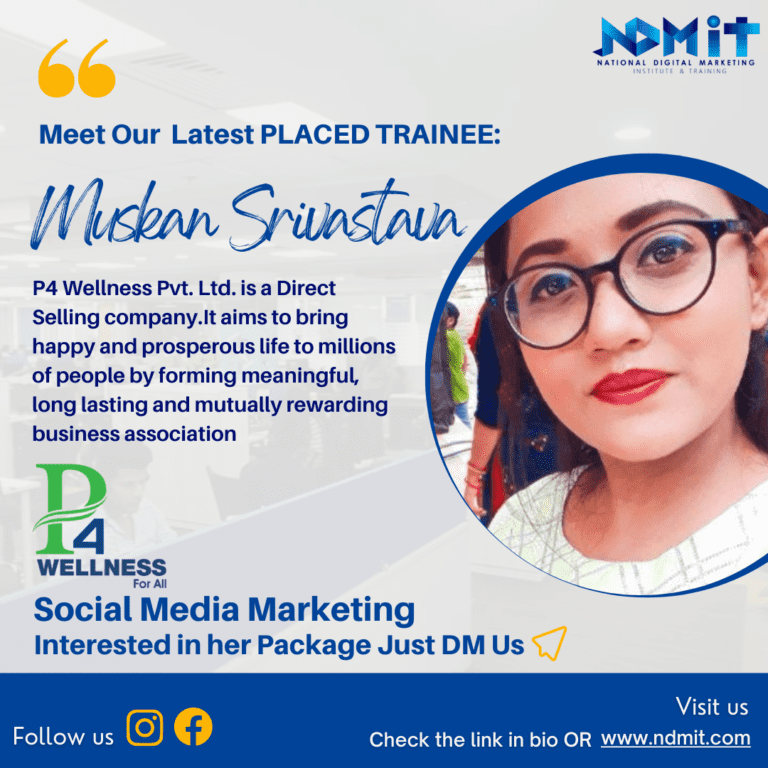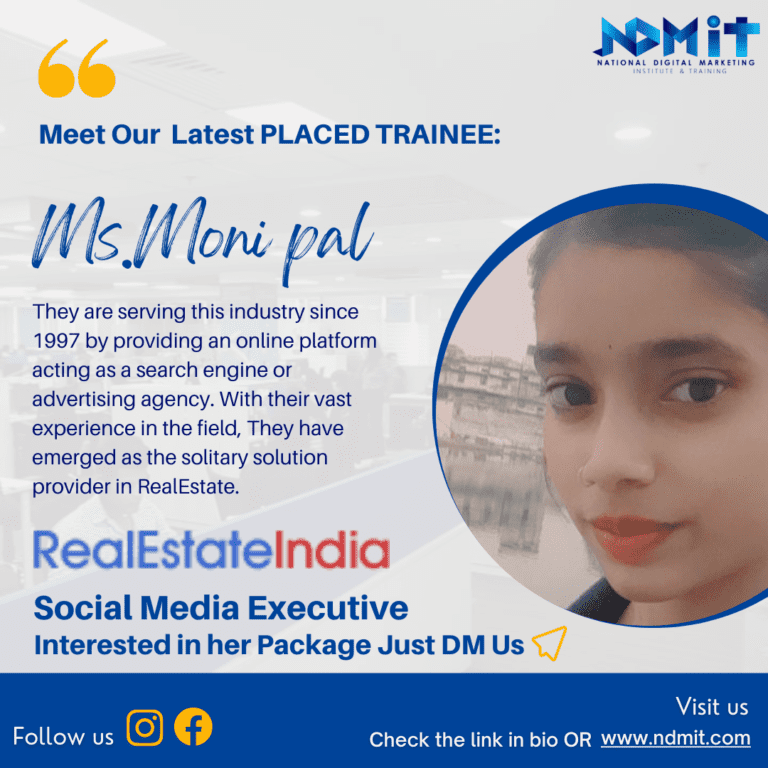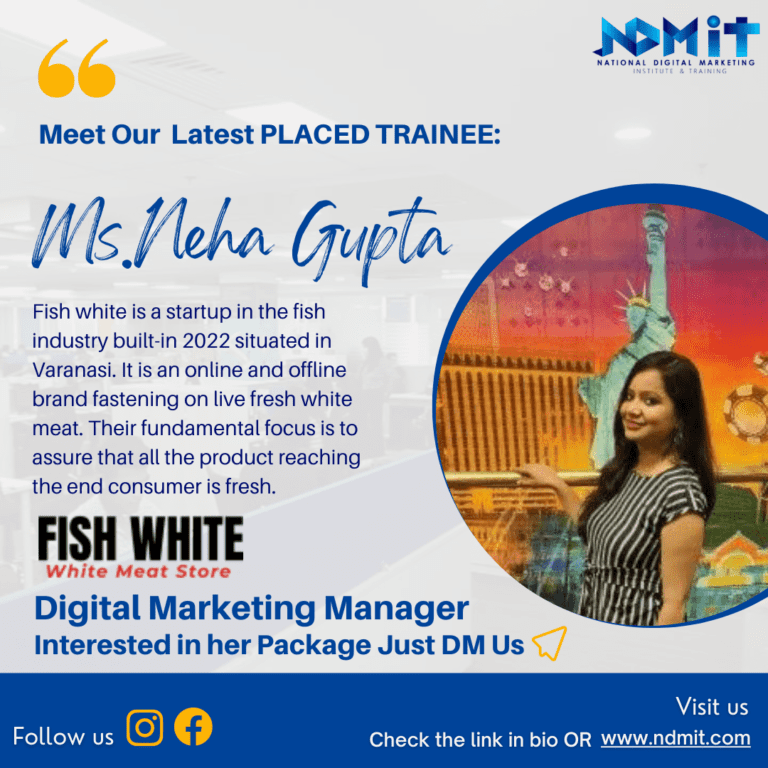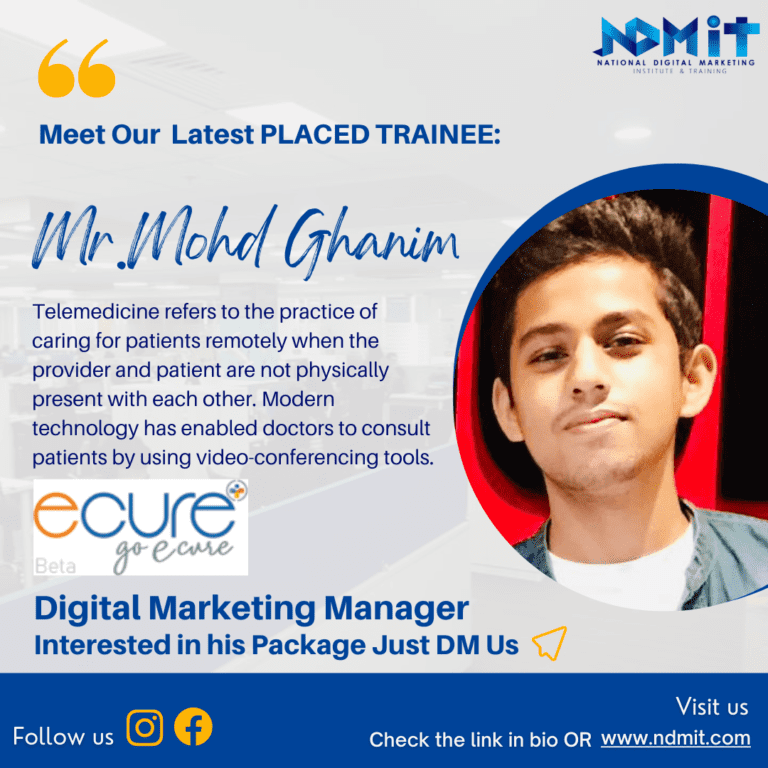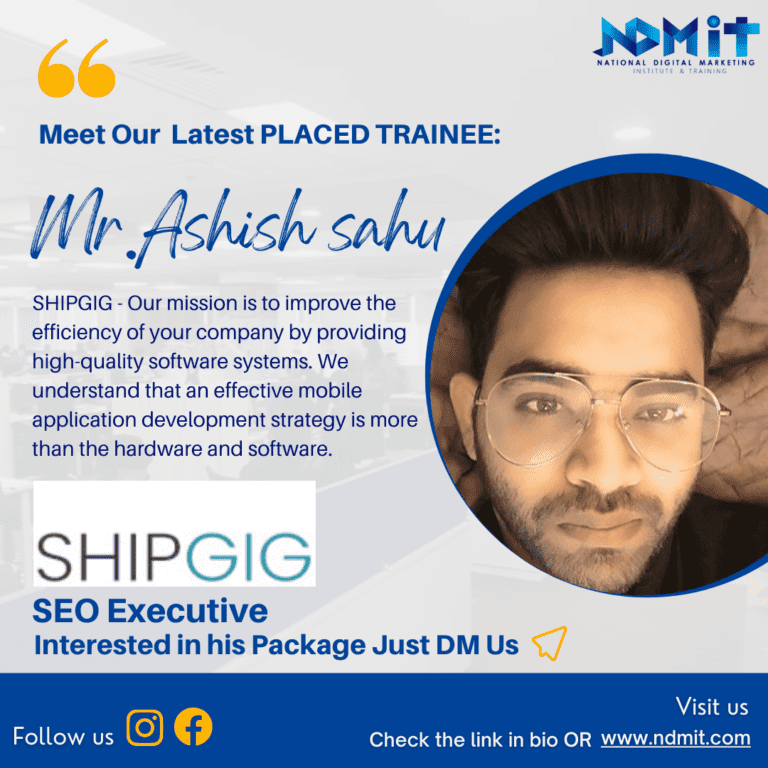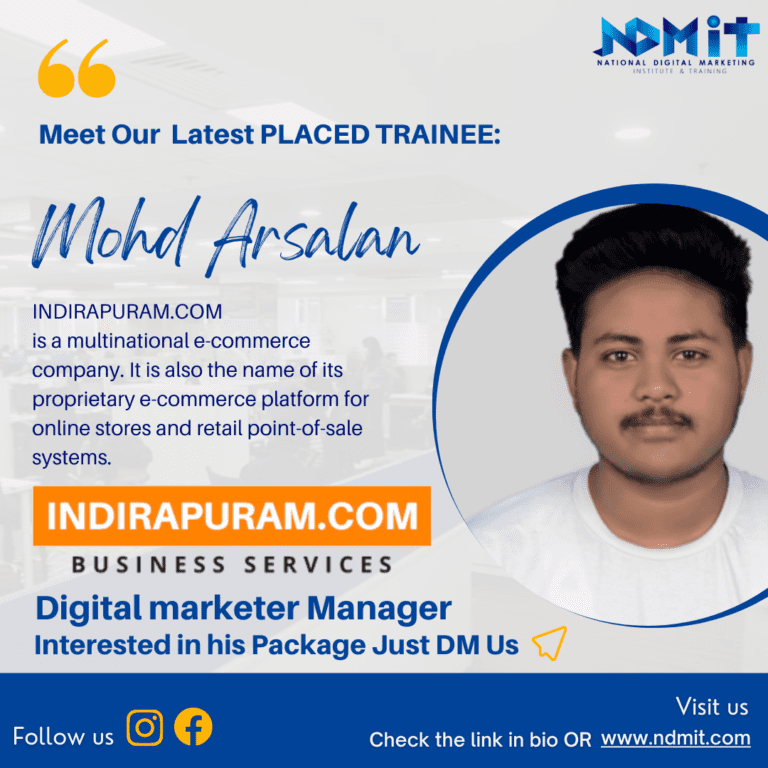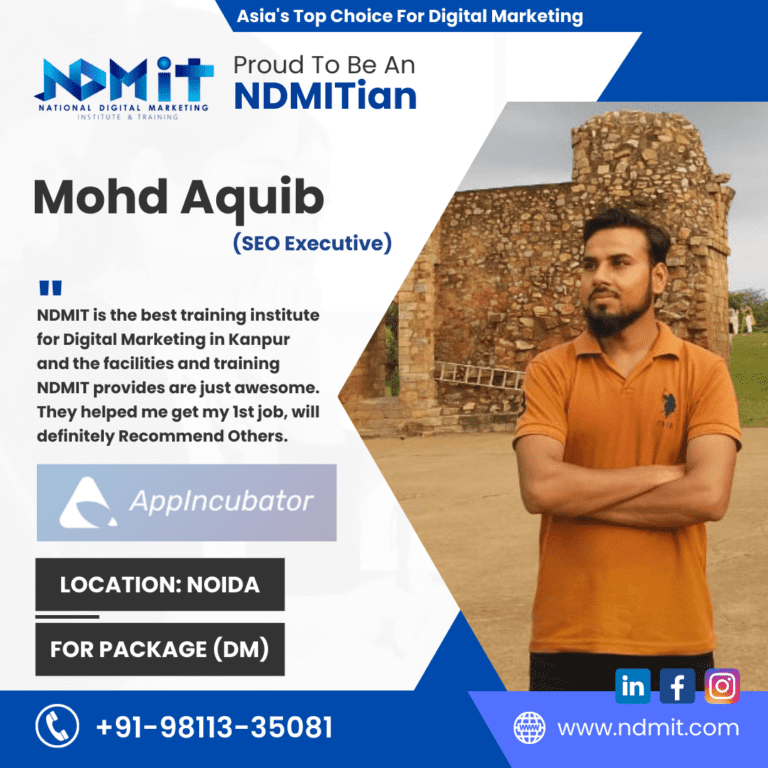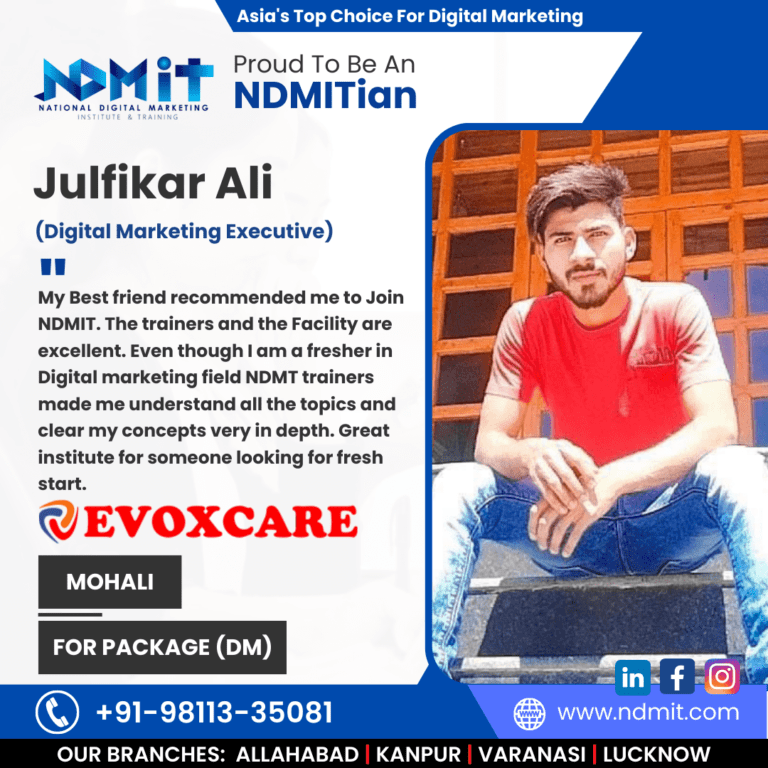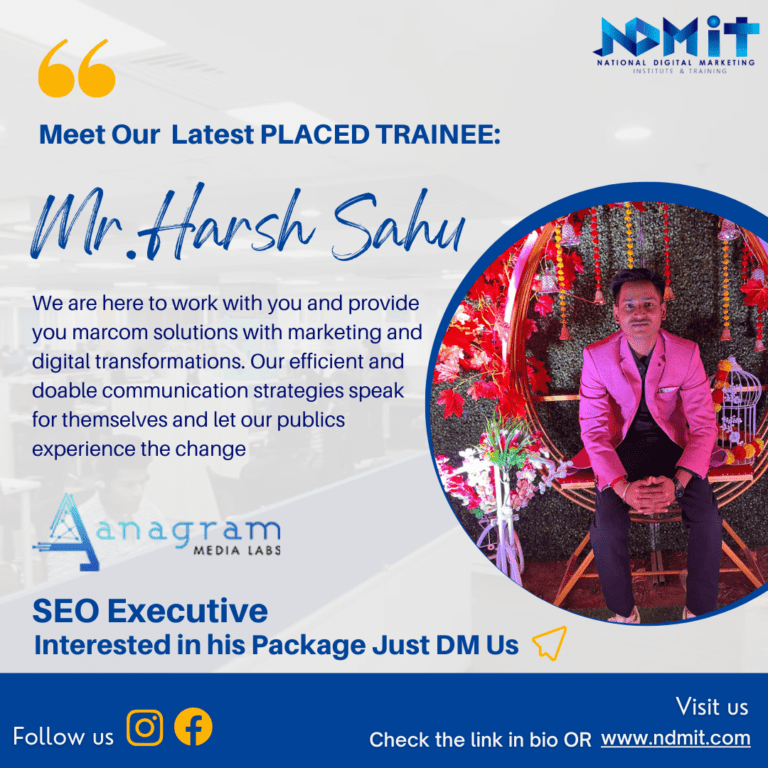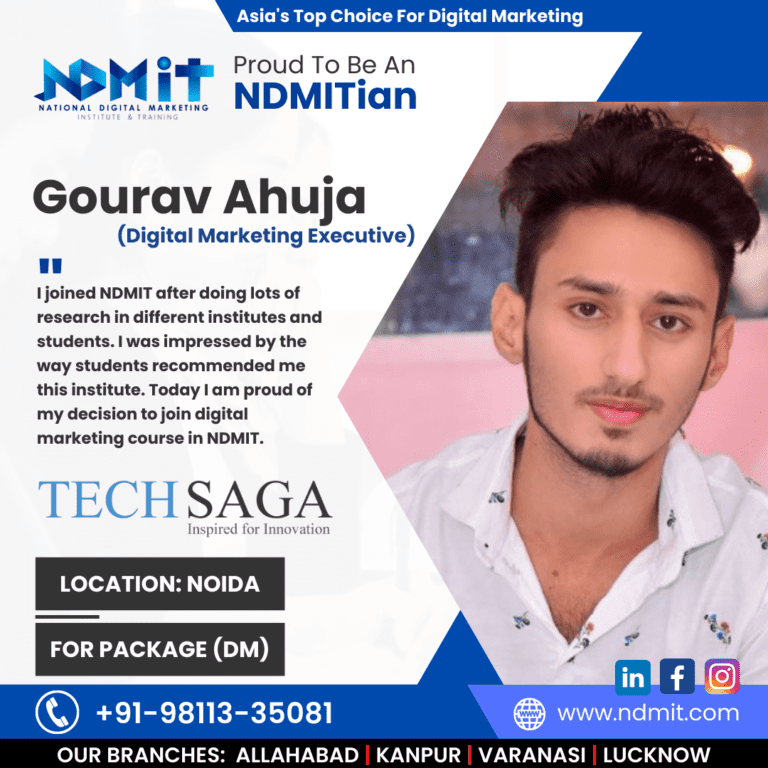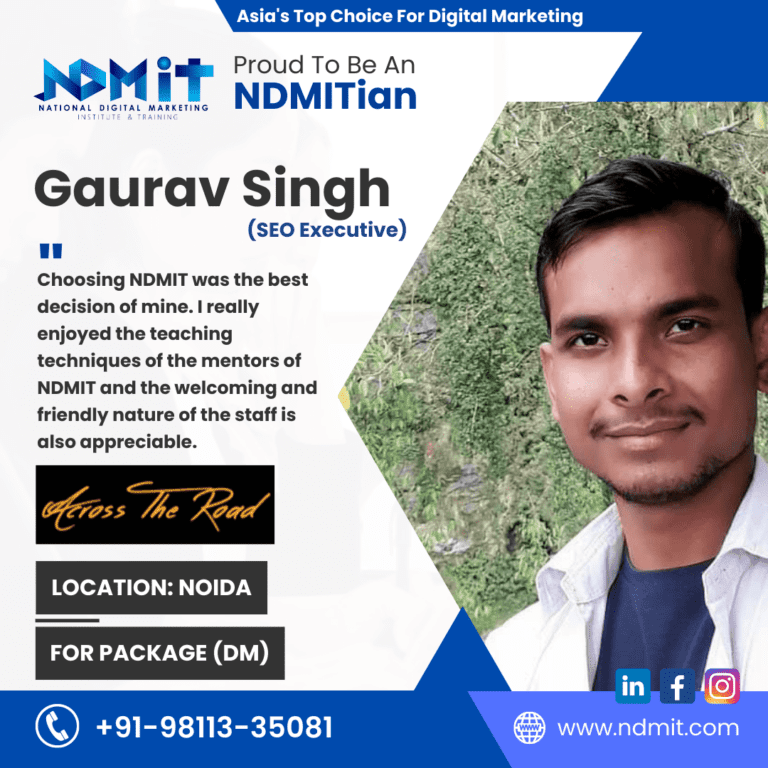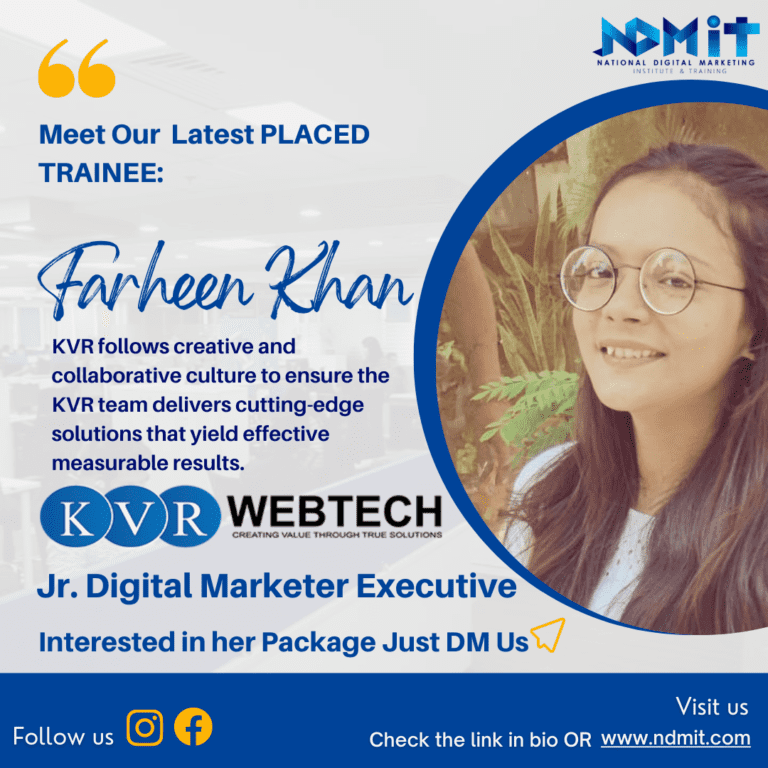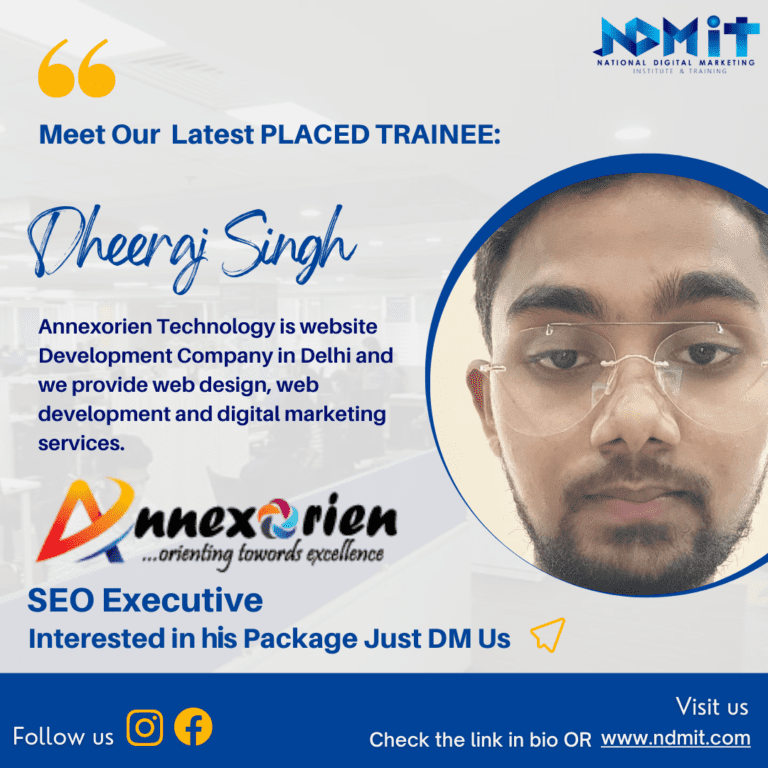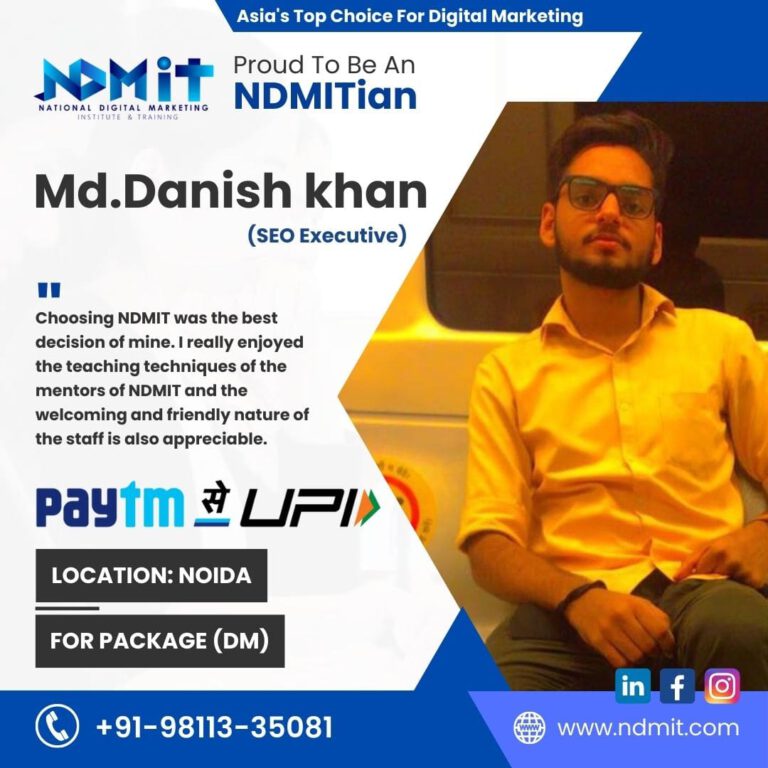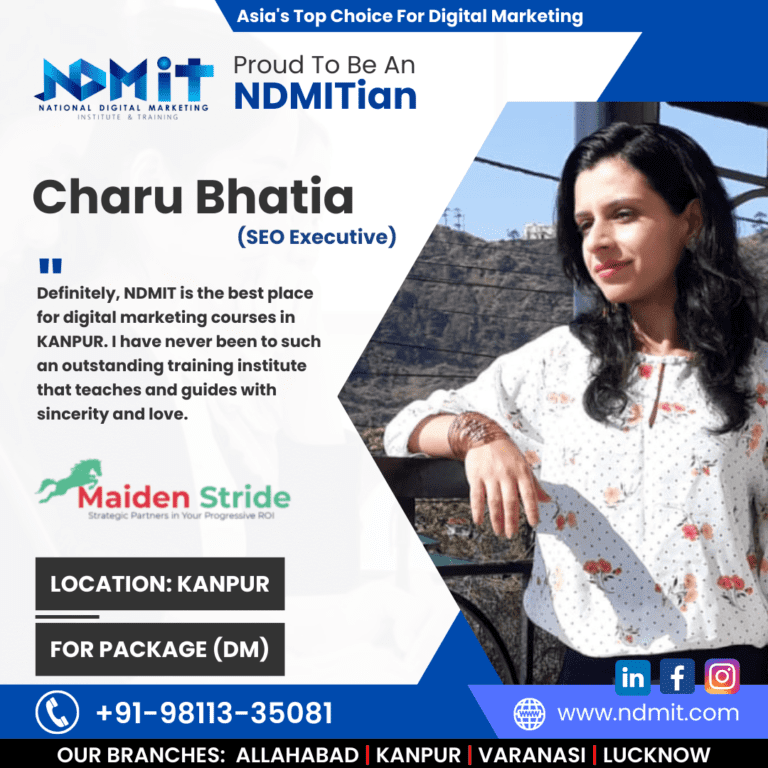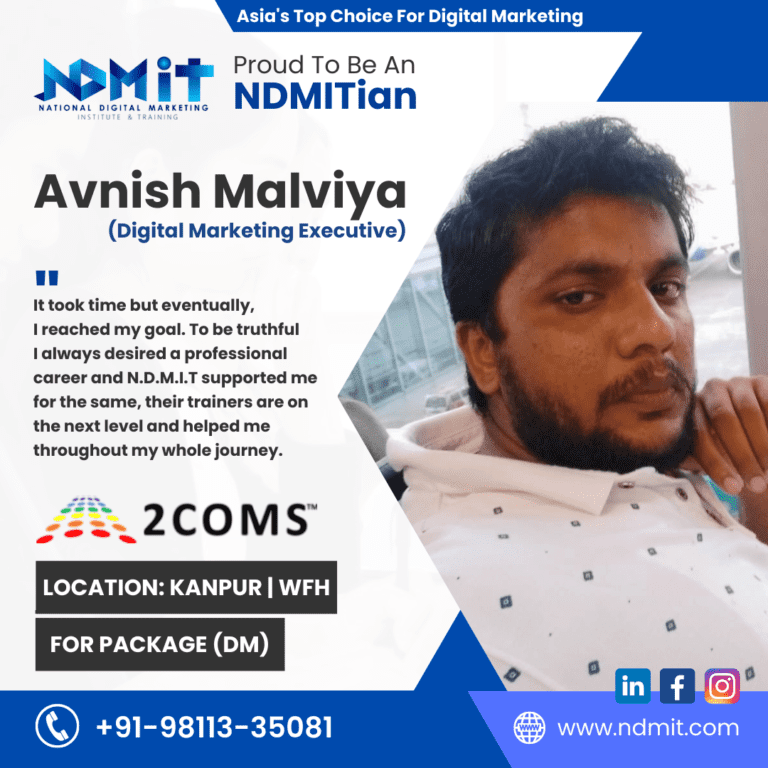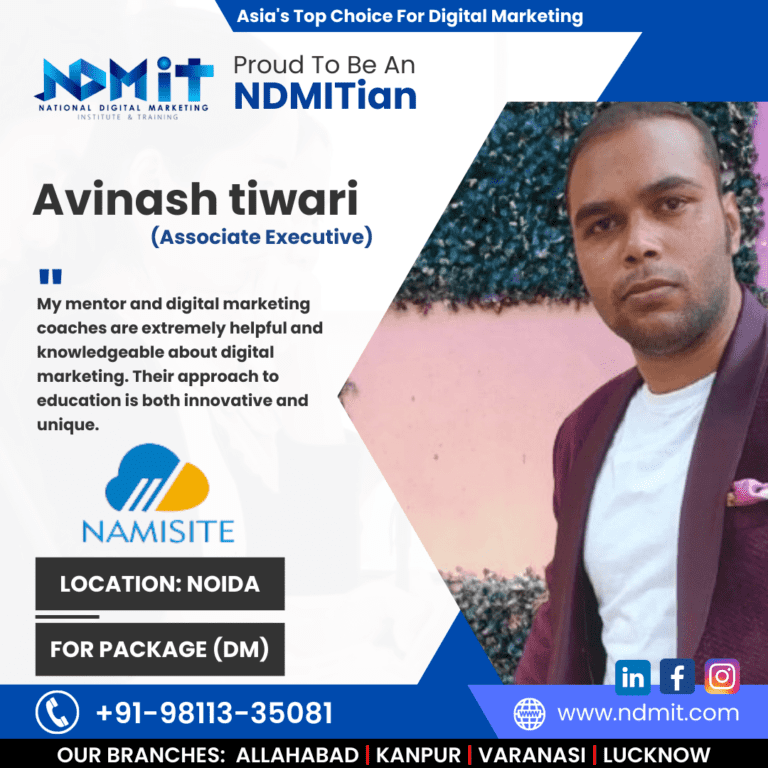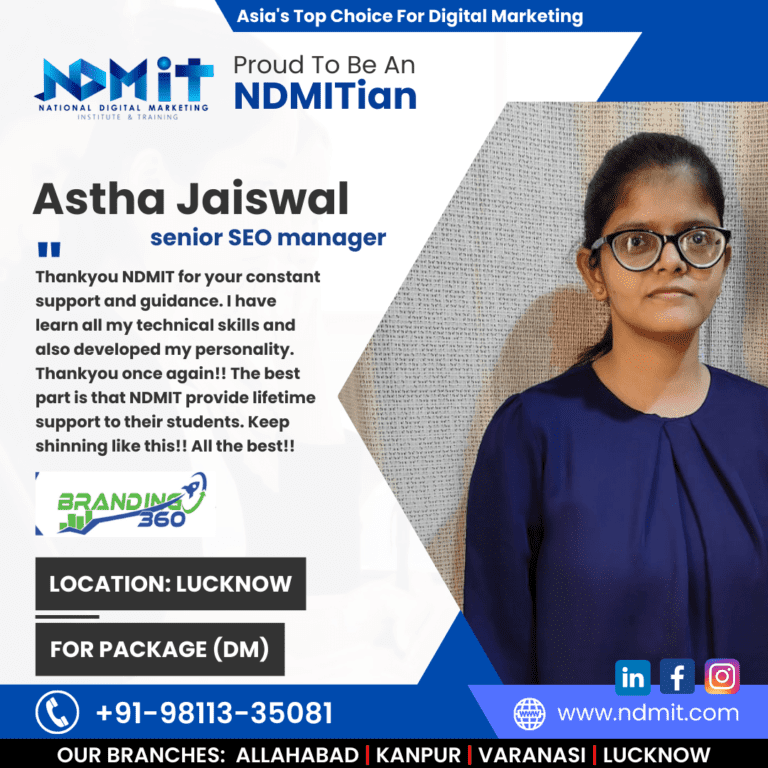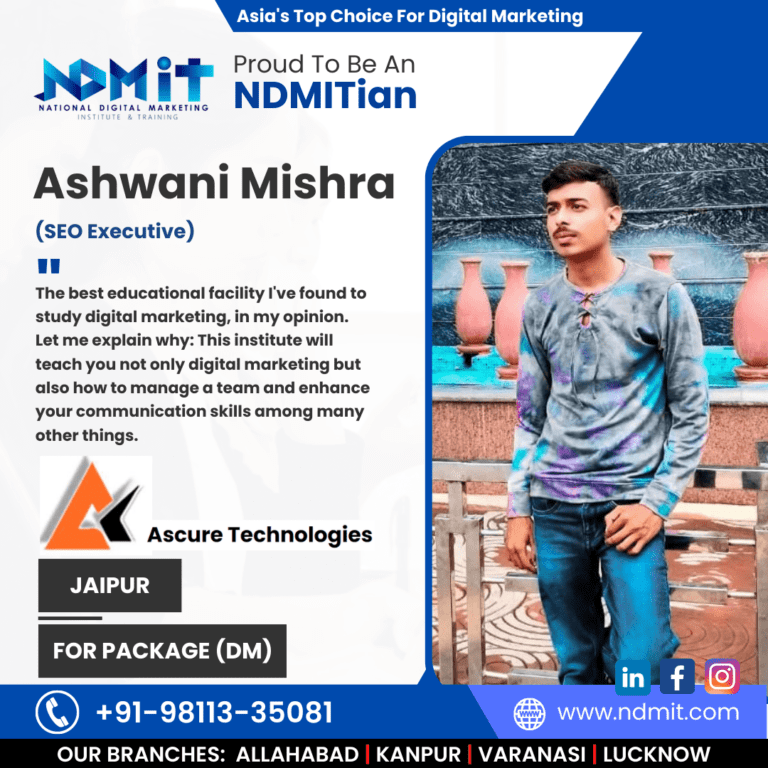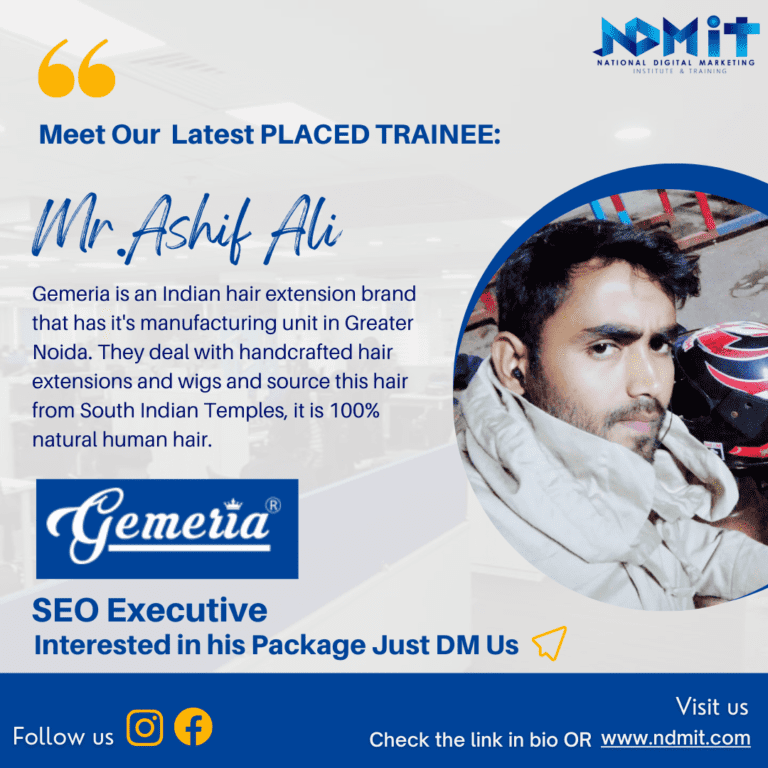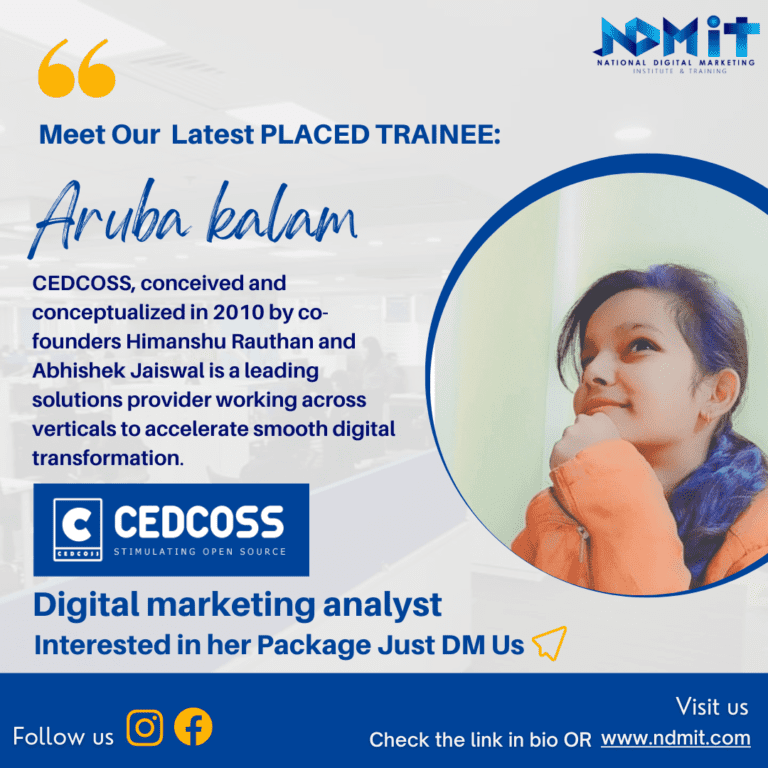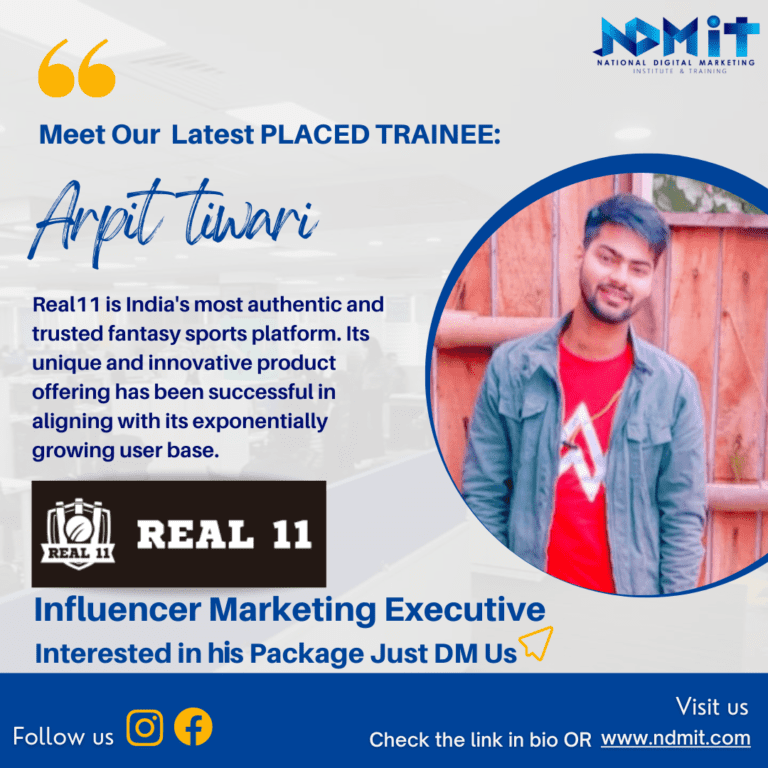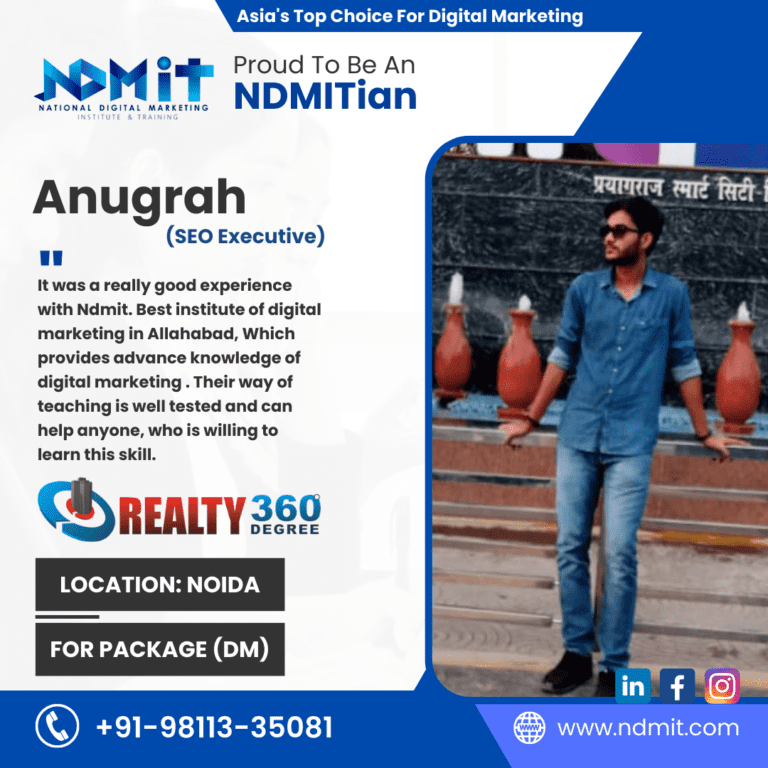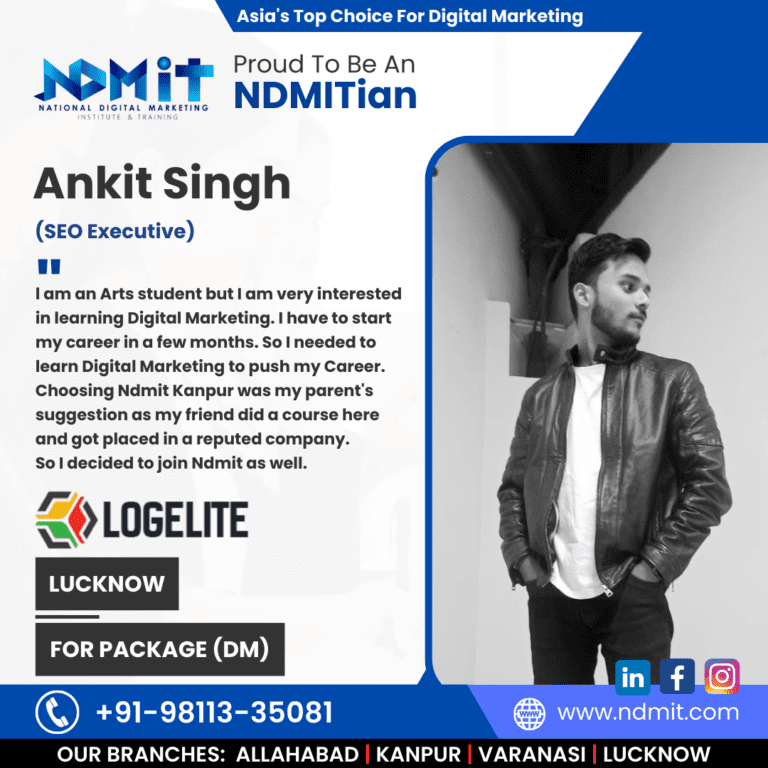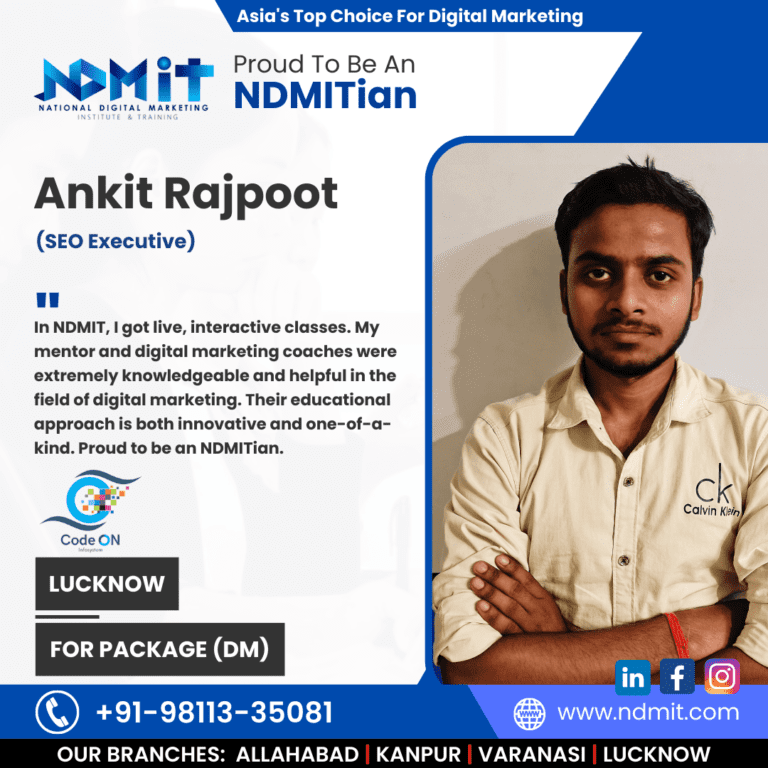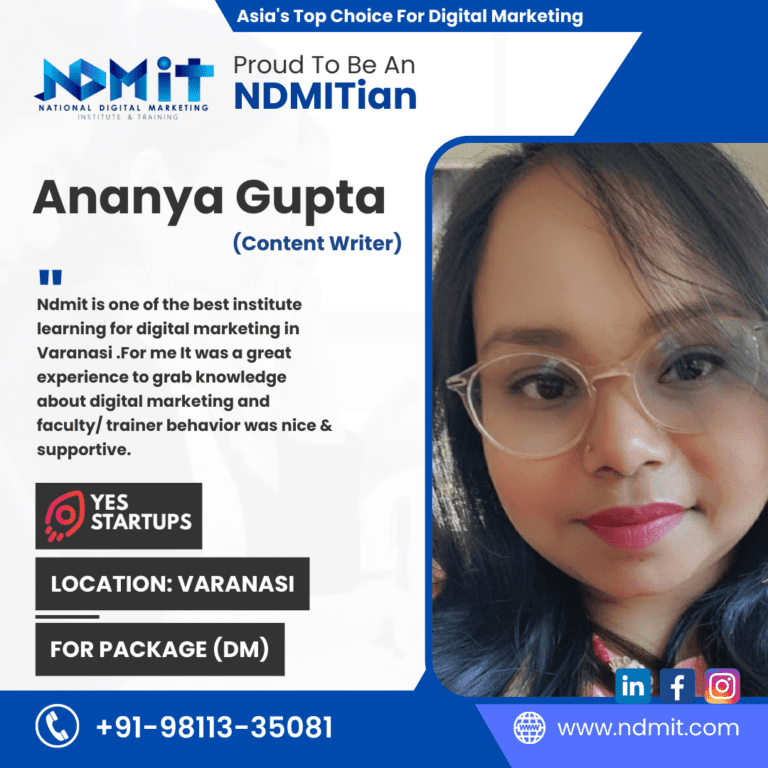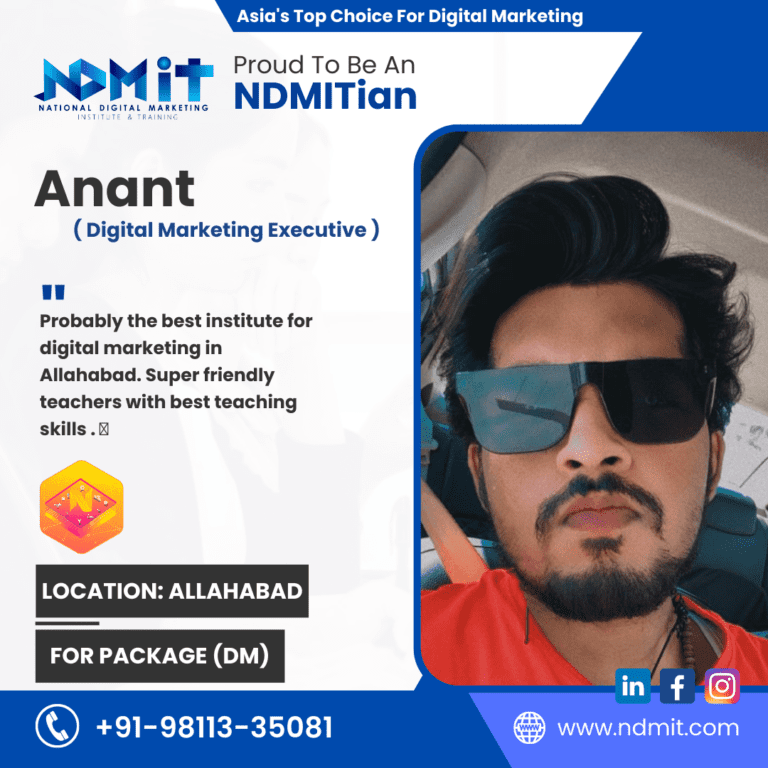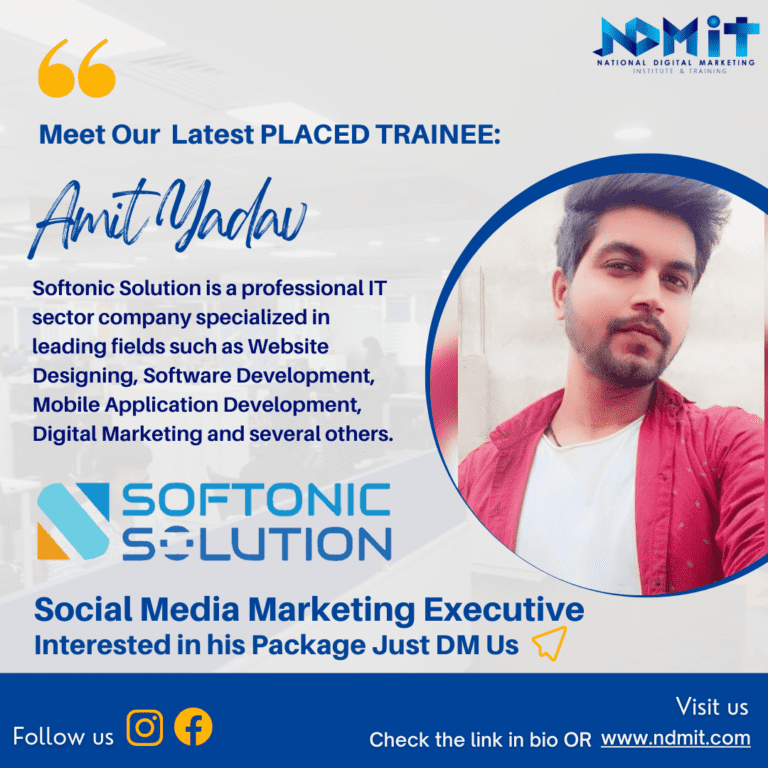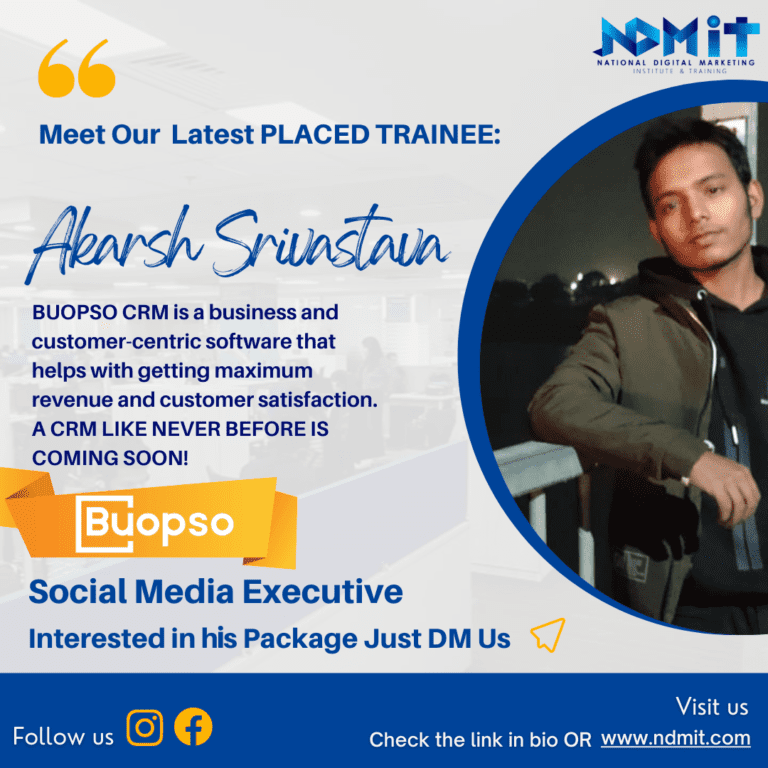 Get the Detailed Curriculum and faculty member list.
Their unique method or their hybrid learning model (as they call it) starts with a series of high-quality online video courses, followed by weekly live training sessions, custom-tailored 1-on-1 mentoring sessions, and in-class presentations.
The course syllabus is divided into terms and modules that are taught in-depth to ensure a holistic understanding and training for each student.
Introduction to Digital Marketing
Content Marketing
Graphic designing with canva from scratch
Lead generation
Landing page practical
You tube & youtube SEO
ORM
Affiliate marketing
Google Adsense
E-commerce website creation
Email marketing
Mobile Marketing
15+ Modules
Organic Social media marketing
Copywriting
Google analytics
Google search console
Introduction of SEO
Local SEO
Buyer Persona
Keyword research
Introduction of Google ads
30+ Modules
Live Session with Renowned Marketers
ON-Page SEO
OFF-Page SEO
In-depth Google Ads
Facebook Ads
Instagram Ads
Twitter Ads
LinkedIn Ads
Competitors Analysis
Paid Tools walkthrough
Client Interaction
Mock interview
Presentation Session
Interview Preparation
Live projects
Know What You Will Learn!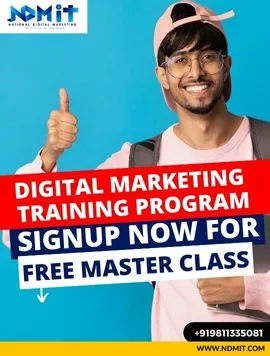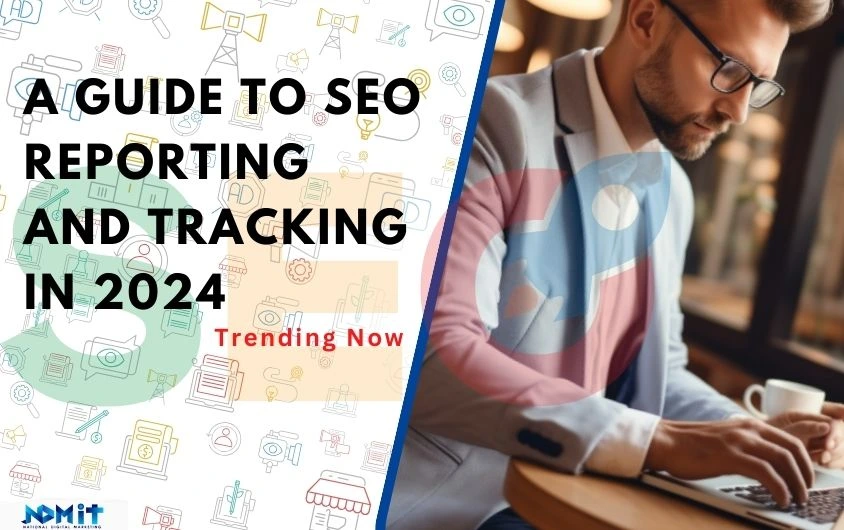 A guide to SEO reporting and tracking in 2024
15 November 2023
A guide to SEO reporting and tracking in 2024 : If you're in the industry, you know how important...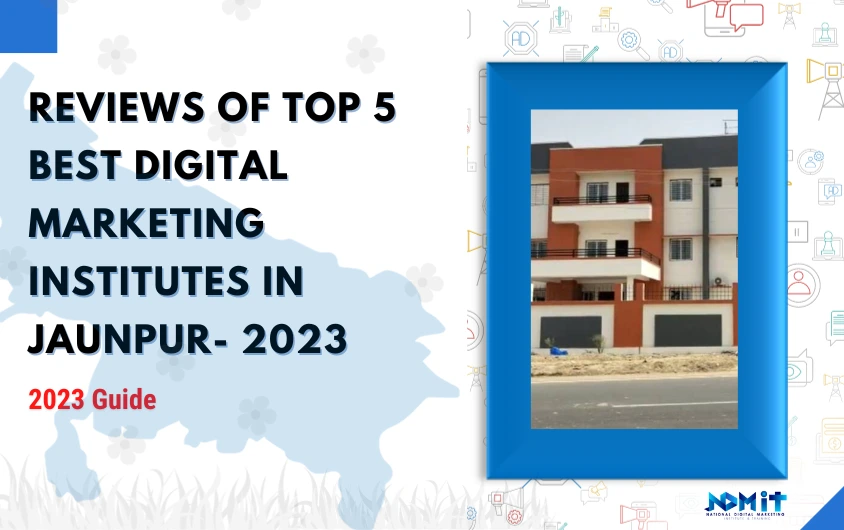 Top 5 Best Digital Marketing Institutes in Jaunpur
28 October 2023
Are you looking for Offline or Online courses on digital marketing in Jaunpur? Good news, we've got your...