A guide to using PPC advertising to attract top talent :
We know how tough it can be to find the best talent for your organization in today's job market. To really catch the attention of top candidates, it's important to be proactive and strategic. And one great way to do that is by using Pay-Per-Click (PPC) advertising, which is usually used to promote products and services.
In this blog, we're going to break down the process of using PPC advertising to attract top talent in a super simple way. We'll take you through each step, so you'll be a pro in no time!
That sometimes job seekers aren't actively looking for a new opportunity, but that doesn't mean they wouldn't be interested in joining your team! 
While traditional job postings are great for those who are actively searching, they don't always showcase why your company is the best place to work. That's where paid ads come in! 
By creating ads that focus on your company's brand and what it's like to work there, you can attract a wider audience of potential candidates. You can target specific locations, industries, and interests to make sure your ad reaches the right people. 
When creating your ad, think about what you would want to know as a potential employee. Is it the benefits? Growth opportunities? Work-life balance? Make sure to highlight those things in your ad copy and graphics. We hope this helps you find the perfect candidate for your team!
Work smarter, not harder :
When it comes to recruiting, PPC advertising enables us to "work smarter" in a couple of ways. 
Want to make sure you're reaching the right candidates for your job openings? Try using some targeting options you already know! By using keywords, audiences, career demographics, and geographical targeting, you can make sure that your "We're Hiring" message is reaching the right people. 
This can help you get more high-quality candidates and fewer applications from people who aren't a good fit. For instance, you could target people based on their job and company industry, seniority, and company size on LinkedIn. Or, you could target people based on their job title, employer, or interests on Facebook and Instagram. And if you're using Google Ads, you could try targeting people based on keywords and in-market audiences. Good luck!
Paid Search Through Google Ads Offers Several Benefits :
One advantage is the ability to target specific keywords and audiences, including in-market audiences. This can be especially helpful when trying to reach active job seekers. However, it's important to note that the audience targeting feature may occasionally be too broad, resulting in lower efficiency.
Did you know that social media channels are an awesome way to connect with and bring in passive candidates to your website? It's true! The average person spends up to two hours a day on social media, with almost 30% of their online time being on platforms like Facebook, Instagram, and Snapchat. So, if you're not utilizing social channels, you're definitely missing out!
Social ad platforms are here to help you reach your ideal candidates. These platforms have their own targeting criteria, which means you can place super engaging ads right in front of your potential candidates based on their age, location, and interests. It's a great way to grab their attention and get them interested in what you have to offer. So, why wait? Start using social ads today and watch your candidate pool grow!
There are some tips to help you monitor and optimize your PPC campaign:
Keep an eye on your performance! Check your click-through rates, conversion rates, and the quality of applicants regularly.
Try out different ad variations to see what works best for you. Test out headlines, ad copy, and landing page designs.
Adjust your budget based on how your ads are performing. Put more money towards the ones that are doing well and cut back on the ones that aren't.
Make sure you're targeting the right audience. Review your options and narrow down to the most relevant audience to save money.
When it comes to evaluating your ROI:
Calculate your return on investment (ROI) to see how your PPC campaign is doing. Measure the cost per hire and the quality of candidates brought in through this method.
Think about how PPC fits into your long-term hiring strategy. It can be a great tool, but it's important to balance it with other methods too.
That you can use the Google display network to specifically target your display ads? It's pretty awesome! This platform allows you to choose the type of content your audience is interested in, their behaviors, demographics, and even if they're actively job hunting. It's a fantastic way to find the perfect candidates for your needs. The more details you have about your candidate personas, the more precise and effective your targeting can be. So, gather as much information as you can and get ready to reach the right people with your ads!
Retargeting is absolutely essential! Nowadays, people's attention spans are shorter than ever. Whether you're looking to hire just one candidate or a whole army of them, it's crucial to find ways to grab their attention and keep it.
One great way to do this is through audience segmentation. By dividing your candidates into different groups based on their interests and behaviors, you can show them targeted ads. For example, if someone visits your career site but doesn't apply, you can use persuasive advertising to entice them back and encourage them to complete their application.
While Pay-Per-Click (PPC) advertising has long been used to attract customers, don't forget to leverage its power when it comes to recruiting. It can be a game-changer in helping you grow your team.
FAQ – Frequently Asked Questions
How does a digital marketing course benefit me in my career?
A digital marketing course can bring a number of benefits to your career. Some of these benefits include:
Increased knowledge: By taking a digital marketing course, you will gain a comprehensive understanding of the various aspects of digital marketing, including search engine optimization (SEO), social media marketing, email marketing, and pay-per-click advertising.
Career advancement: A digital marketing course can help you advance in your current role or transition into a new role within the marketing field. With the increasing demand for digital marketing skills, a certification in this area can help set you apart from other candidates.
Stay up-to-date with industry trends: The world of digital marketing is constantly evolving, and a digital marketing course will help you stay up-to-date with the latest trends and best practices.
Improved skills and performance: With the knowledge and skills you gain from a digital marketing course, you will be able to implement more effective marketing strategies, resulting in improved performance and outcomes.
Increased earning potential: A certification in digital marketing can increase your earning potential, as the demand for skilled digital marketers continues to grow.

In conclusion, a digital marketing course can greatly benefit your career by providing you with the knowledge, skills, and credentials you need to succeed in the digital marketing field.
What is the fees for a digital marketing course ?
Ans: The fees for a digital marketing course in Sonipat range from INR 10,000 to INR 1,00,000 depending on the level of the course you opt for. NDMIT Online Digital Marketing Course fee is INR 40,000 + taxes which is inclusive of placement assurance.
Can I learn digital marketing on my own ?
Ans: Yes, you can learn digital marketing on your own with the help of free videos and courses on YouTube – although the credibility of these courses is often unknown. But it doesn't have to be this way. Instead, you can learn digital marketing with NDMIT Online Digital Marketing Course where you will learn from industry experts and also receive a certification straight from Sonipat instead of anywhere else in India! NDMIT gives you 100% Placement assurance.
Is Digital Marketing a good career ?
Ans: Digital marketing is a great job path. Being a relatively new industry, there are many challenges and opportunities – each highly dynamic. Competitive salary + incentives as well as flexibility with your schedule make this ideal for nearly anyone from entrepreneur, technology focused to analytical individual.

NDMIT is Asia's leading digital marketing institute. Since its start in 2016, NDMIT has set new standards for education around the globe. We have trained more than thousand Students globally in various aspects of digital marketing.
Taking a future-oriented approach to learning, NDMIT ensures its students receive a customized, relevant curriculum that will help them upskill for their careers.
What their Students says about them ?
Get the Detailed Curriculum and faculty member list.
Why choose NDMIT for a digital marketing course?
Free Internship
Centralized level training
Career counseling
Book free demo
100% placement assistance
24*7 Mentor support
Online classes support
Work on live project
Mock interview session
Personality development – with no cost
Learn from industry expert trainer with our founder and co-founder
Attend 3 free live classes online/offline
Hand-to-hand support
Learn corporate sector Etiquette
One on One mentorship support
Career Guidance
Recently Placed NDMITians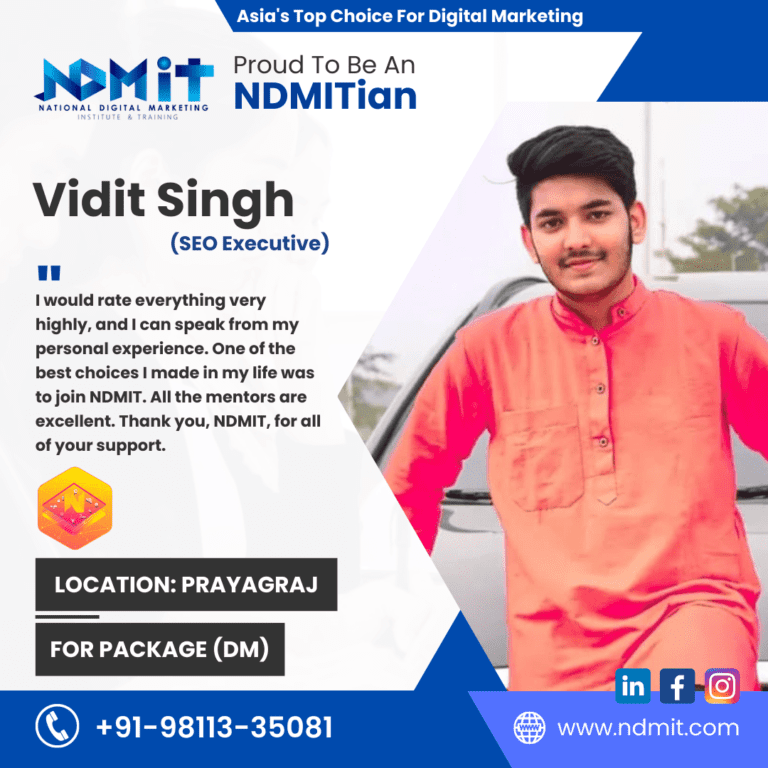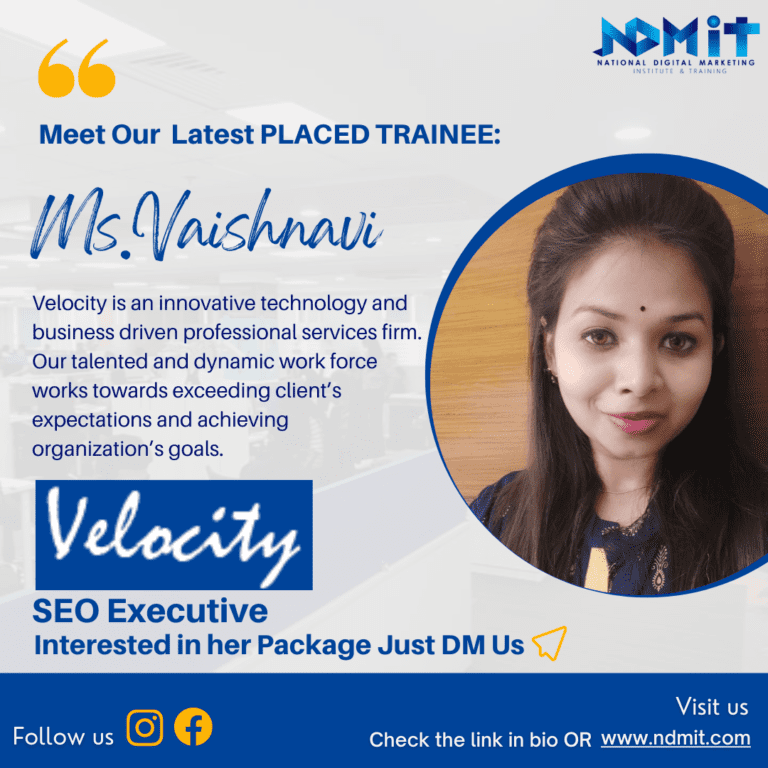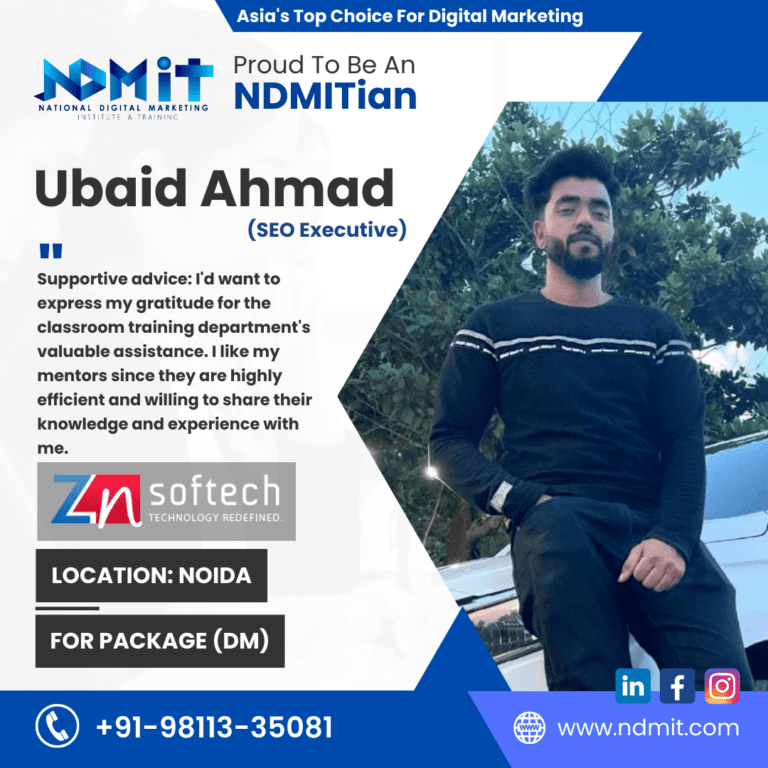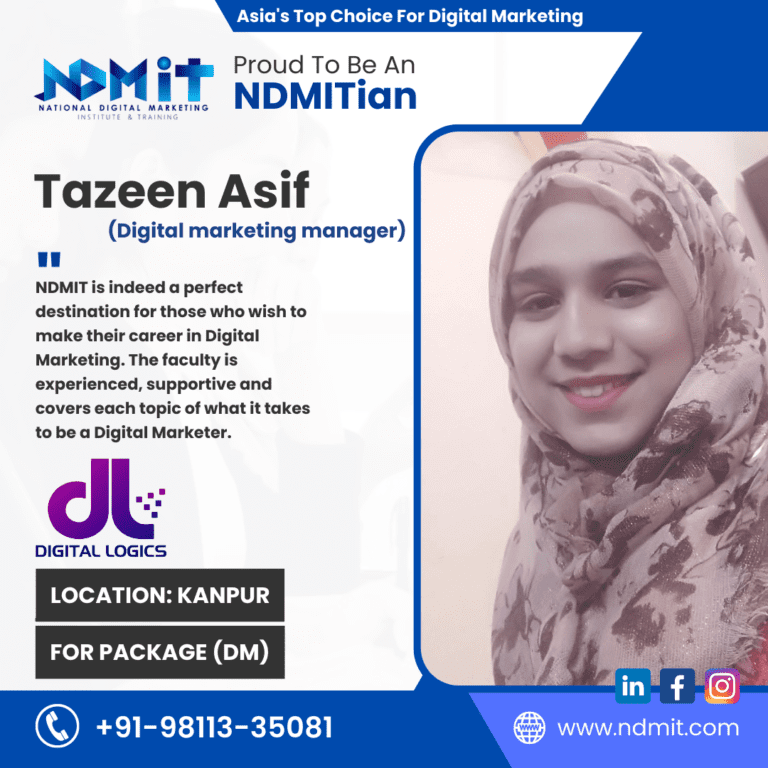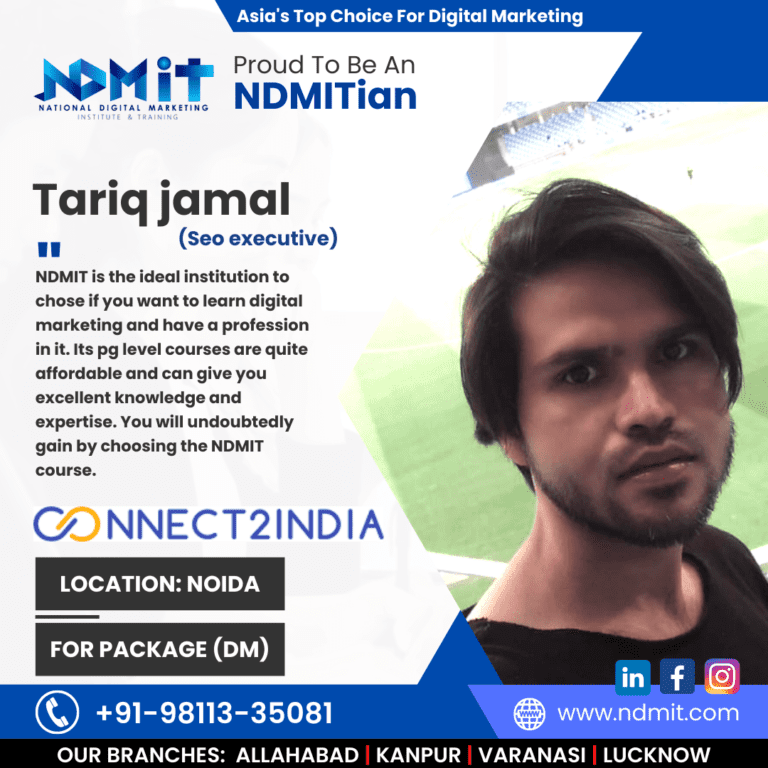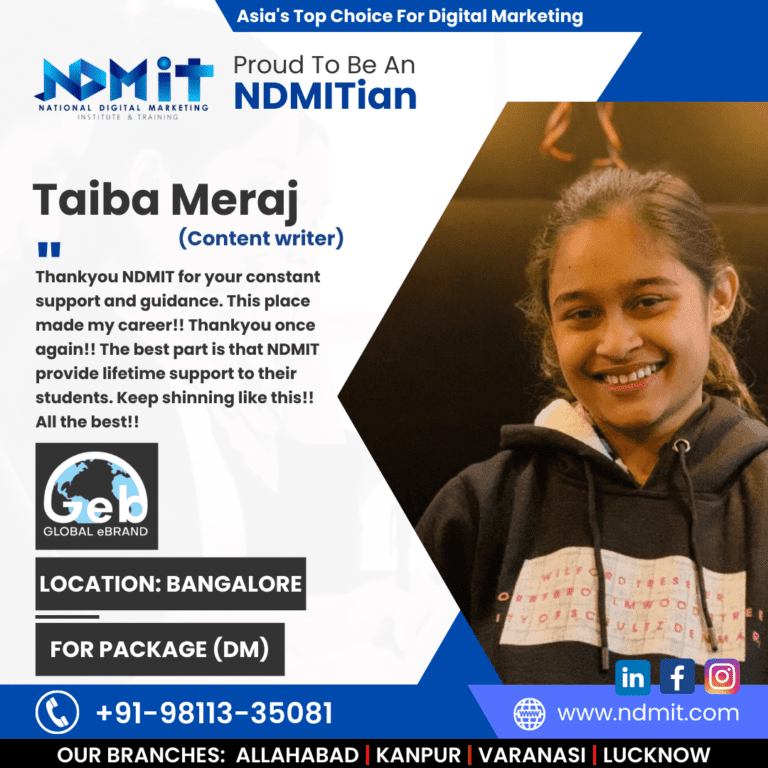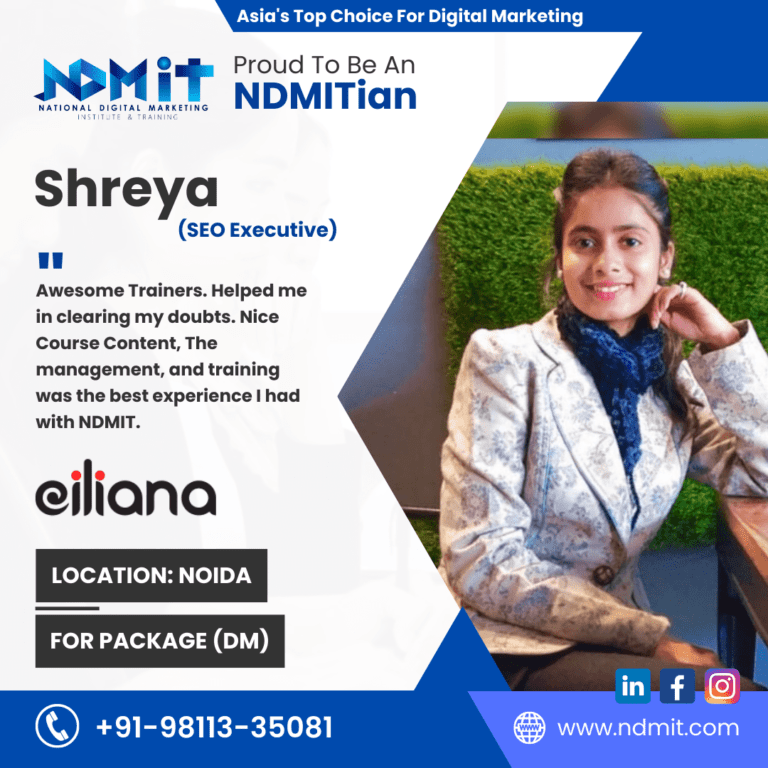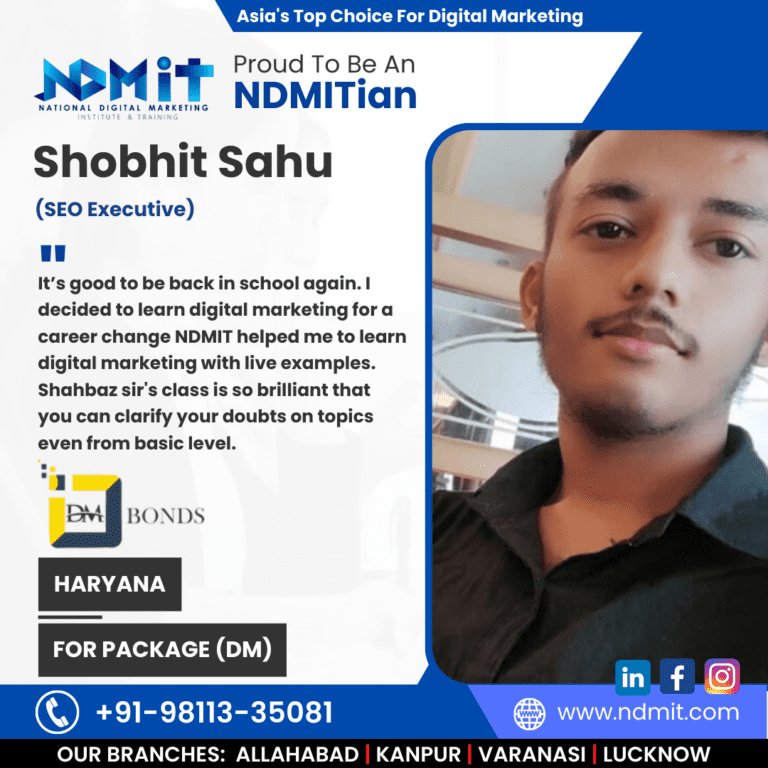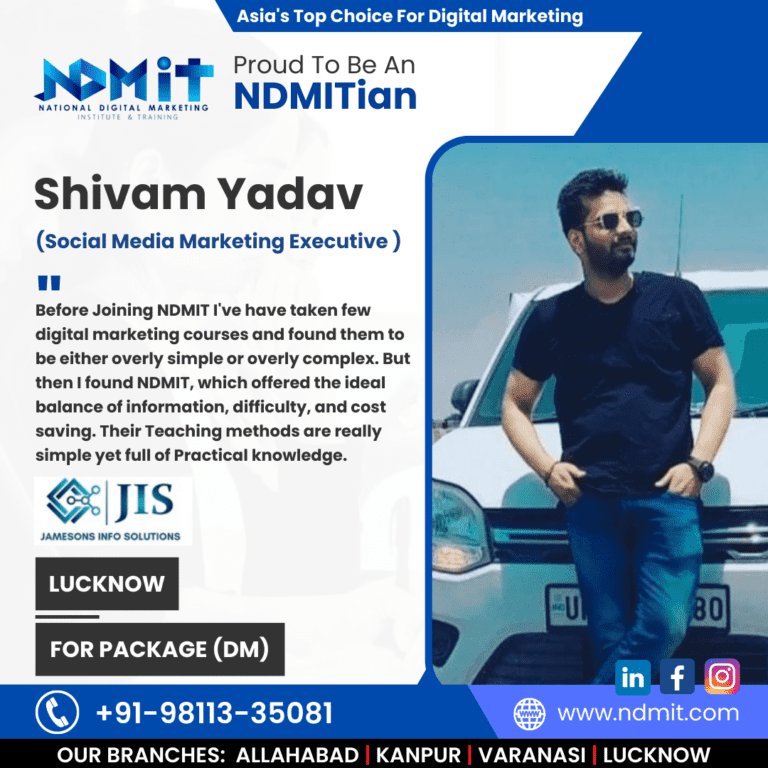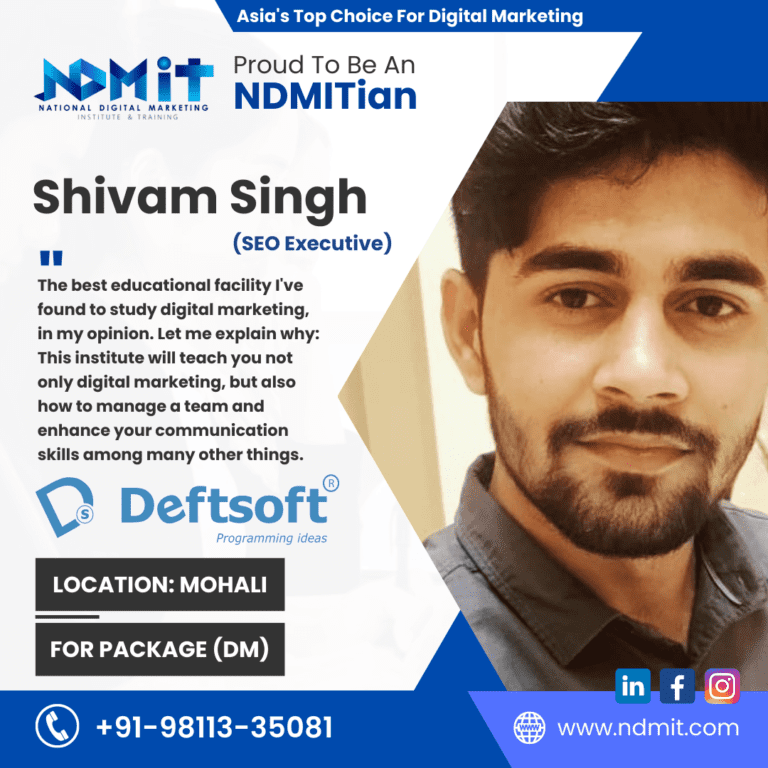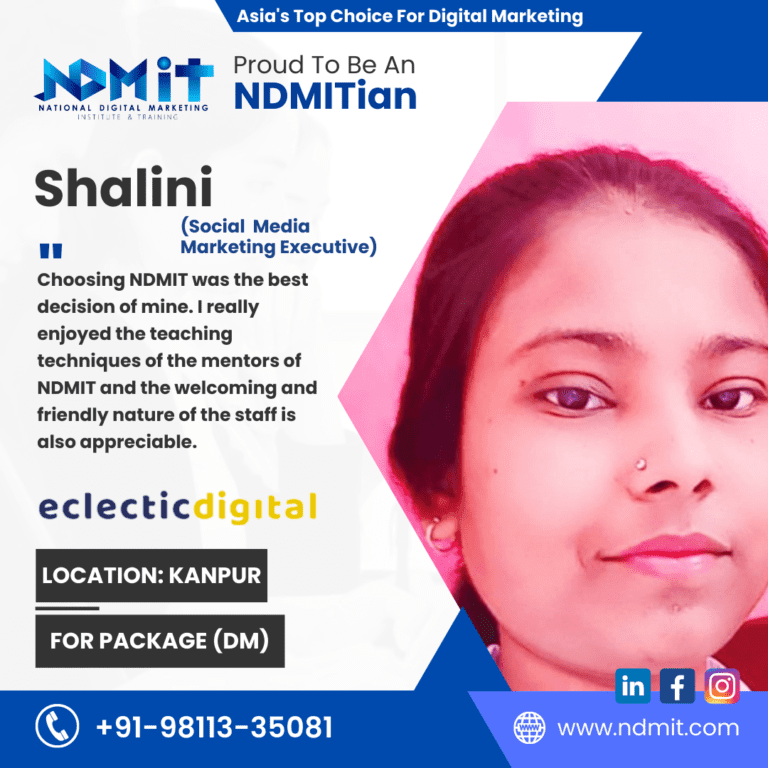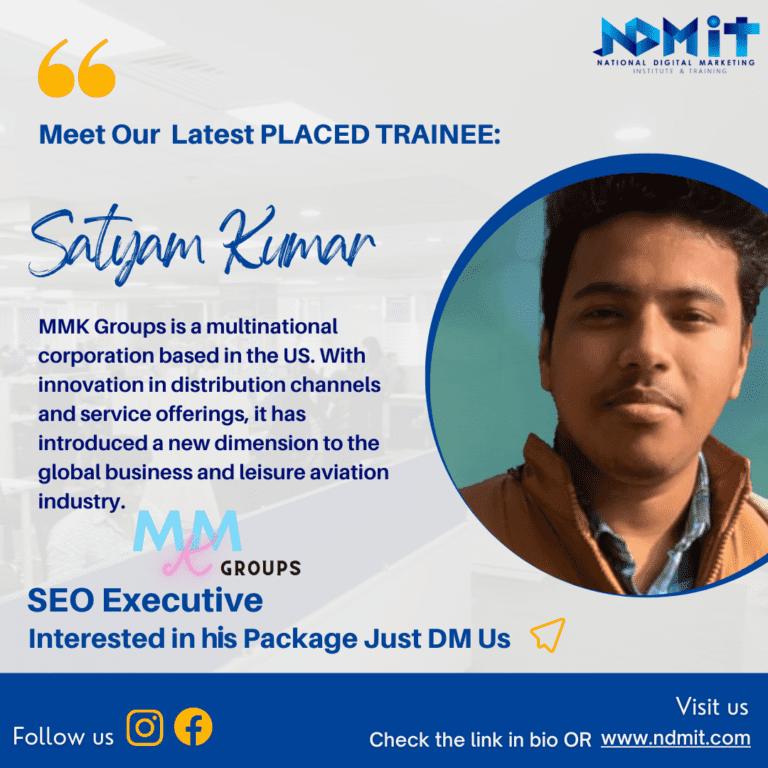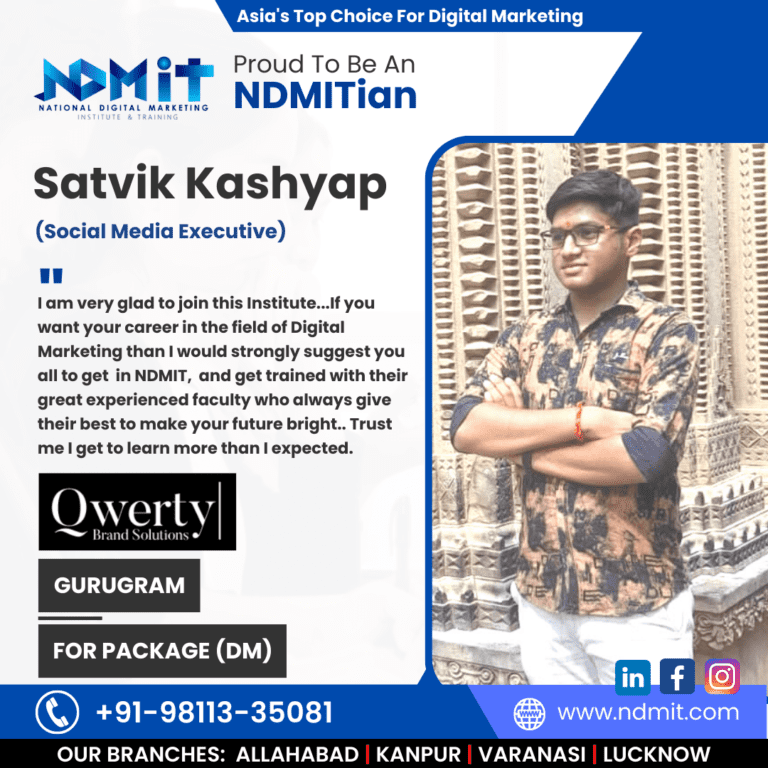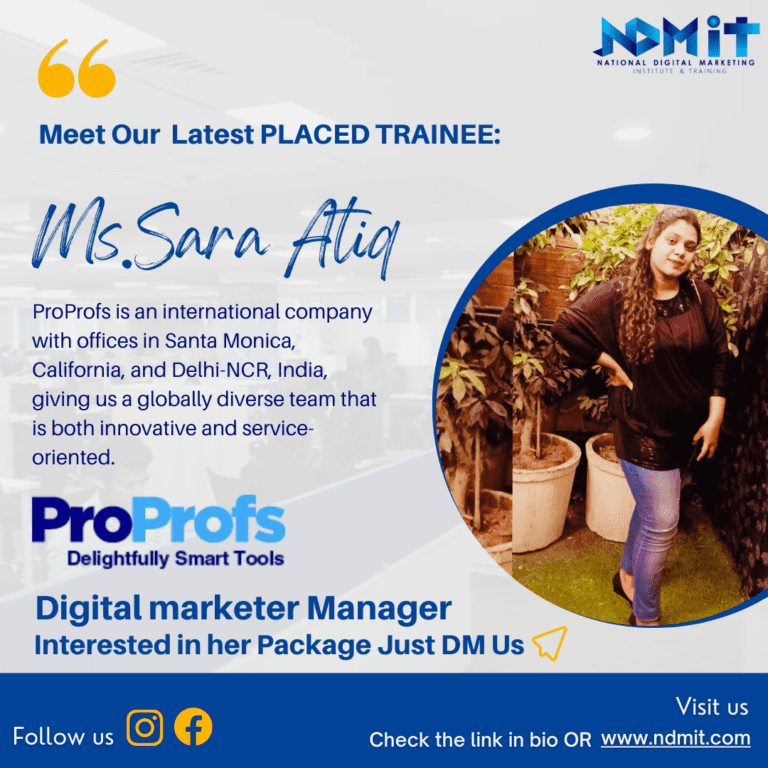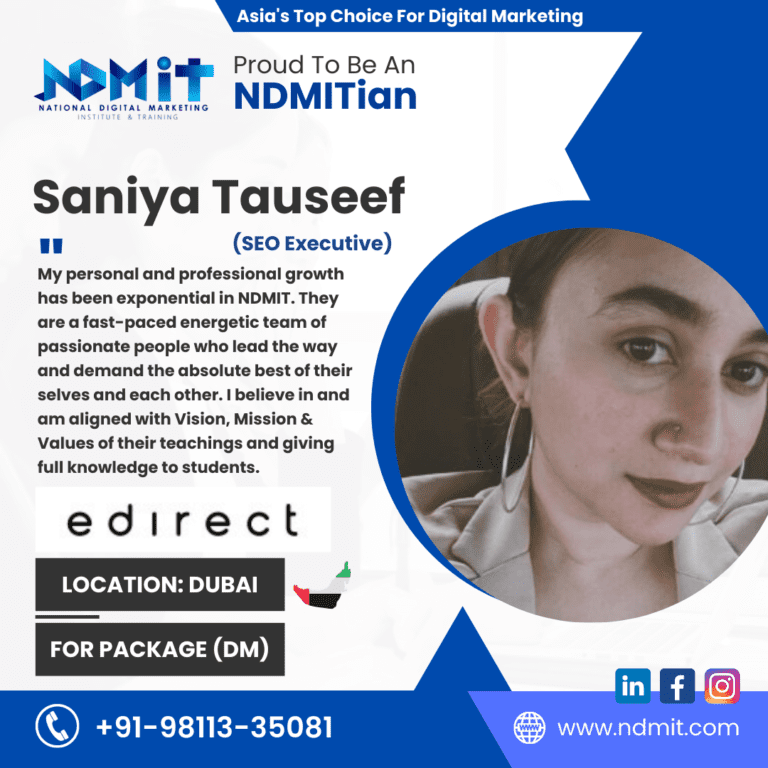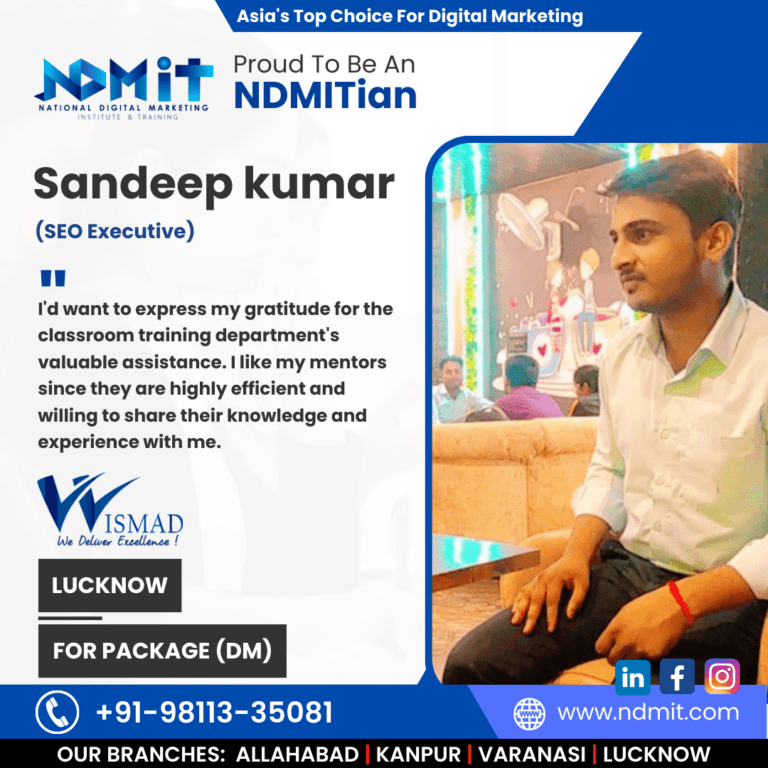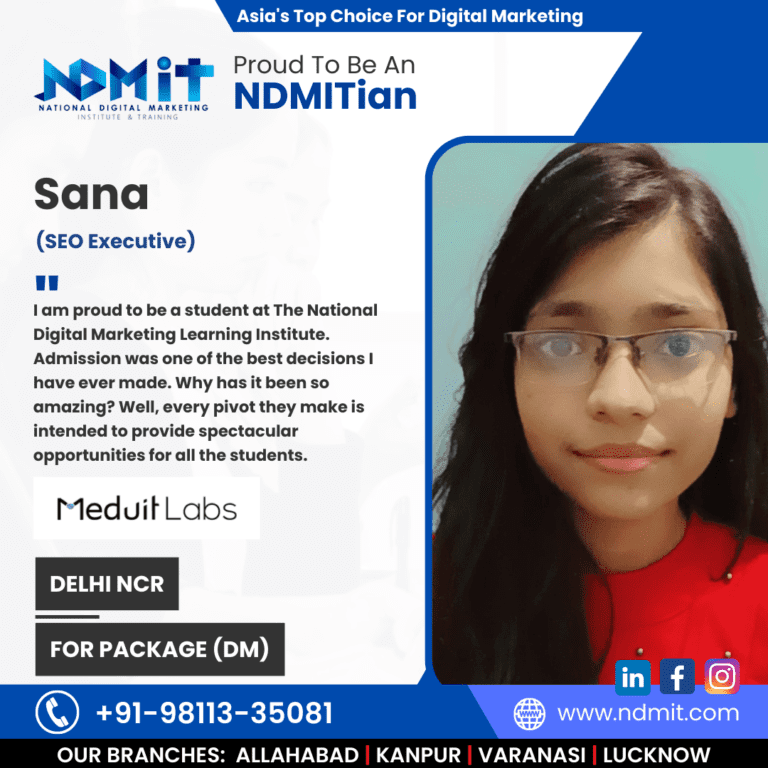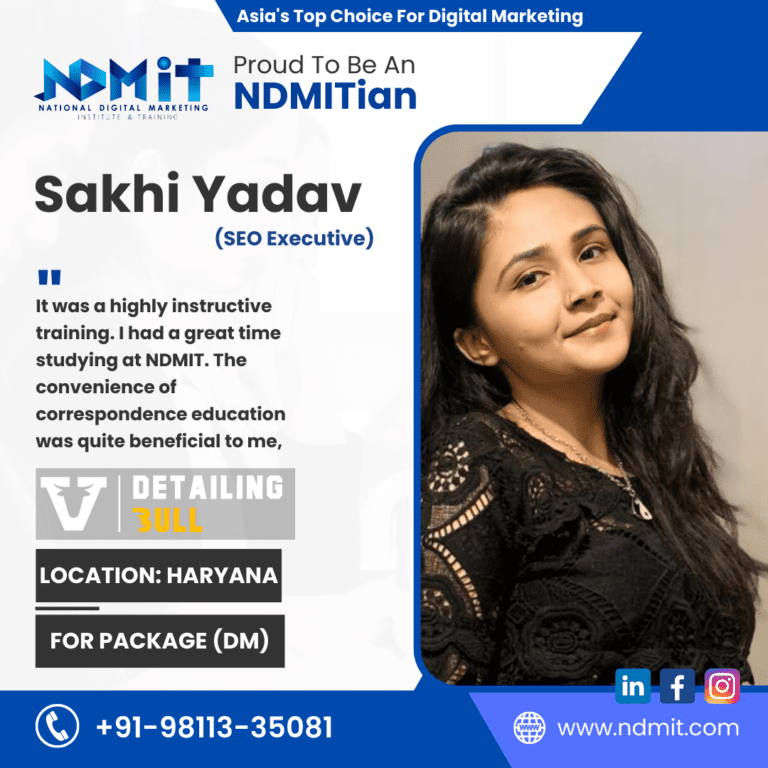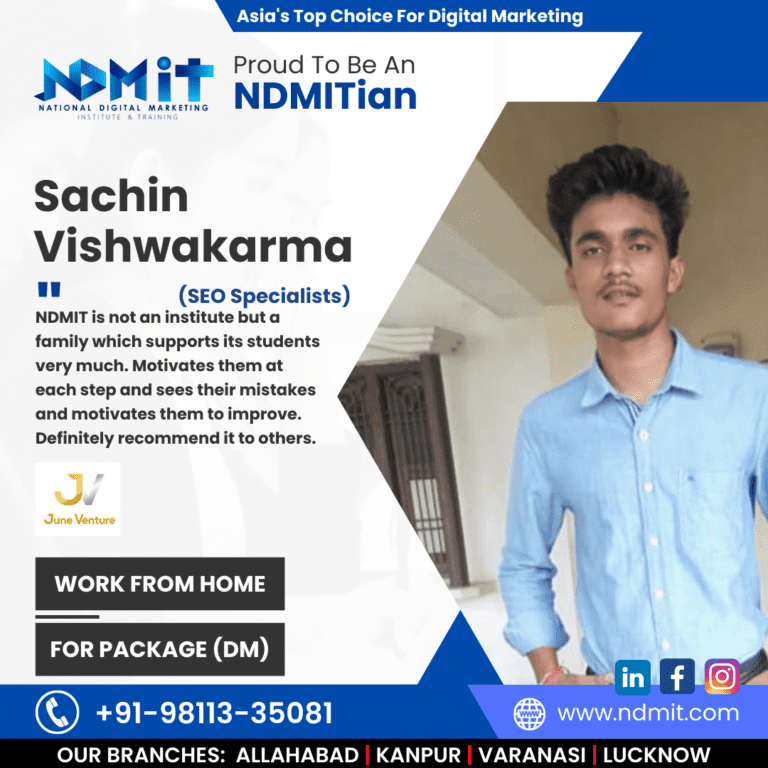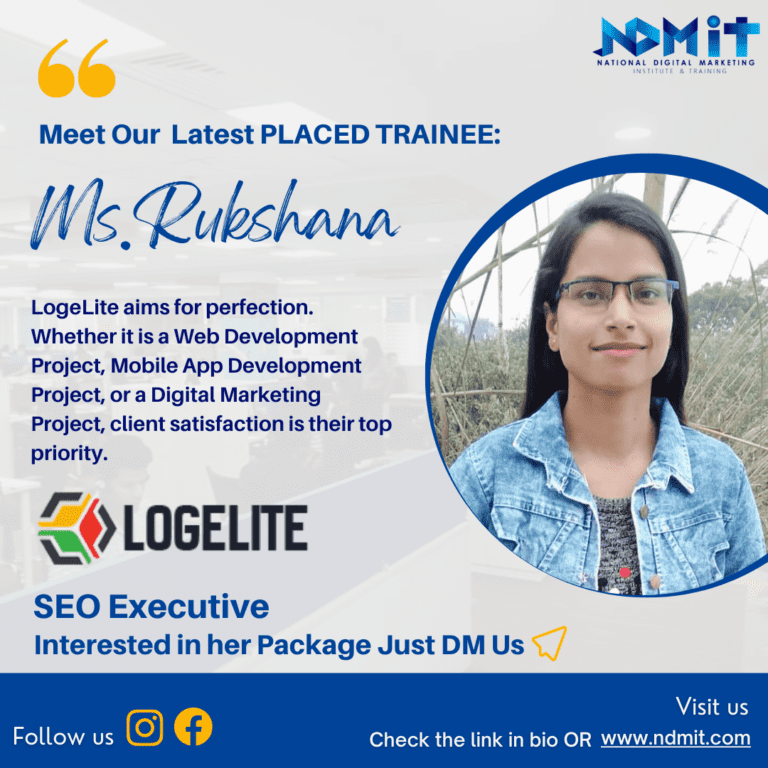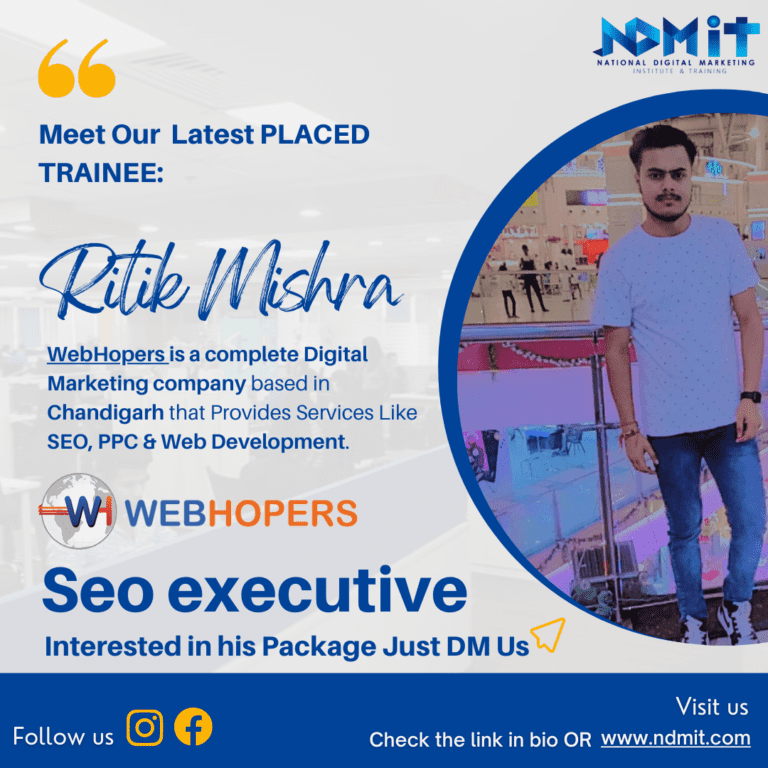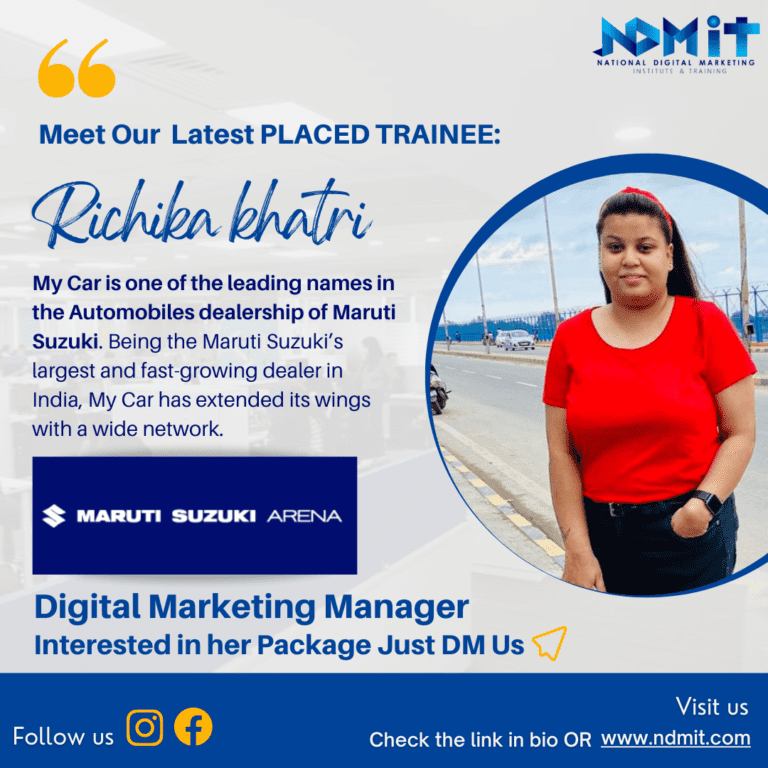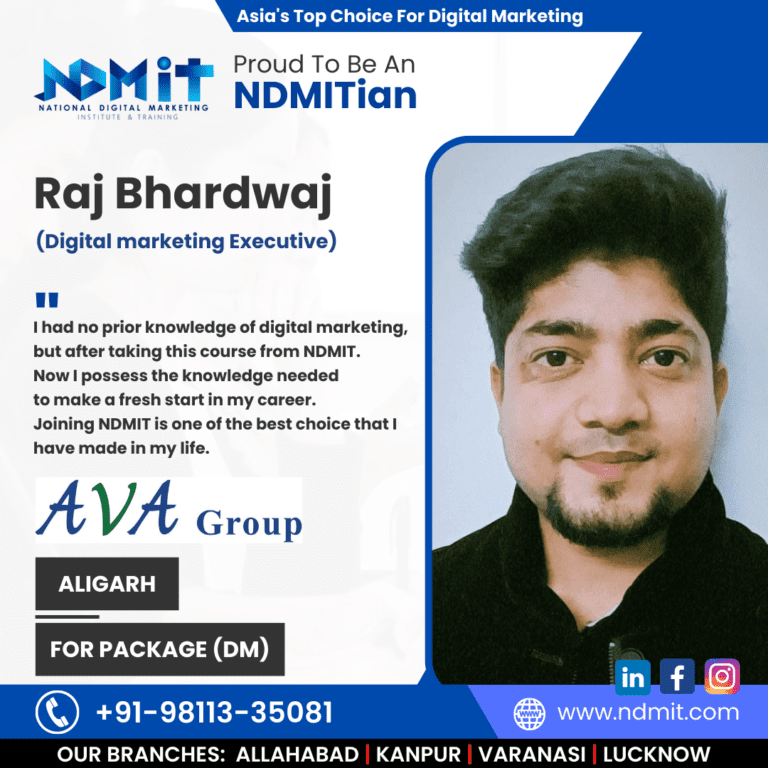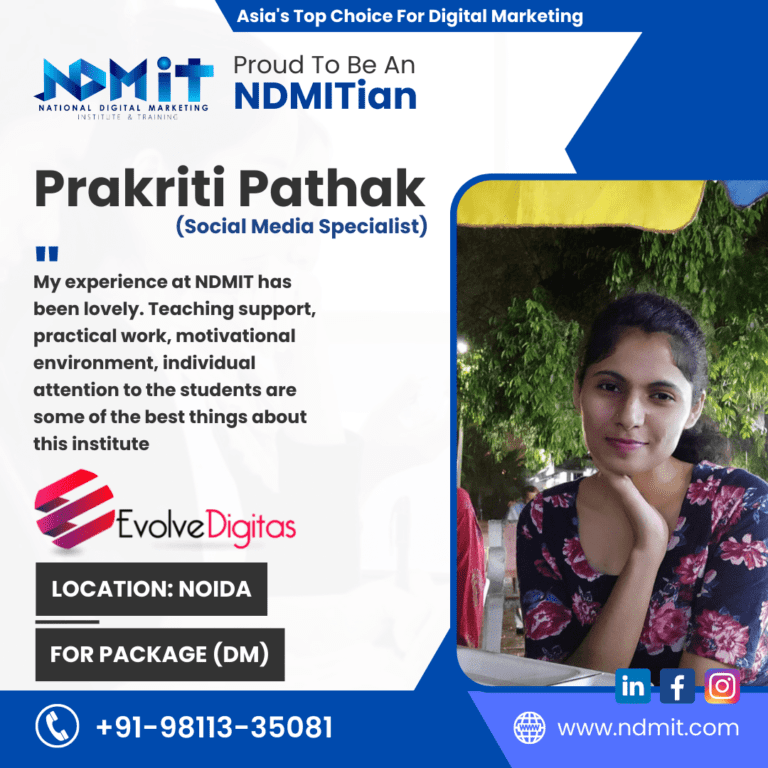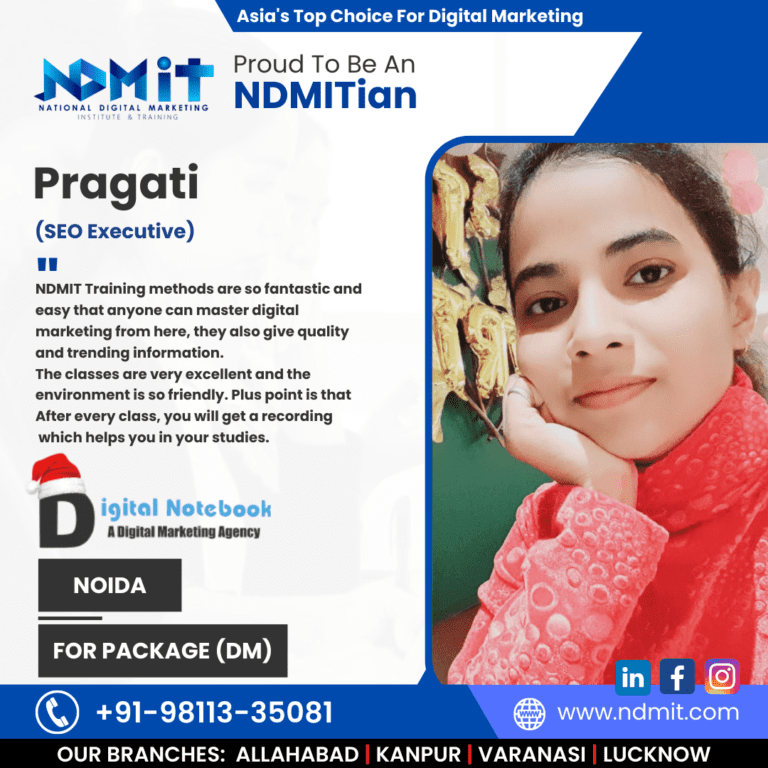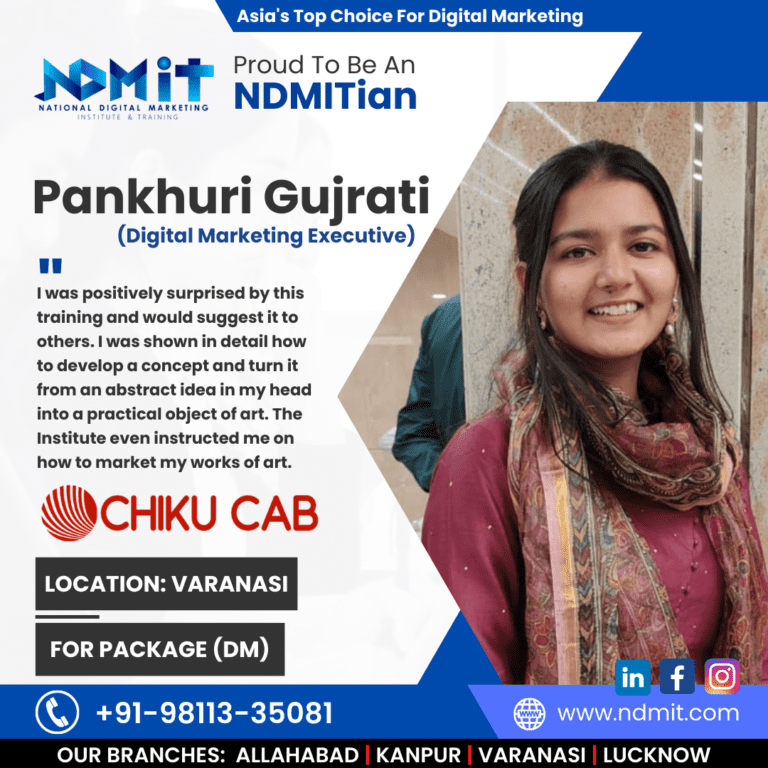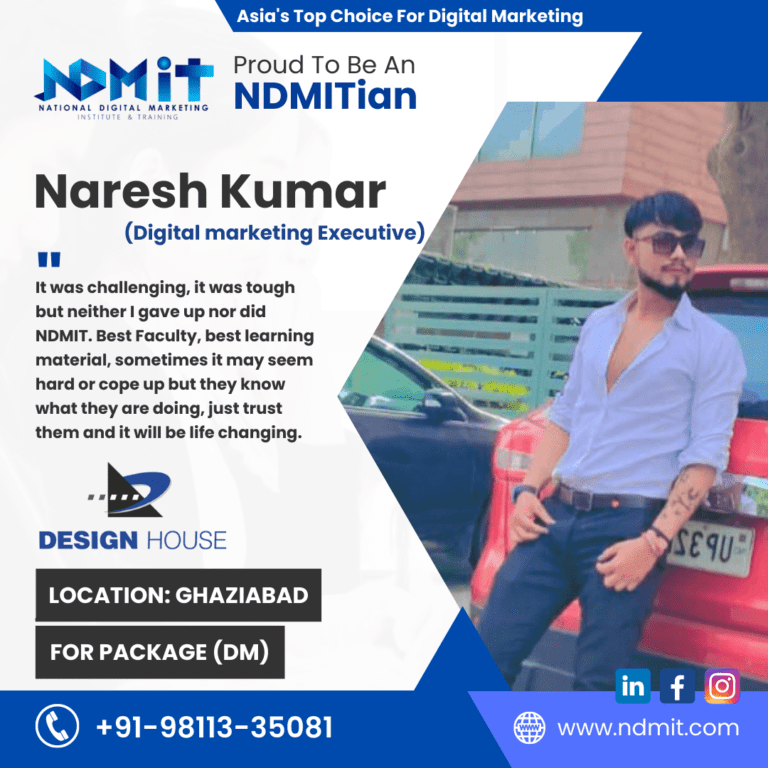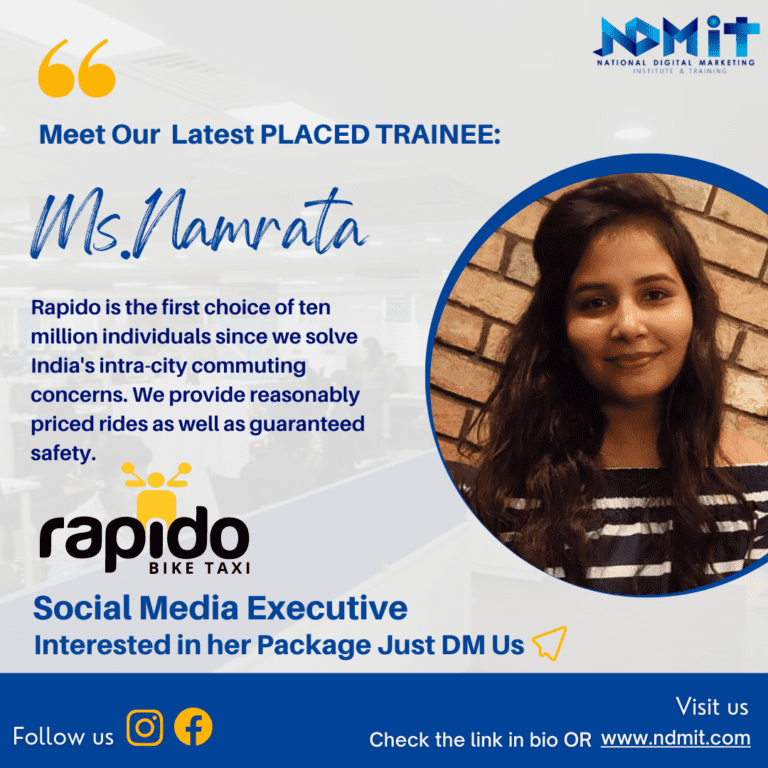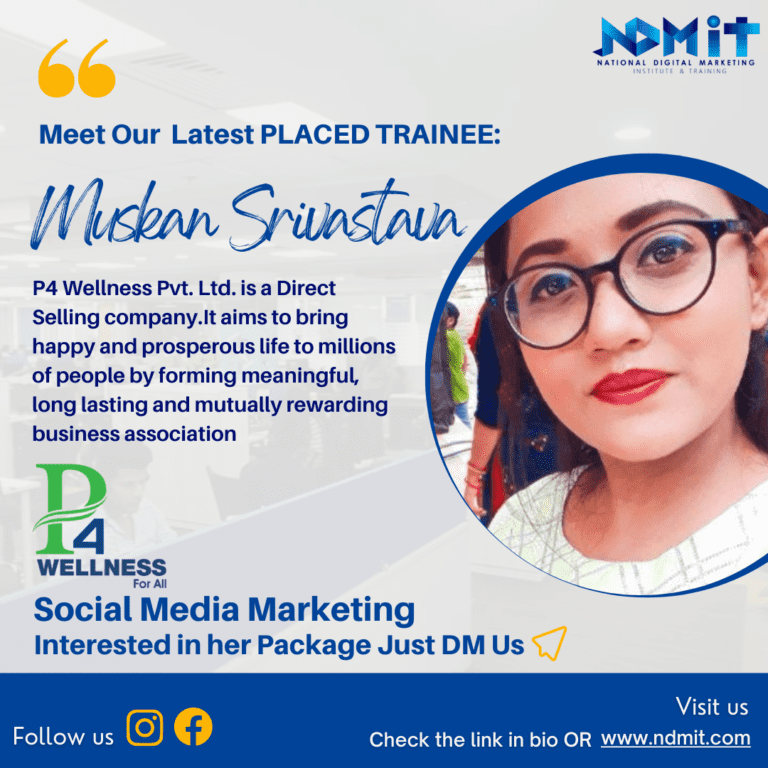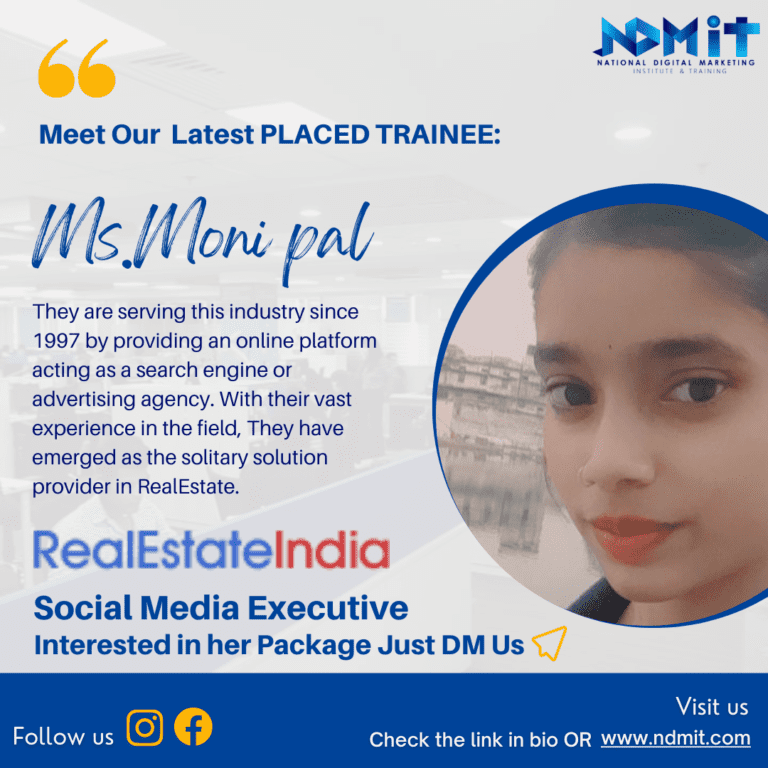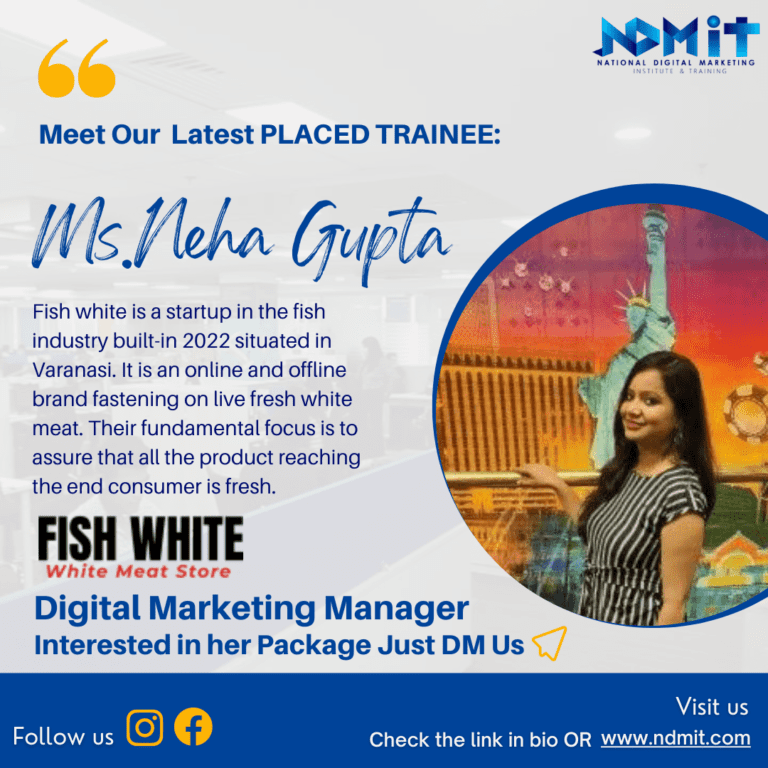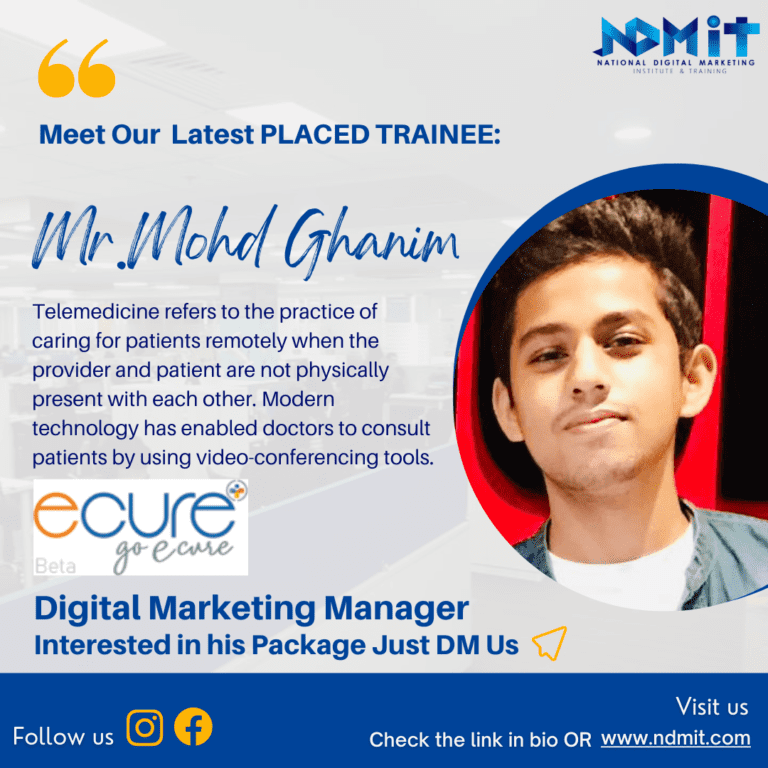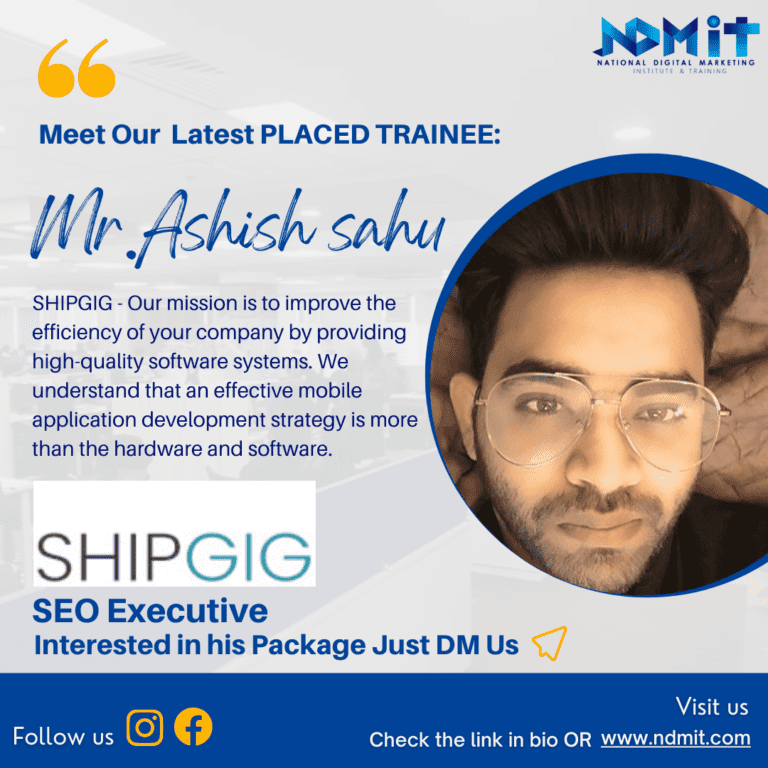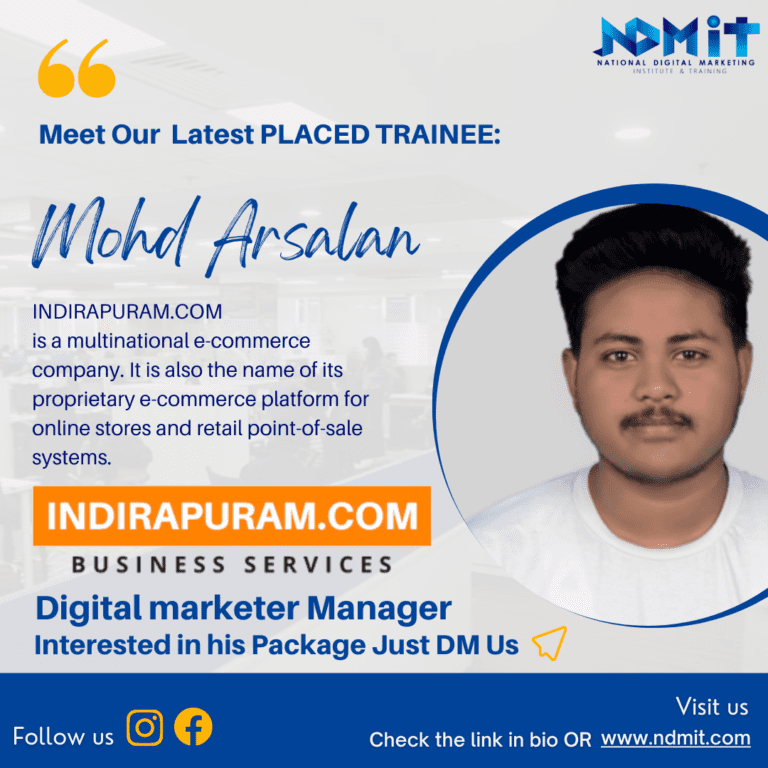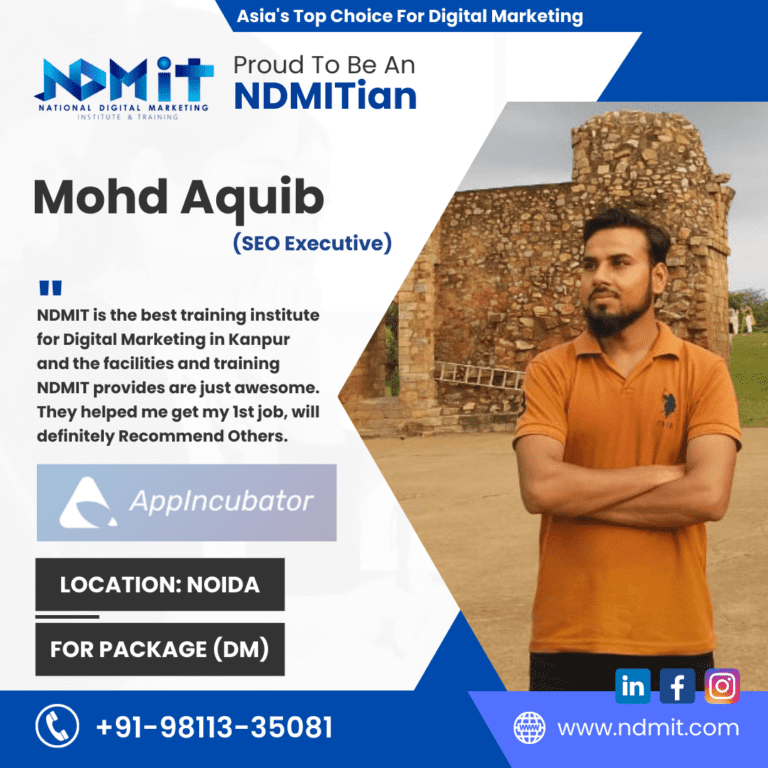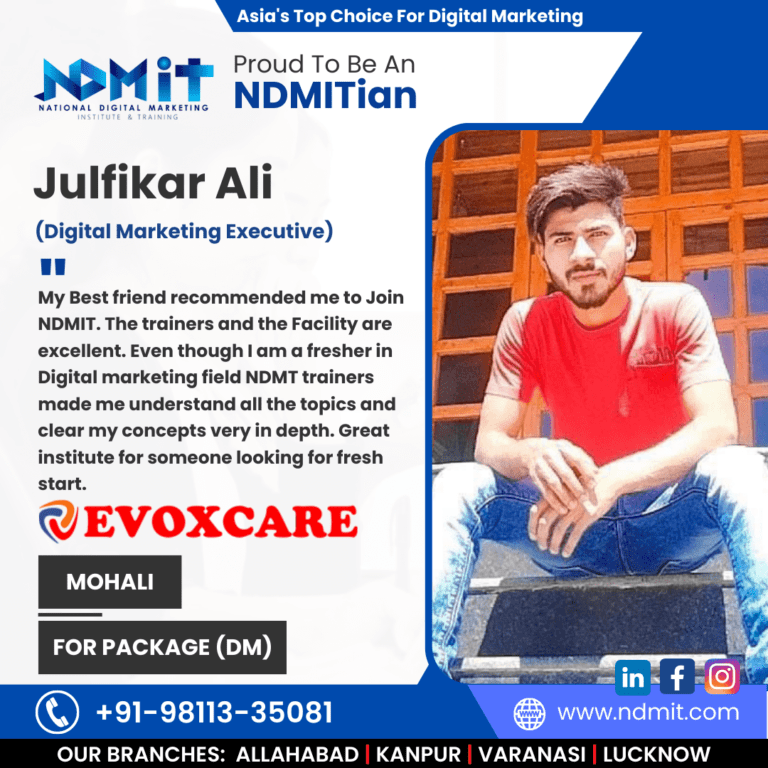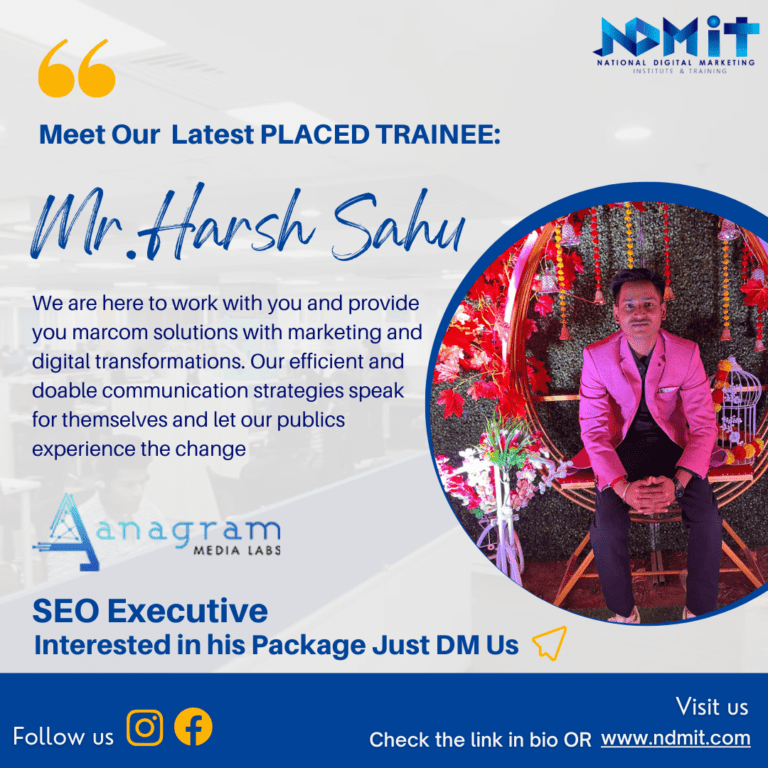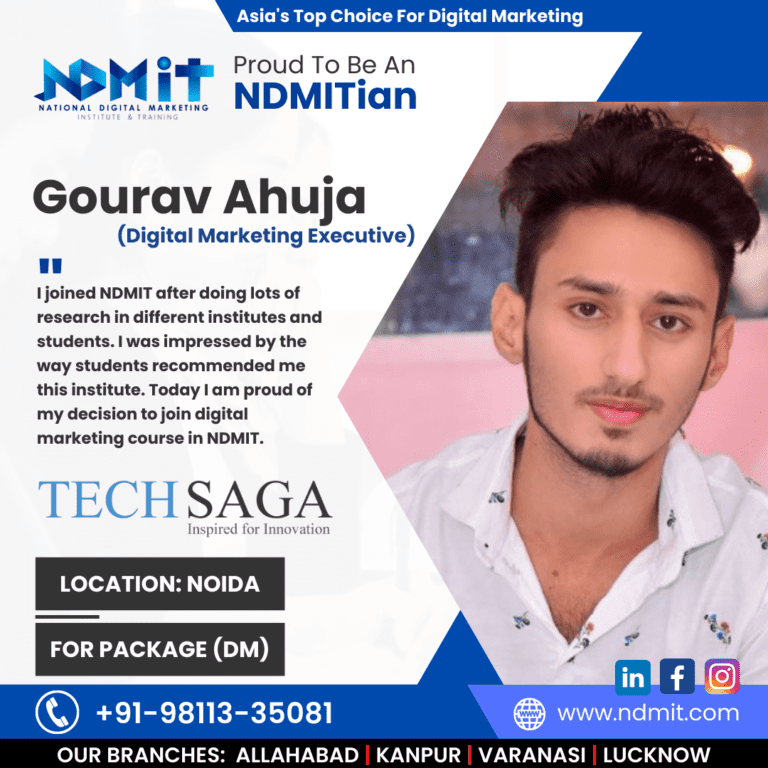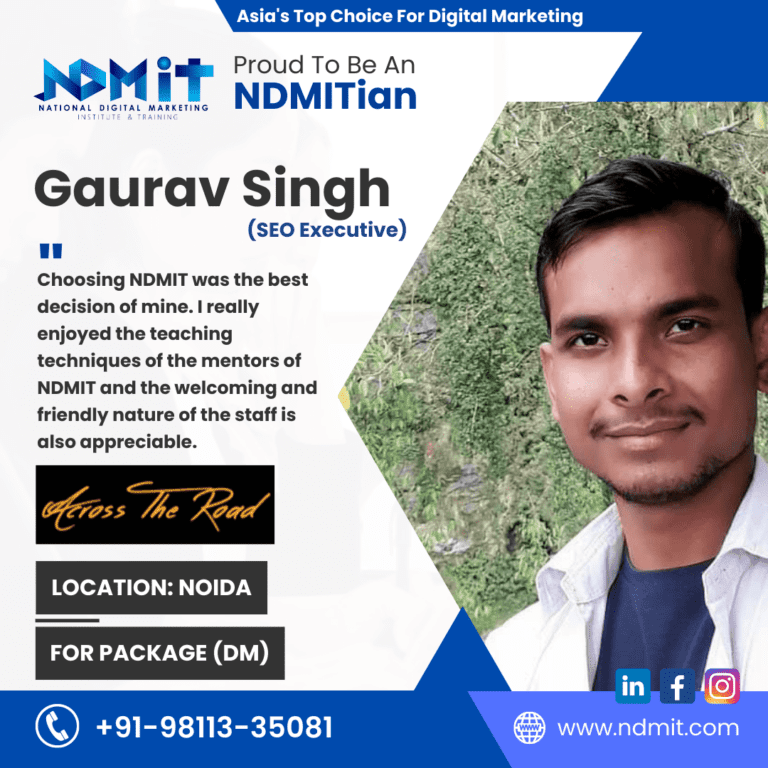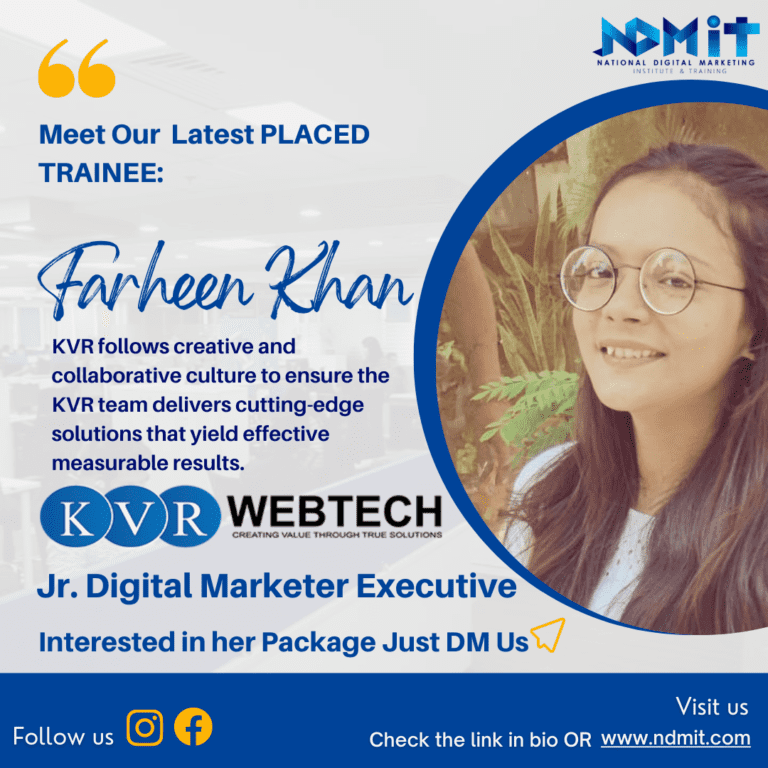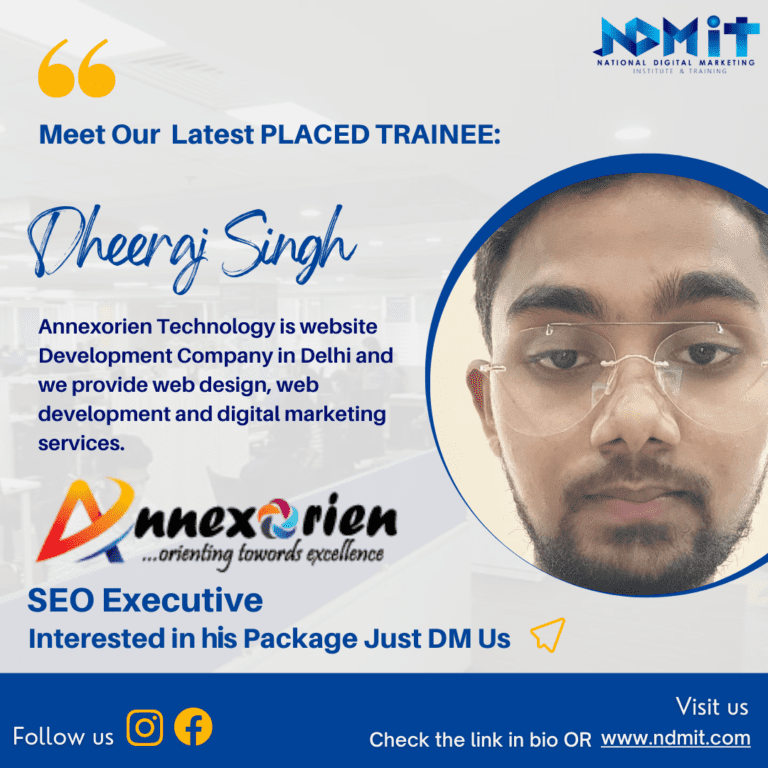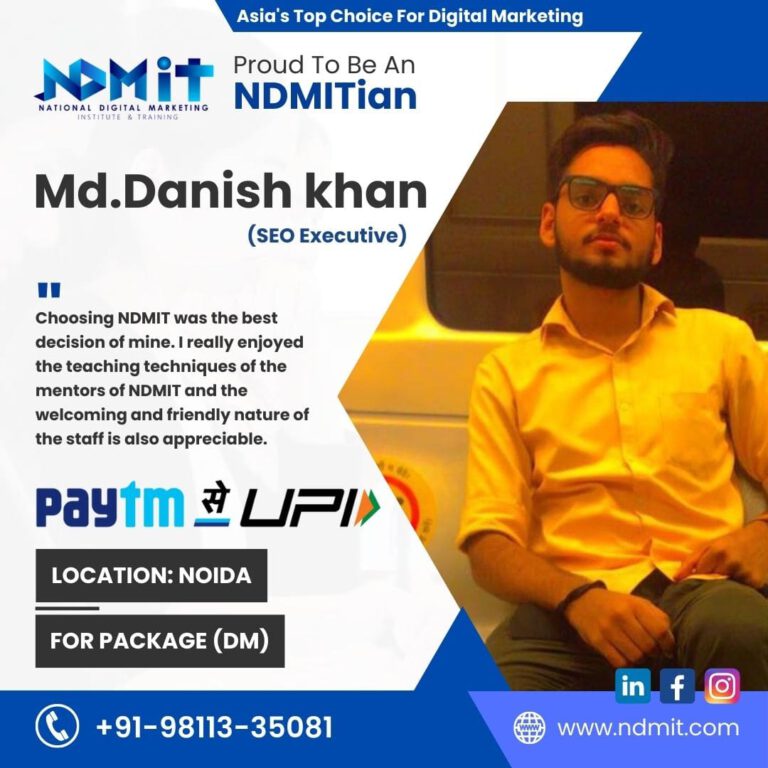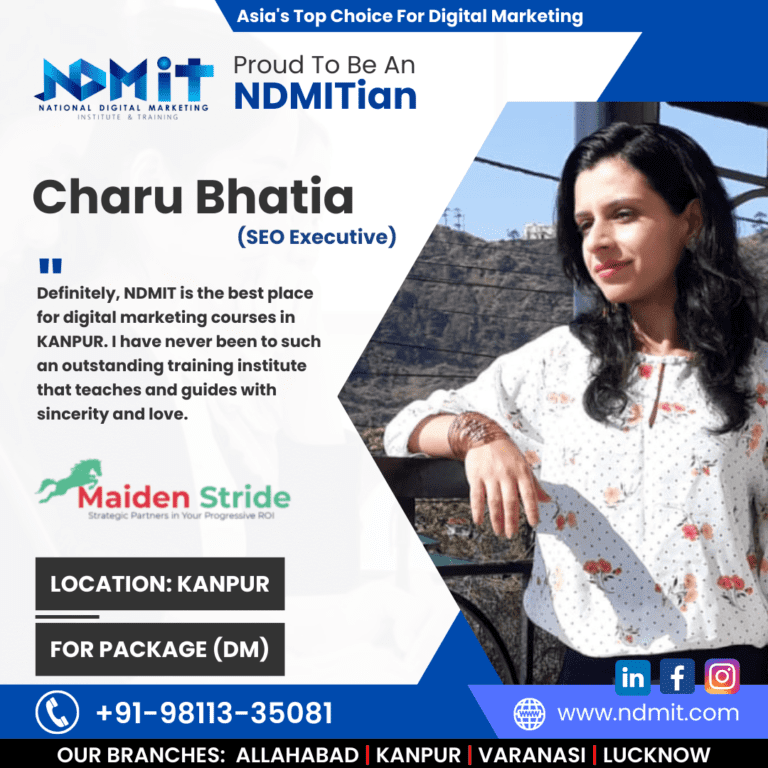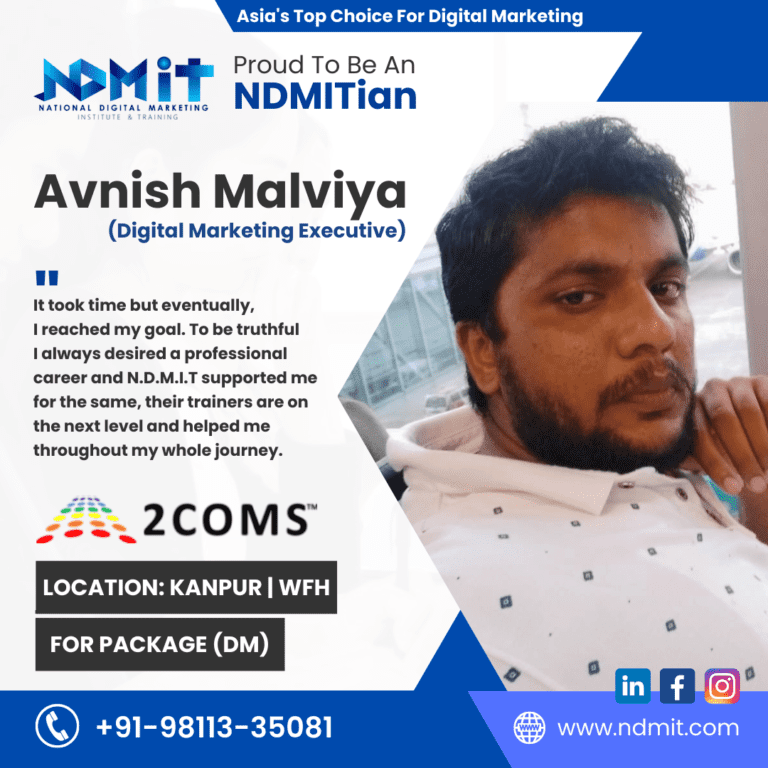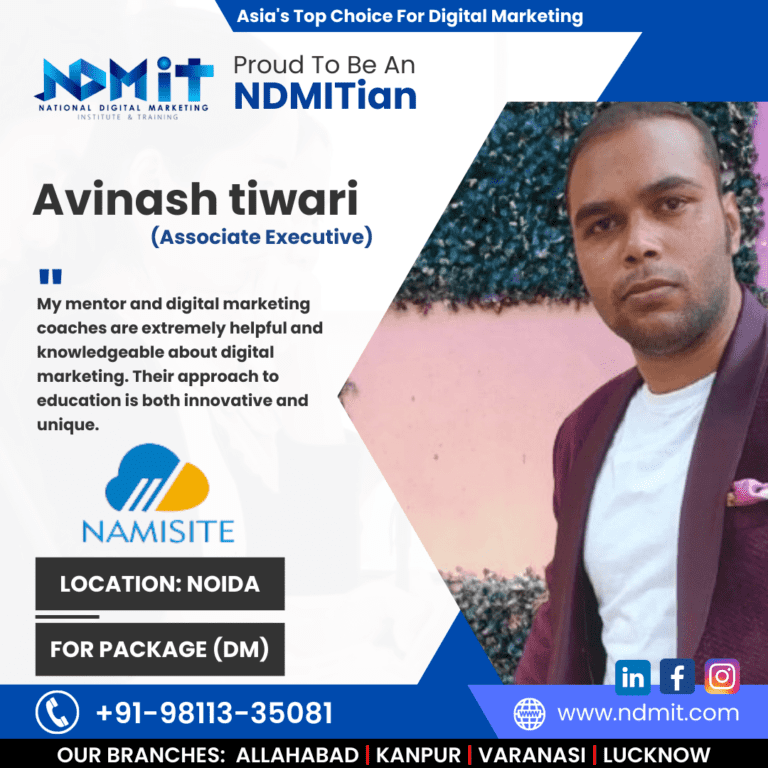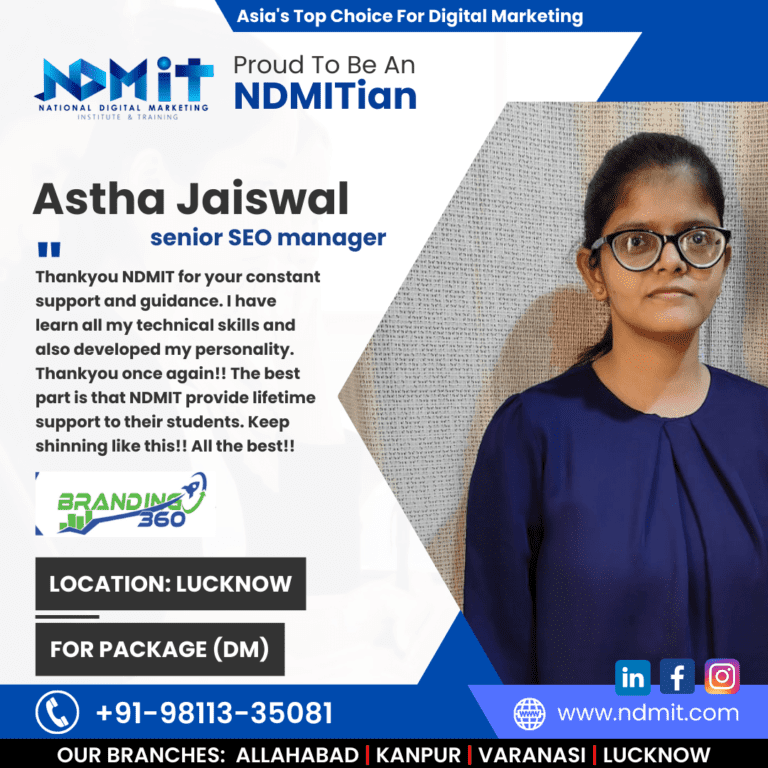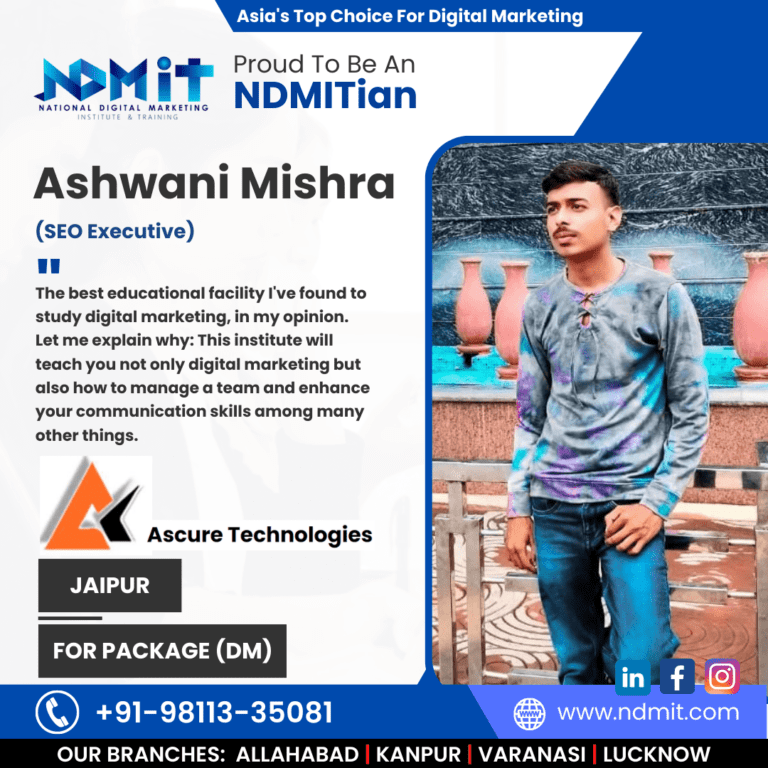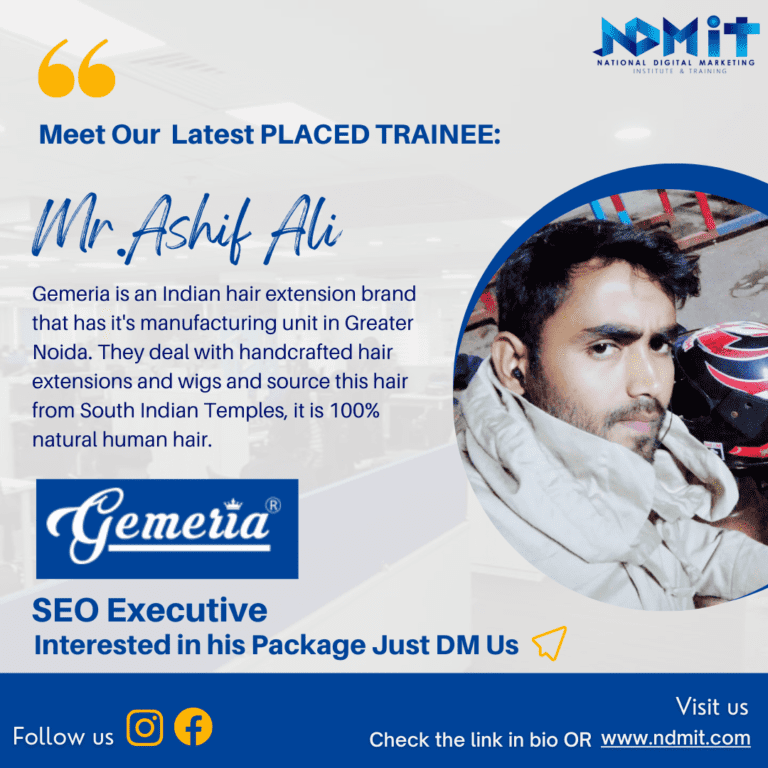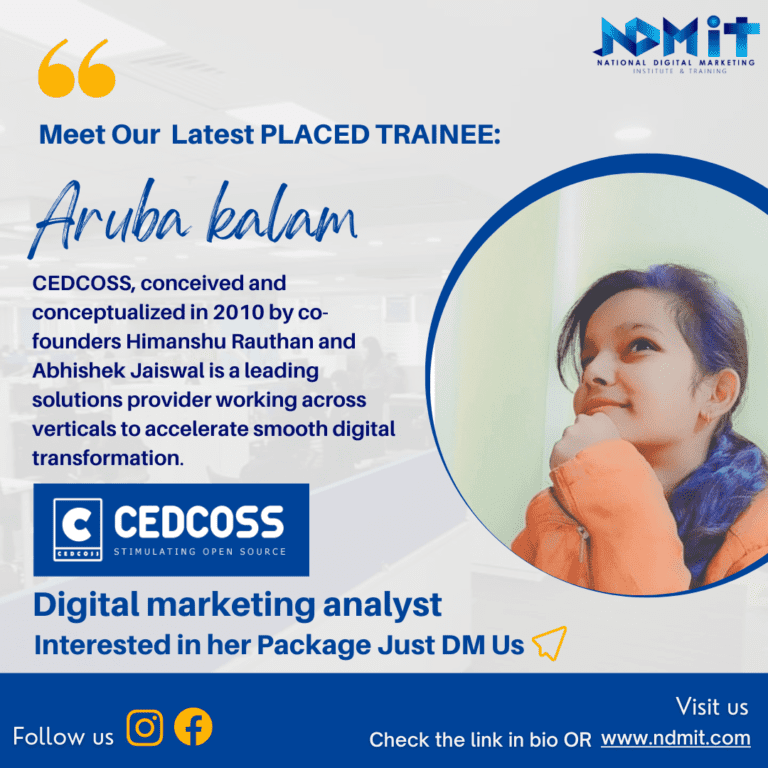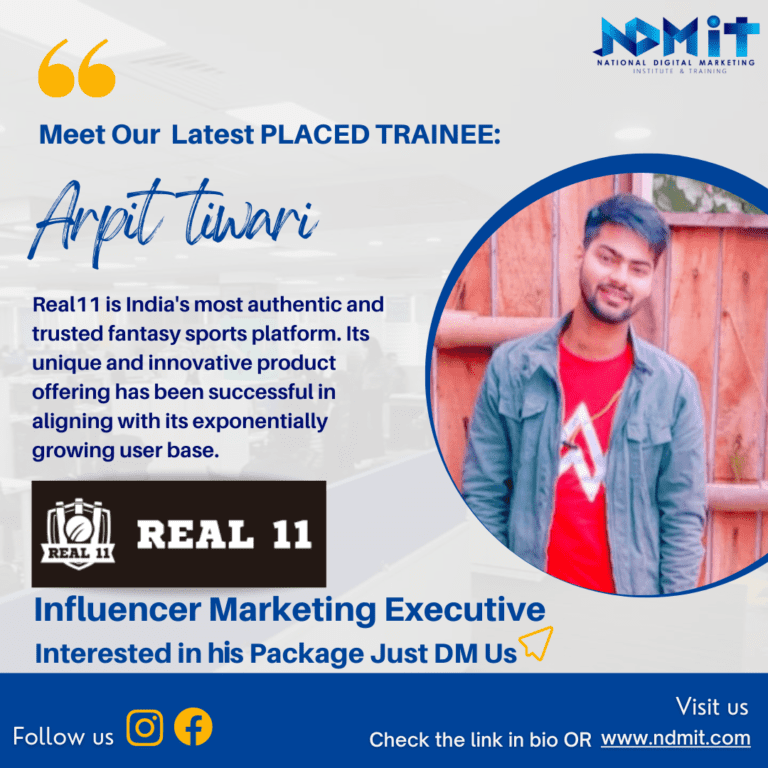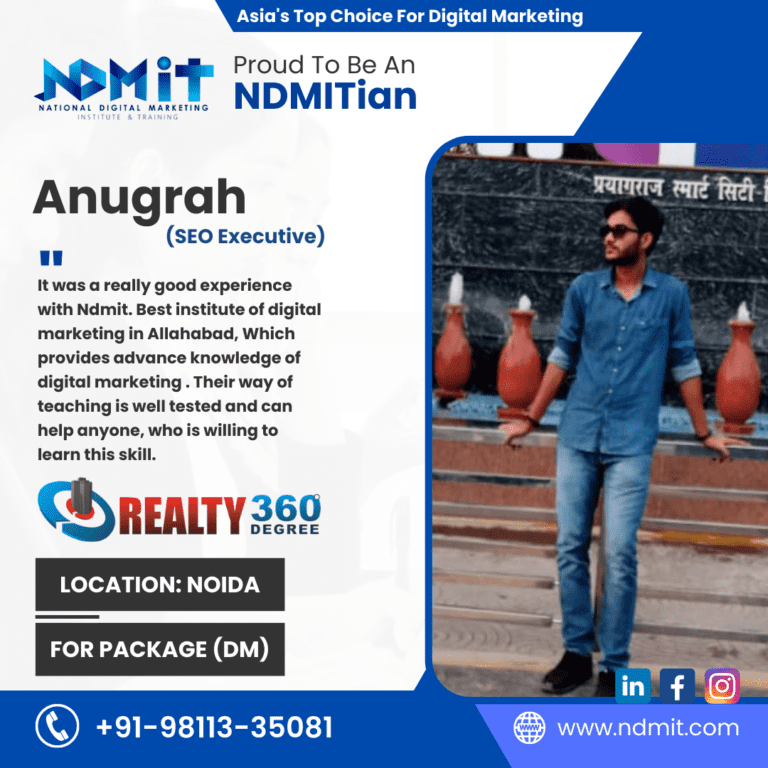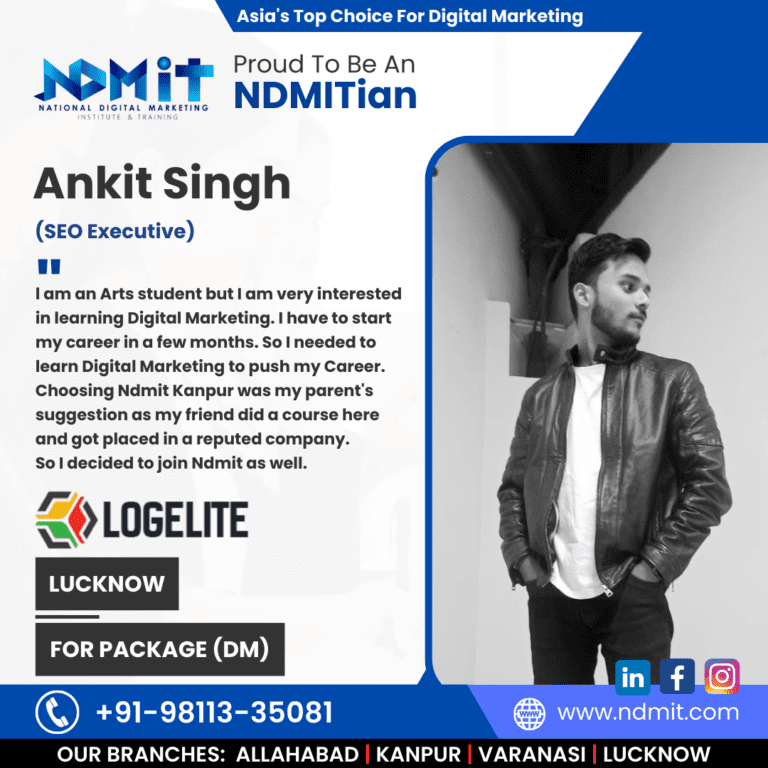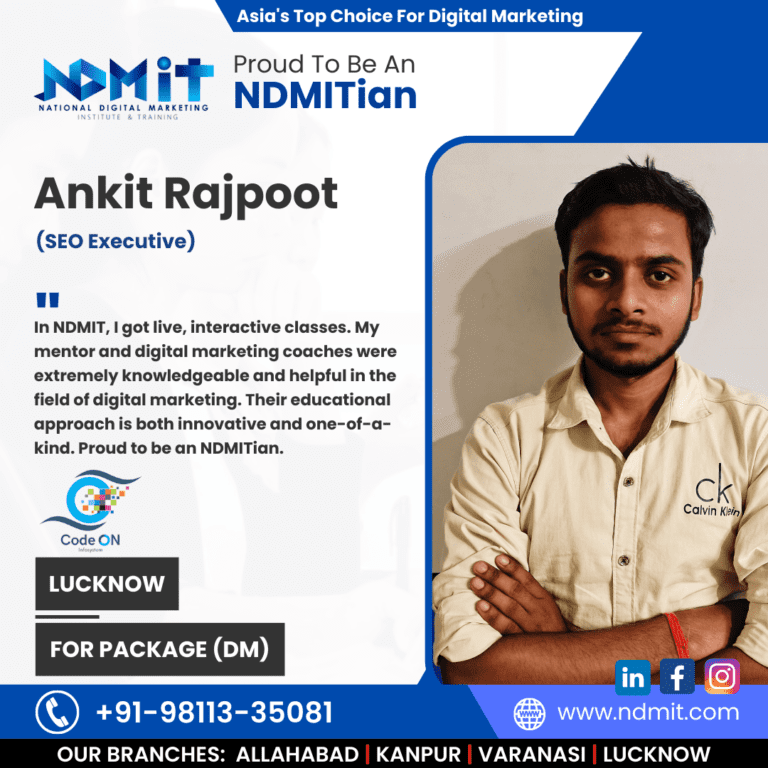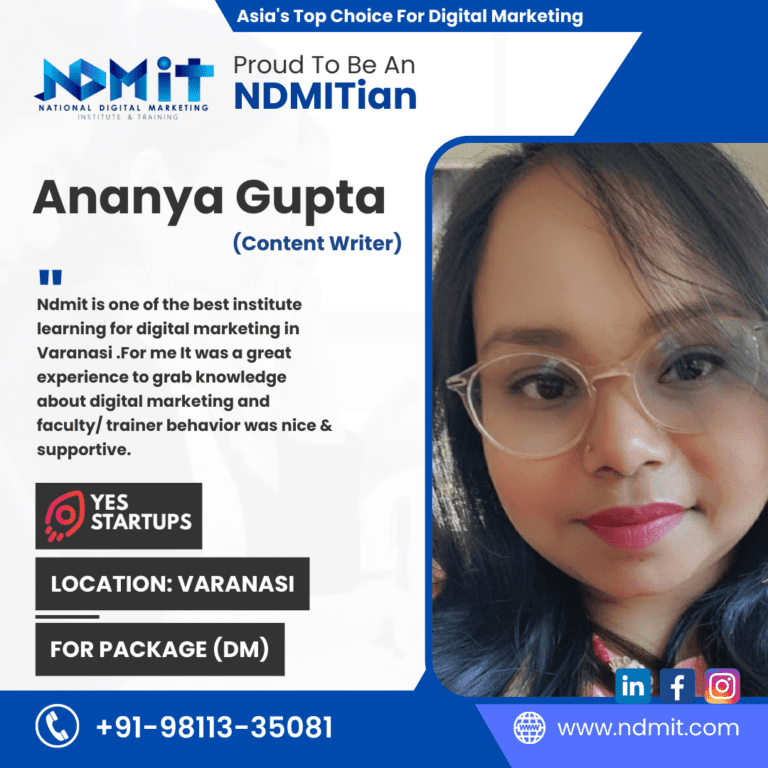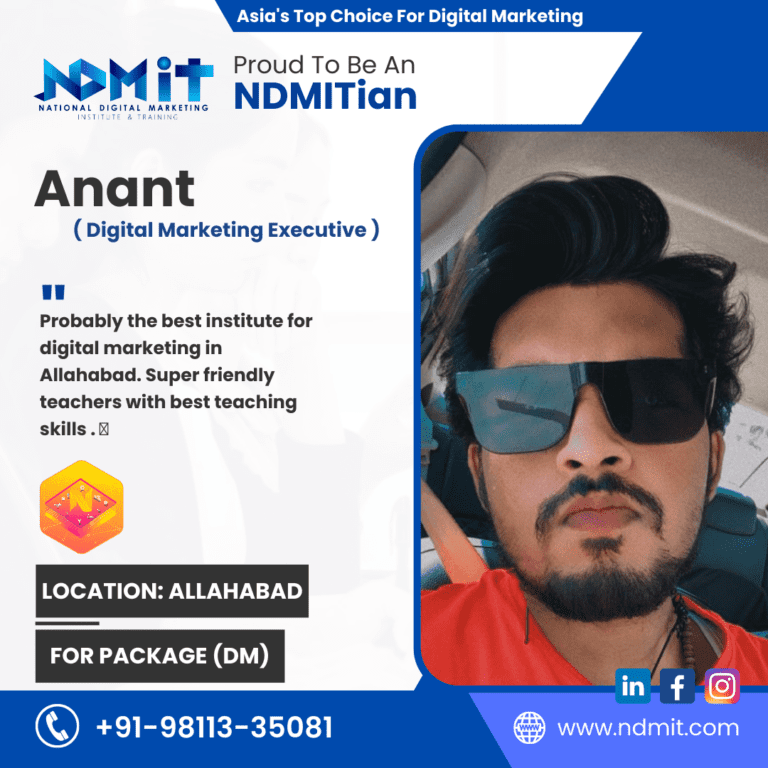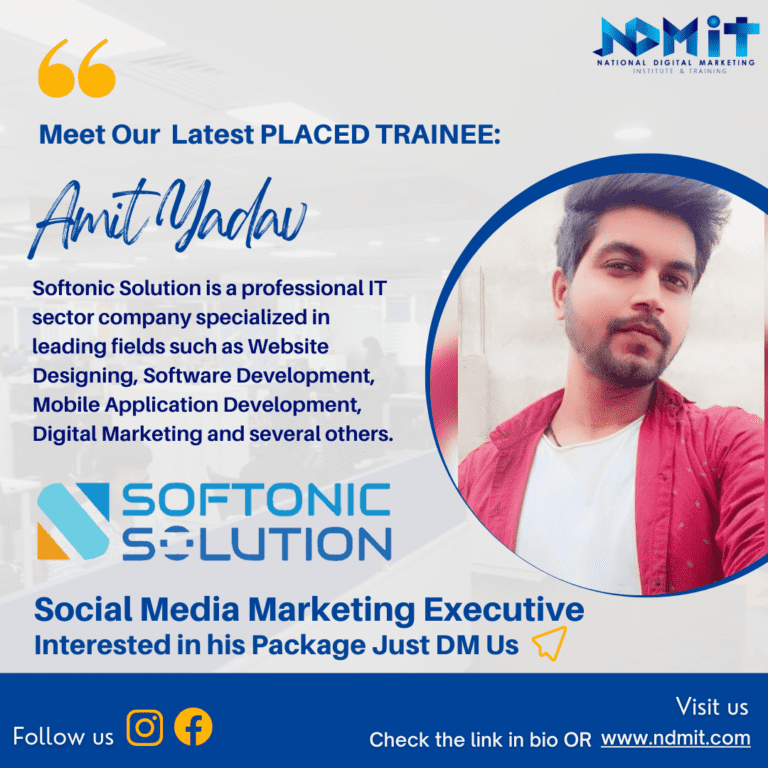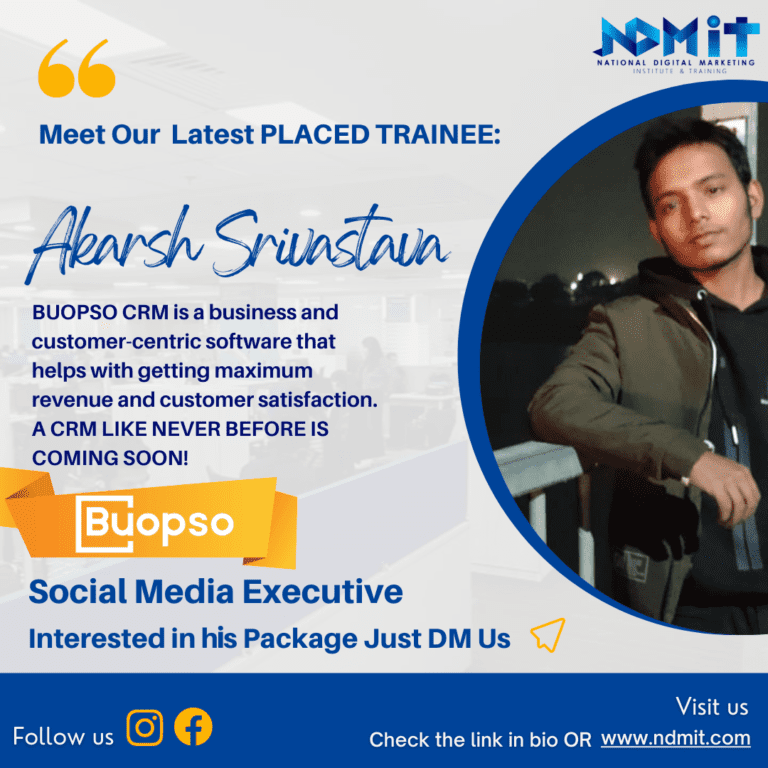 Get the Detailed Curriculum and faculty member list.
Their unique method or their hybrid learning model (as they call it) starts with a series of high-quality online video courses, followed by weekly live training sessions, custom-tailored 1-on-1 mentoring sessions, and in-class presentations.
The course syllabus is divided into terms and modules that are taught in-depth to ensure a holistic understanding and training for each student.
Introduction to Digital Marketing
Content Marketing
Graphic designing with canva from scratch
Lead generation
Landing page practical
You tube & youtube SEO
ORM
Affiliate marketing
Google Adsense
E-commerce website creation
Email marketing
Mobile Marketing
15+ Modules
Organic Social media marketing
Copywriting
Google analytics
Google search console
Introduction of SEO
Local SEO
Buyer Persona
Keyword research
Introduction of Google ads
30+ Modules
Live Session with Renowned Marketers
ON-Page SEO
OFF-Page SEO
In-depth Google Ads
Facebook Ads
Instagram Ads
Twitter Ads
LinkedIn Ads
Competitors Analysis
Paid Tools walkthrough
Client Interaction
Mock interview
Presentation Session
Interview Preparation
Live projects
Know What You Will Learn!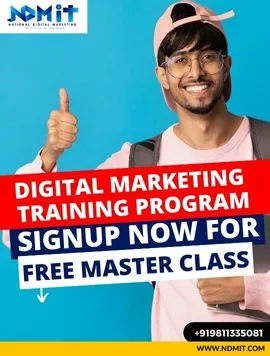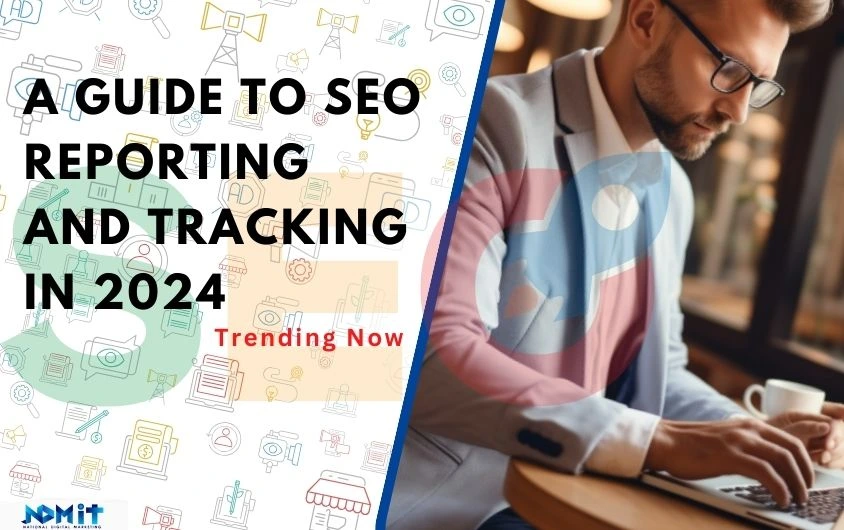 A guide to SEO reporting and tracking in 2024
15 November 2023
A guide to SEO reporting and tracking in 2024 : If you're in the industry, you know how important...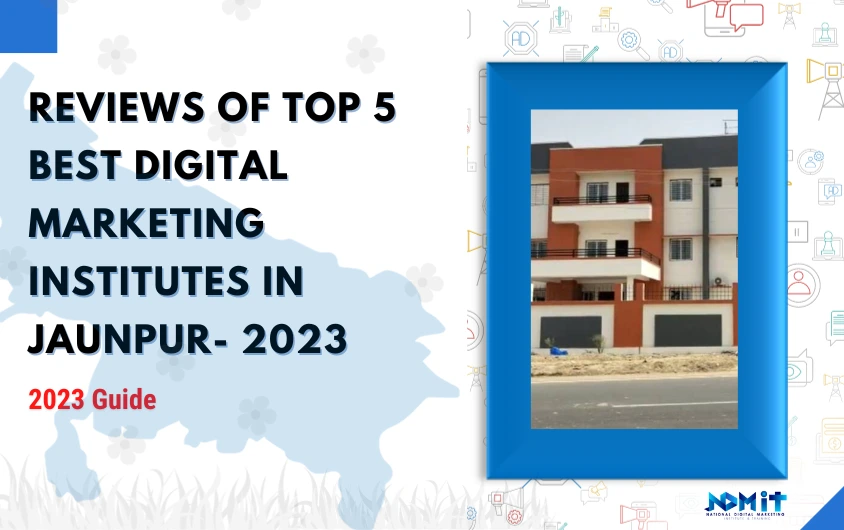 Top 5 Best Digital Marketing Institutes in Jaunpur
28 October 2023
Are you looking for Offline or Online courses on digital marketing in Jaunpur? Good news, we've got your...