Do you think Google Ads have lost all credibility? The reasons why one advertiser is leaving :
Google has recently made a surprising revelation that it has been discreetly modifying ad prices to achieve its targets, which has left the PPC community in a state of shock. This admission comes after eight years of Google Ad executive Jerry Dischler's denial of any manipulation of ad auctions at SMX Advanced in 2015.
This reversal of stance has caused great frustration for digital marketer Greg Finn, who now suggests that advertisers should contemplate moving away from Google. However, it remains to be seen if others will follow suit.
Trust and credibility have been lost by Google :
Finn commenced by characterizing the situation as "disheartening.
" He proceeded to express his concerns, stating that Google has forfeited its trust and credibility, which are paramount in any business. He further elaborated that Google has acknowledged its attempt to meet quarterly targets, which has resulted in a boost in morale for its employees residing in high-cost areas.

However, this has come at the expense of small businesses, which Google purports to prioritize. Finn emphasized that money does not materialize out of thin air, but rather, it is sourced from the pockets of both small and large businesses utilizing Google's platform.
Let's stop calling it an auction :
"We were all aware of this situation, however, it is important to extend the benefit of the doubt to individuals. Despite Google's claims of prioritizing advertisers and other marketing endeavors, the moment they are required to meet certain targets, their staff increases spending and revenue by 5% to 10%," stated Finn in a professional manner.
It is important to acknowledge that businesses have the autonomy to set their prices as they see fit, just as individuals and their clients do. While Finn found Kruger's statement to be partially reasonable, he criticized Google for its lack of transparency with advertisers. Finn emphasized that while businesses have the right to adjust their prices, they should not claim to act in the best interests of their clients if they prioritize quarterly profits over transparency and honesty. This lack of trust can have significant consequences for the relationship between businesses and their clients.
Google's terminology can be misleading at best :
Retailers are entitled to increase their margin on the backend, however, in the case of Google, this is presented as auctions with bids and bid strategies, as stated by Finn. This terminology is becoming increasingly misleading, as there are variables beyond one's control and factors that only concern the sales team residing in affluent areas, which can negatively impact one's campaign. Finn asserts that it is highly unlikely that Google has ever reduced costs by 5%.
The RGSP is a ridiculous program
During the federal antitrust trial, Dischler testified that a mechanism known as RGSP had contributed to Google's revenue growth by altering the auction process. This modification ensured that the second-place bidder occupied the top advertiser slot, while the initial winner was relegated to the second position.
Dischler informed the court, "We reverse their positions to prevent Amazon from consistently appearing at the top."
In response to this strategy, Finn criticized it as "absurd," questioning the rationale behind manipulating the bidding process. He exclaimed, "We have individuals actively participating in the bidding process. What kind of world are we living in? This is preposterous."
analysis of the escalating ad prices within Google Ads concludes with a profound sense of disappointment. After conducting a thorough examination of the issue and considering various responses, he foresees a further deterioration of the situation in the future. Finn recommends that advertisers contemplate the possibility of discontinuing their association with Google Ads and abstaining from placing any reliance on its platforms, messaging, or promotional materials. He asserts that Google has forfeited all credibility in this domain, leaving no foundation for confidence. Despite being labeled as a Google conspiracist, Finn maintains that his stance is well-grounded, and many individuals are hesitant to embrace auto-applied recommendations, AI, or PMax due to Google's profit-oriented motives, which have been acknowledged in a court of law. Undoubtedly, the current state of affairs is deeply regrettable.
FAQ – Frequently Asked Questions
How does a digital marketing course benefit me in my career?
A digital marketing course can bring a number of benefits to your career. Some of these benefits include:
Increased knowledge: By taking a digital marketing course, you will gain a comprehensive understanding of the various aspects of digital marketing, including search engine optimization (SEO), social media marketing, email marketing, and pay-per-click advertising.
Career advancement: A digital marketing course can help you advance in your current role or transition into a new role within the marketing field. With the increasing demand for digital marketing skills, a certification in this area can help set you apart from other candidates.
Stay up-to-date with industry trends: The world of digital marketing is constantly evolving, and a digital marketing course will help you stay up-to-date with the latest trends and best practices.
Improved skills and performance: With the knowledge and skills you gain from a digital marketing course, you will be able to implement more effective marketing strategies, resulting in improved performance and outcomes.
Increased earning potential: A certification in digital marketing can increase your earning potential, as the demand for skilled digital marketers continues to grow.

In conclusion, a digital marketing course can greatly benefit your career by providing you with the knowledge, skills, and credentials you need to succeed in the digital marketing field.
What is the fees for a digital marketing course ?
Ans: The fees for a digital marketing course in Sonipat range from INR 10,000 to INR 1,00,000 depending on the level of the course you opt for. NDMIT Online Digital Marketing Course fee is INR 40,000 + taxes which is inclusive of placement assurance.
Can I learn digital marketing on my own ?
Ans: Yes, you can learn digital marketing on your own with the help of free videos and courses on YouTube – although the credibility of these courses is often unknown. But it doesn't have to be this way. Instead, you can learn digital marketing with NDMIT Online Digital Marketing Course where you will learn from industry experts and also receive a certification straight from Sonipat instead of anywhere else in India! NDMIT gives you 100% Placement assurance.
Is Digital Marketing a good career ?
Ans: Digital marketing is a great job path. Being a relatively new industry, there are many challenges and opportunities – each highly dynamic. Competitive salary + incentives as well as flexibility with your schedule make this ideal for nearly anyone from entrepreneur, technology focused to analytical individual.

NDMIT is Asia's leading digital marketing institute. Since its start in 2016, NDMIT has set new standards for education around the globe. We have trained more than thousand Students globally in various aspects of digital marketing.
Taking a future-oriented approach to learning, NDMIT ensures its students receive a customized, relevant curriculum that will help them upskill for their careers.
What their Students says about them ?
Get the Detailed Curriculum and faculty member list.
Why choose NDMIT for a digital marketing course?
Free Internship
Centralized level training
Career counseling
Book free demo
100% placement assistance
24*7 Mentor support
Online classes support
Work on live project
Mock interview session
Personality development – with no cost
Learn from industry expert trainer with our founder and co-founder
Attend 3 free live classes online/offline
Hand-to-hand support
Learn corporate sector Etiquette
One on One mentorship support
Career Guidance
Recently Placed NDMITians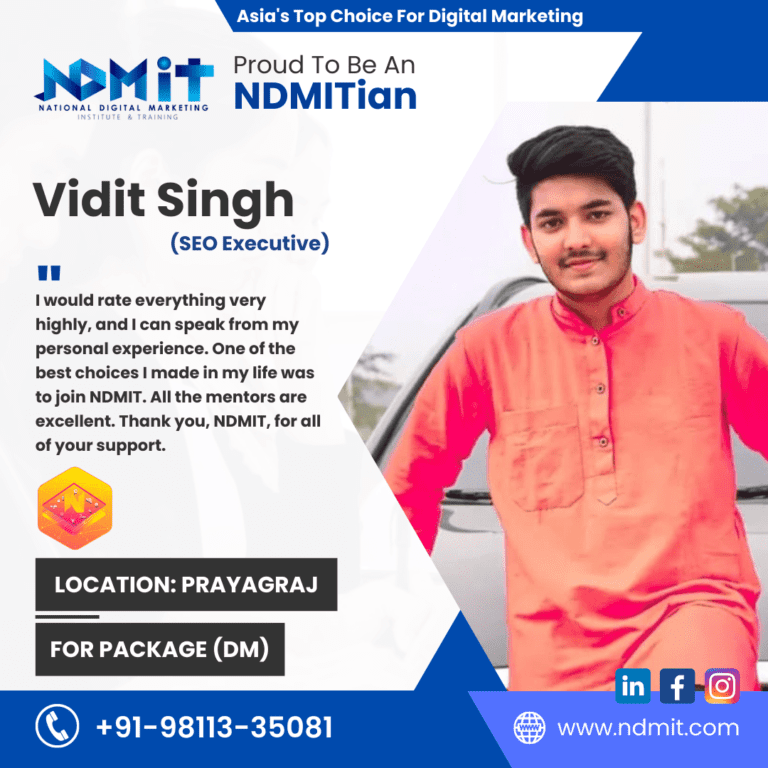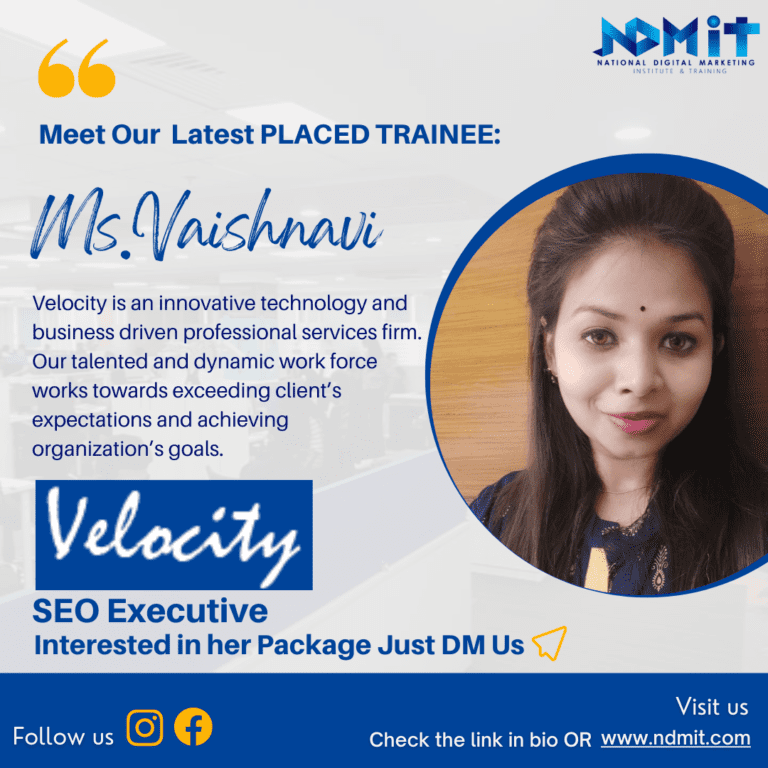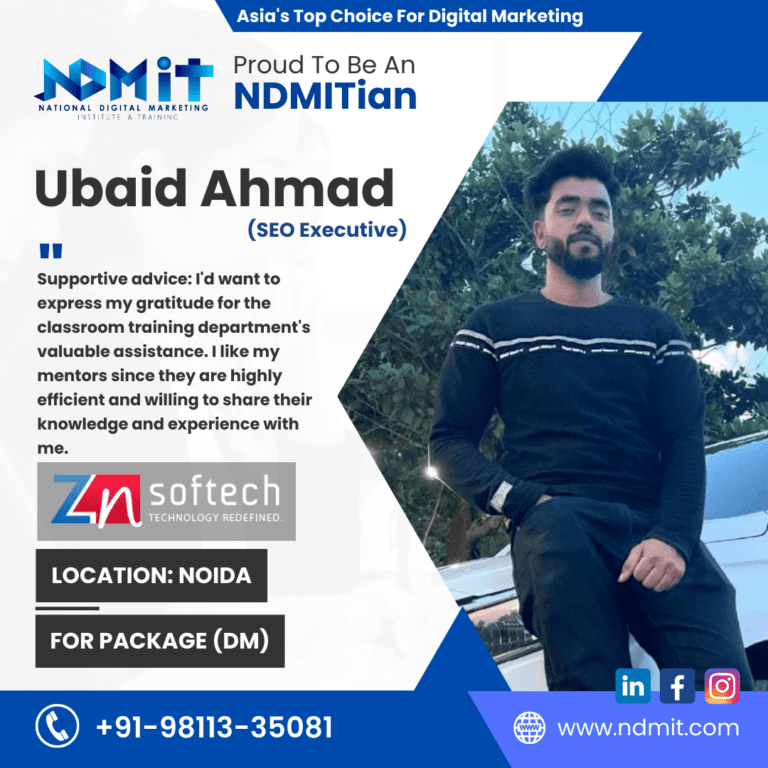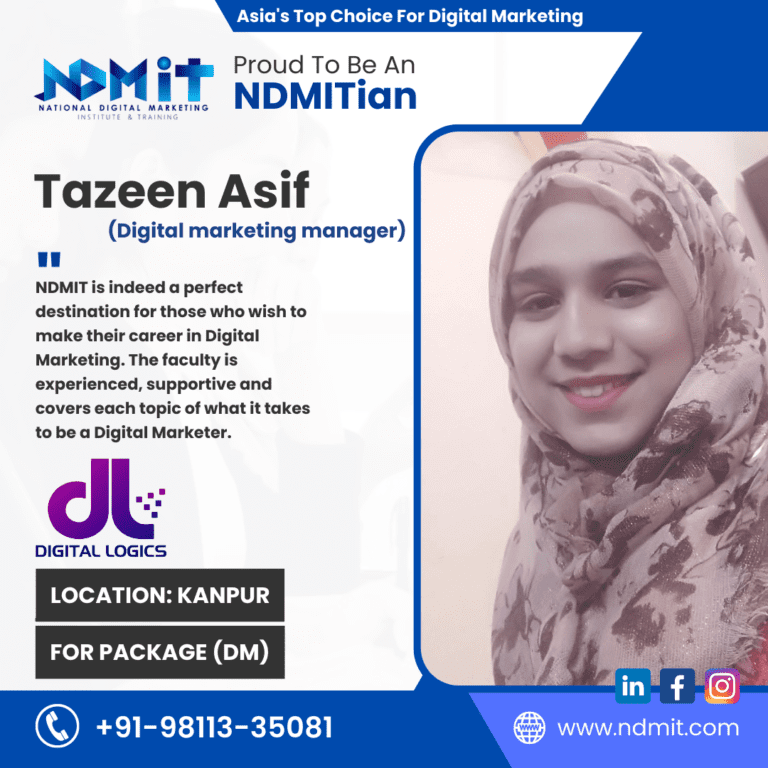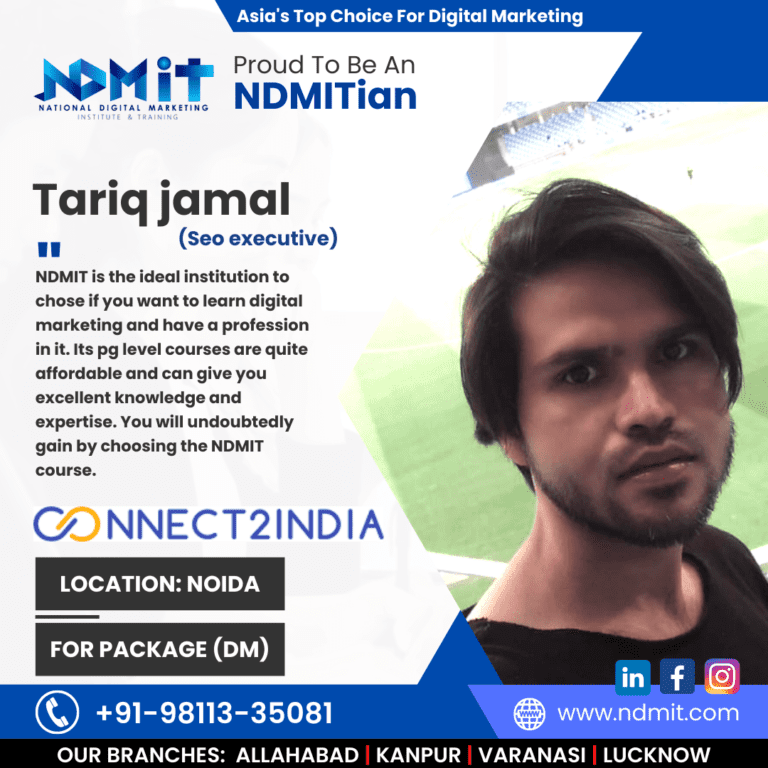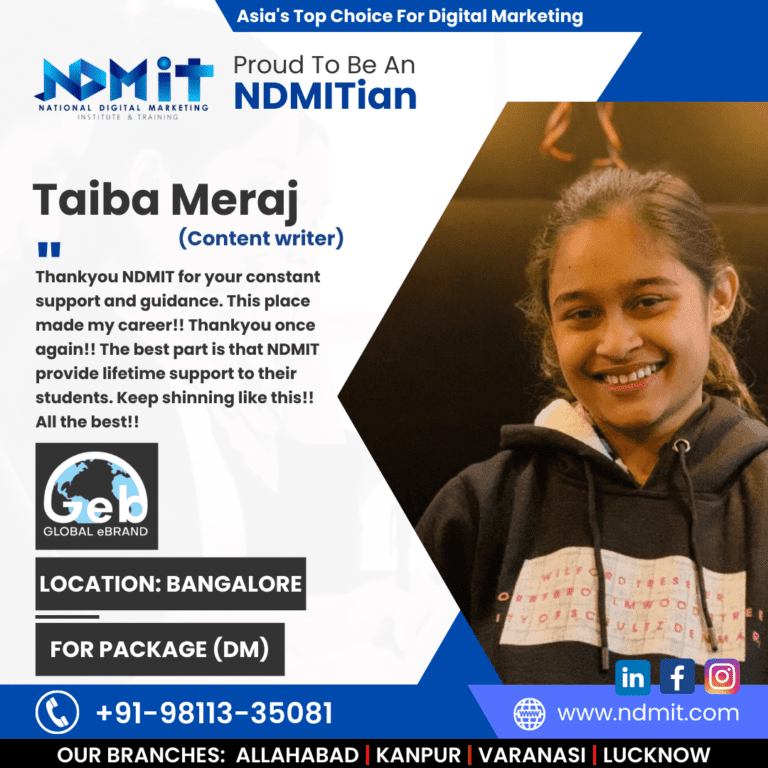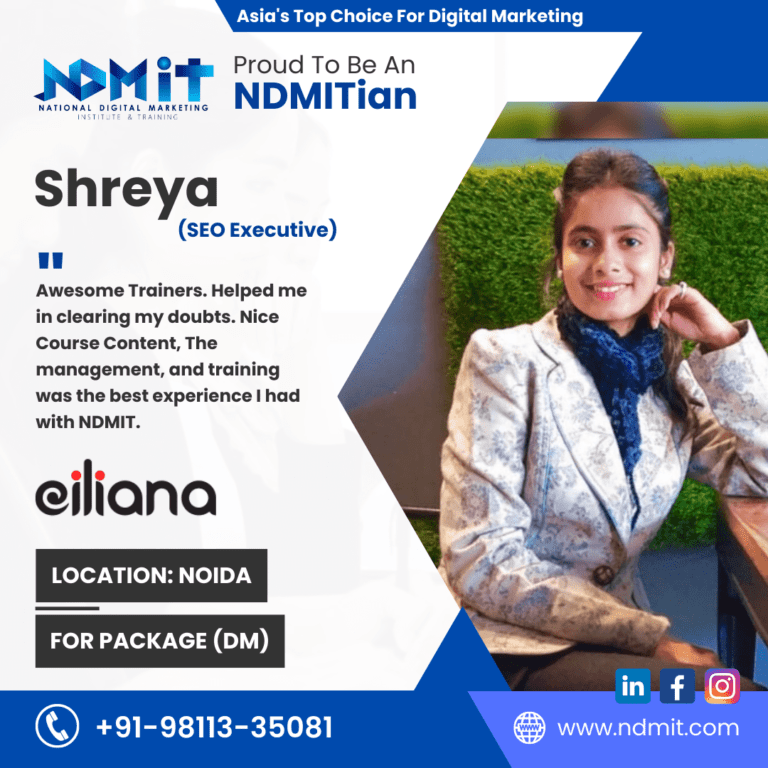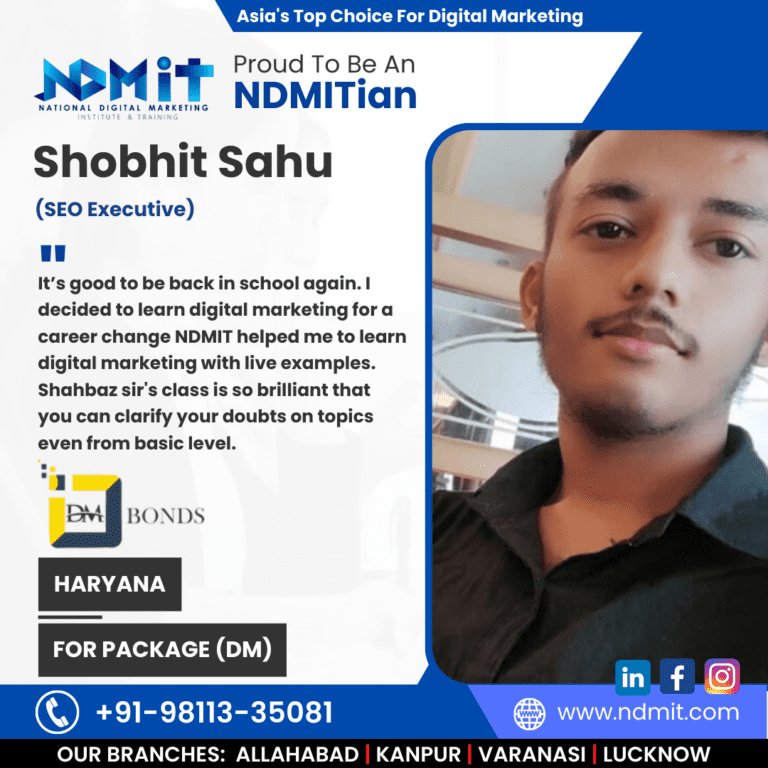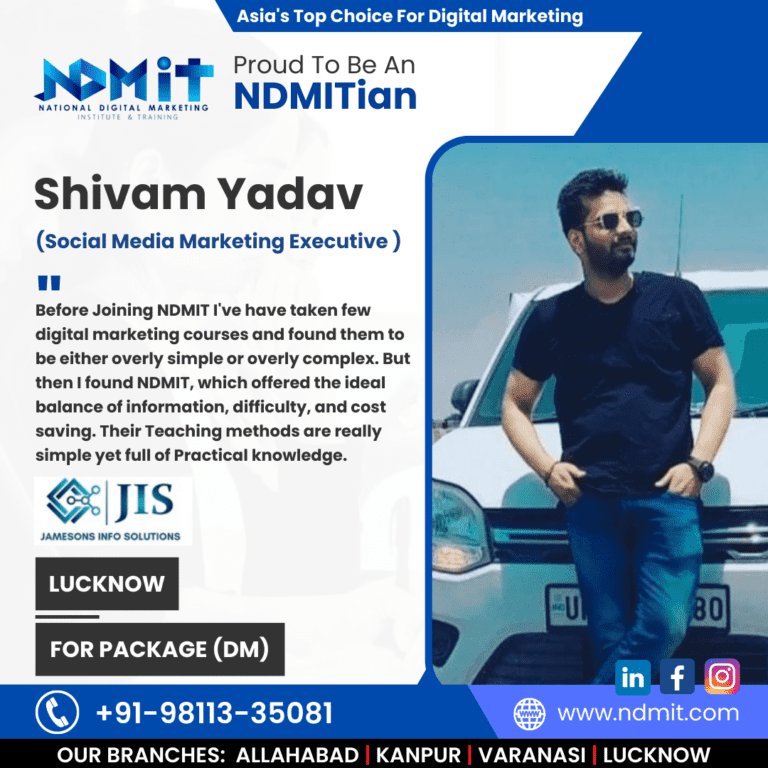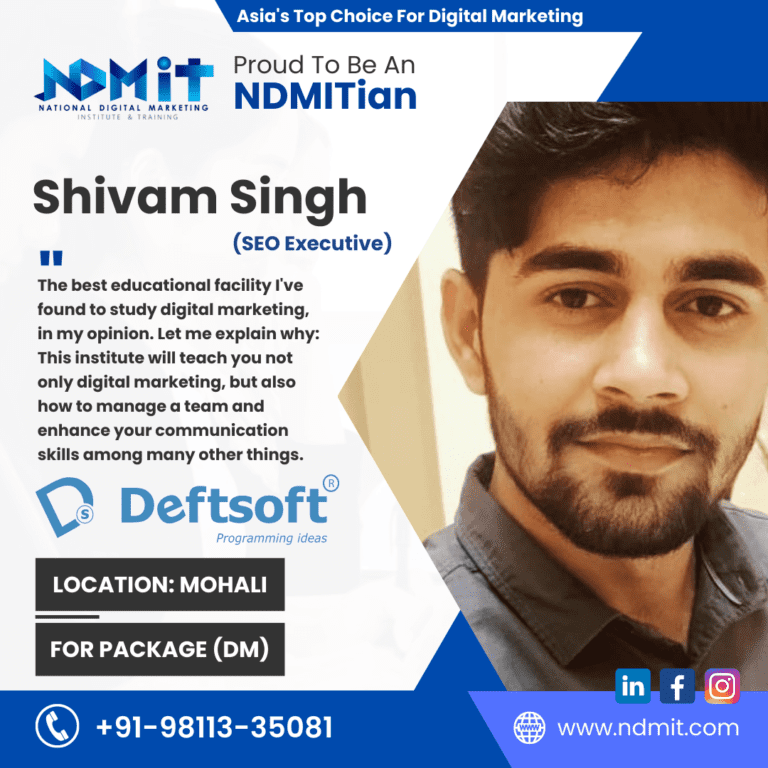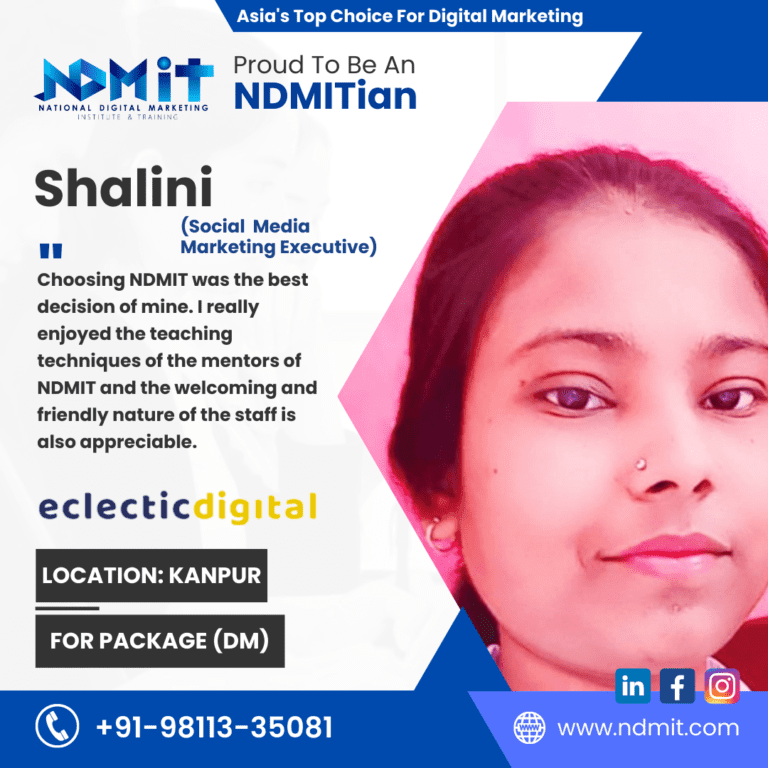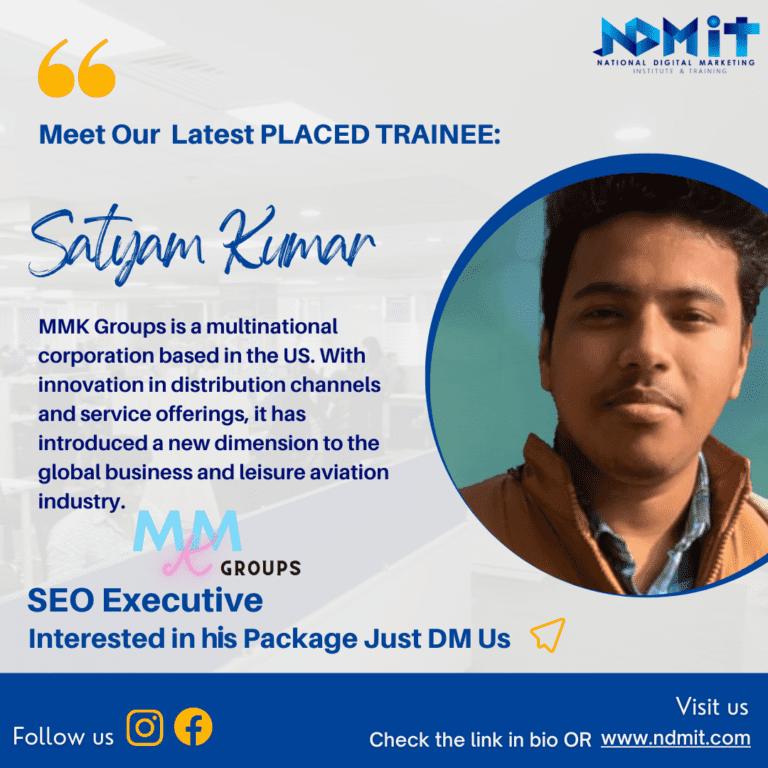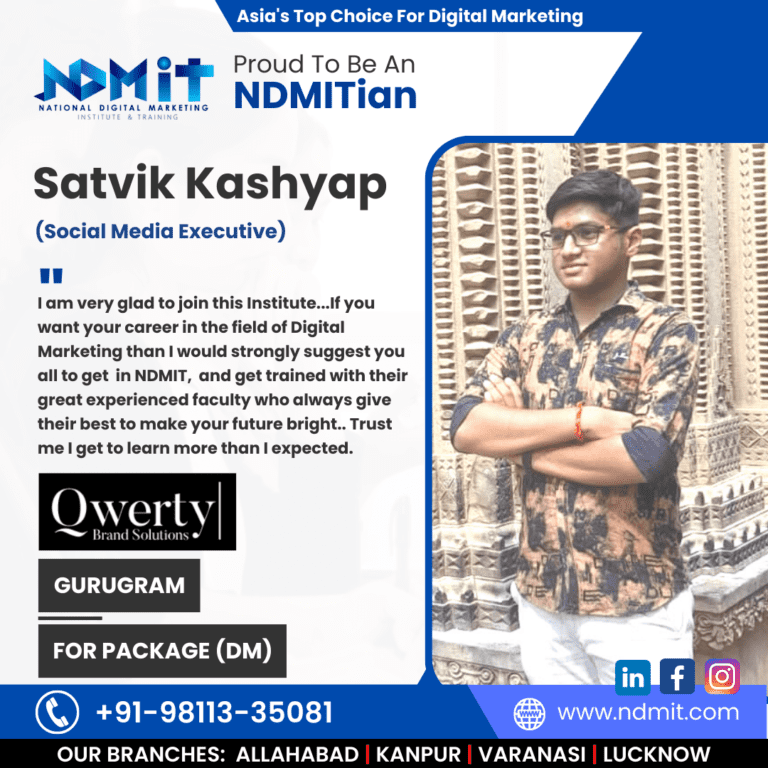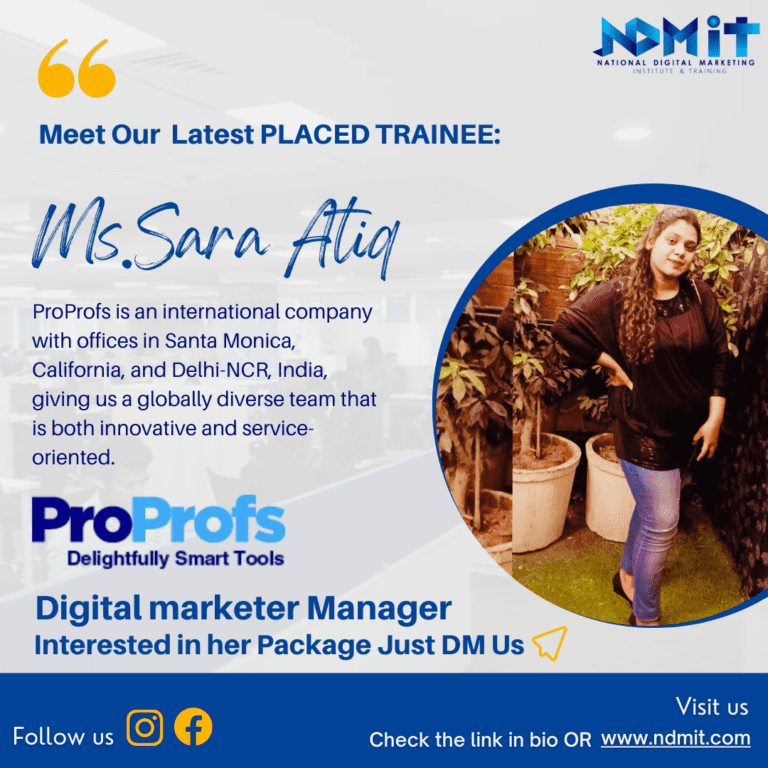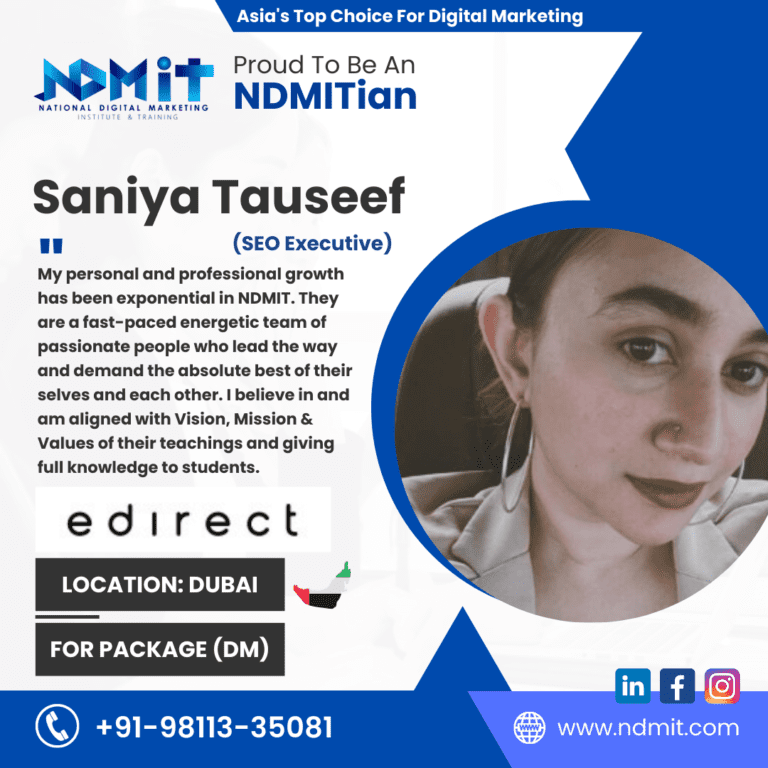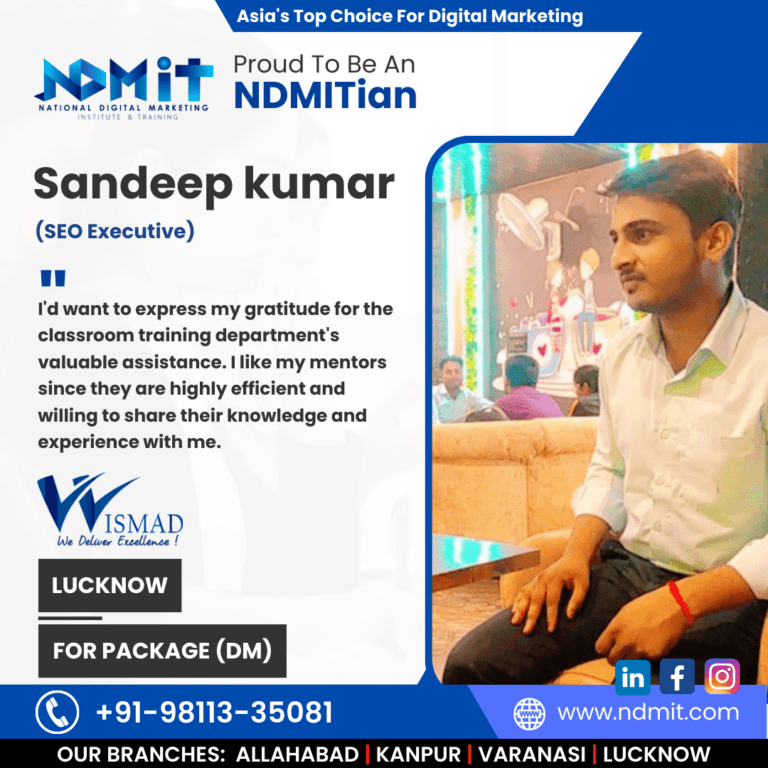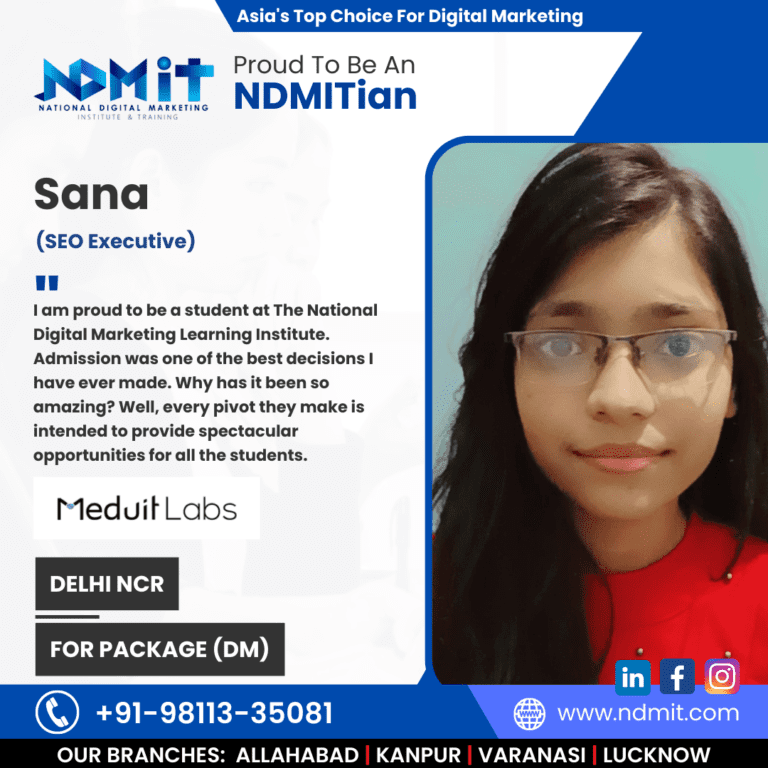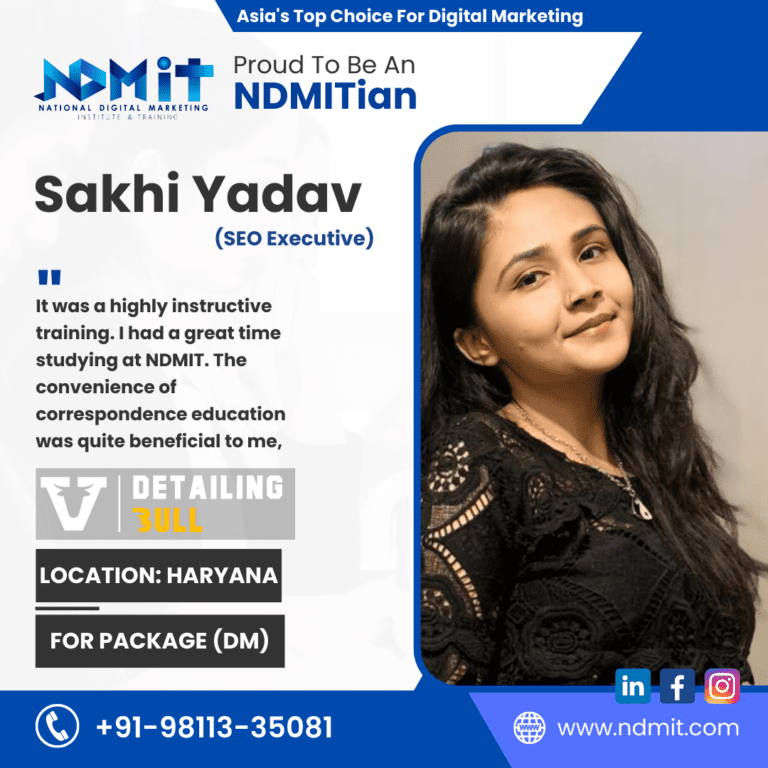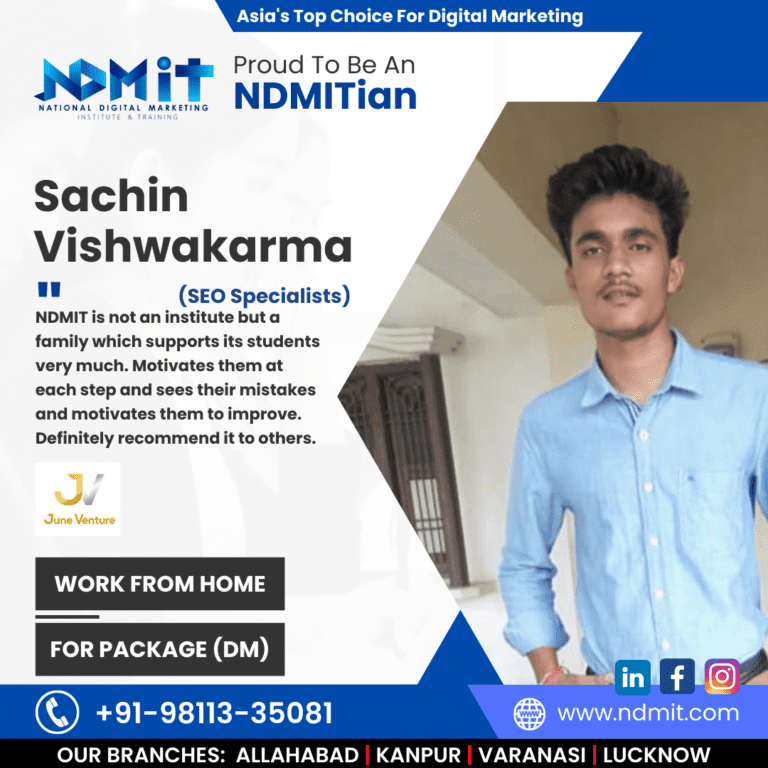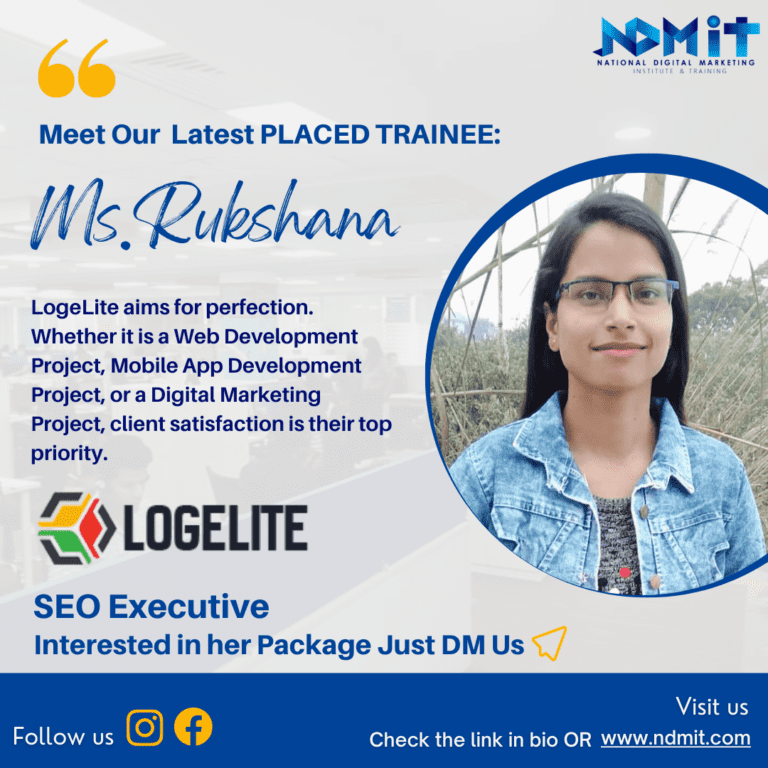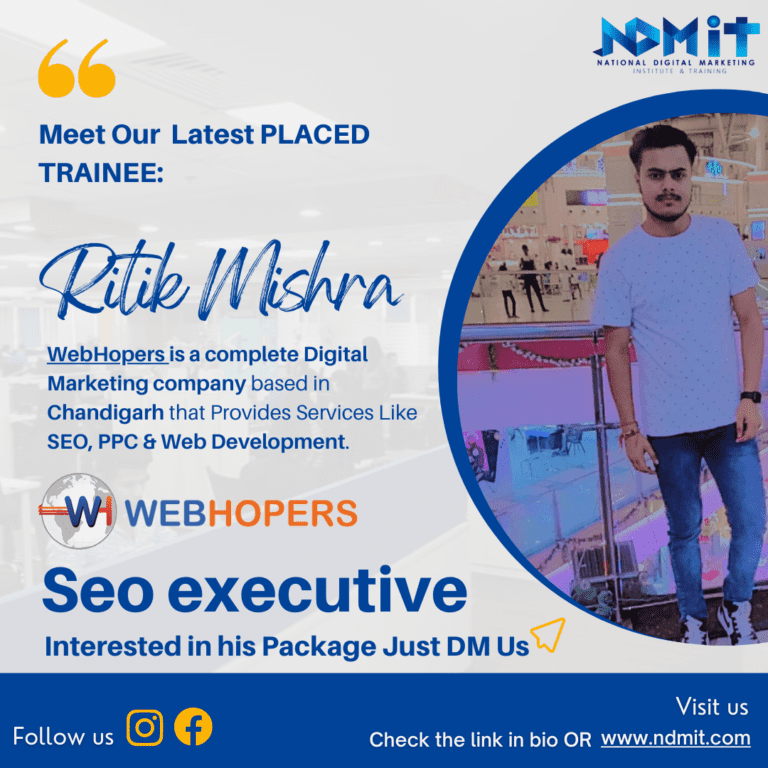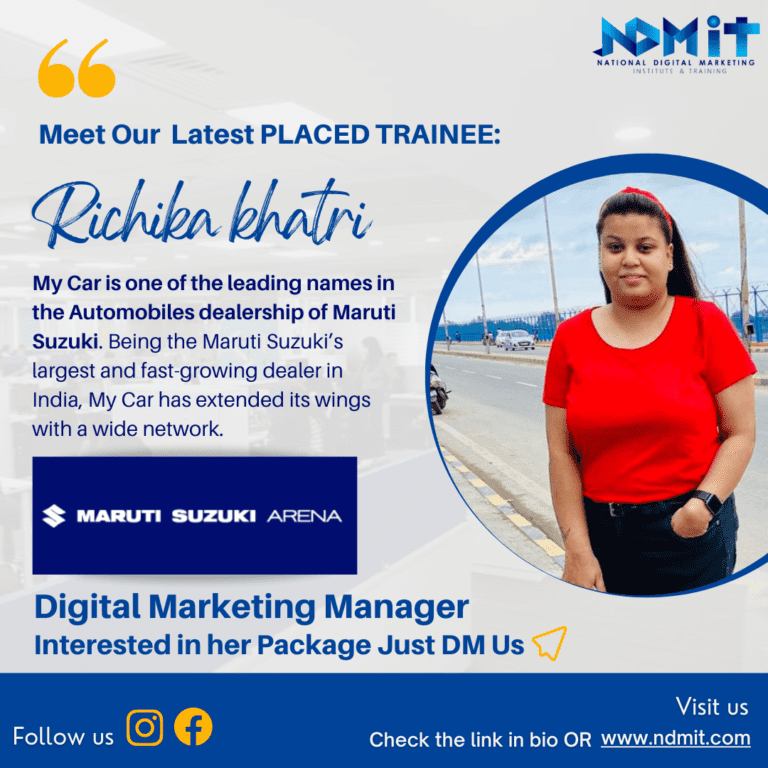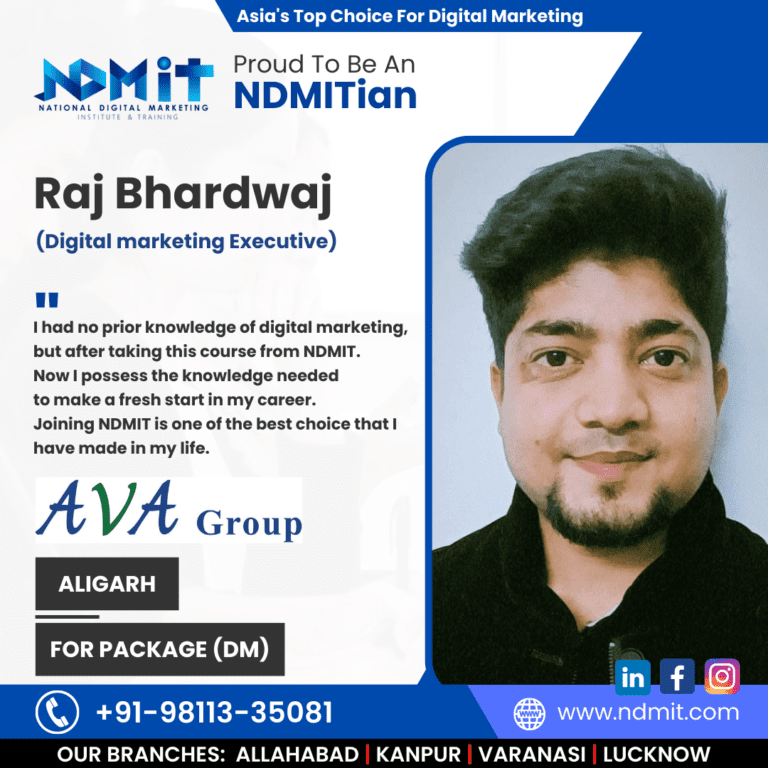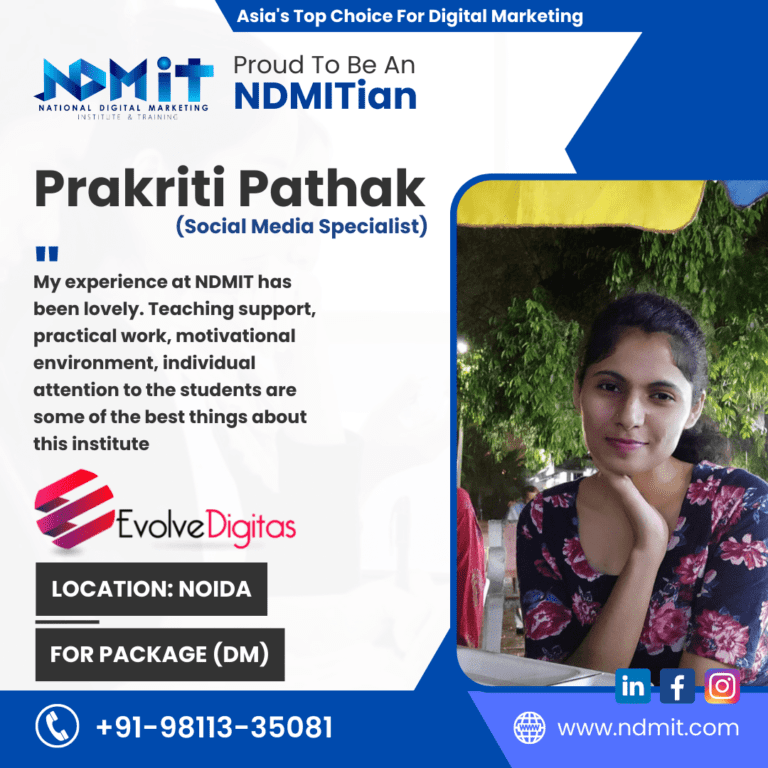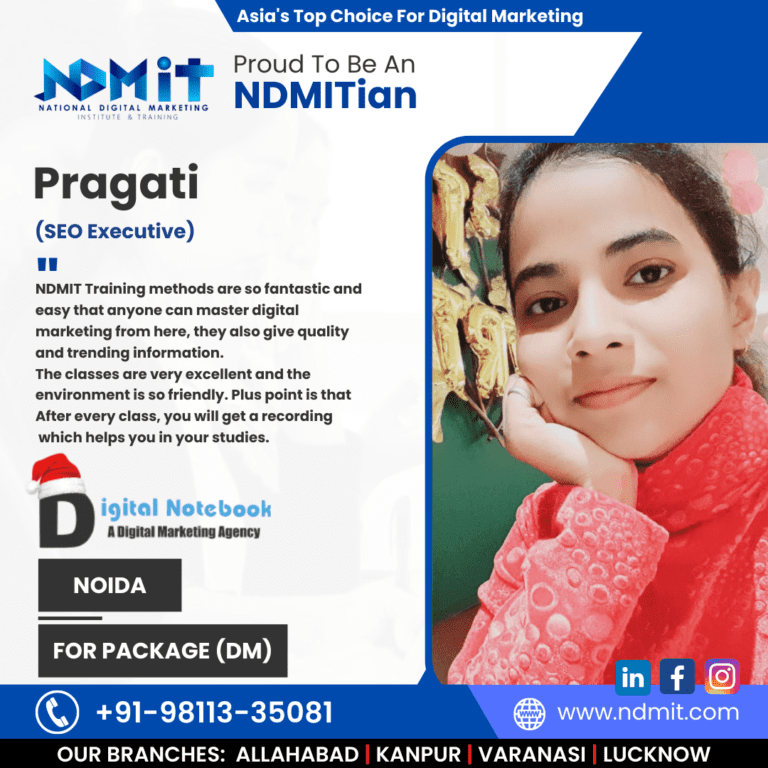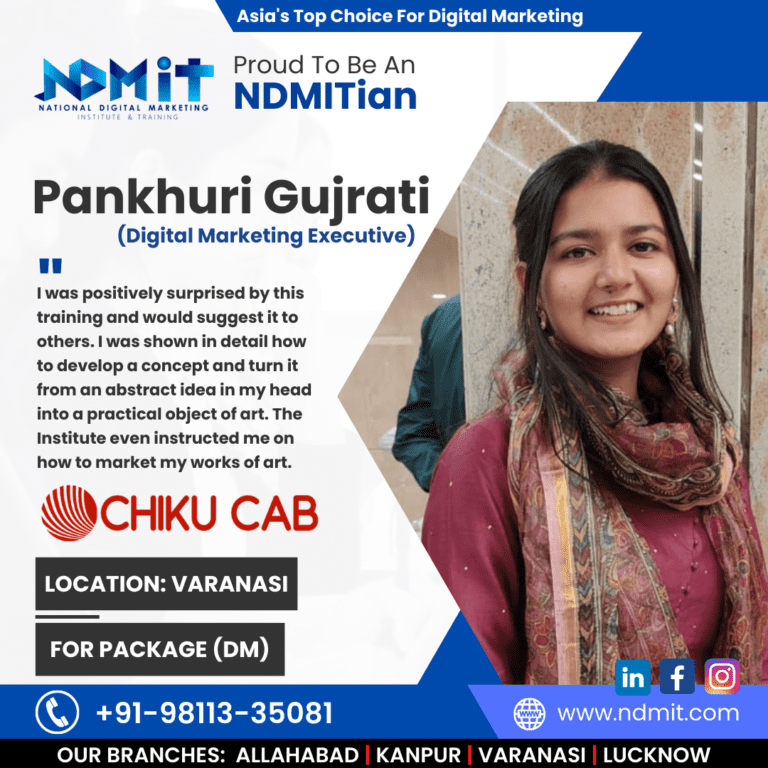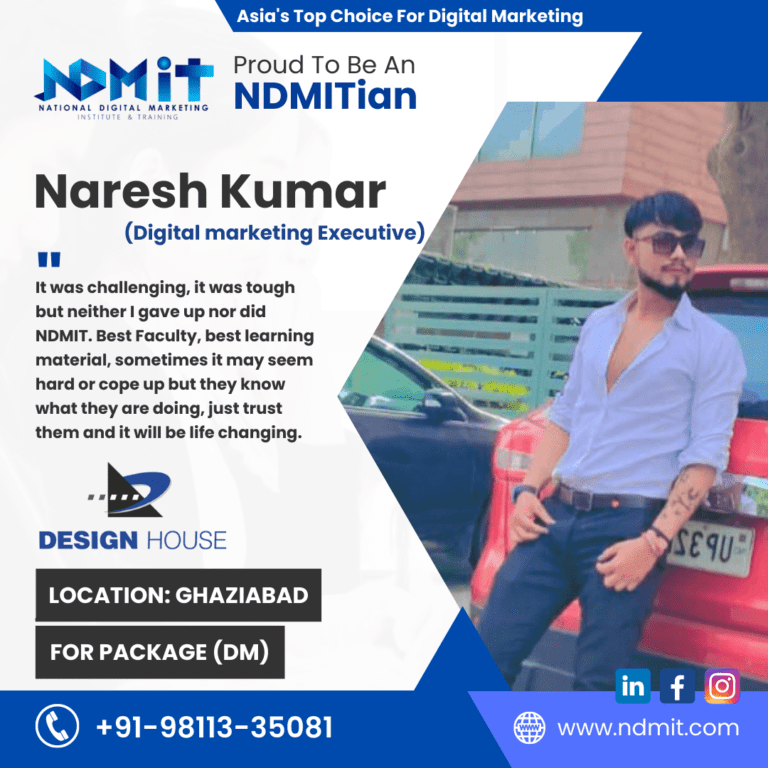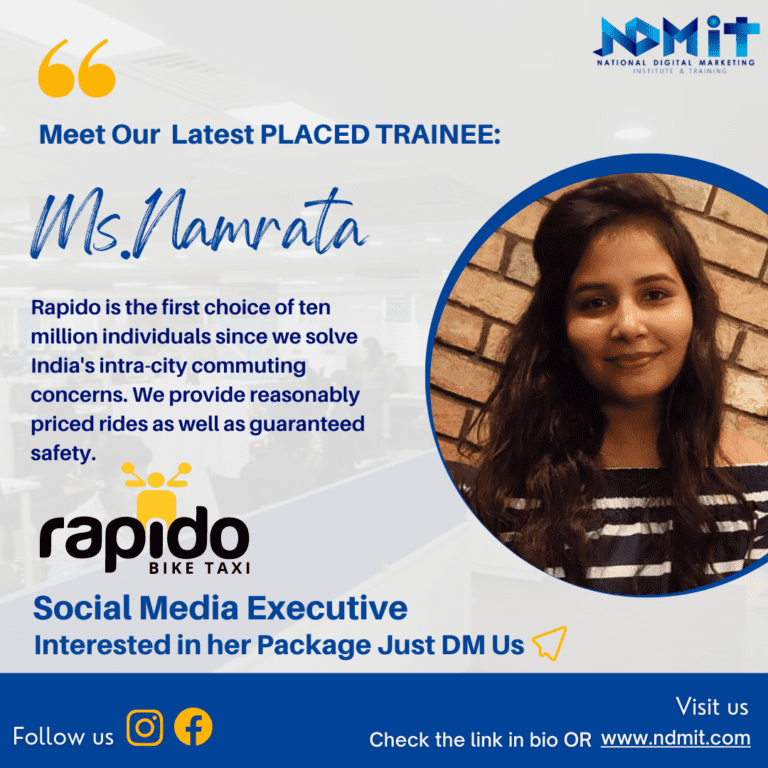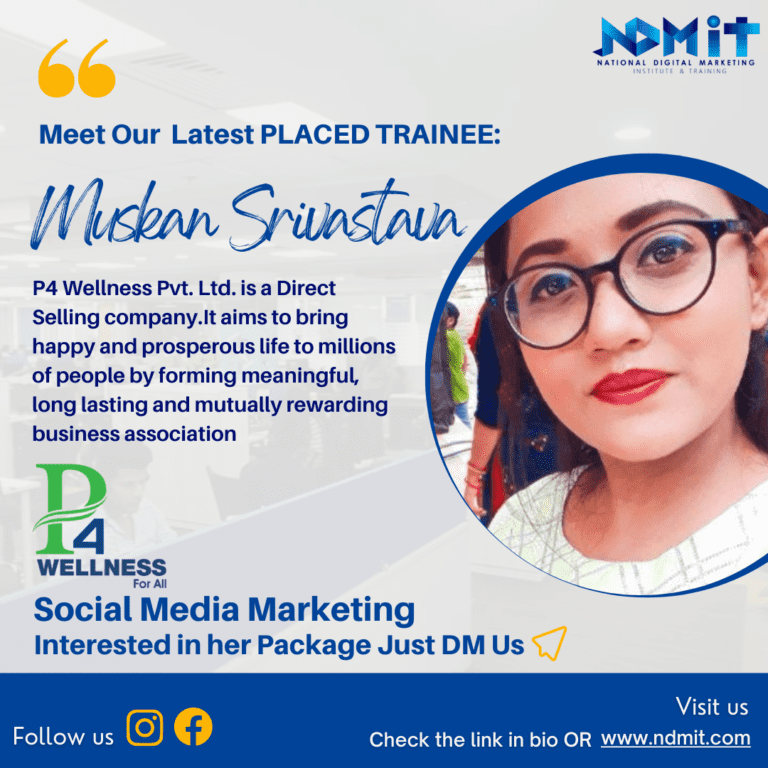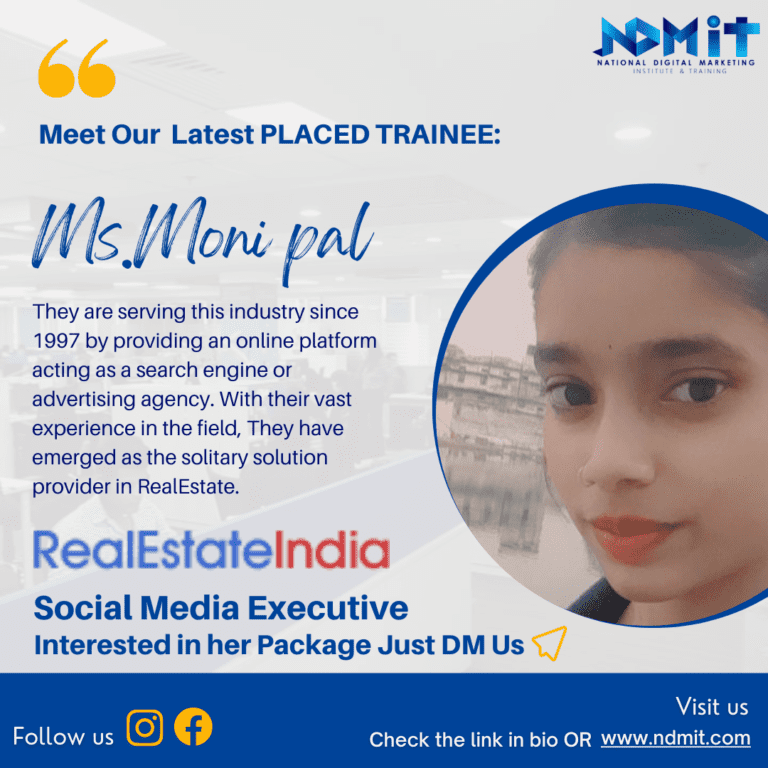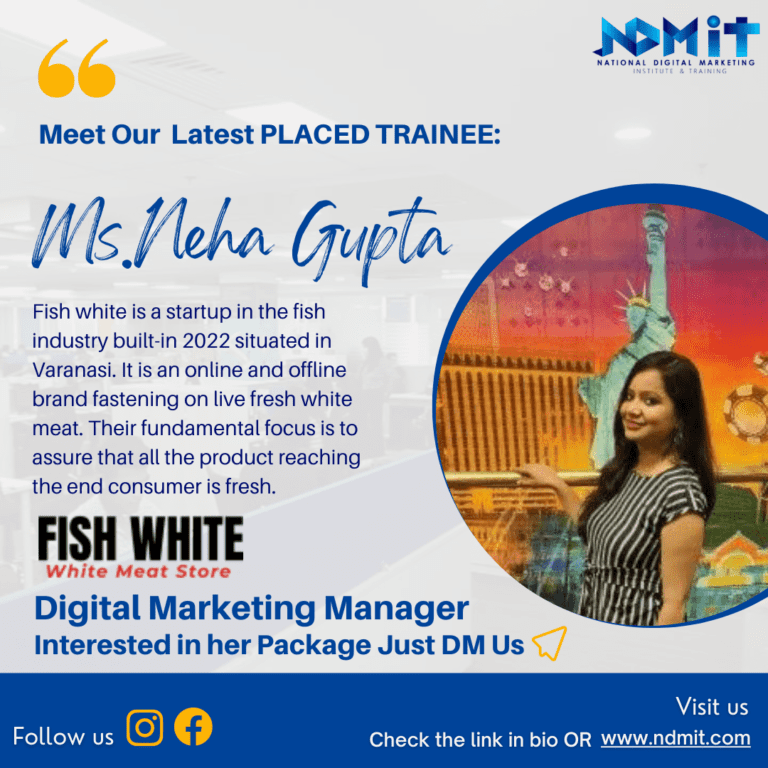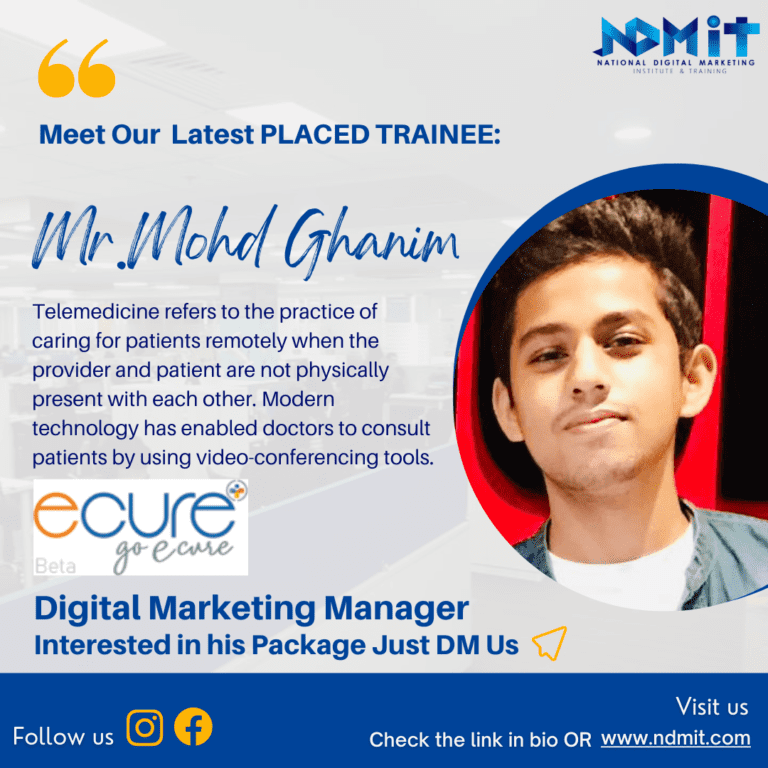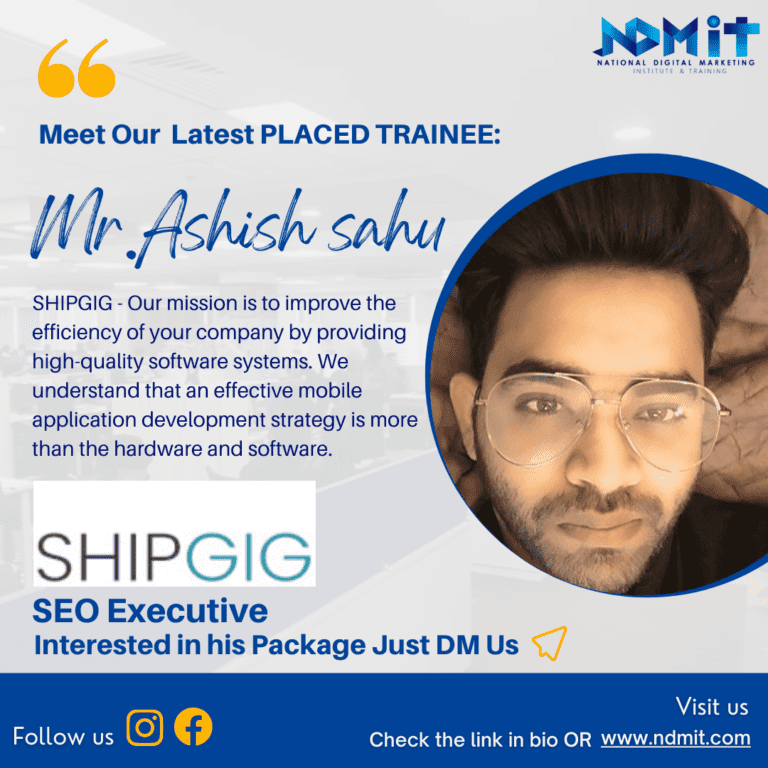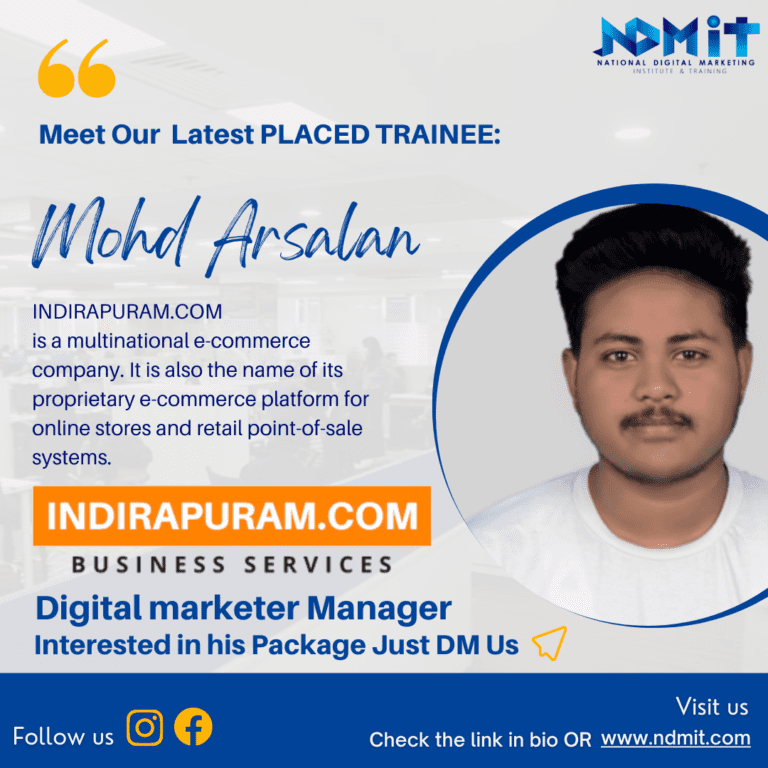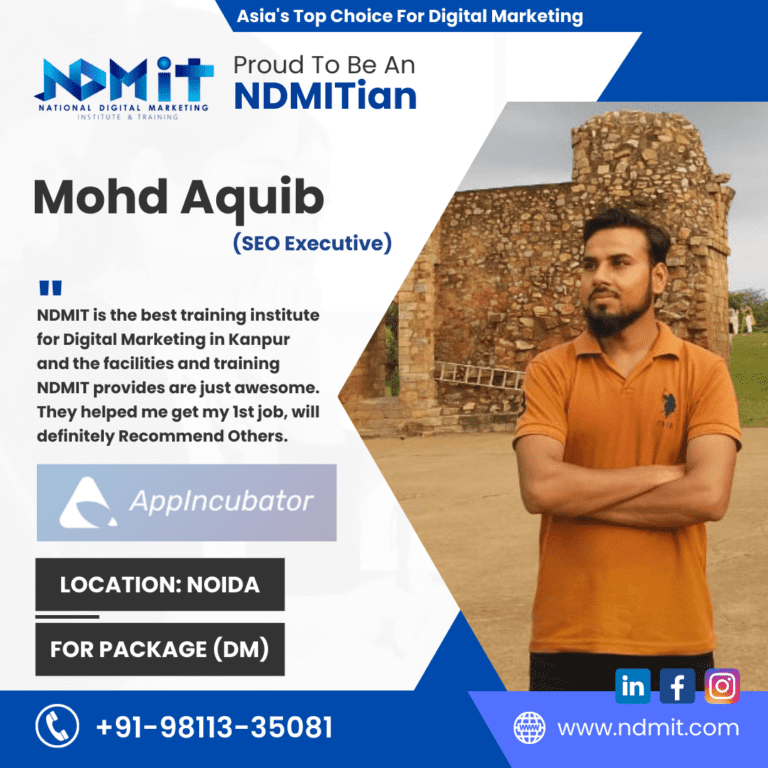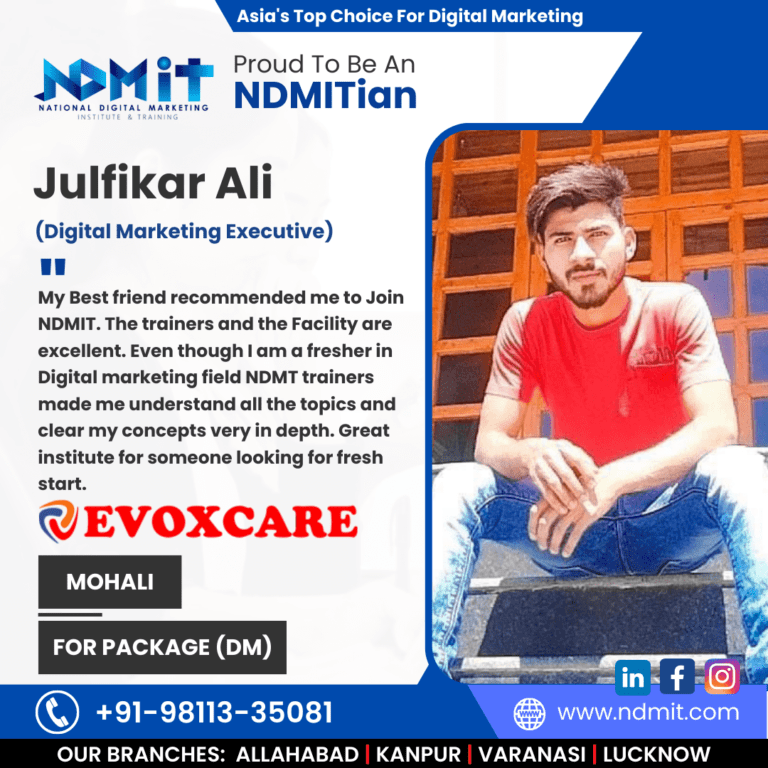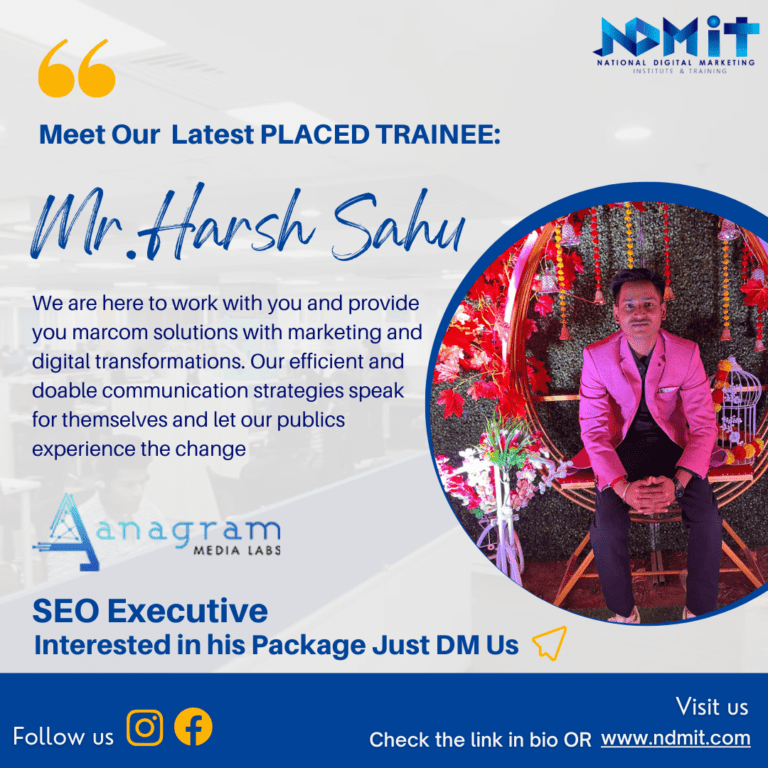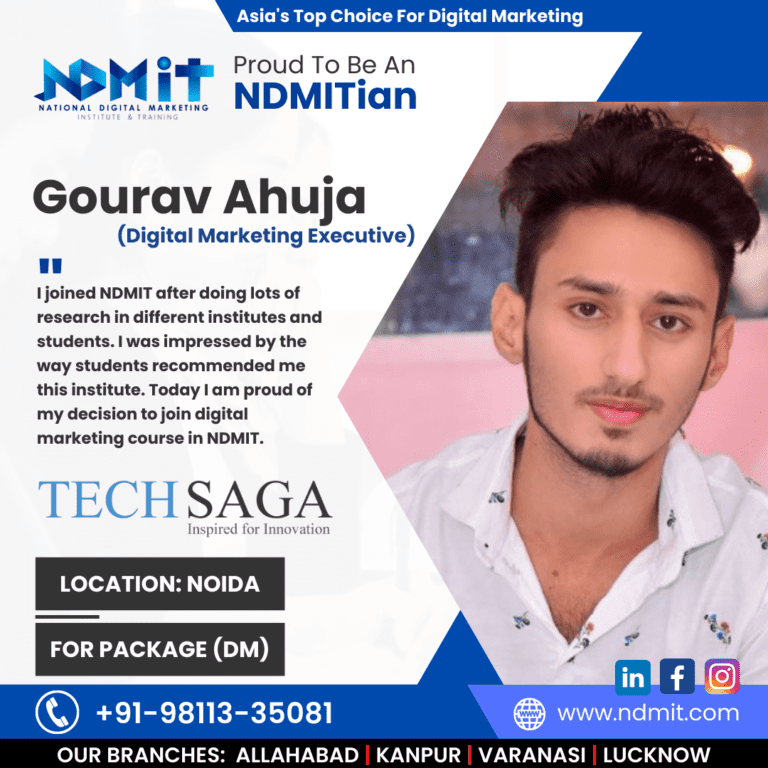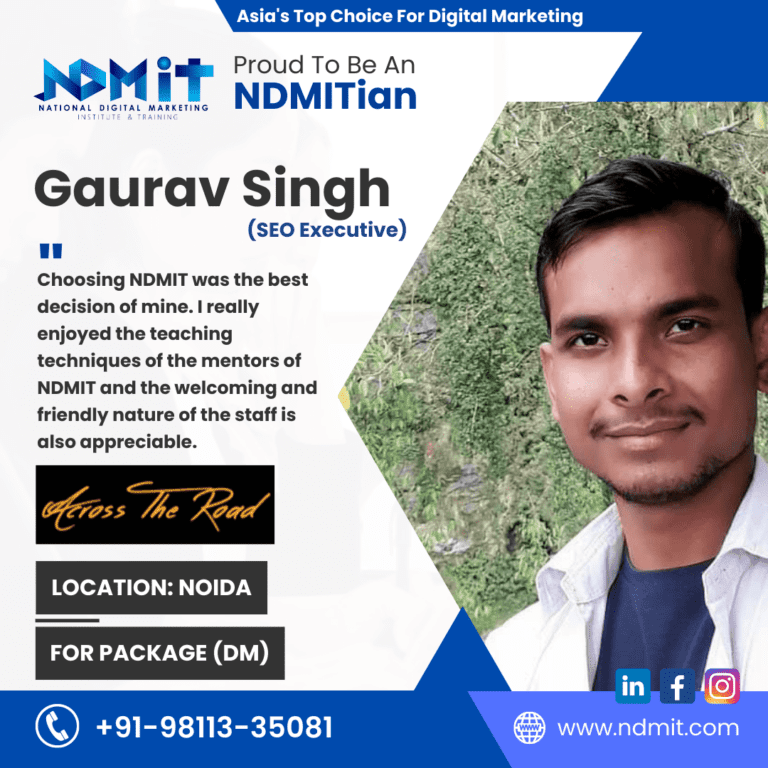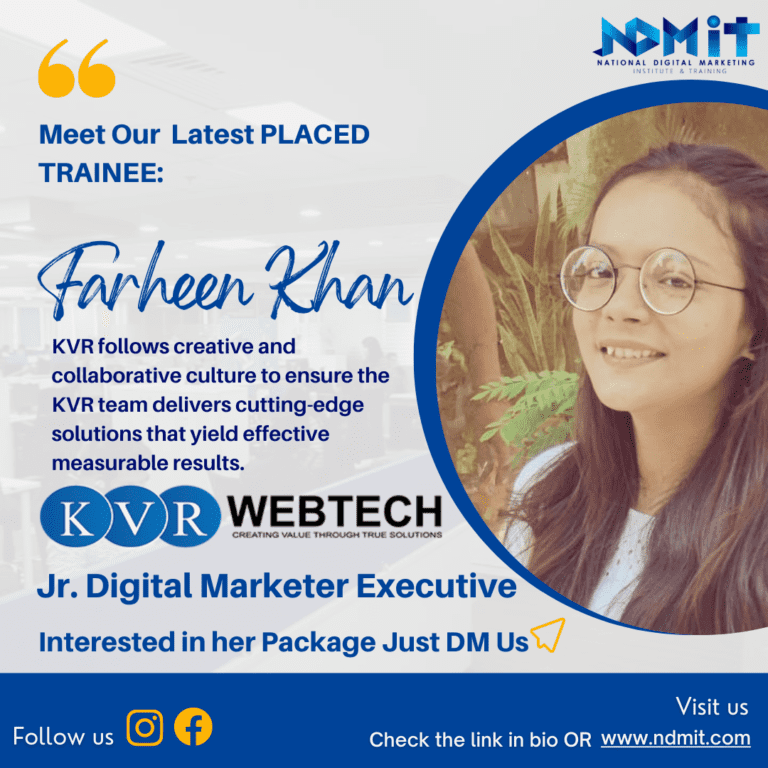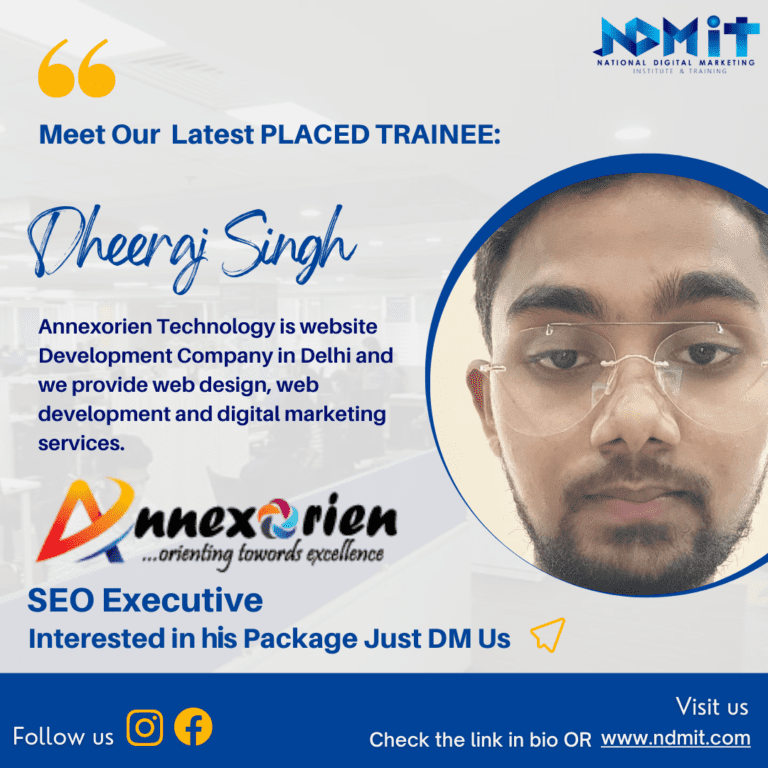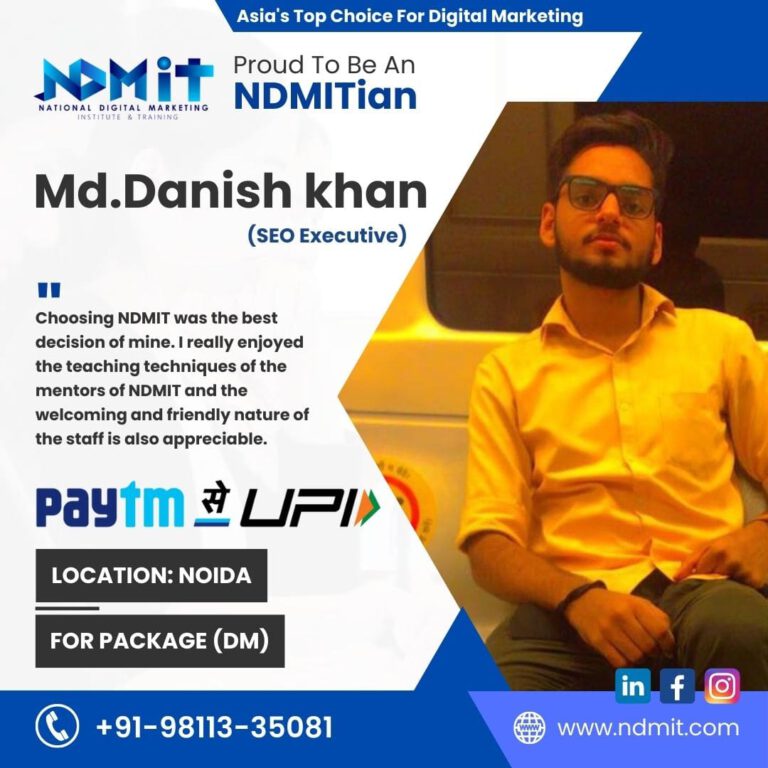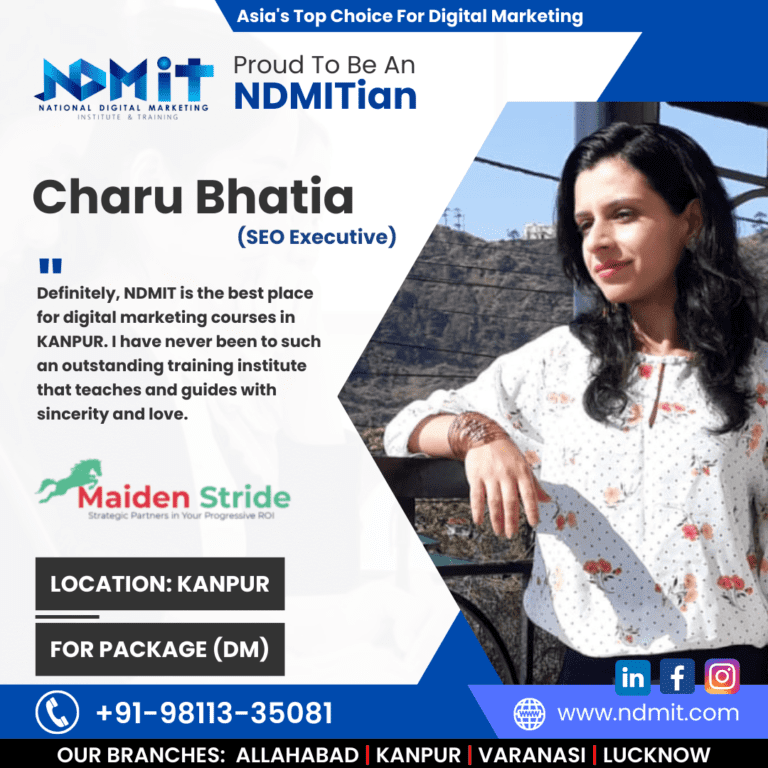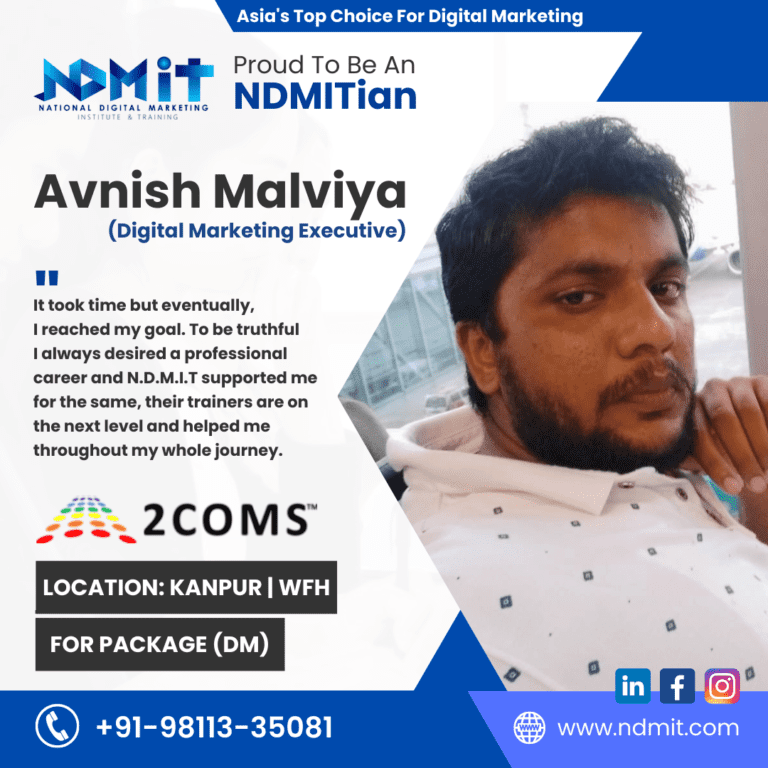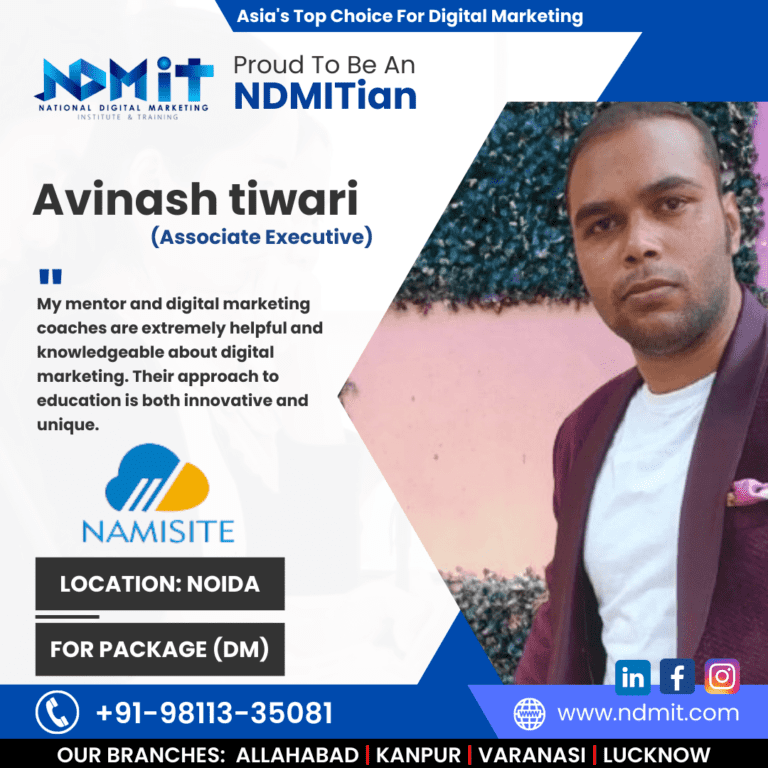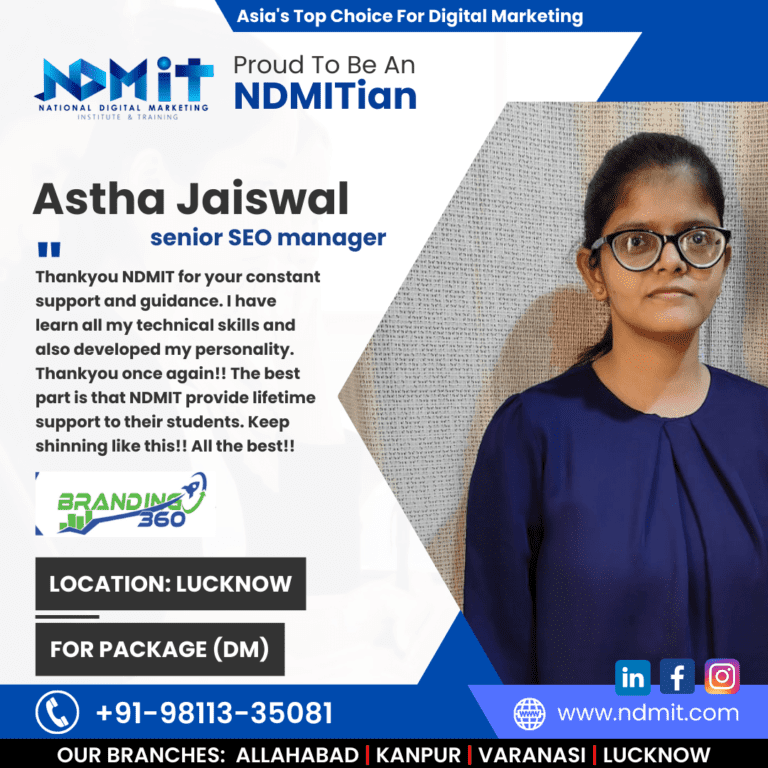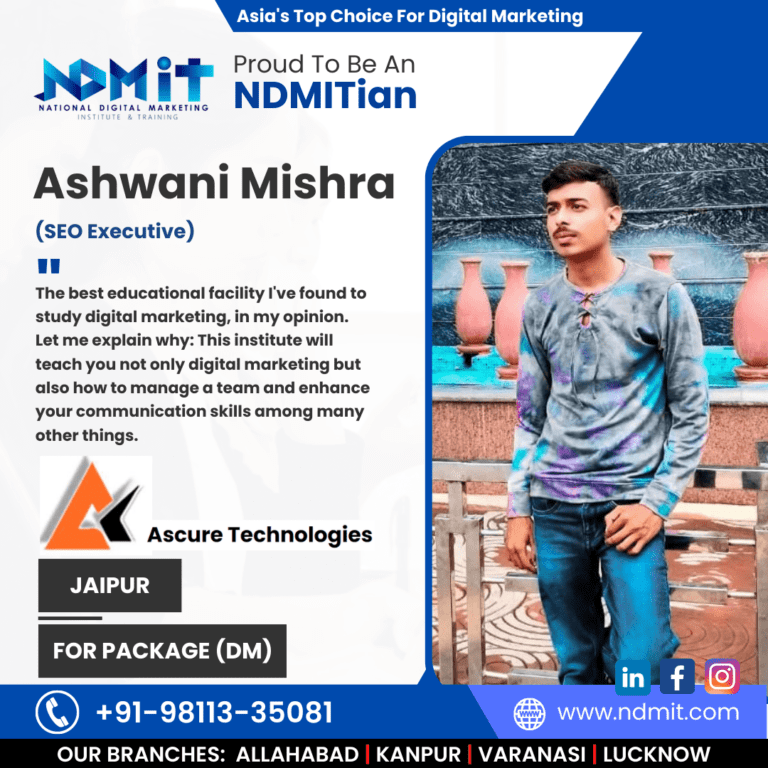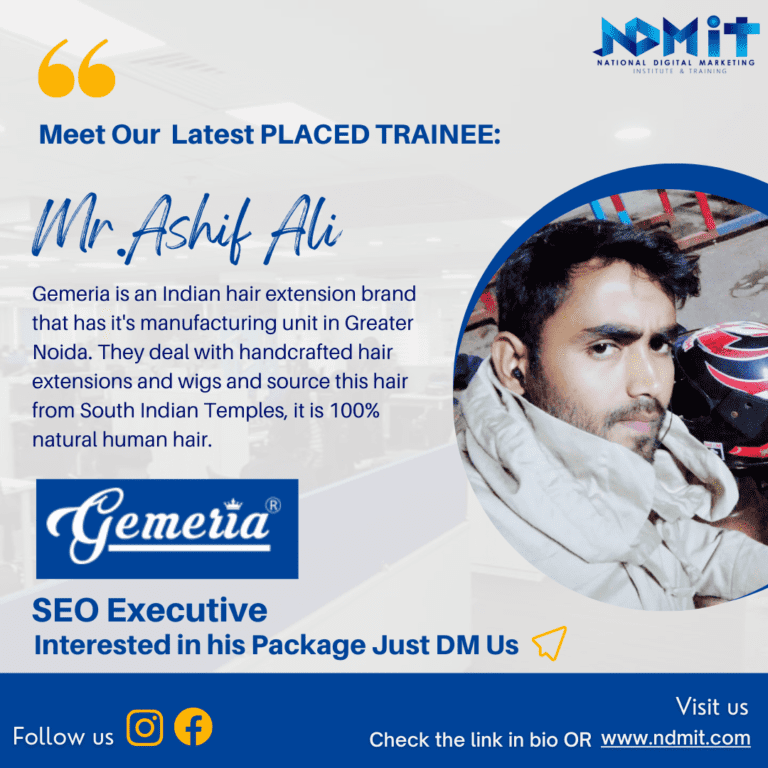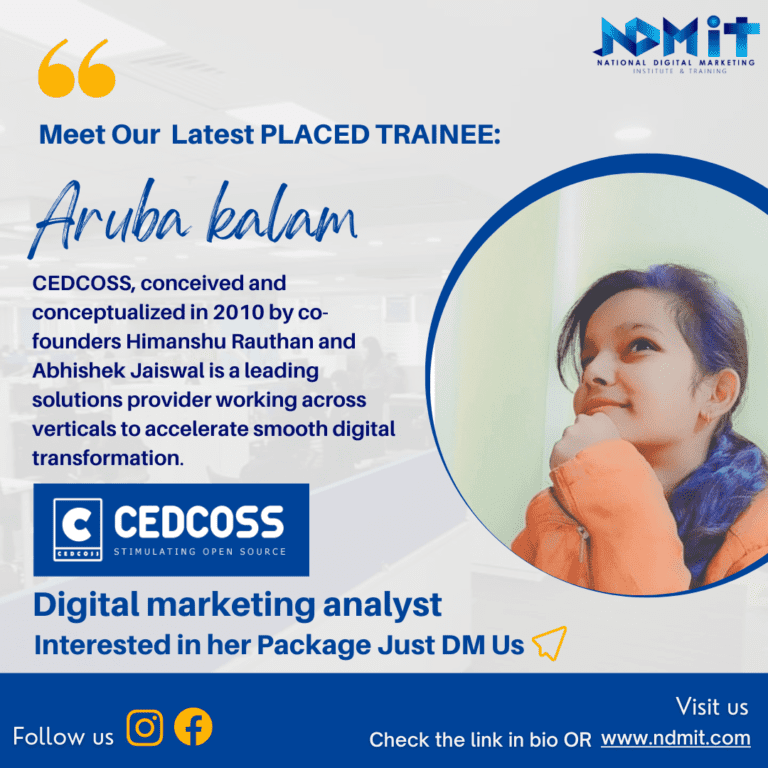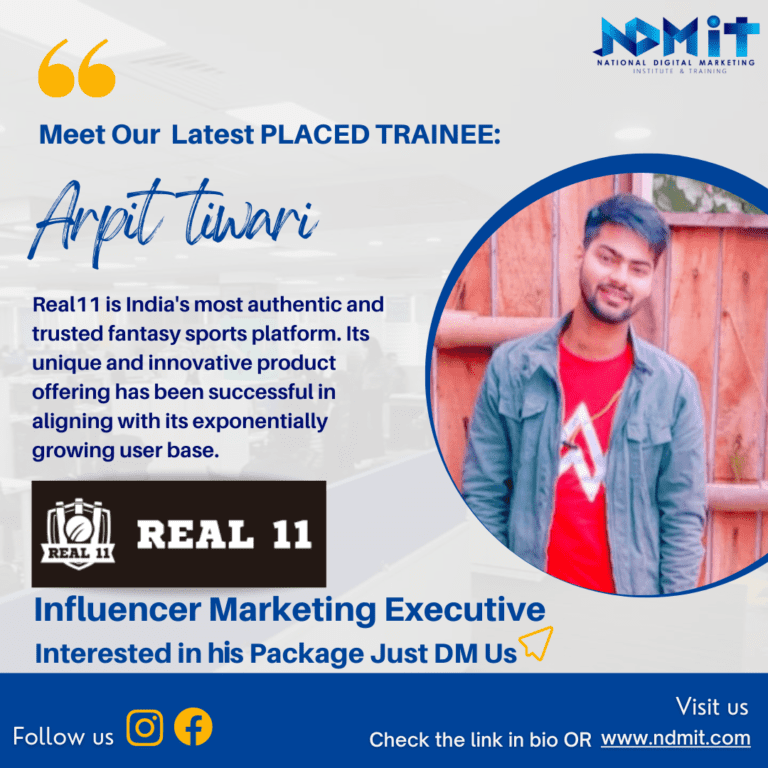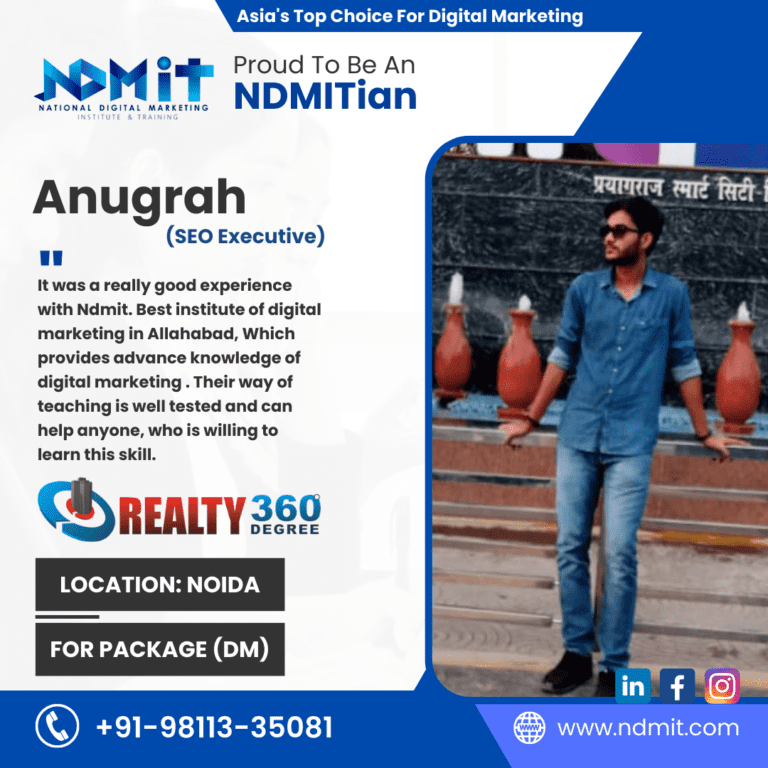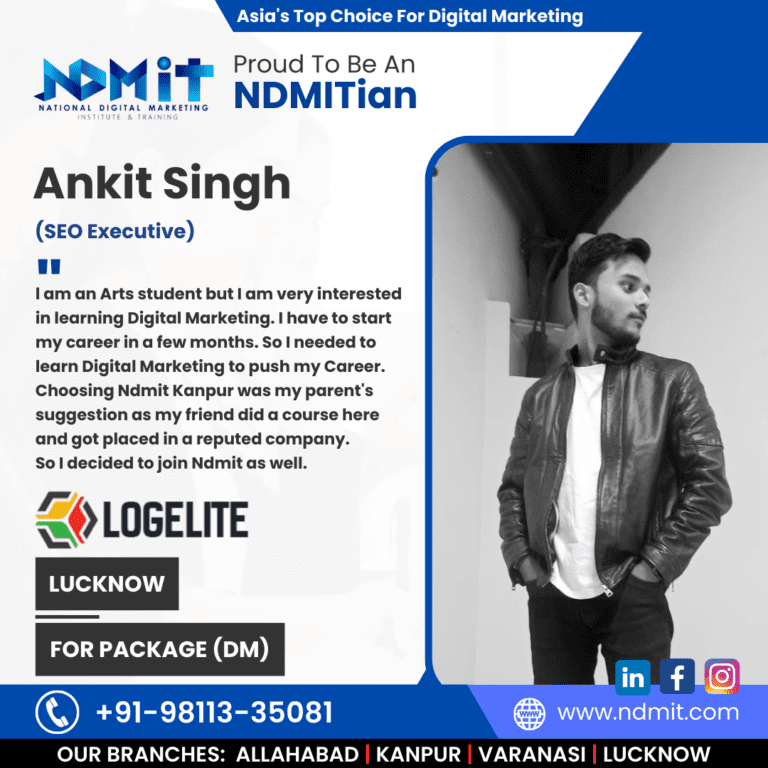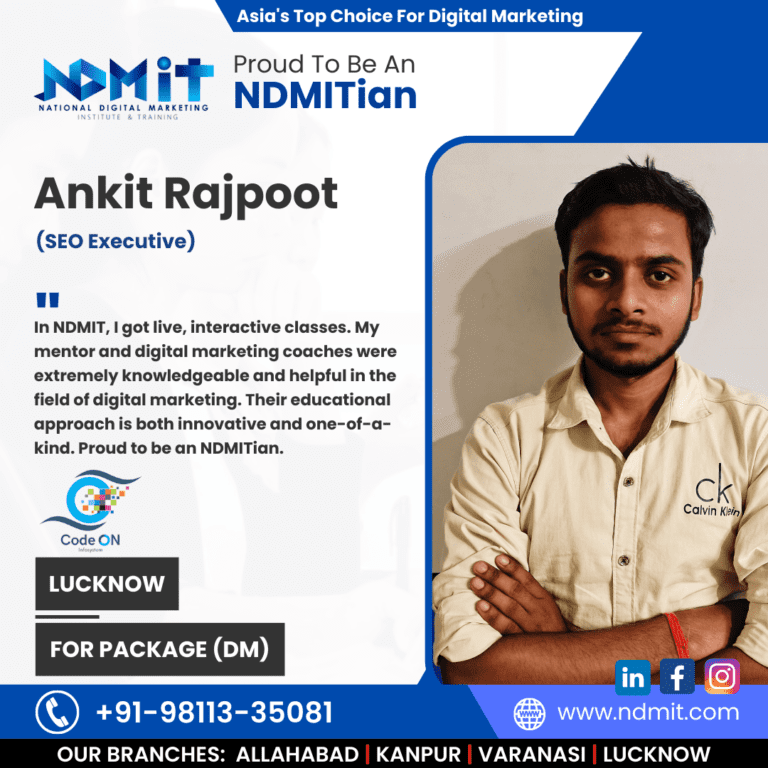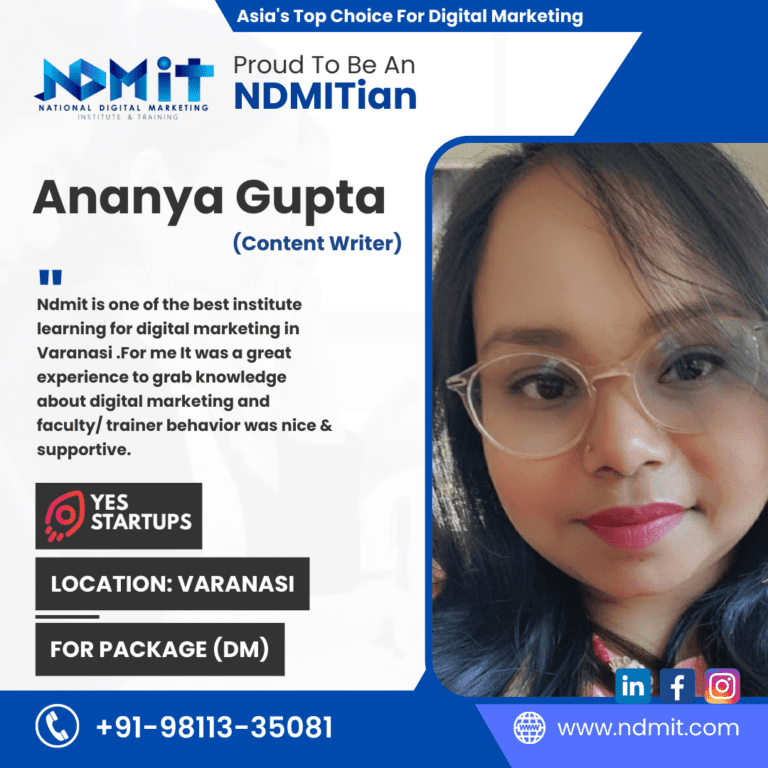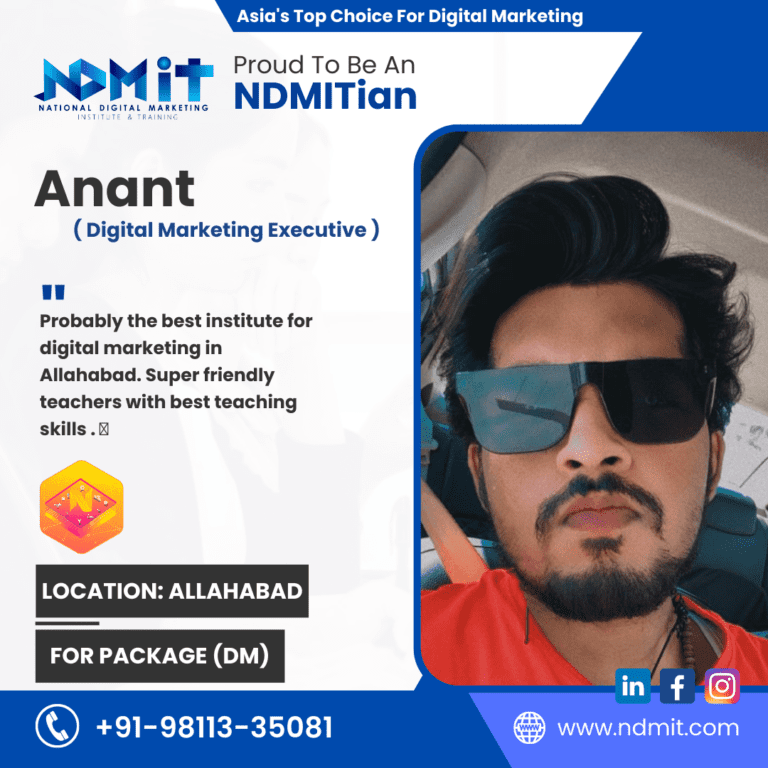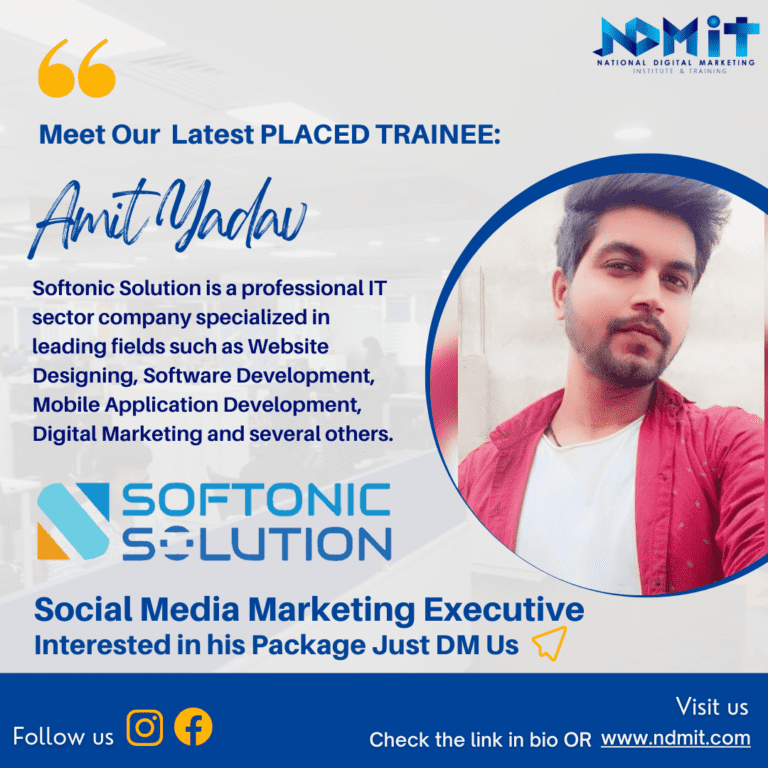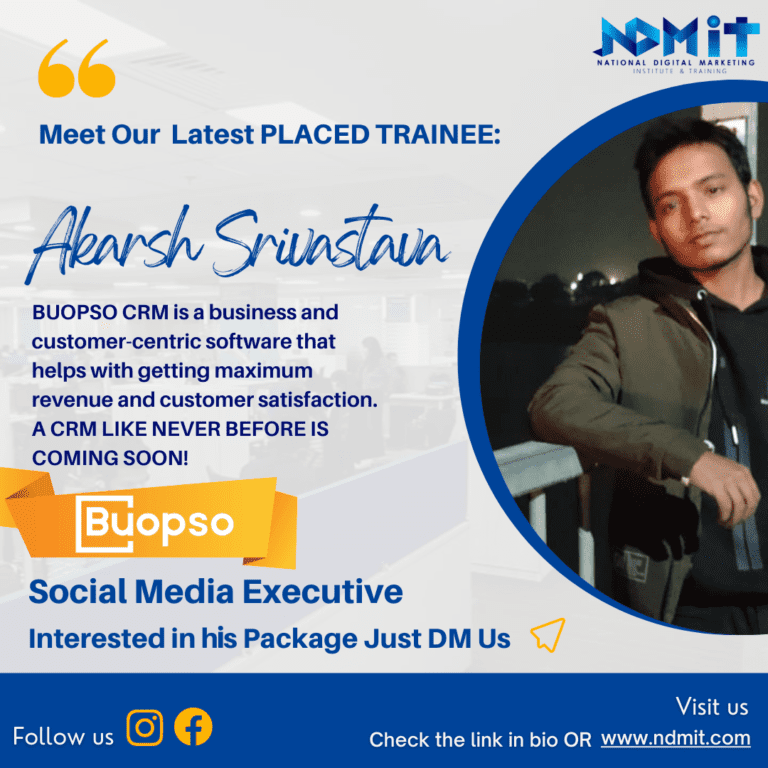 Get the Detailed Curriculum and faculty member list.
Their unique method or their hybrid learning model (as they call it) starts with a series of high-quality online video courses, followed by weekly live training sessions, custom-tailored 1-on-1 mentoring sessions, and in-class presentations.
The course syllabus is divided into terms and modules that are taught in-depth to ensure a holistic understanding and training for each student.
Introduction to Digital Marketing
Content Marketing
Graphic designing with canva from scratch
Lead generation
Landing page practical
You tube & youtube SEO
ORM
Affiliate marketing
Google Adsense
E-commerce website creation
Email marketing
Mobile Marketing
15+ Modules
Organic Social media marketing
Copywriting
Google analytics
Google search console
Introduction of SEO
Local SEO
Buyer Persona
Keyword research
Introduction of Google ads
30+ Modules
Live Session with Renowned Marketers
ON-Page SEO
OFF-Page SEO
In-depth Google Ads
Facebook Ads
Instagram Ads
Twitter Ads
LinkedIn Ads
Competitors Analysis
Paid Tools walkthrough
Client Interaction
Mock interview
Presentation Session
Interview Preparation
Live projects
Know What You Will Learn!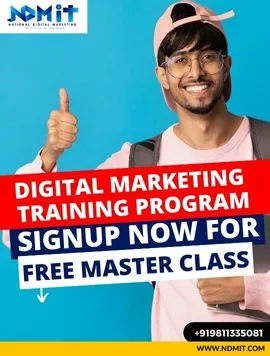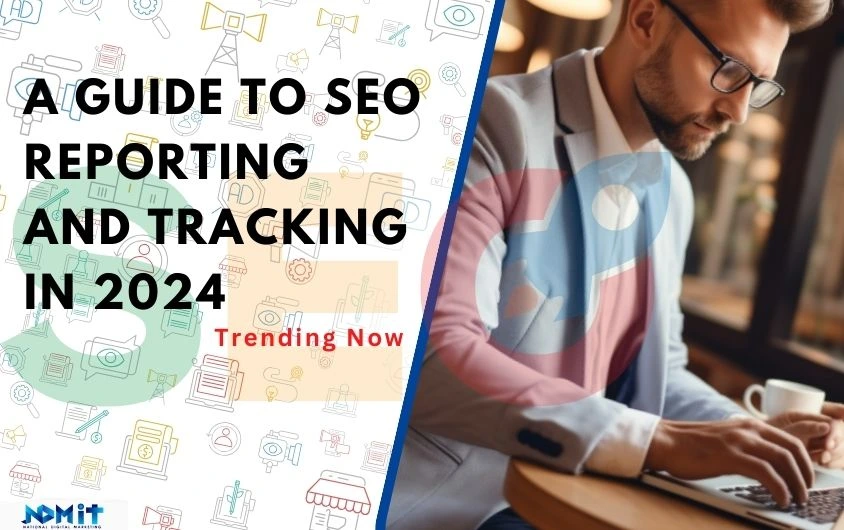 A guide to SEO reporting and tracking in 2024
15 November 2023
A guide to SEO reporting and tracking in 2024 : If you're in the industry, you know how important...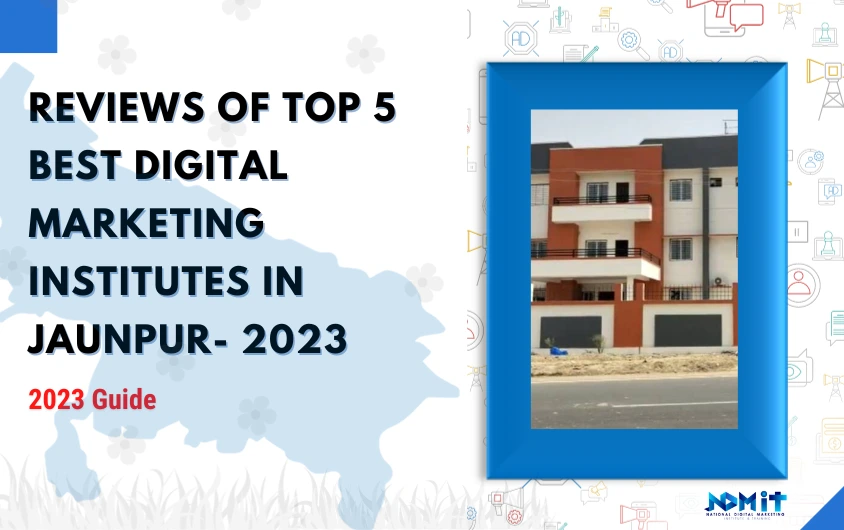 Top 5 Best Digital Marketing Institutes in Jaunpur
28 October 2023
Are you looking for Offline or Online courses on digital marketing in Jaunpur? Good news, we've got your...