YouTube explains how the short video algorithm works :
During a recent interview with Todd Sherman, the product lead for YouTube Shorts, YouTube offered creators a comprehensive understanding of the functioning of its Shorts algorithm. The objective of this discussion was to address prevalent misunderstandings among creators regarding the Shorts algorithm and its distinctions from YouTube's algorithm for long-form videos.
This article delves into the 11-minute conversation, wherein crucial topics such as the significance of audience-centric content creation, the definition of a 'view,' and the strategic factors influencing video length and customization were explored.
An analysis of the algorithm and the audience :
Sherman highlights that the primary objective of both the long-form and Shorts algorithms is to facilitate the connection between viewers and valuable videos.

Sherman emphasizes the significance of prioritizing the audience over the algorithm, a principle that applies to both long-form and Shorts content. He asserts that the audience essentially becomes the algorithm.

Given the distinctive format of short-form content, there are variations in how the algorithm operates.

Sherman expresses the desire for viewers to experience satisfaction with the videos. However, he acknowledges that short-form content necessitates a different approach, focusing on the fundamental aspects specific to this format.
Our primary objective is to distribute videos to individuals who appreciate them, both in their entirety and in a concise format.
Sherman provided clarification regarding the criteria for counting views in the Shorts feeds, stating that not every video that is flipped through is considered a view. In contrast to certain other platforms that consider the first frame as a view, YouTube's perspective is to define a view as a deliberate and intentional act of watching.
Important Google Algorithm Update :
When it comes to Digital Marketing, it's super important to stay up-to-date with all the latest Google updates and algorithms. These algorithms are based on some pretty complex math and logic, so it's important to really understand them. From an SEO perspective, it's also important to know why Google is always launching new updates. The reason is simple: they want to make sure users have the best possible experience when searching. Their ultimate goal is to provide the most satisfying search results possible.
No exact limits are given out to prevent people from messing around with the system. YouTube Analytics now has a new metric that shows how many times a video is watched compared to being skipped, so creators can see how their videos are doing.
Length of an ideal short video :
When asked about the optimal length for a Short, Sherman recommended that creators prioritize storytelling over targeting a specific duration. Additionally, he addressed the issue of thumbnail customization, noting that the majority of Shorts traffic originates from the feed rather than the Shorts shelf. Consequently, the team has opted to enable creators to choose a frame from their video as the thumbnail, rather than providing custom thumbnails.
Posting Frequency, Hashtags, and Lifespan :
Sherman expressed that while Hashtags are not mandatory, they can hold significance based on the creator's requirements and circumstances. He also tackled the matter of posting frequency, emphasizing that there is no definitive number of posts that can ensure triumph. Rather than uploading a multitude of substandard videos, he urged creators to allocate their time towards generating superior content.
The main things we learned from the talk are how to get to know your audience, how to make great content, and how to make the most out of Shorts. 
The goal of the Shorts algorithm is to find people who are interested in what you have to offer. Make sure you understand and cater to your audience. Don't try to outsmart the algorithm.
Views and internationals Not every time you scroll through a video, it doesn't count as a view. It's the intention to watch the video that counts.
Quntatity and quality No matter how many posts you have, there's no guarantee that they'll be successful.
FAQ – Frequently Asked Questions
How does a digital marketing course benefit me in my career?
A digital marketing course can bring a number of benefits to your career. Some of these benefits include:
Increased knowledge: By taking a digital marketing course, you will gain a comprehensive understanding of the various aspects of digital marketing, including search engine optimization (SEO), social media marketing, email marketing, and pay-per-click advertising.
Career advancement: A digital marketing course can help you advance in your current role or transition into a new role within the marketing field. With the increasing demand for digital marketing skills, a certification in this area can help set you apart from other candidates.
Stay up-to-date with industry trends: The world of digital marketing is constantly evolving, and a digital marketing course will help you stay up-to-date with the latest trends and best practices.
Improved skills and performance: With the knowledge and skills you gain from a digital marketing course, you will be able to implement more effective marketing strategies, resulting in improved performance and outcomes.
Increased earning potential: A certification in digital marketing can increase your earning potential, as the demand for skilled digital marketers continues to grow.

In conclusion, a digital marketing course can greatly benefit your career by providing you with the knowledge, skills, and credentials you need to succeed in the digital marketing field.
What is the fees for a digital marketing course ?
Ans: The fees for a digital marketing course in Sonipat range from INR 10,000 to INR 1,00,000 depending on the level of the course you opt for. NDMIT Online Digital Marketing Course fee is INR 40,000 + taxes which is inclusive of placement assurance.
Can I learn digital marketing on my own ?
Ans: Yes, you can learn digital marketing on your own with the help of free videos and courses on YouTube – although the credibility of these courses is often unknown. But it doesn't have to be this way. Instead, you can learn digital marketing with NDMIT Online Digital Marketing Course where you will learn from industry experts and also receive a certification straight from Sonipat instead of anywhere else in India! NDMIT gives you 100% Placement assurance.
Is Digital Marketing a good career ?
Ans: Digital marketing is a great job path. Being a relatively new industry, there are many challenges and opportunities – each highly dynamic. Competitive salary + incentives as well as flexibility with your schedule make this ideal for nearly anyone from entrepreneur, technology focused to analytical individual.

NDMIT is Asia's leading digital marketing institute. Since its start in 2016, NDMIT has set new standards for education around the globe. We have trained more than thousand Students globally in various aspects of digital marketing.
Taking a future-oriented approach to learning, NDMIT ensures its students receive a customized, relevant curriculum that will help them upskill for their careers.
What their Students says about them ?
Get the Detailed Curriculum and faculty member list.
Why choose NDMIT for a digital marketing course?
Free Internship
Centralized level training
Career counseling
Book free demo
100% placement assistance
24*7 Mentor support
Online classes support
Work on live project
Mock interview session
Personality development – with no cost
Learn from industry expert trainer with our founder and co-founder
Attend 3 free live classes online/offline
Hand-to-hand support
Learn corporate sector Etiquette
One on One mentorship support
Career Guidance
Recently Placed NDMITians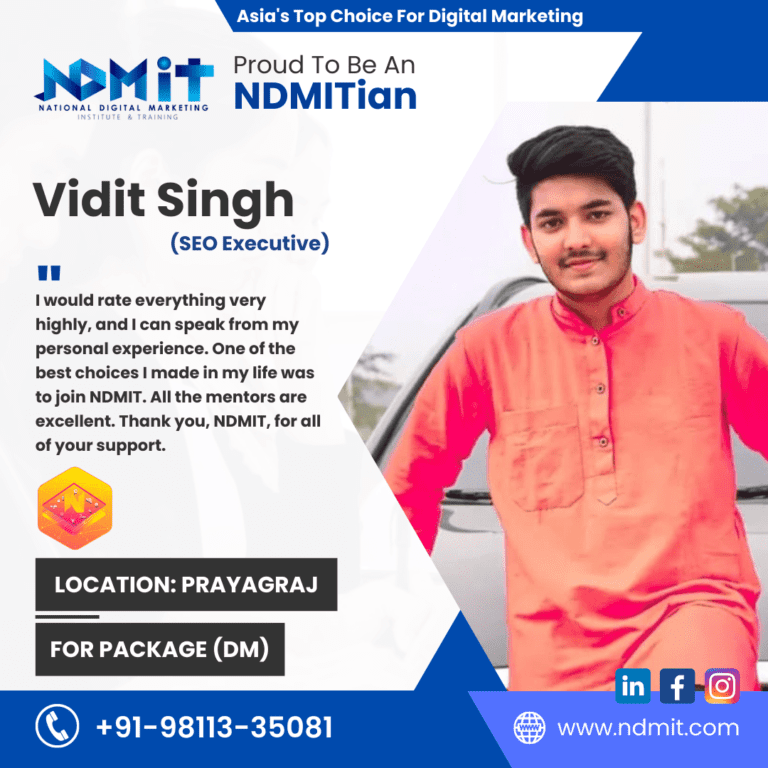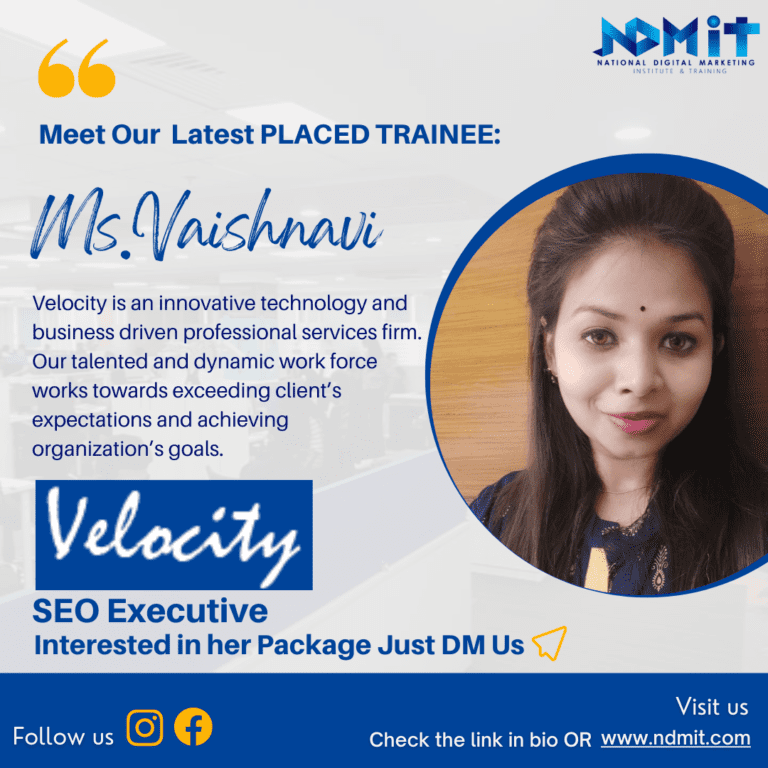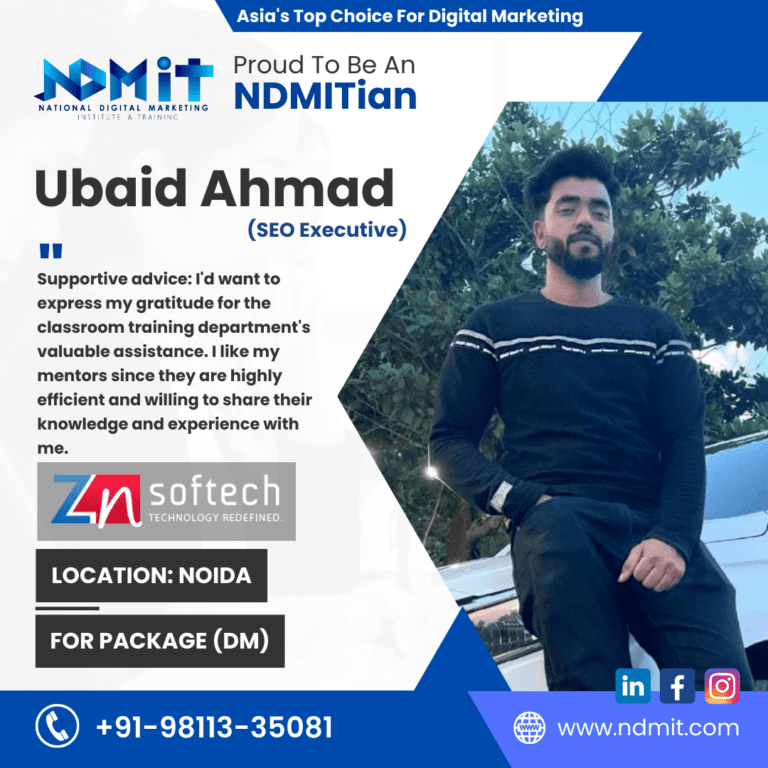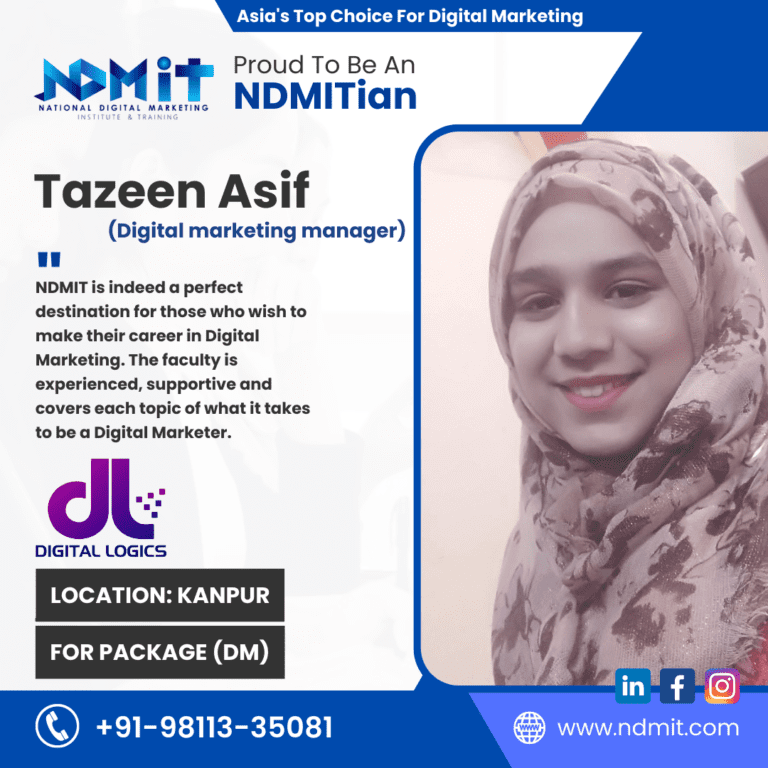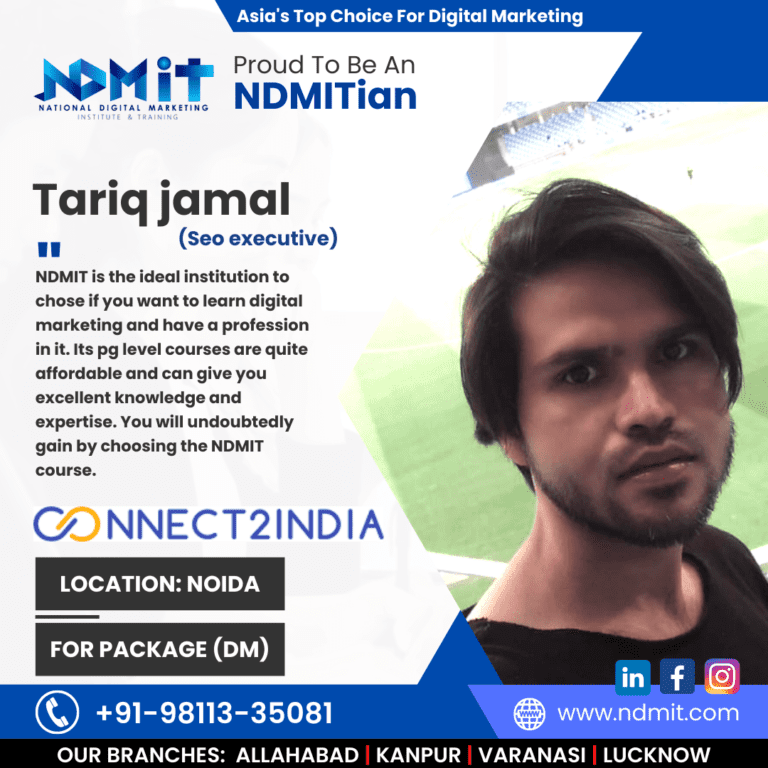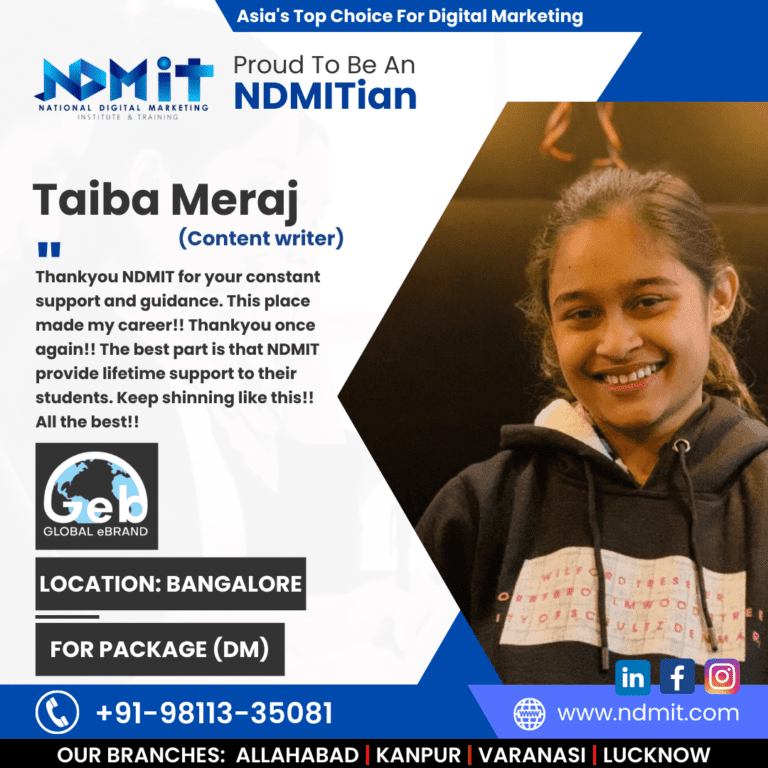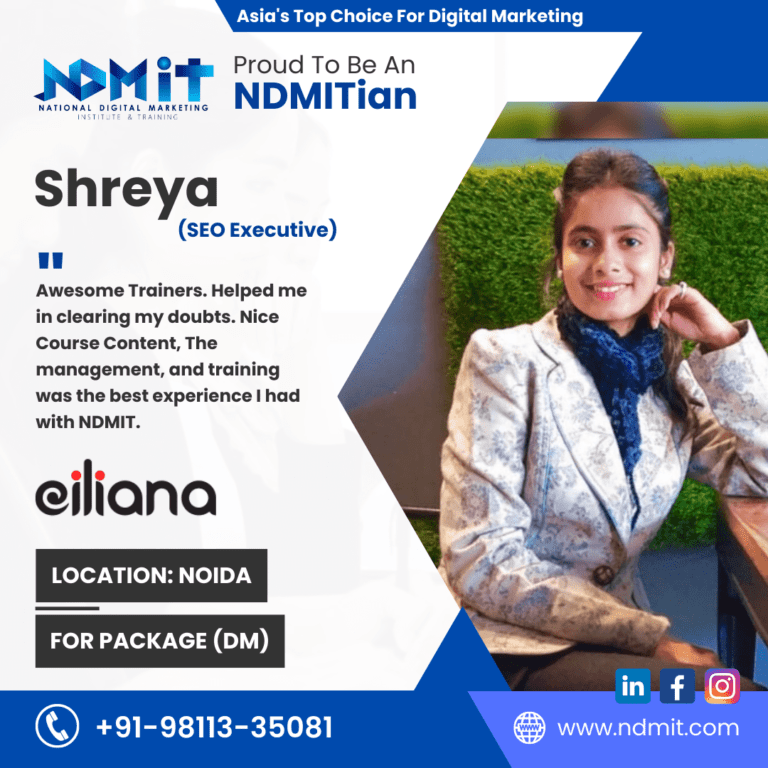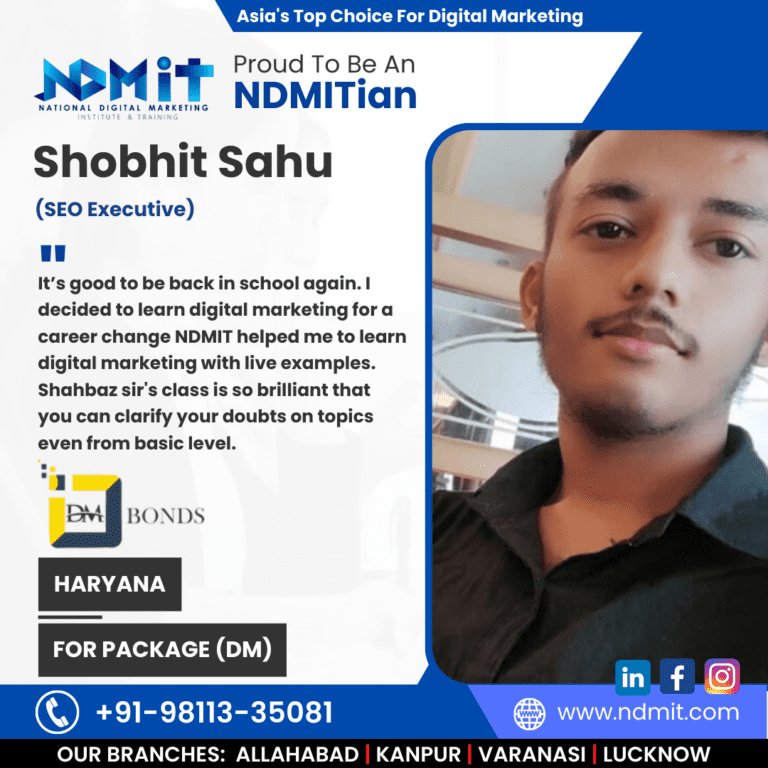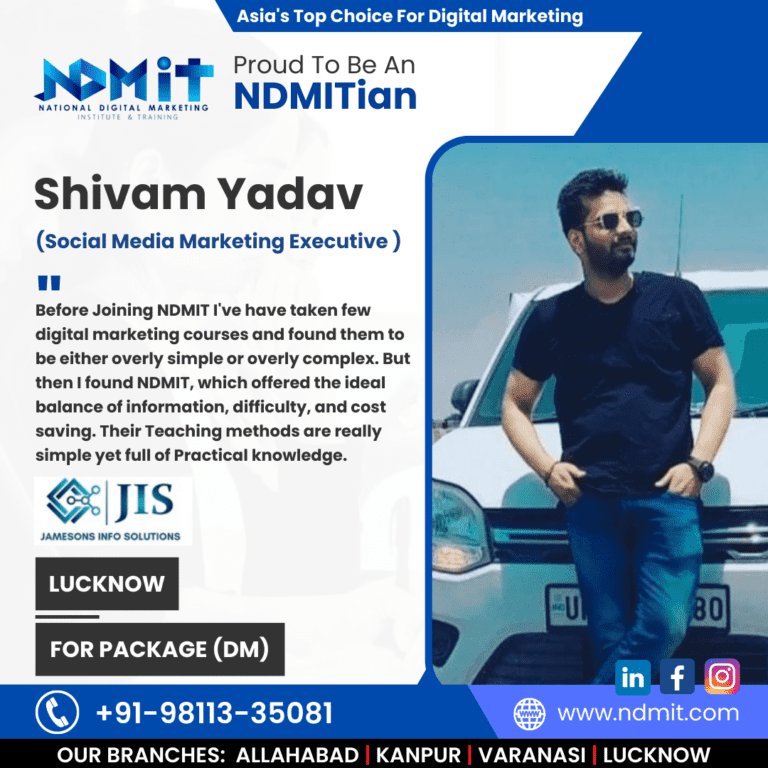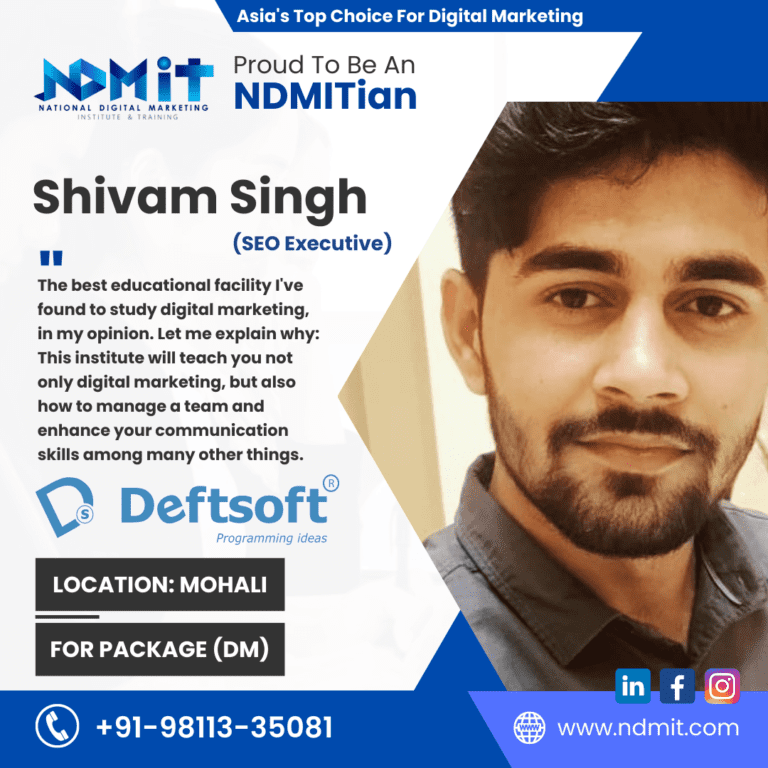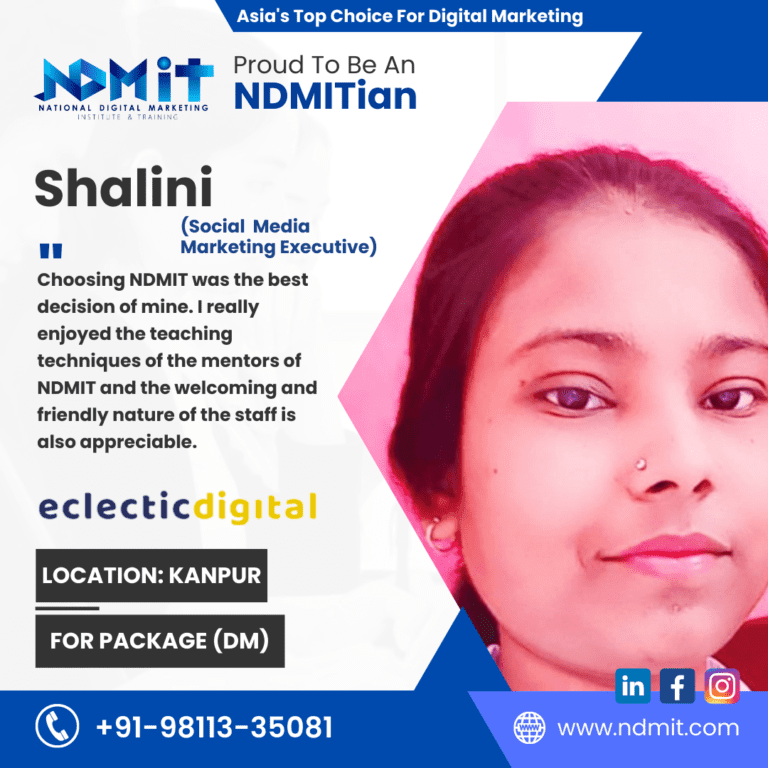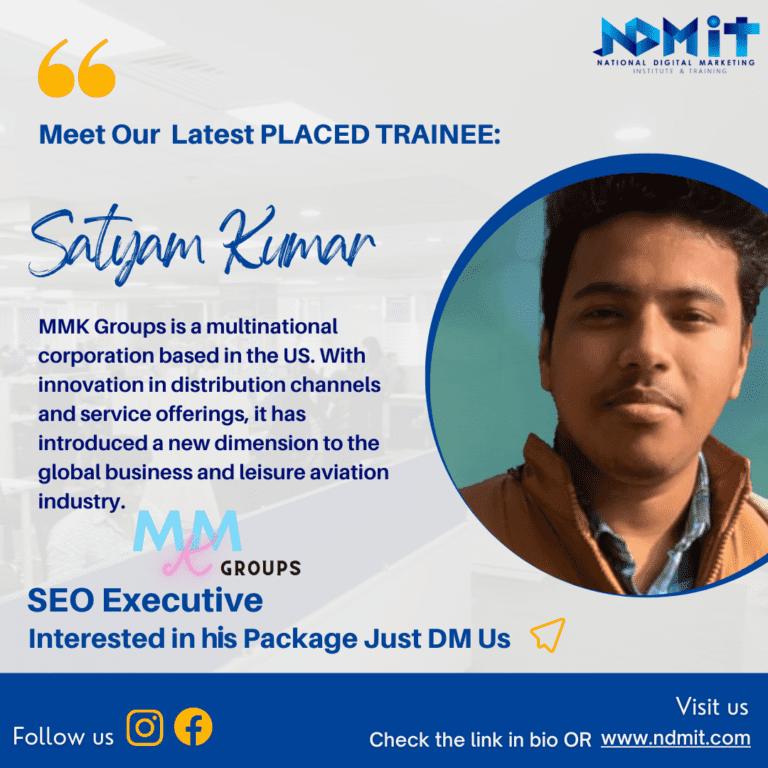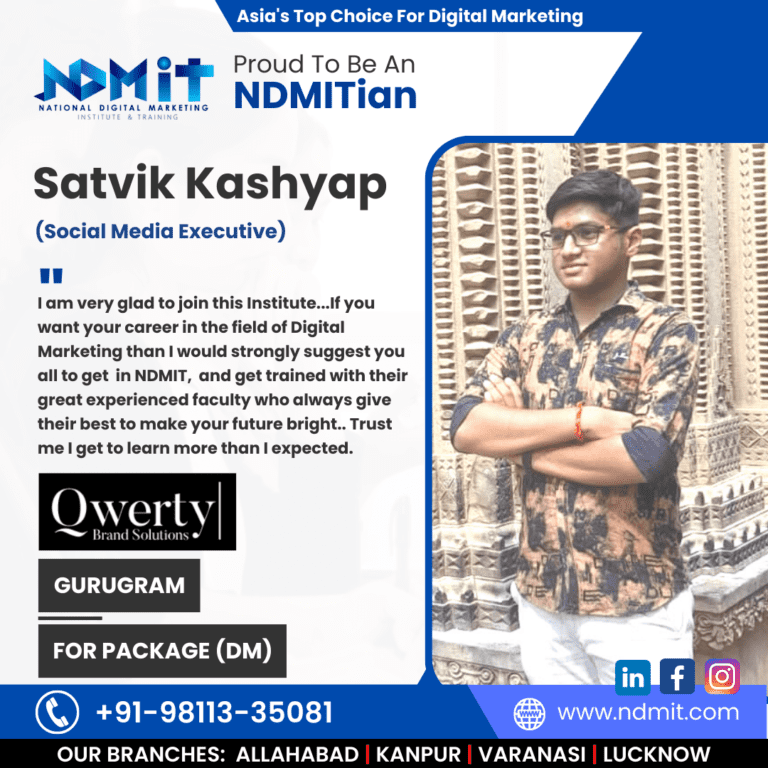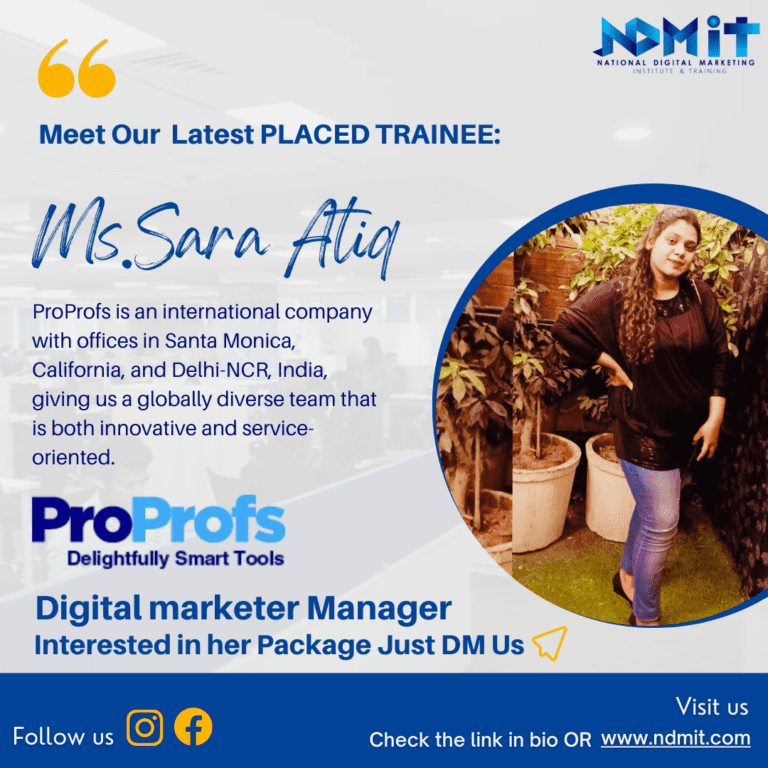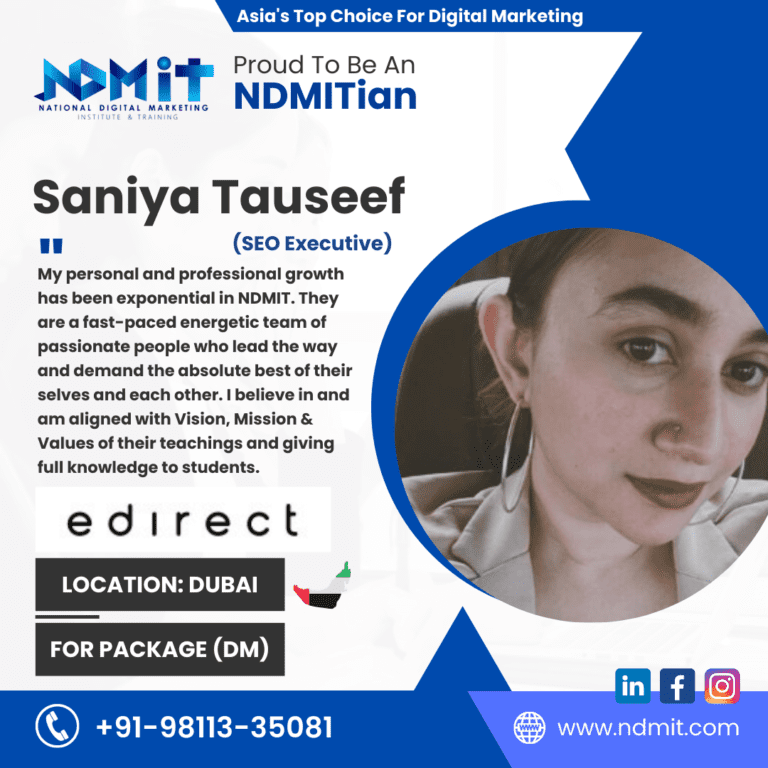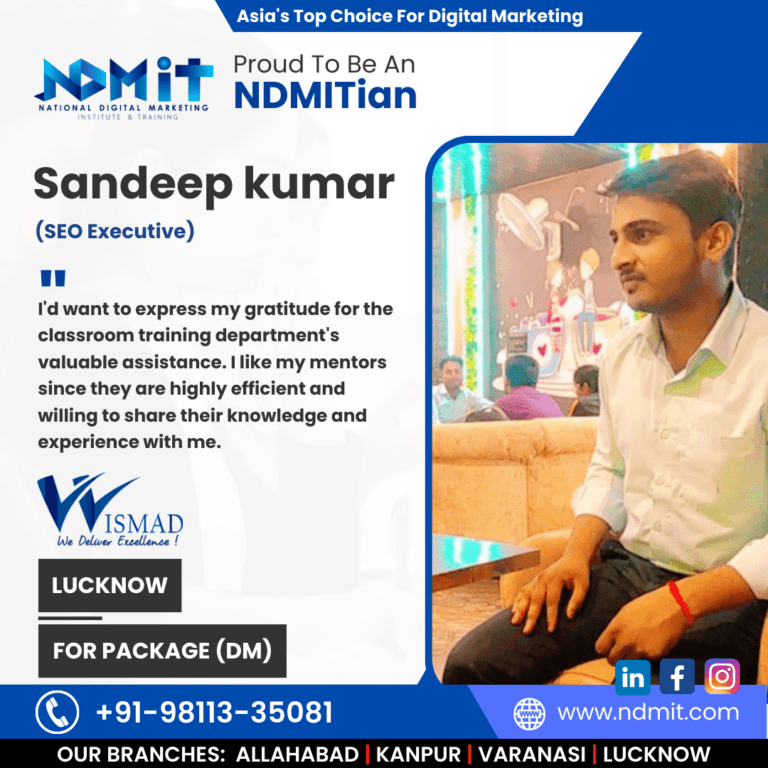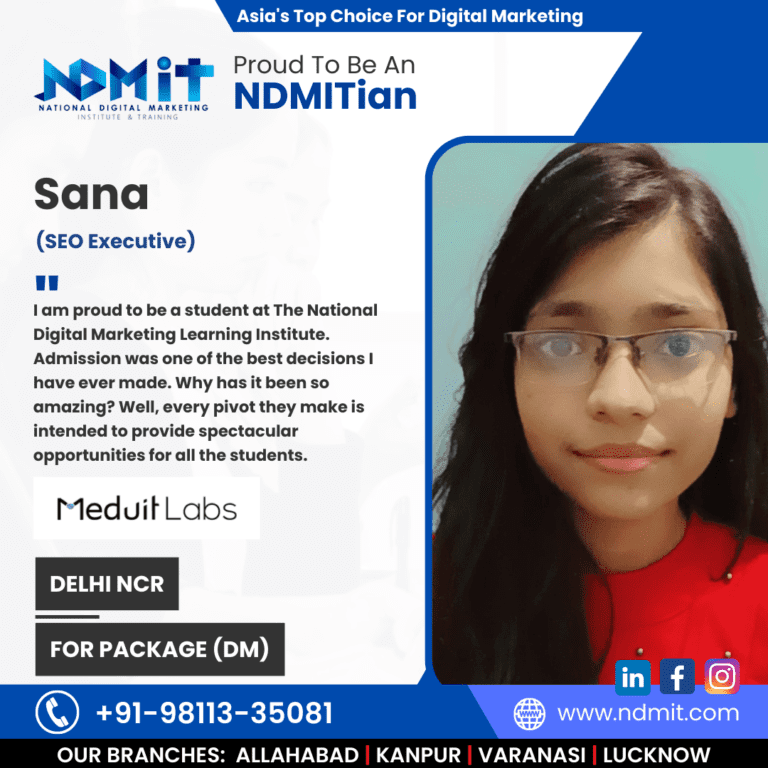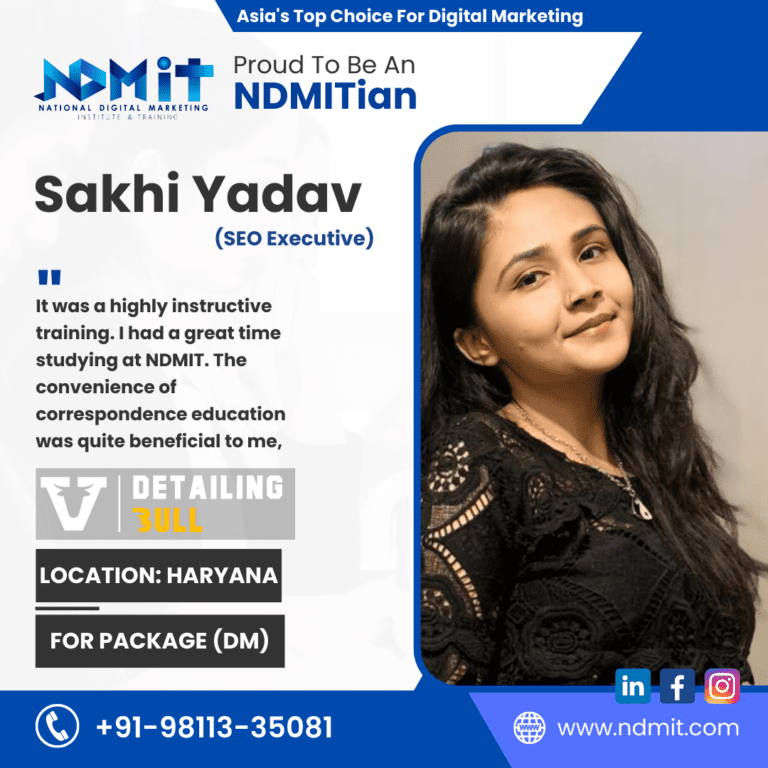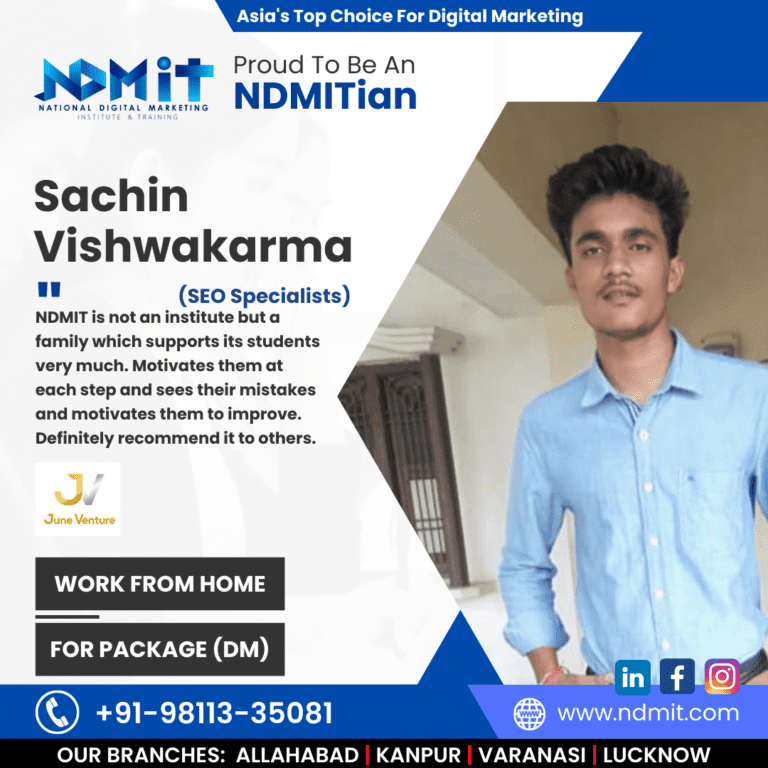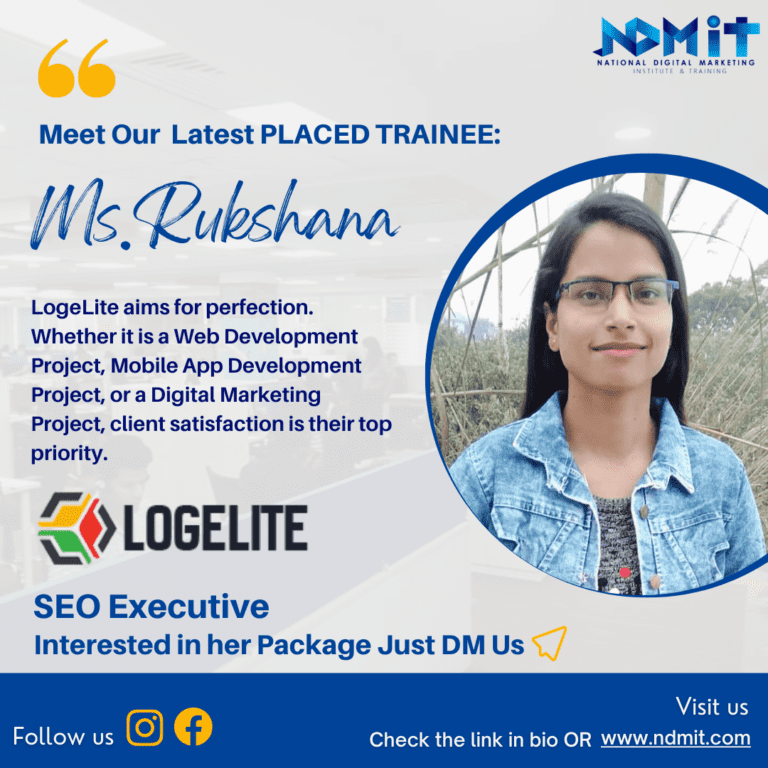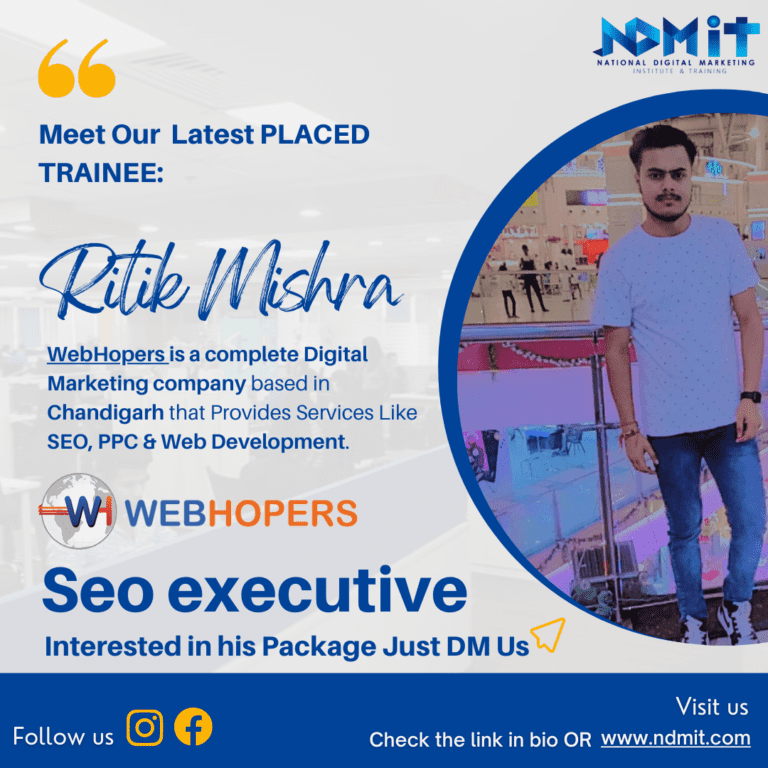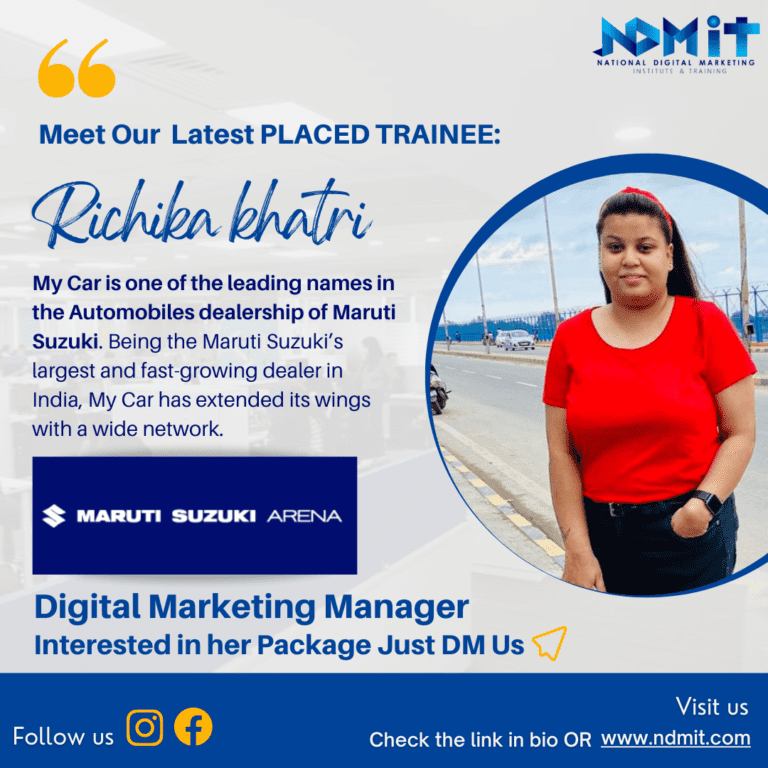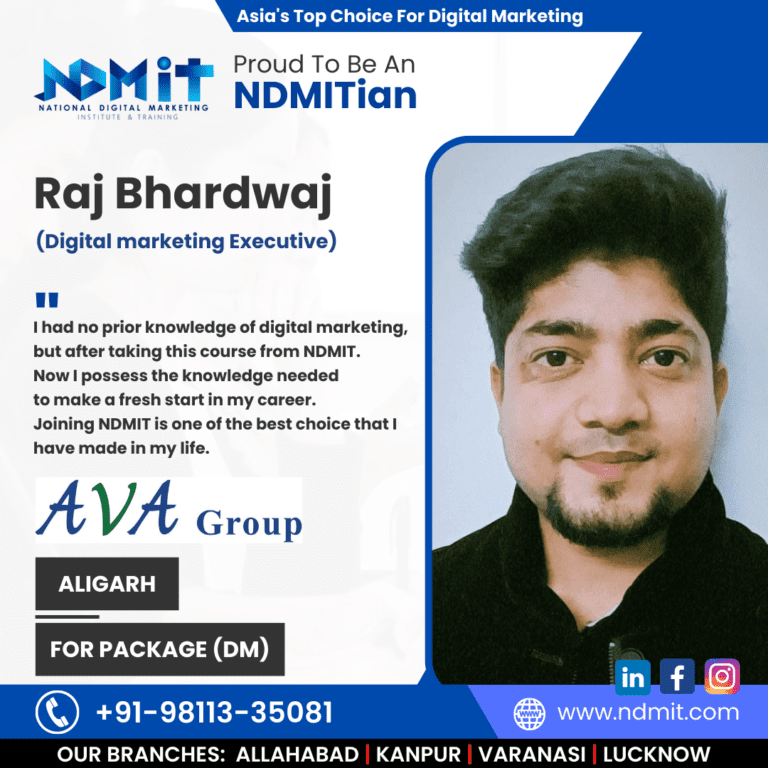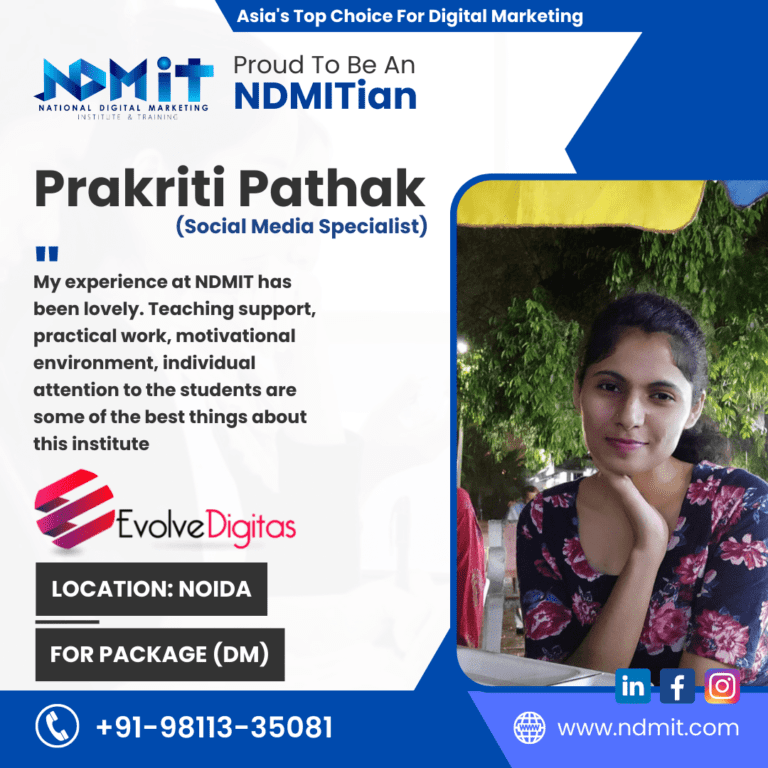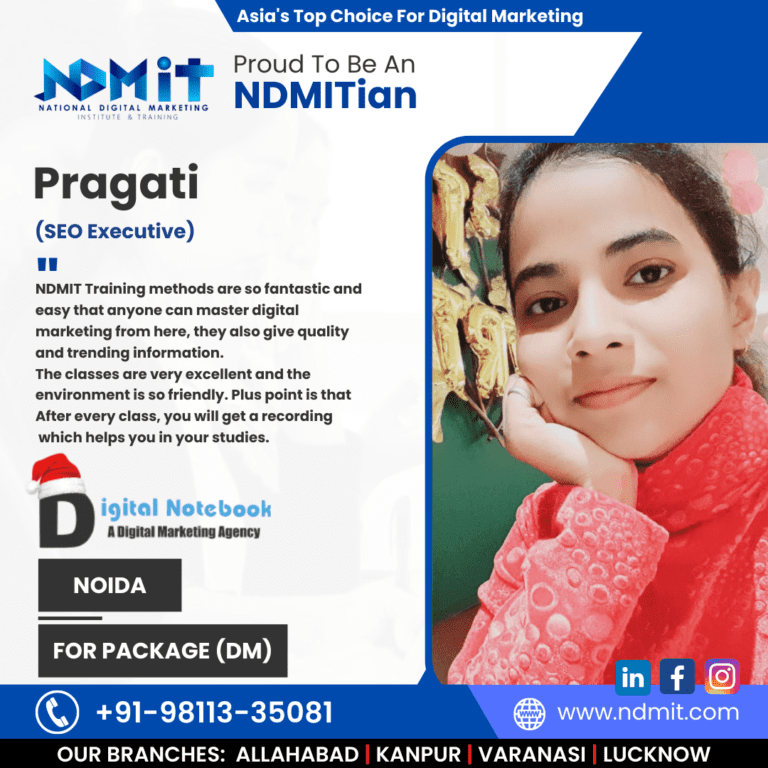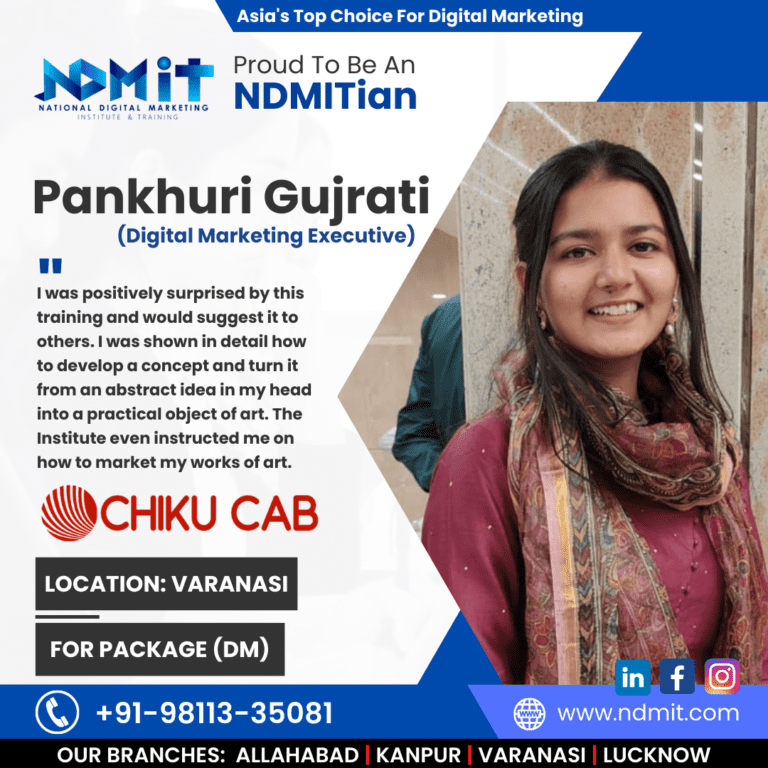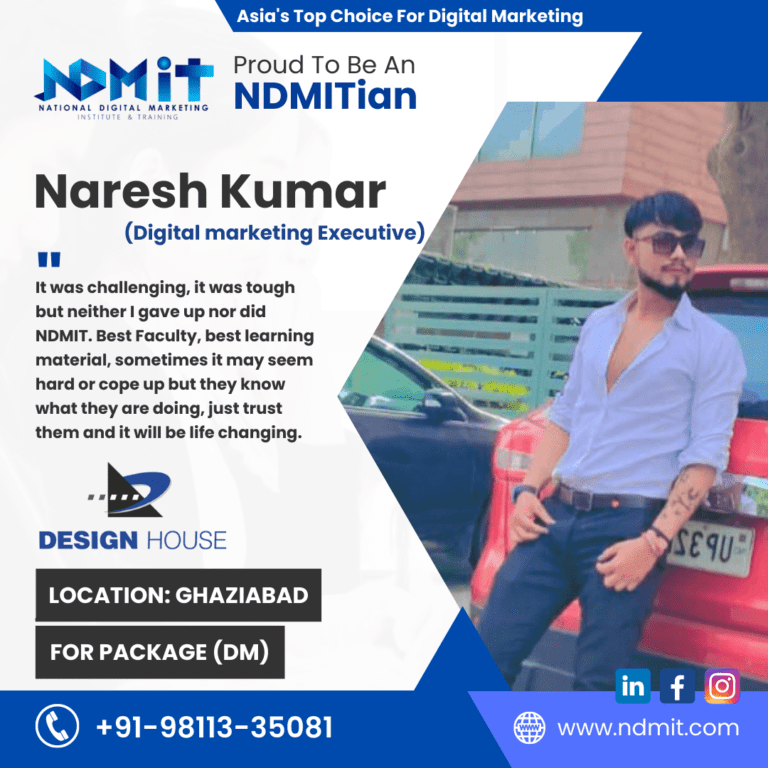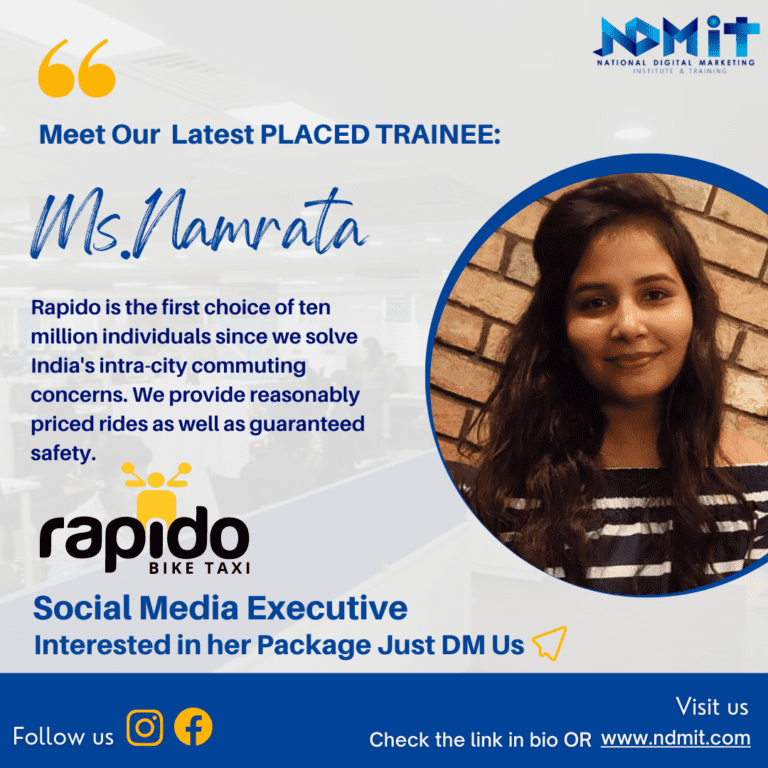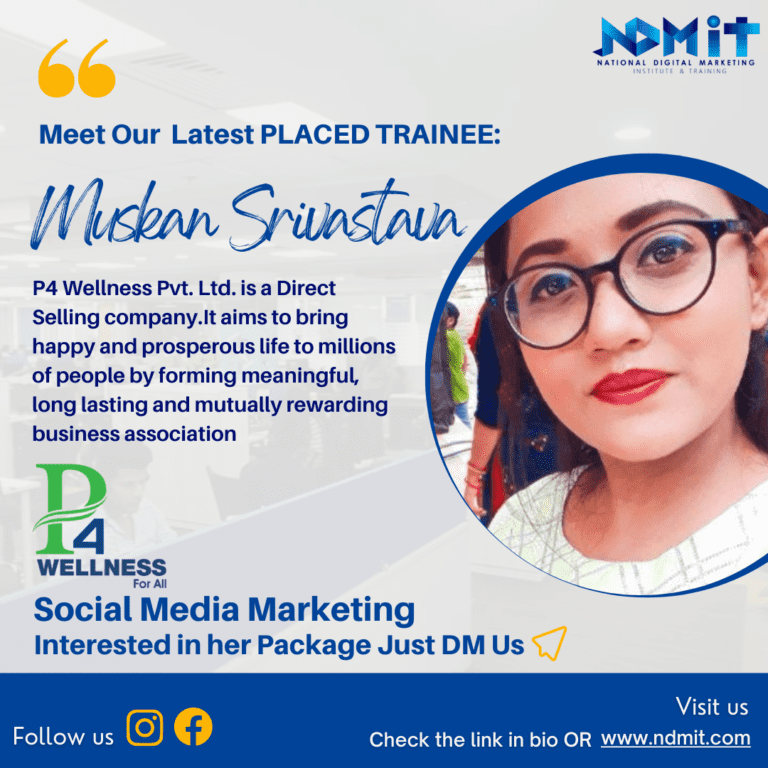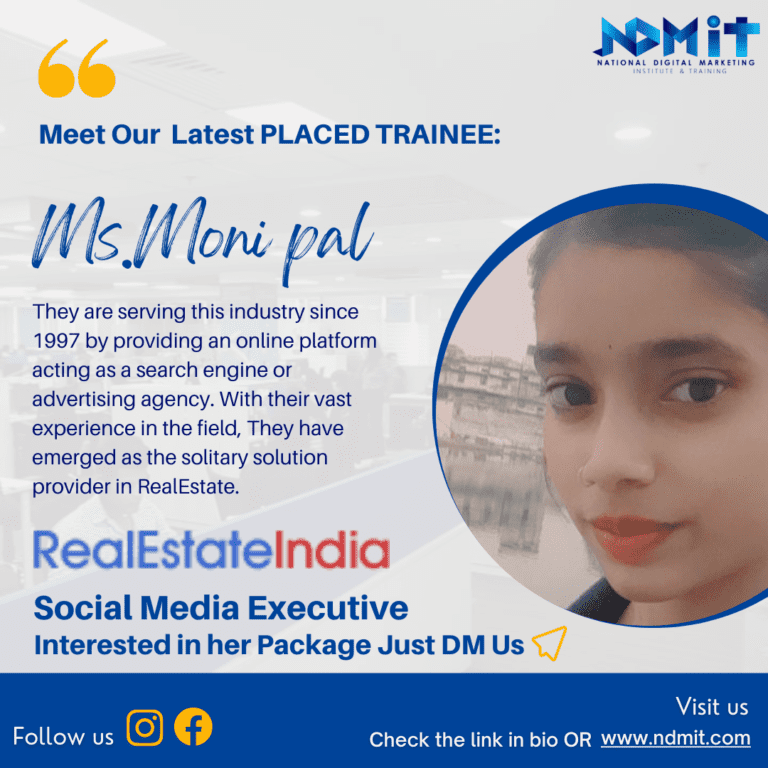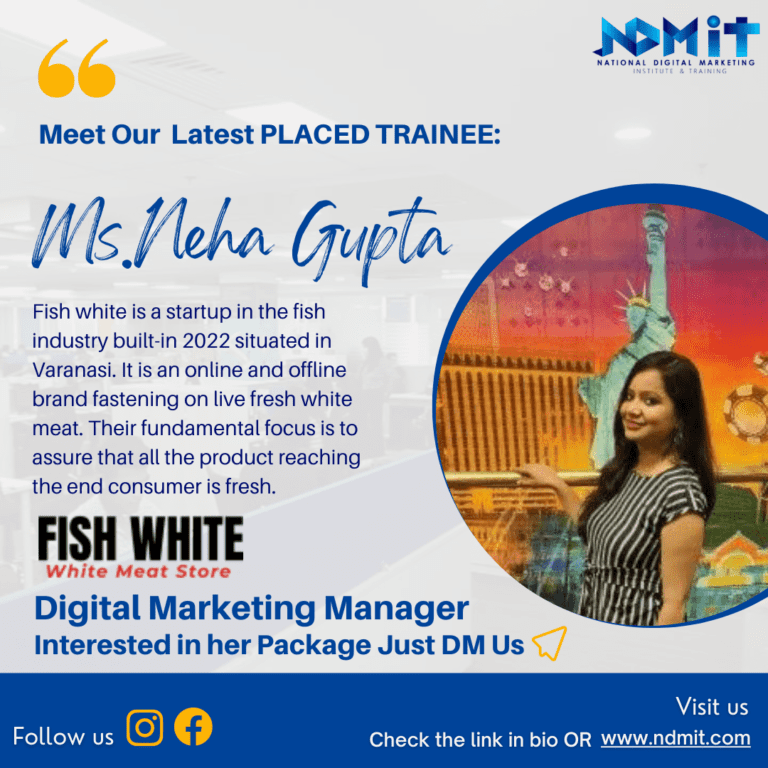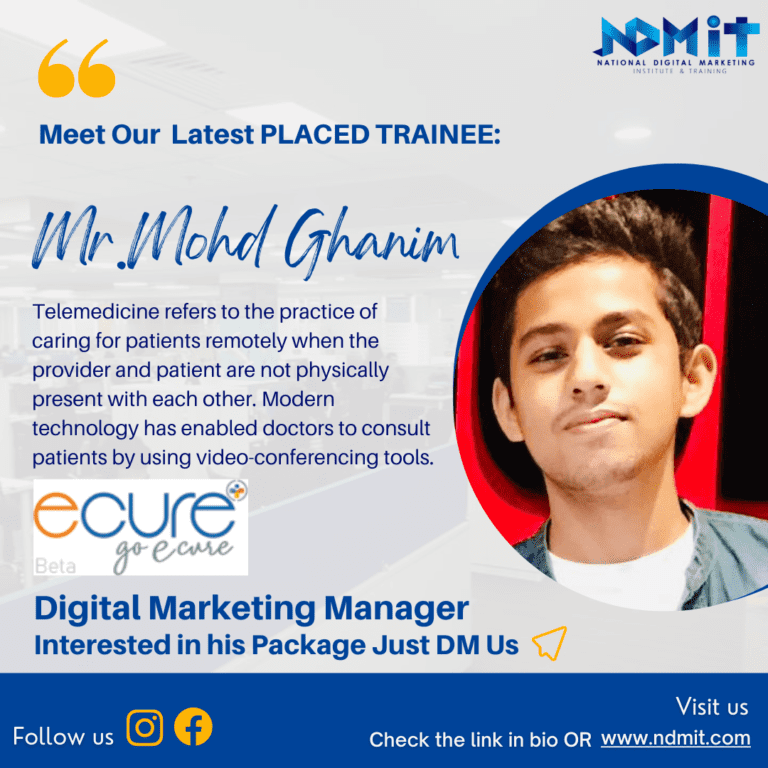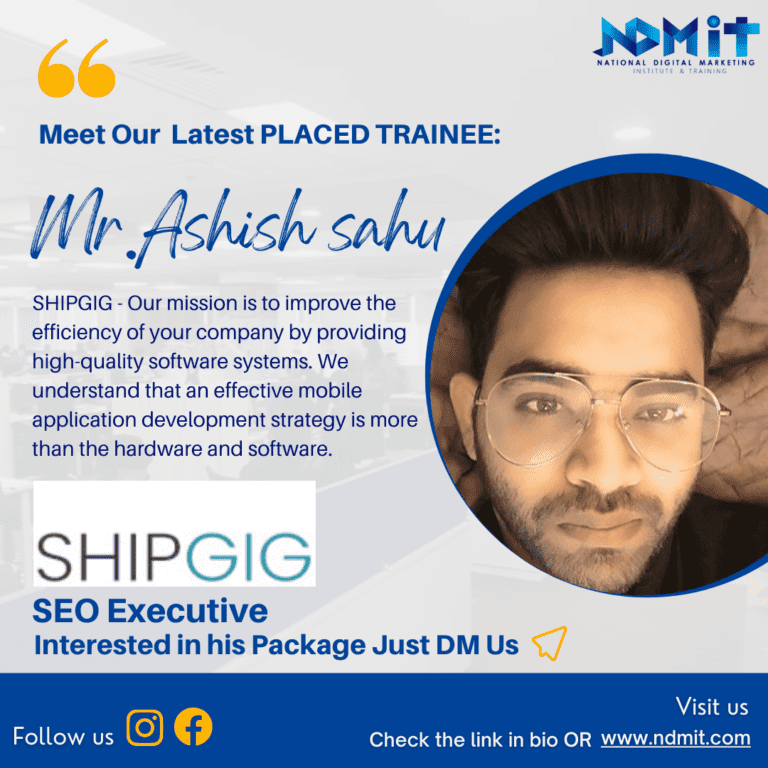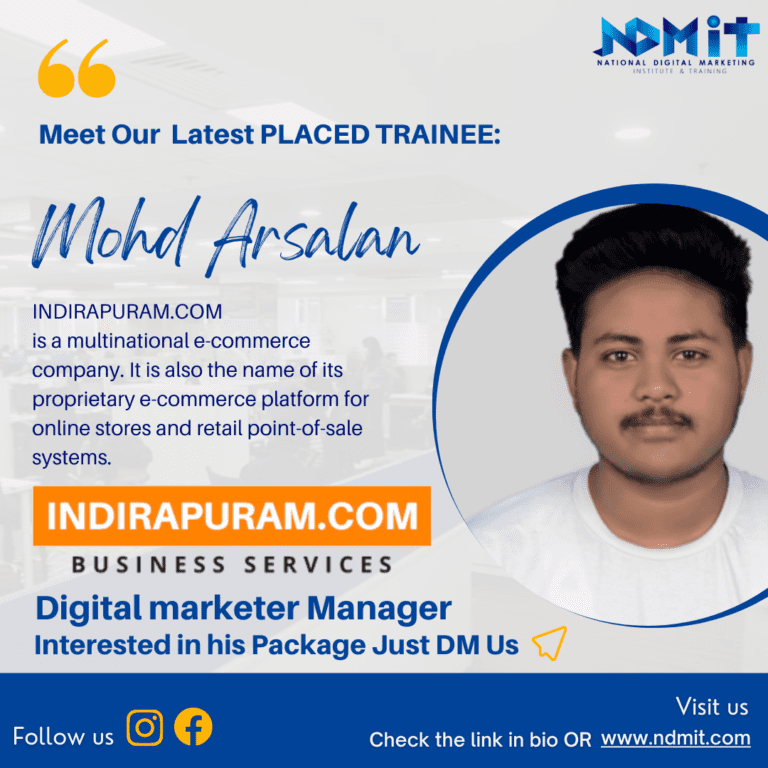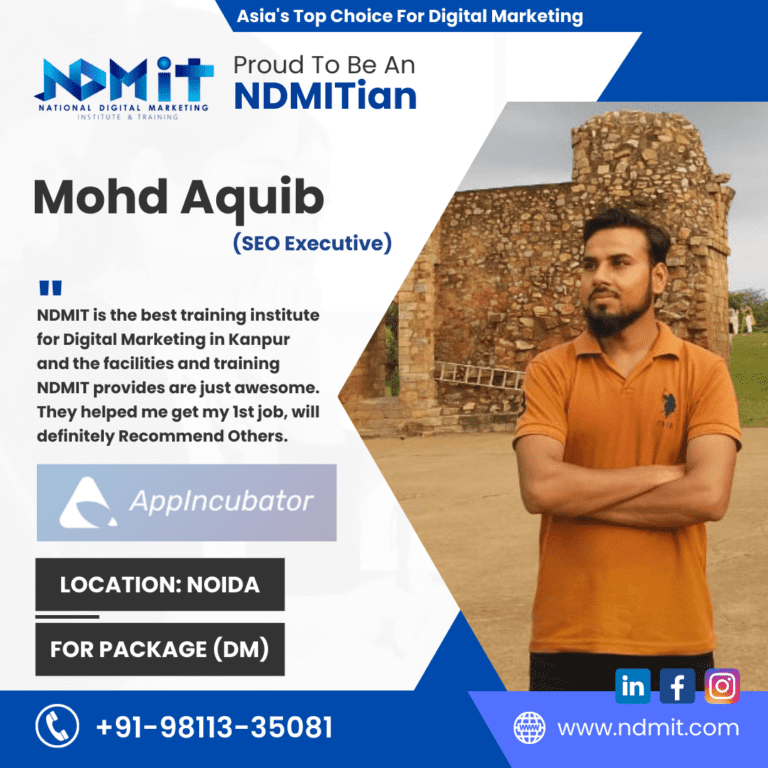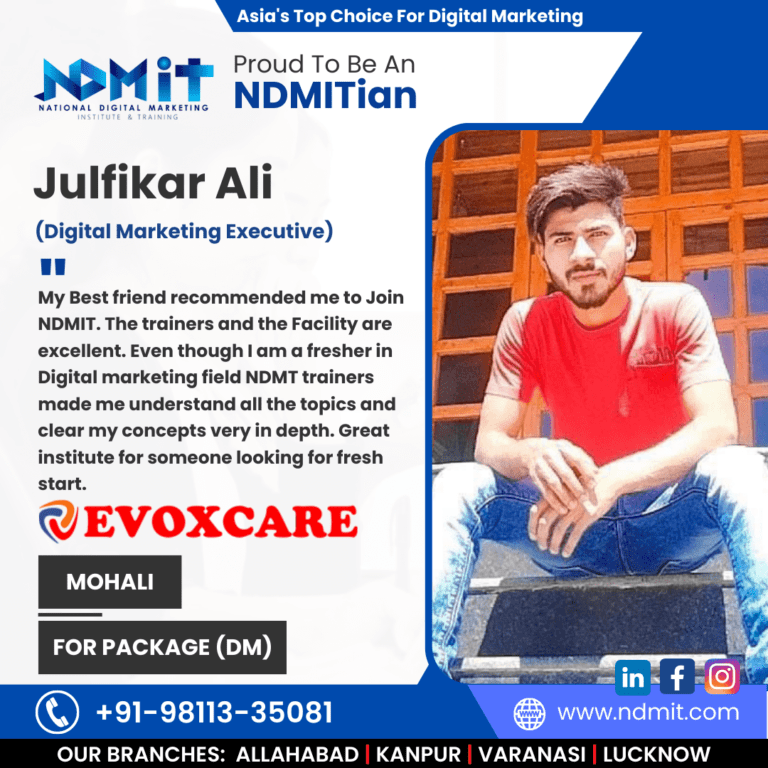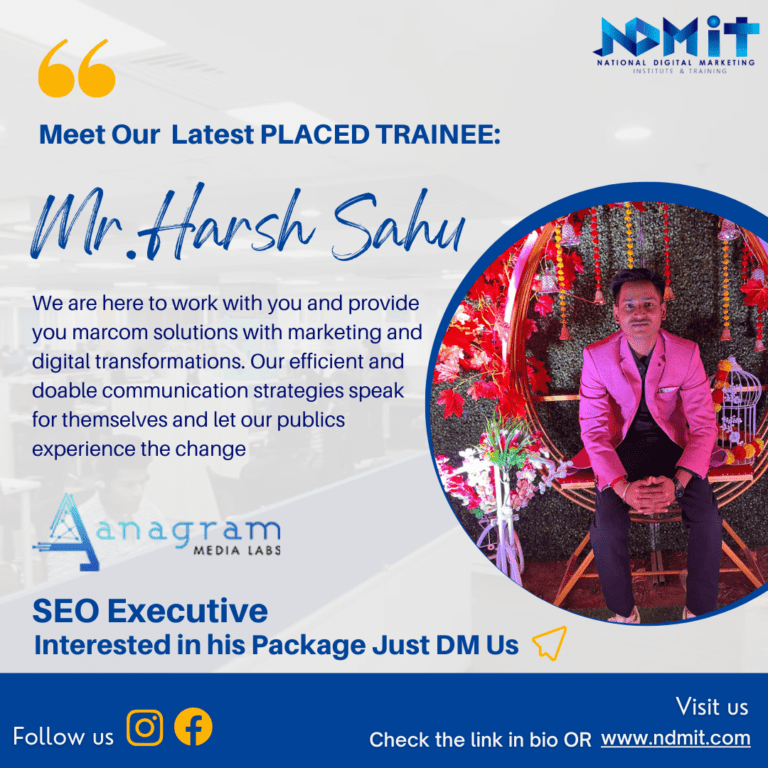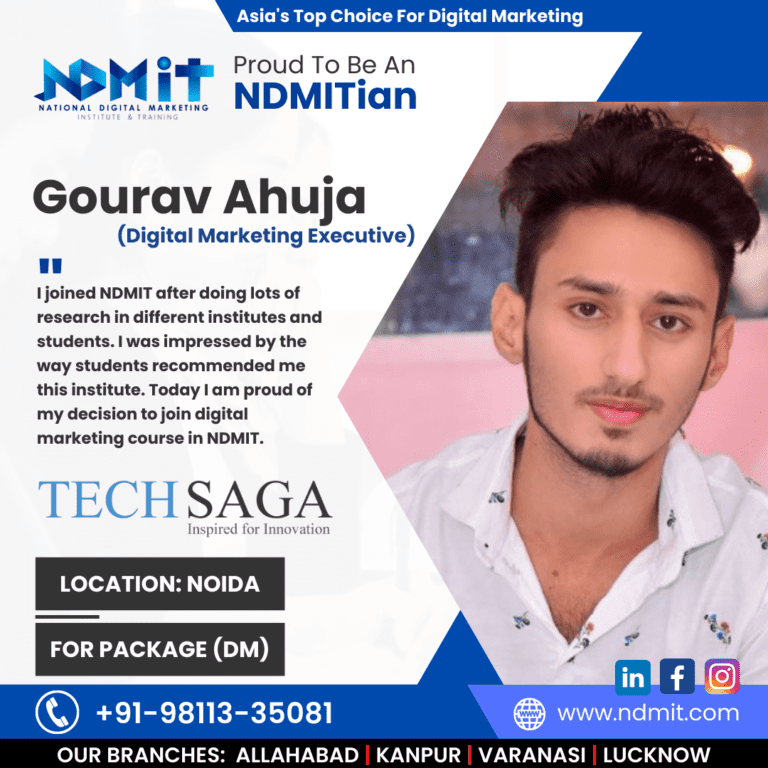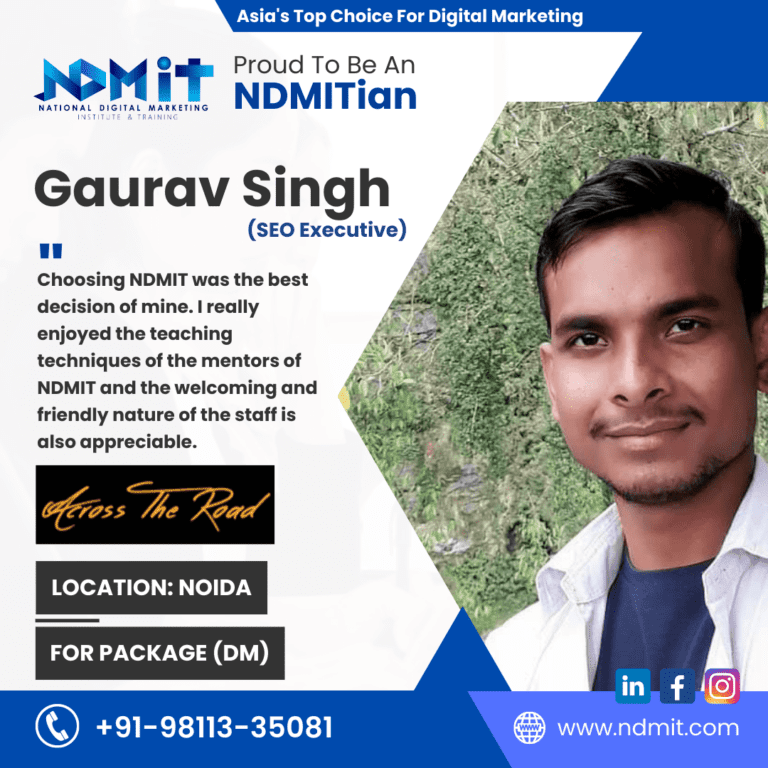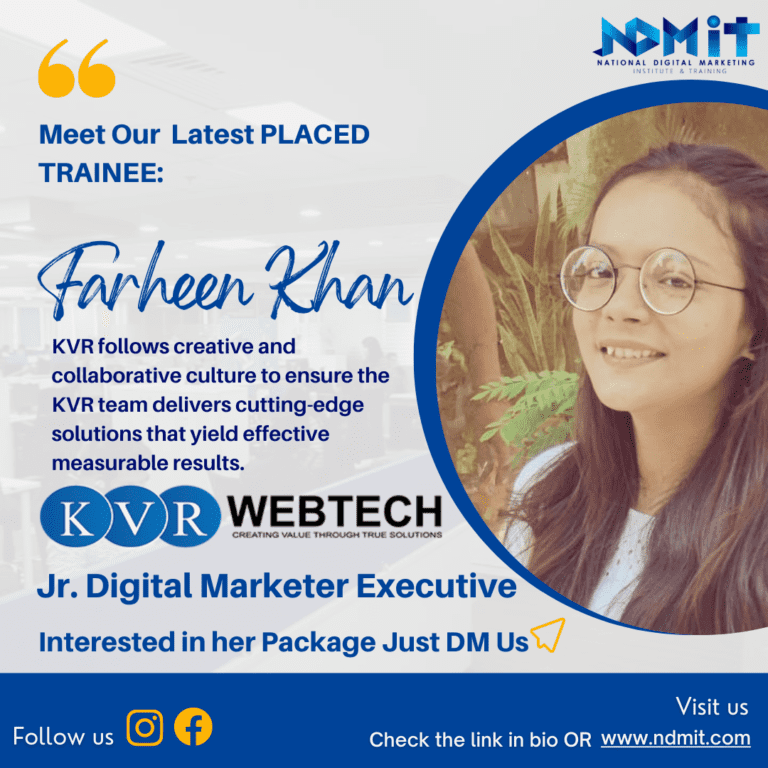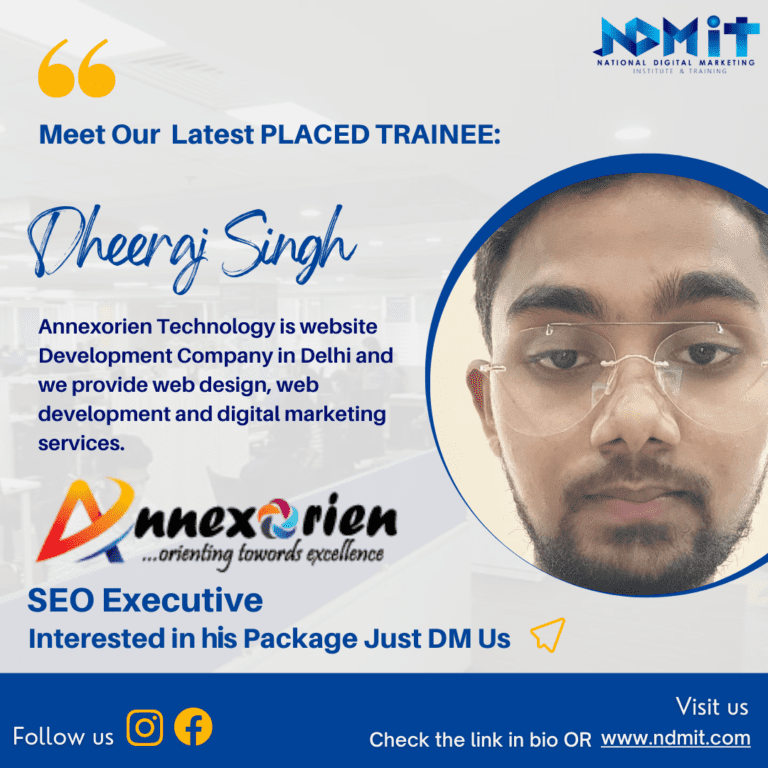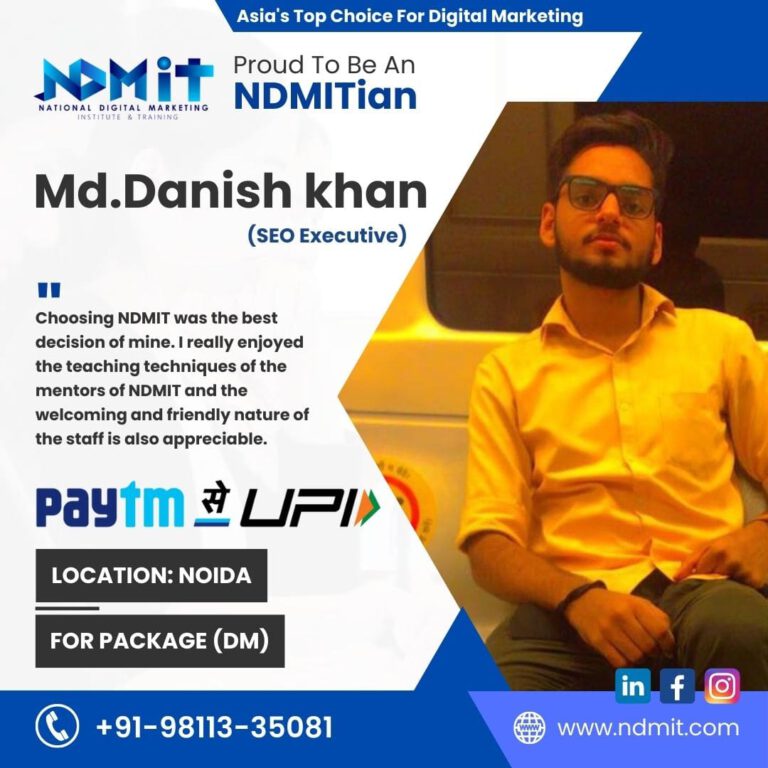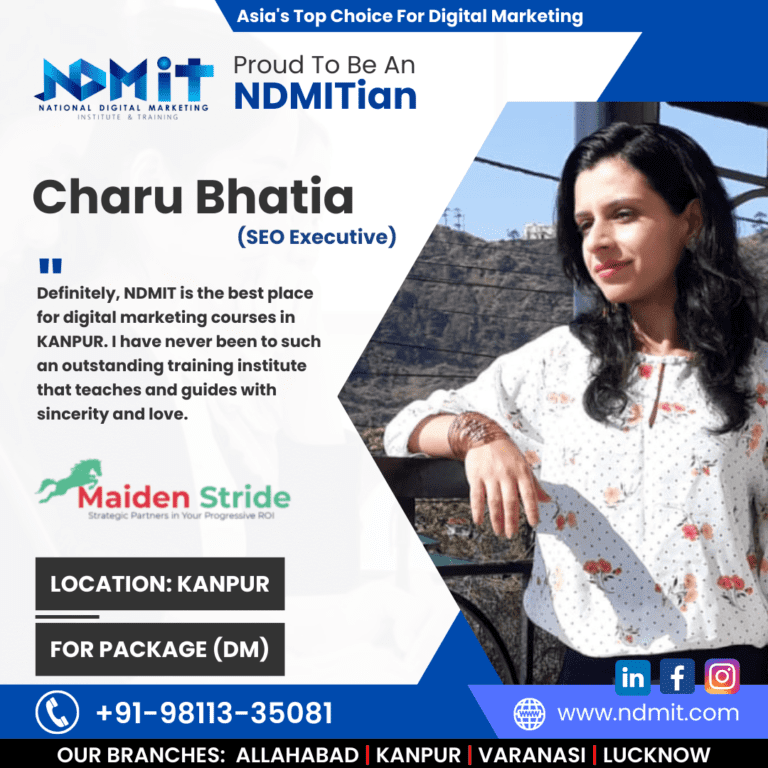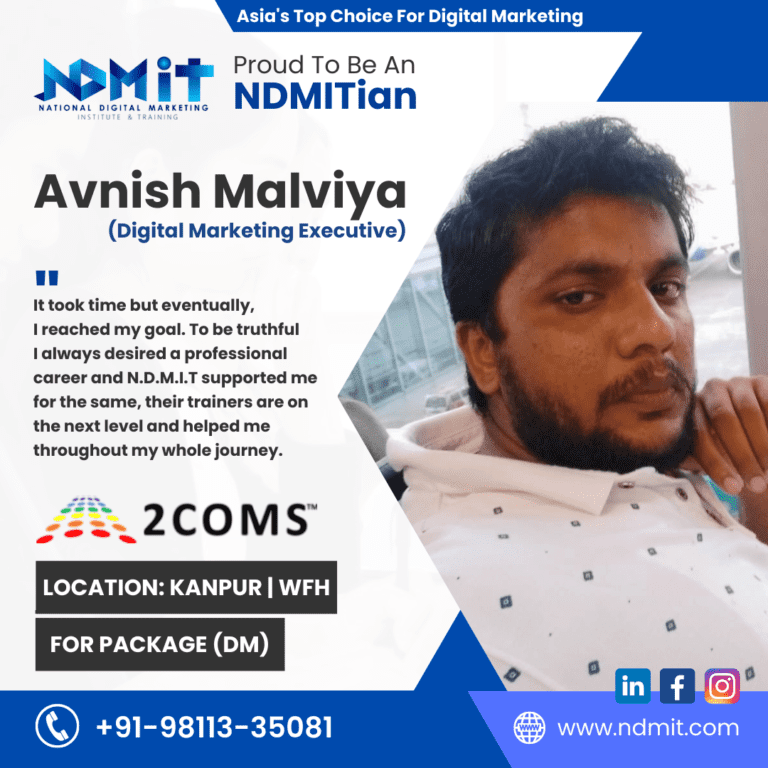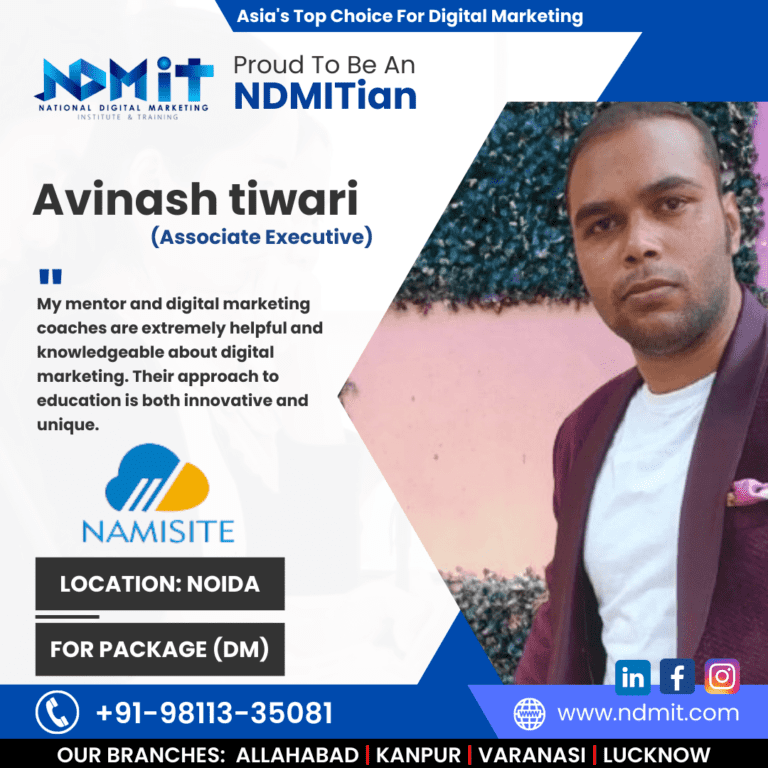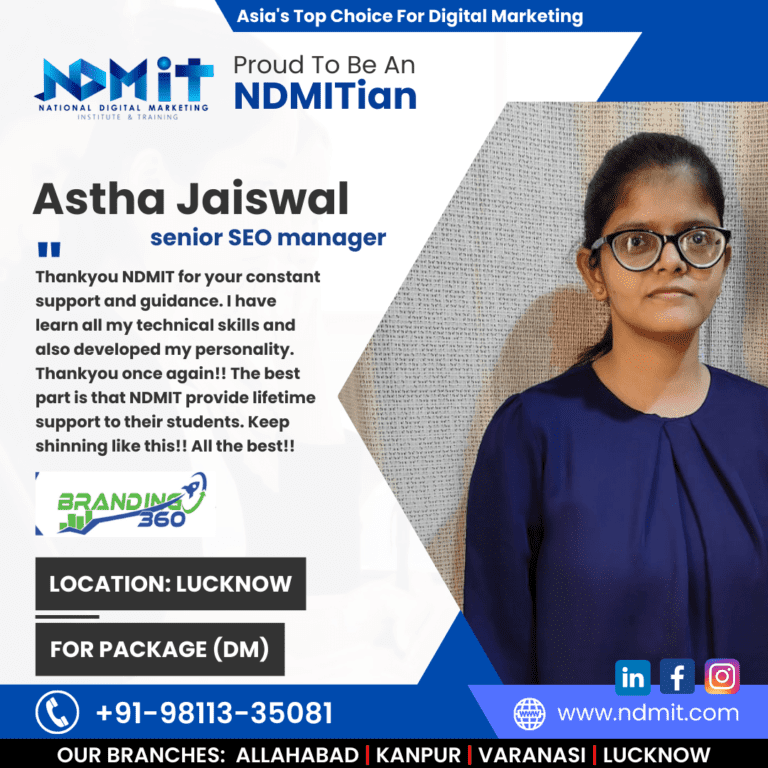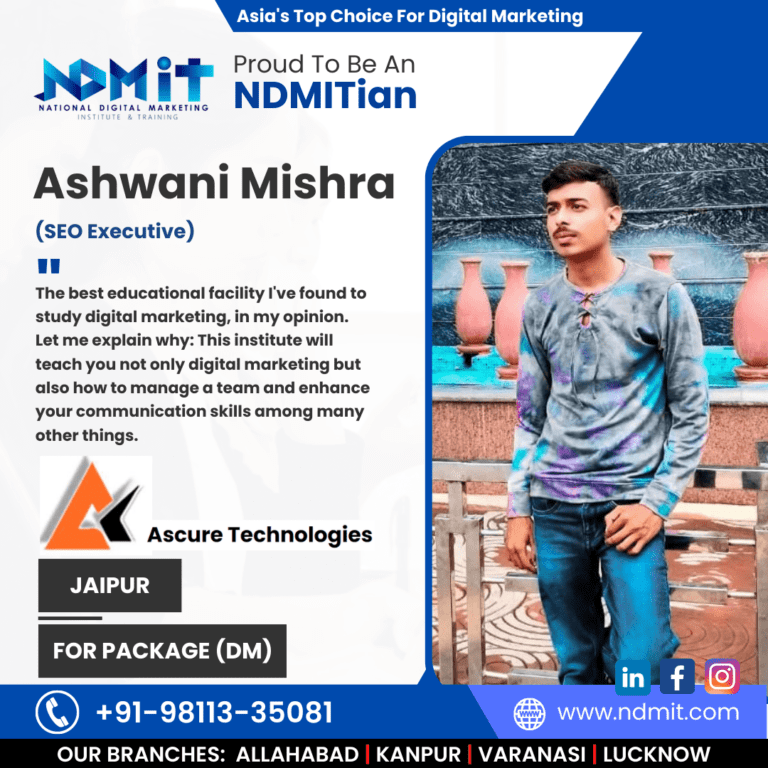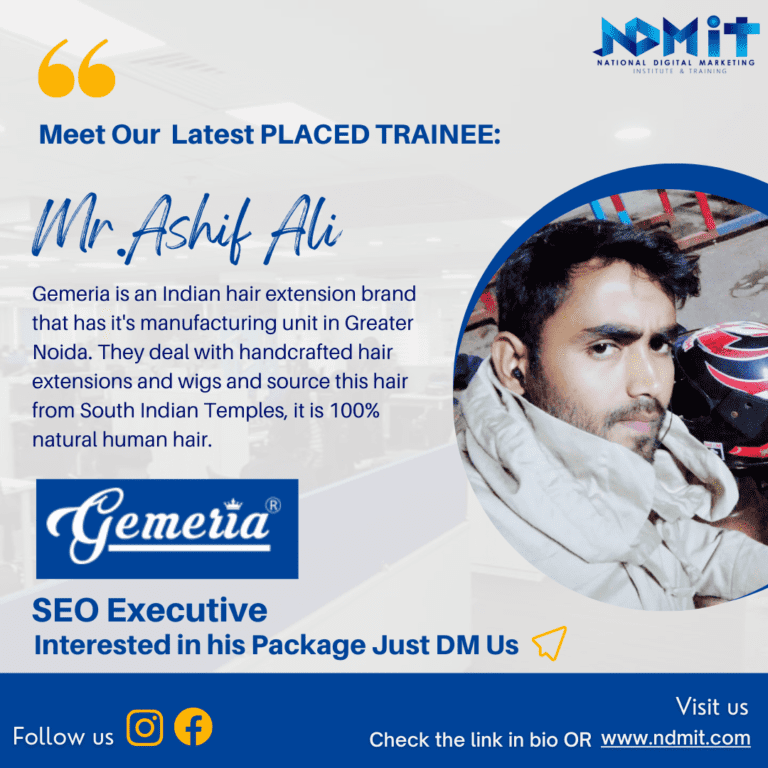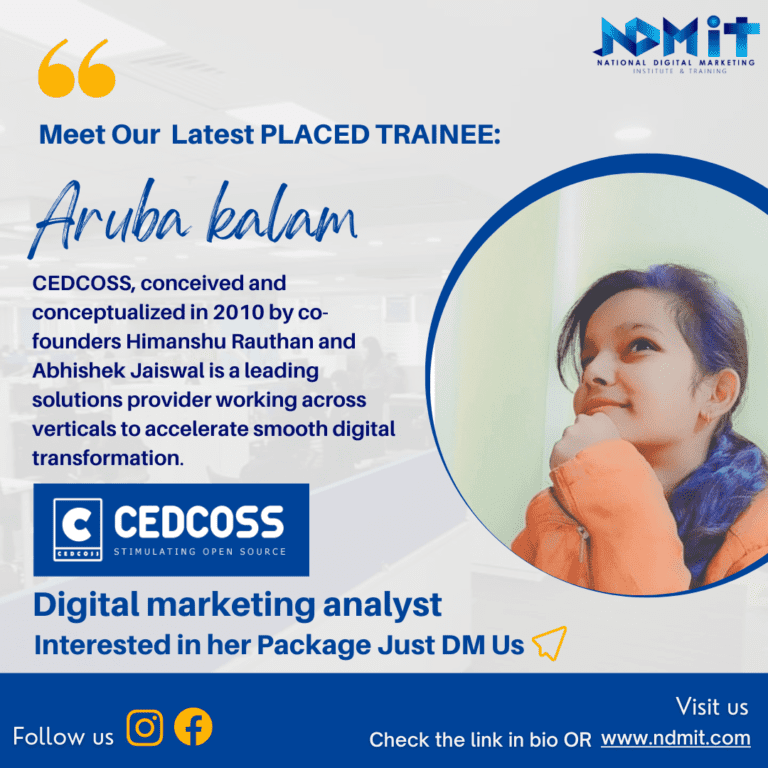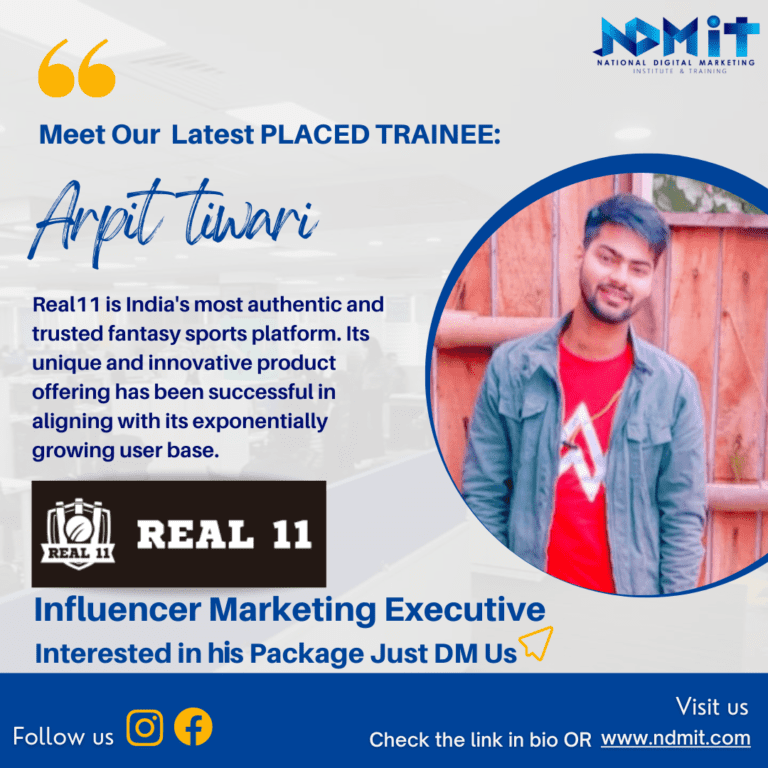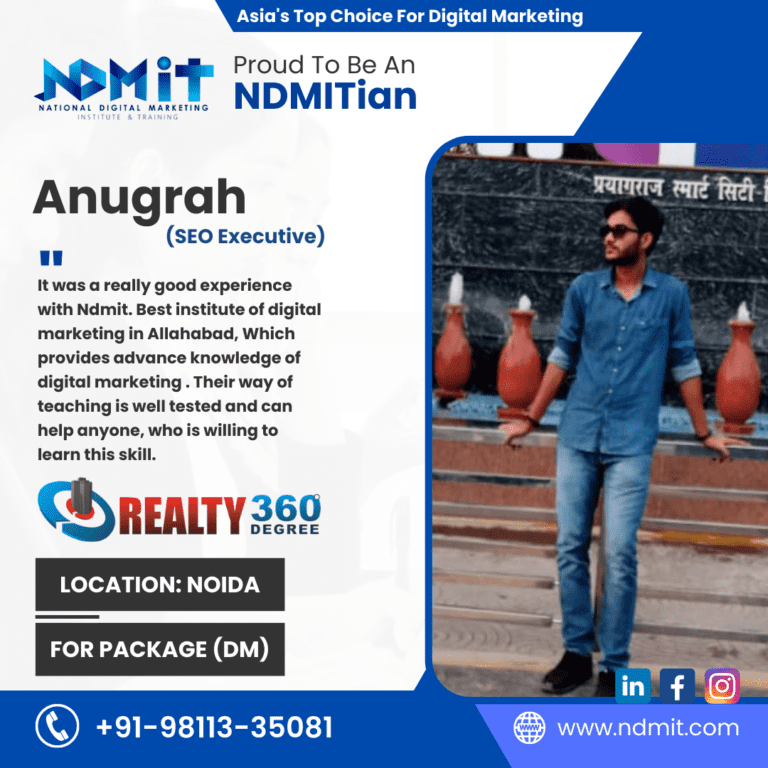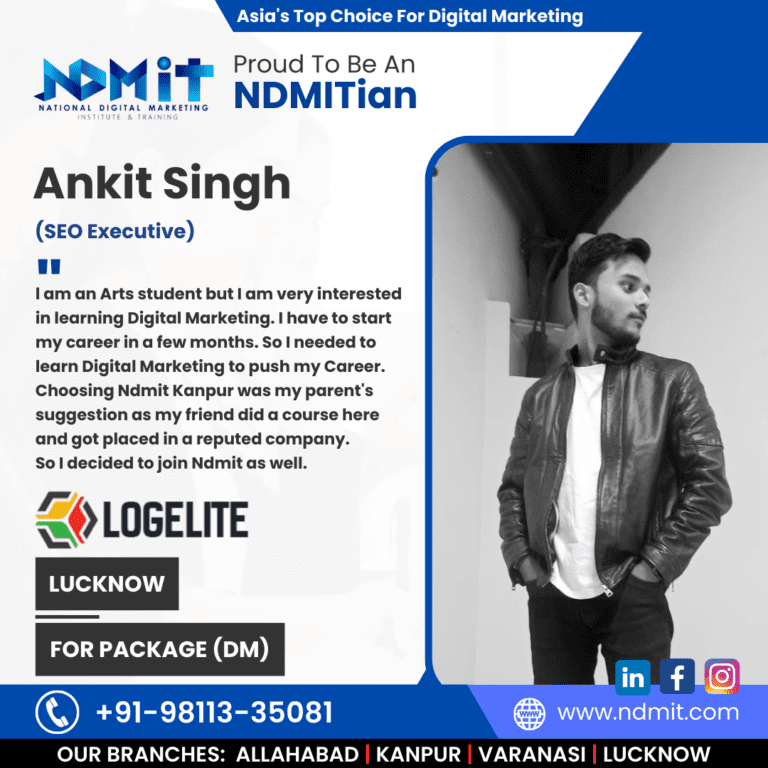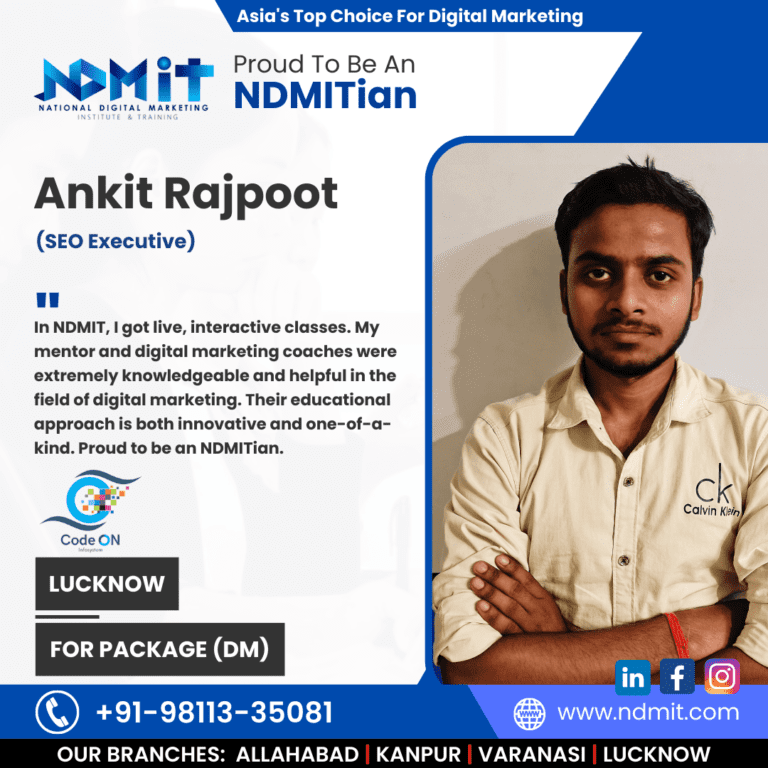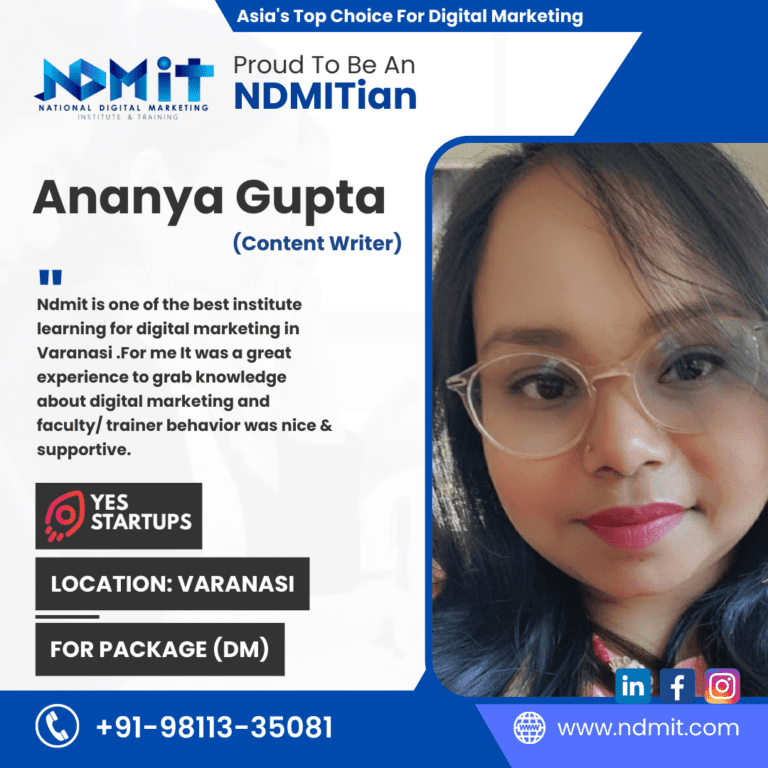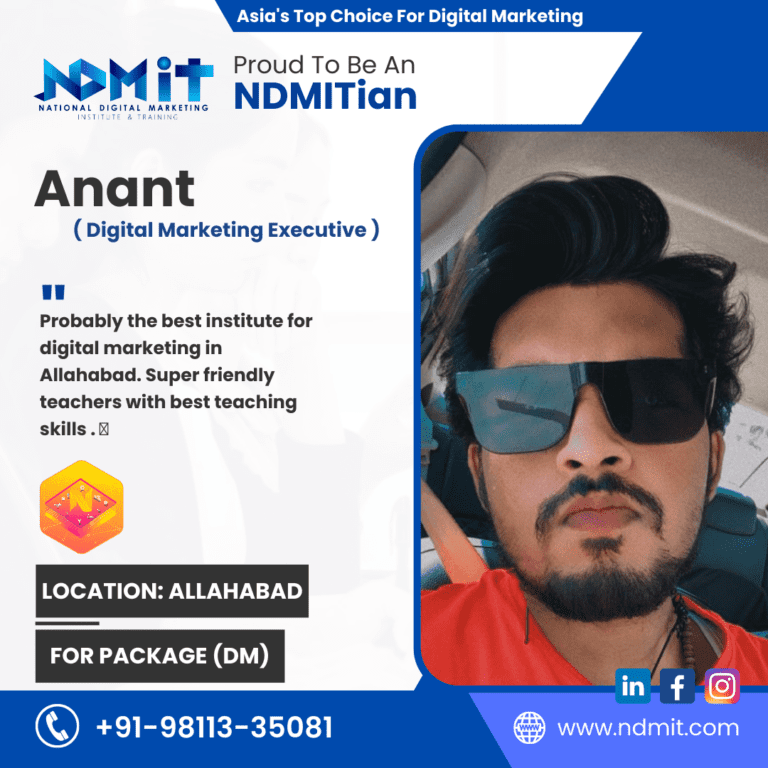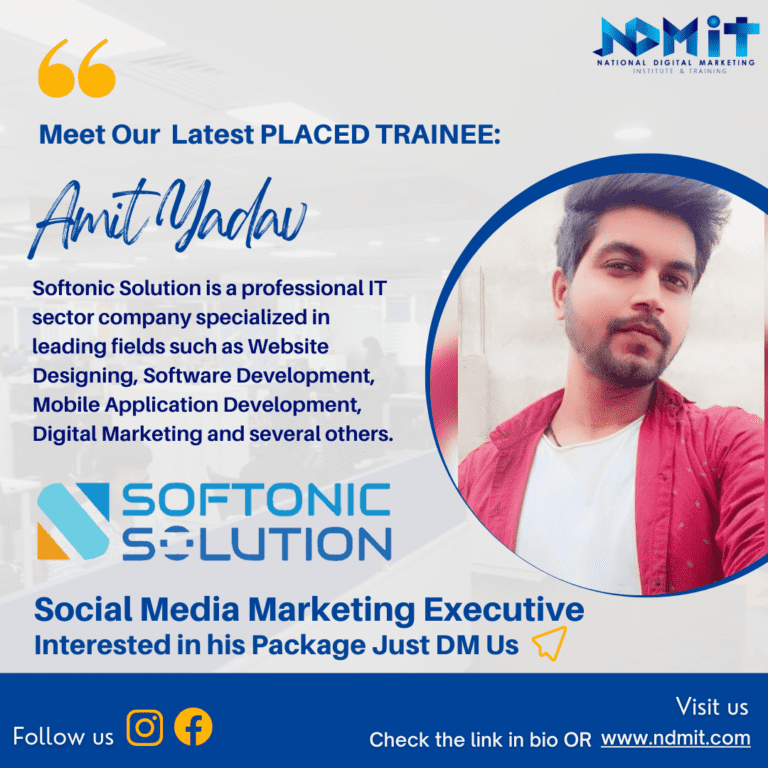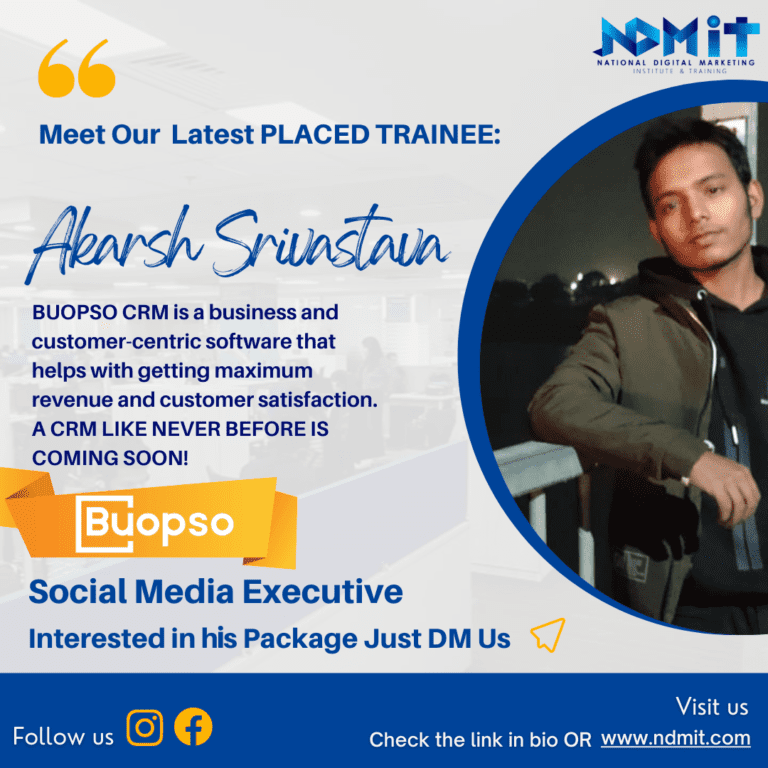 Get the Detailed Curriculum and faculty member list.
Their unique method or their hybrid learning model (as they call it) starts with a series of high-quality online video courses, followed by weekly live training sessions, custom-tailored 1-on-1 mentoring sessions, and in-class presentations.
The course syllabus is divided into terms and modules that are taught in-depth to ensure a holistic understanding and training for each student.
Introduction to Digital Marketing
Content Marketing
Graphic designing with canva from scratch
Lead generation
Landing page practical
You tube & youtube SEO
ORM
Affiliate marketing
Google Adsense
E-commerce website creation
Email marketing
Mobile Marketing
15+ Modules
Organic Social media marketing
Copywriting
Google analytics
Google search console
Introduction of SEO
Local SEO
Buyer Persona
Keyword research
Introduction of Google ads
30+ Modules
Live Session with Renowned Marketers
ON-Page SEO
OFF-Page SEO
In-depth Google Ads
Facebook Ads
Instagram Ads
Twitter Ads
LinkedIn Ads
Competitors Analysis
Paid Tools walkthrough
Client Interaction
Mock interview
Presentation Session
Interview Preparation
Live projects
Know What You Will Learn!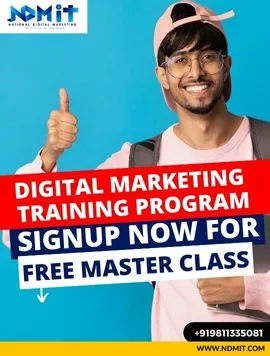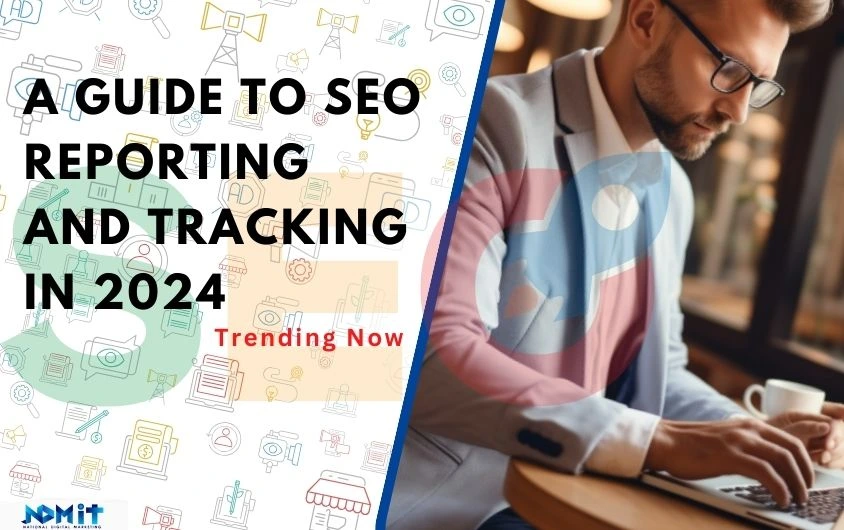 A guide to SEO reporting and tracking in 2024
15 November 2023
A guide to SEO reporting and tracking in 2024 : If you're in the industry, you know how important...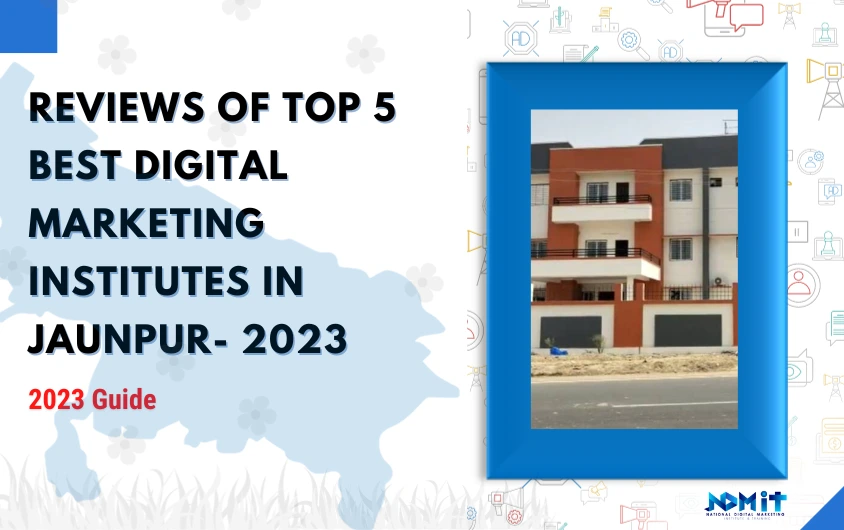 Top 5 Best Digital Marketing Institutes in Jaunpur
28 October 2023
Are you looking for Offline or Online courses on digital marketing in Jaunpur? Good news, we've got your...